Migrant parents refuse to cremate daughter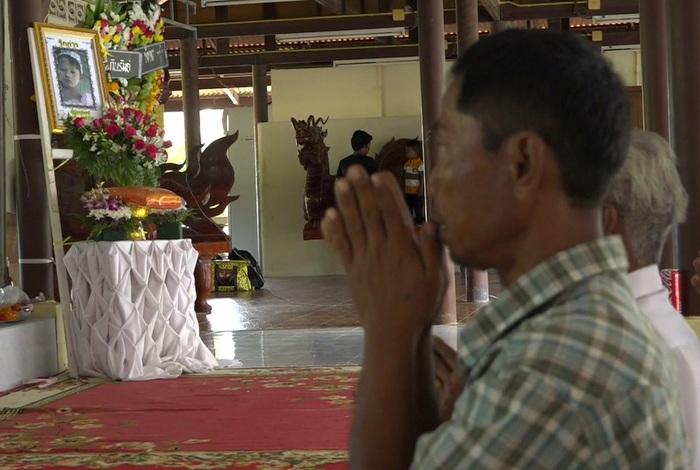 KOH SAMUI: The father of a four-year-old girl killed by a pickup truck in a temple has stated he will refrain from cremating her body until his family receives compensation.
In Thailand, it is customary to cremate the body of the deceased after their funeral rites are administered.
The Burmese parents, Zo Ao, 49, and Cho Ma Rui, 43, held the funeral in the temple where their daughter was run over on July 19 by Bopit Kinrum, 38, from Buriram province.
The funeral, held at Laem Suwannaram temple in Koh Samui, was open to the public, including those coming to the wat to make merit during Buddhist Lent.
"We demand 300,000 baht in compensation for the loss of our daughter. The driver, the police and we have come to an agreement on this issue," said Mr Zo. "We will meet again on Monday for this purpose."
Mr Zo said that Ms Bopit brought a wreath to the funeral and gave 3,250 baht to help with the expenses.
"We barely had enough money for the funeral," Mr Zo said. "I paid more than 10,000 baht for the funeral. That money I borrowed from my friends. If we do not receive the compensation, we will not burn her body. We want to be treated justly, not differently just because we are migrants."
Some of Koh Samui's locals donated water bottles for the funeral guests.
"I gave a hundred water bottles to the family," said Mitteera Kumprom. "Some people blame the parents for not supervising the girl when she was killed. All I know is that the pickup truck killed that girl, and that is a very great loss for her family."
"I support them as a part of basic humanity," Ms Mitteera said. "It doesn't matter if they are migrants or not, and I hope they finally get their compensation," she added.
— Suchat Hankij
Keep in contact with The Thaiger by following our Facebook page.
Never miss out on future posts by following The Thaiger.
PM Prayut postponing Covid‐19 vaccination citing paperwork issues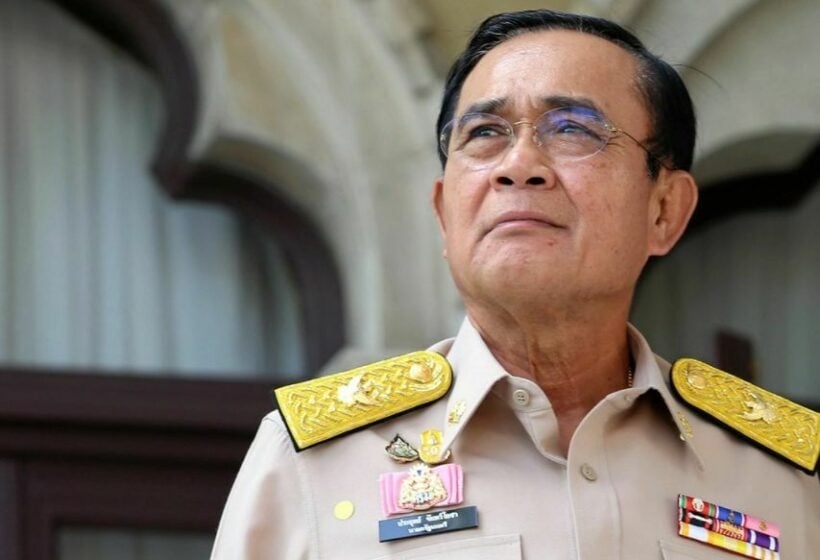 Thailand's PM Prayut Chan-o-cha is postponing his inaugural Covid‐19 vaccination citing paperwork issues with the AstraZeneca vaccine shipment. According to Khaosod English, the vaccine shipment was sent to Thailand last Wednesday from South Korea, but was missing the additional required paperwork.
Prayut was supposed to receive the vaccine tomorrow, but the highly‐publicised event will not be happening. According to Khaosod English, an official at the Secretariat of the Prime Minister has also confirmed the news of the postponement without citing a reason.
Although the Sinovac vaccine is also being administered in Thailand, healthcare officials say Prayut is too old to receive it as its age limit is 60. Prayut is 66 years old, which is well over the oldest age that can receive the vaccine.
The Sinovac vaccine drive is set to commence on Monday, 2 weeks behind schedule. Those frontline health workers, hospitality workers and vulnerable groups will receive the vaccines first.
Meanwhile, Phuket is waiting for the green lightto start administering vaccines and has already held a vaccine administration rehearsal overseen by Phuket Vice Governor Pichet Panapong along with other health officials.
Pichet says the first vaccine round of 4,000 doses should arrive early in March, with the 2nd and 3rd set of doses, 16,000 and 48,000 respectively, to arrive in April and May.
The government pandemic center reported 72 new confirmed infections on Friday, after first only reporting 45 new cases. 37 of those cases were locally-transmitted, and one 6 year old Thai girl returning from the UK was found to have tested positive for the virus. Samut Sakhon, again, reported over half of the new cases yesterday, as it remains the epicentre of Thailand's second wave of the coronavirus outbreak.
The total virus tally in Thailand sits at 25,764, with 83 fatalities. The Centre for Covid-19 Situation Administration has not yet announced the amount of new cases for today.
There is no word yet on when PM Prayut will be rescheduled to receive the AstraZeneca vaccine.
SOURCE: Khaosod English
Keep in contact with The Thaiger by following our Facebook page.
Never miss out on future posts by following The Thaiger.
Thailand News Today | Week In Review | February 26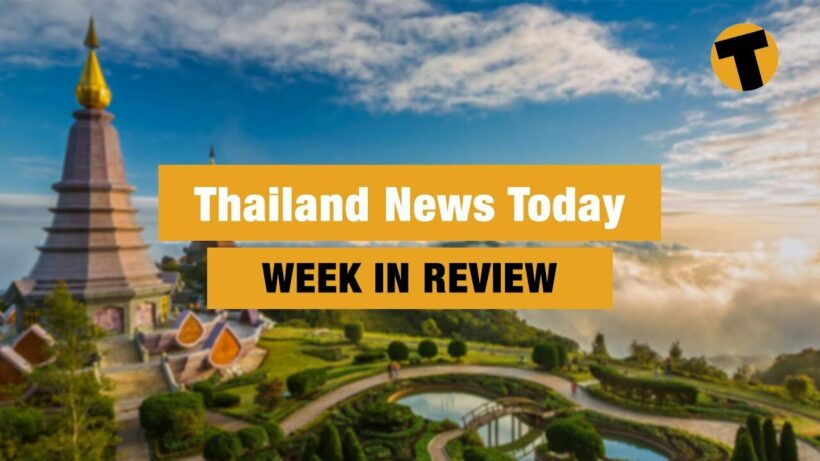 Thailand News Today usually covers five days of the news week. This week only four days as today (Friday) is a public holiday. Now we have a weekend edition which goes over the biggest, or best stories, from the past week. Out every Saturday afternoon, catch up with Jett and Tim's major Thai news stories. Welcome to the Thailand News Today Week in Review. Tim and Jett give you a quick recap of the main news stories.
To get all the latest news and information about Thailand, go to https://thethaiger.com. Like and subscribe our YouTube channel too. Go on, right now 🙂
You can also LIKE our Facebook page https://facebook.com/thethaigernews to get even more information about Thailand.
Keep in contact with The Thaiger by following our Facebook page.
Never miss out on future posts by following The Thaiger.
45 new cases today, 37 local‐Covid‐19‐Update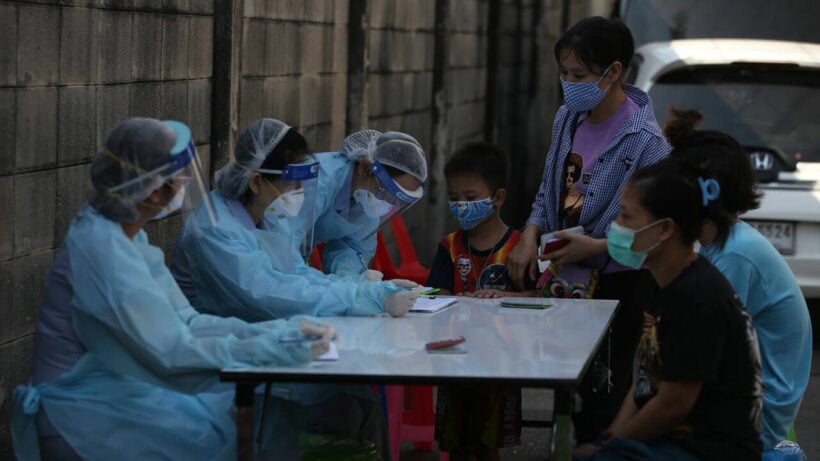 Thailand reports 45 new cases of Covid-19cases today, with 37 infections being locally-transmitted. 8 of those infections were imported, raising the total amount of infections since the pandemic began to 25,809.
The Department of Disease Control reports that 32 cases were confirmed at hospitals with 5 confirmed through active case finding in communities.
Samut Sakhon province, the 2nd wave epicentre, reported over half of the new cases at 19. 14 of those cases were confirmed at hospitals and 5 were detected in Myanmar communities. Bangkok has reported 3 new cases, Nakhon Nayok reported 5, Chai Nat 3, Nakhon Pathom 3, Saraburi 2, Prachuap Khiri Khan 1, and Samut Prakan 1.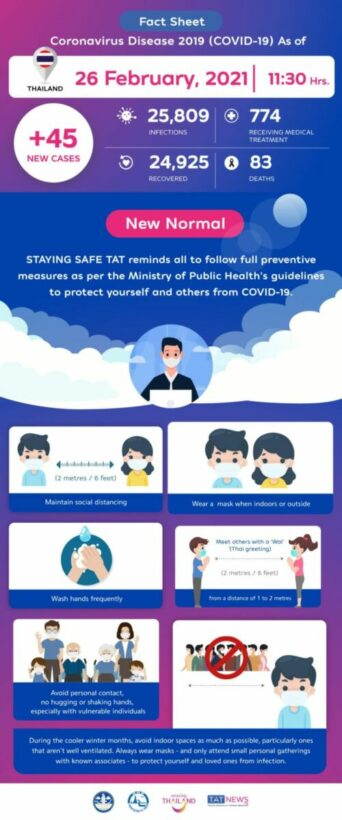 The 8 imported cases were those under quarantine arriving from Pakistan, Bangladesh, the UK, Germany, France, The Netherlands, and Kuwait. The case from the UK was that of a 6 year old Thai schoolgirl.
Globally, Covid-19 cases rose by 444,466 over the past day to 113.54 million. The worldwide death toll increased by 10,552 to 2.52 million. The United States still has the most cases at 29.5 million, with the most deaths at 520,785.
SOURCE: Bangkok Post
Keep in contact with The Thaiger by following our Facebook page.
Never miss out on future posts by following The Thaiger.