Leading players want charter amended after election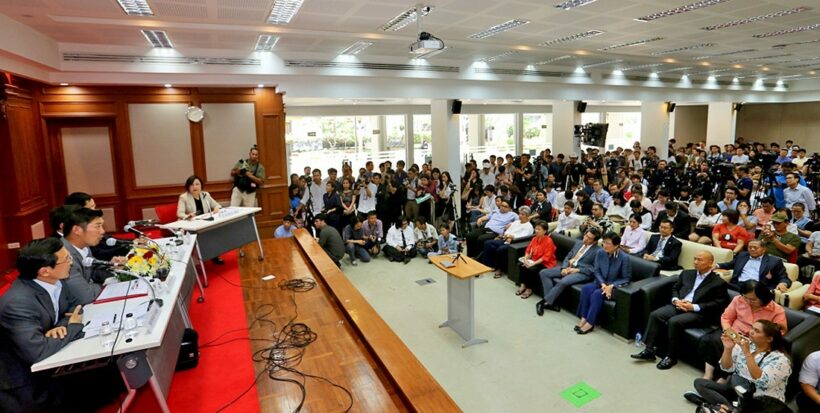 A symposium "Thailand's Future Democracy: Overcoming Traps and Dreams?"was held yesterday at Thammasat University's Tha Prachan Campus.
Probable players in a future political arena, Abhisit, Chaturon and Thanathorn, see the junta's legacy as barrier to genuine democracy.
The Junta-sponsored charter, which imposes curbs on politicians, remains the prime target of big political parties who aim to replace it after the election even though it was endorsed in a 2017 national referendum, judging by the comments made at a symposium attended by prominent politicians yesterday.
Three politicians at the symposium believe the 2017 Constitution is an obstacle to the development of democracy in Thailand, whilst a fourth disagreed. And while the charter has stipulations that make it difficult to amend, the politicians were united in saying that it should be amended and that making changes was feasible if the people desired it.

Former Democrat Party PM Abhisit Vejjajiva, former Pheu Thai Party minister Chaturon Chaisang, prominent newcomer and head of Future Forward Party Thanathorn Juangroongruangkit, and pro-junta politician and head of People's Reform Party Paiboon Nititawan were the speakers.
Abhisit said democratic development was being blocked by several traps – the Constitution, the organic laws, the junta orders and the 250 junta-appointed senators. He said that although the Constitution was already in place and the country was heading towards a poll, the ruling NCPO orders were blocking the election road map it had previously created. And even if the election happened, he said, it remained uncertain how free and fair it would be given the junta's absolute power.
In addition, after the voting the country would be stuck with a Constitution that was not democratic, said Abhisit, and with senators appointed by the junta.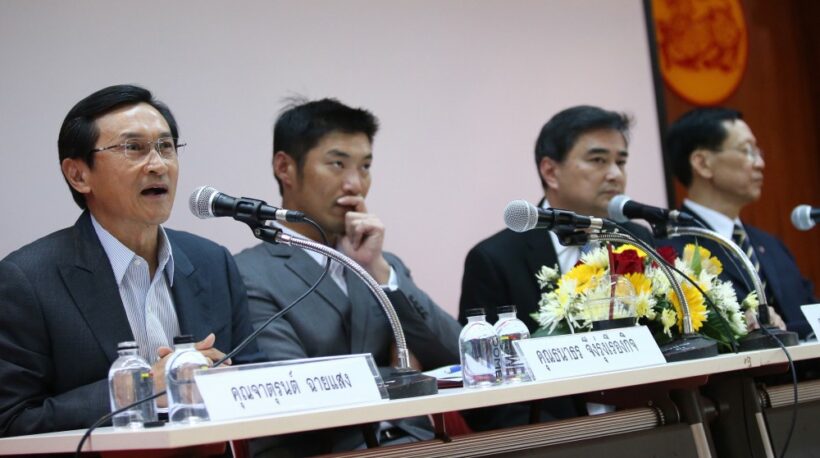 Thanathorn, a businessman who recently turned politician and is highly favoured by progressive young people, said the coups that had been repeatedly staged throughout the country's modern history were traps that had prevented the country from getting anywhere. His Future Forward Party had therefore made it their main agenda to stop that cycle, he said, pledging to restore the people's faith in the parliamentary system. The party would also bring hope to the country, he said.
"And our party proposes that we find a consensus and strengthen democracy," Thanathorn added.
"To do that, we need a supermajority in the Lower House and then we will amend the Constitution and put it to a referendum.
"Paiboon, who had served in the reform assembly under the coup-installed regime and had been supportive of the NCPO, however expressed scepticism about elections and implied they were not necessary in a democracy. Reflecting on political conflict and the violence that had broken out since the election of the Thaksin Shinawatra government in 2006, Paiboon questioned whether it was democracy. With elections, the people only had power for four seconds when in the polling booth, he said. But what came after was corrupt MPs abusing power while citing the people's mandate, Paiboon added.
The current regime was disliked by some people, Paiboon said, but would help fix the problems in democracy. He acknowledged that many people disapproved of the NCPO's legacy, including the 250 senators who would be around for five years. But, said Paiboon, "[You] have to bear with it for five years and you'll like it."
In response, Chaturon said that democracy had a checks-and-balances system to deal with corruption. But the process had been blocked by the coups, he said.
Most importantly, the coups and their legacy had destroyed the democracy that had been developing for at least 15 years, during which voters learned to choose parties based on their policies, Chaturon said. The latest coup would leave behind a legacy of the Constitution, reforms and the national strategy, all planned without public participation, he said.
"The national strategy will be a trap and it will continue to be a trap for the next 20 years," Chaturon said.
He proposed that the Constitution be amended. Only fair rules could solve the problems facing the country, including political conflict, he said. Chaturon said it was important that pro-democracy parties made it a point to amend the Constitution. It should be a policy plank that is campaigned on before the election, he said. Subsequently both the national reform and the 20-year strategy, which could lead to politicians being punished if they refuse to obey them, should also be reviewed, he added.
Though Abhisit agreed that the Constitution was problematic and needed handling, he saw it as perilous to vigorously argue the issue before election day. The public may become sceptical, wondering if the politicians wanted to do that for themselves and not for public interest, he said.
Paiboon, meanwhile, reminded everyone that it would not be easy to bring about any amendment to the Constitution. In addition to elected MPs, it also needed to be passed by one-third of the senators and one-fifth of the opposition force, he said. Others, however, said that if the people backed an amendment, it could be achieved.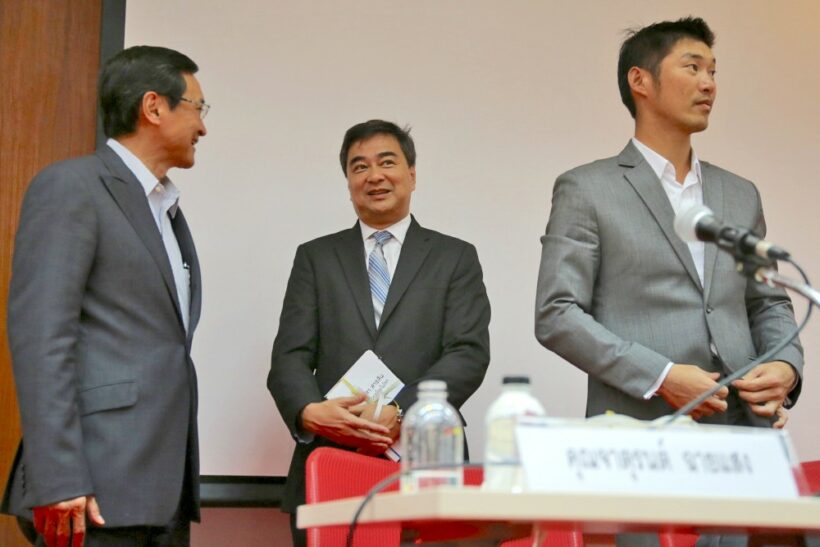 STORY: The Nation
Keep in contact with The Thaiger by following our
Facebook page
.
Thailand's immigration police catch thousands of overstayers thanks to airport biometrics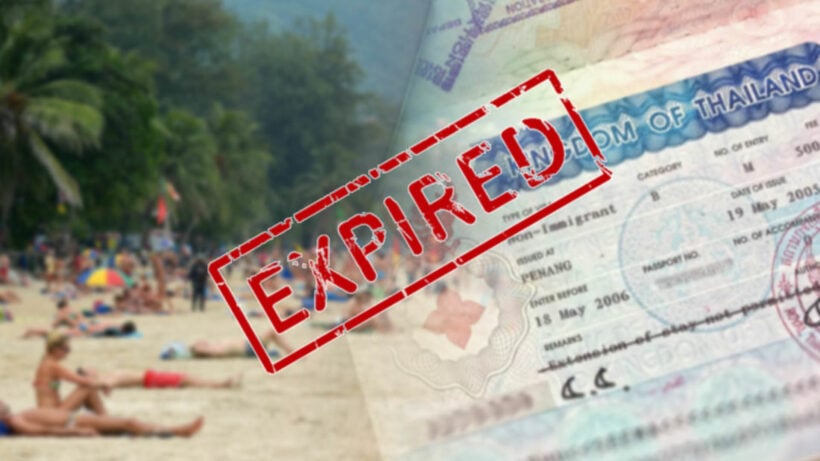 The chief of Thailand's immigration police says the biometrics system in place at sixteen airports across the country has so far netted 1,000 people who are blacklisted or on watch lists, 700 who have arrest warrants out for them, and 45,000 who have overstayed in the country.
The Nation reports that the system is also used to detect fake passports as it uses UV and infrared light to compare the information stored in a chip in the passport with facial features.
It's understood that in just three days, police were able to arrest 8,000 people for being in possession of fake passports, illegal immigration, overstaying their visas or criminals with arrest warrants out for their capture.
The notorious fake billionaire who married in a lavish ceremony costing over 3.5 million baht and then left his wife to pick up the tab, was recently arrested at Bangkok's Don Muang Airport after being caught by the biometrics system. See story HERE.
SOURCE: nationthailand.com
Keep in contact with The Thaiger by following our
Facebook page
.
Thai Airways announces cancellation of six routes to four ASEAN destinations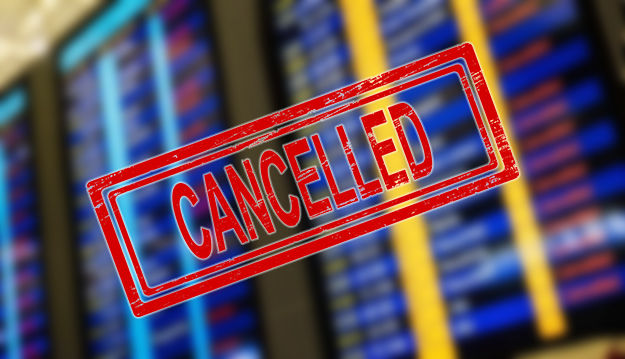 The President of Thai Airways International says the airline is set to cancel six flight routes to Laos, Vietnam, Cambodia, and Myanmar.
The Nation reports that Sumeth Damrongchaitham says the routes in question are all from Bangkok's Suvarnabhumi airport to Vientiane, Luang Prabang, Phnom Penh, Hanoi, Ho Chi Minh and Yangon.
"These routes are all covered by a small number of flights and have low customer capacity. Once the cancellation plan is finalised, THAI will assign Thai Smile Airways to cover these routes instead."
Sumeth cites increased competition as the reason behind the decision and the difficulties presented by rival airlines slashing prices to remain ahead of competitors.
"THAI needs to adjust our strategies too to preserve our reservation rate. We will focus on rolling out promotional campaigns until year end. However, next year's strategy remains to be seen. Our prices this year have been reduced to a record low and if this strategy doesn't work, we may take a different direction, such as seeking more partners for organisation tickets, increasing online channels, or giving privileges to frequent fliers."
SOURCE: nationthailand.com
Keep in contact with The Thaiger by following our
Facebook page
.
Thai women in Japan drug bust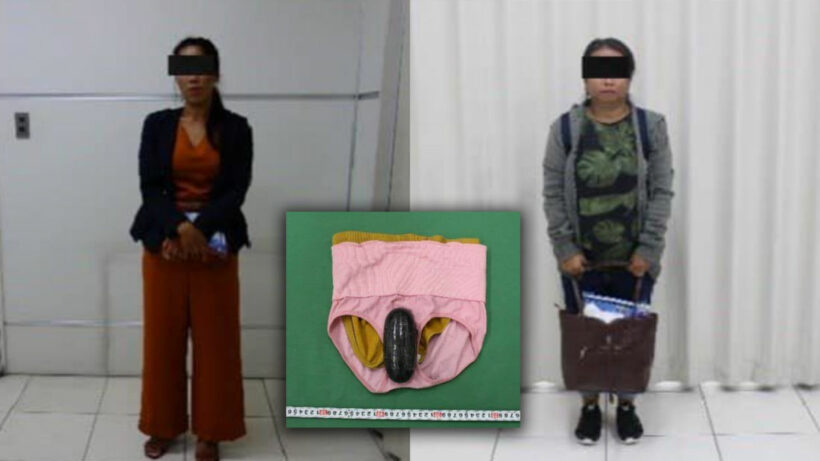 Japanese Police and Customs Officials at Fukuoka Airport reported the arrest of seven Thai women who smuggled in drugs weighing more than a kilogram into Japan. The women separated the drugs into tiny bags and hid them in random places on their bodies.
The women purchased tour tickets and tried to blend in as Thai tourists. When caught with the evidence, they admitted smuggling the drugs for foreigners living in Japan, alleging that they received orders from tourists to bring in the drugs.
Another recent arrest Thai women smuggling cocaine has prompted Japanese officials to consider tightening entry requirements for Thai tourists to protect against drug smuggling.
SOURCE: thairesidents.com
Keep in contact with The Thaiger by following our
Facebook page
.