Journalist detained during last night's rally at Pathunwan intersection in Bangkok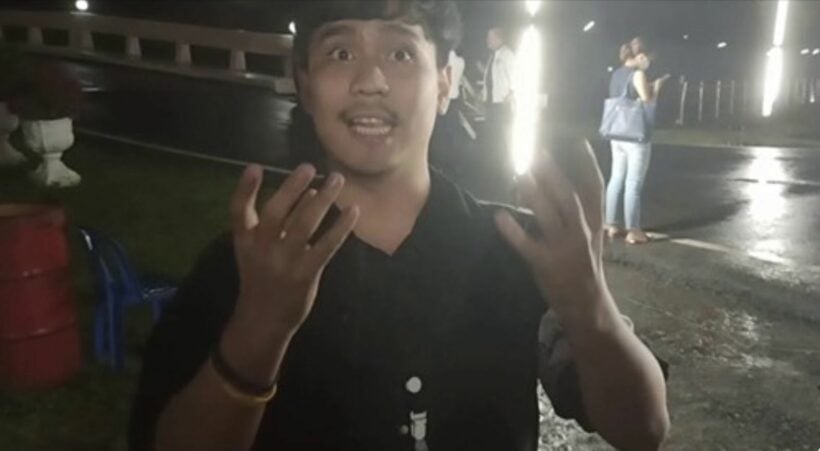 Thai media are being targeted as part of the crackdown on the current round of protests. A Prachatai's reporter was detained after casually asking attending police where he could stand to cover last night's rally. The Thai Journalist Association posted a Tweet at 11pm saying that 6 journalist organisations "had been notified about the arrest and had been working with related parties".
Foreign media, including the BBC's Jonathon Head, were also covering the unfolding series of events last night.
The Prachatai's reporter, Kitti Pantapak, was arrested in front of the MBK Mega Mall, adjacent to the Pathumwan intersection where some 10-15,000 protesters had gathered, whilst he was in the middle of a Facebook Live post covering the protest and the arrival of the riot police to break up the rally. Kitti was wearing a Thai media armband issued by the Thai Journalist Association, as notification to authorities that he is accredited media covering the event.
Kitti was later released this morning at 2am, according to Prachatai, after paying a 300 baht fine, apparently for "defying an order of the authorities".
The live stream shows that Kitti Pantapak was talking to police and asking an officer where he could stand to cover the news. Police then approached him and stopped the live stream, took his phone and camera and detained him.
"I have been detained already."
He was taken to the Pathum Wan police station and later to the Border Patrol Police HQ in Khlong Luang, some 40 kilometres north of the protest site in Bangkok, where other protesters had also been detained.
Happy to report that Kitti was later released at 2am this morning after paying the fine. H
is mobile phone and camera were also handed back to Prachatai media staff before his release
The current State of Emergency in Bangkok prohibits "publishing or broadcasting information which could threaten the stability of the country".
More information about last night's police intervention HERE.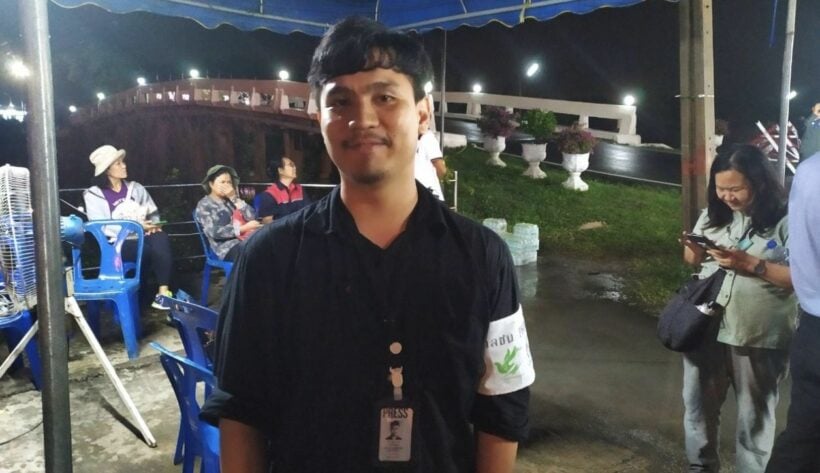 PHOTO: Prachatai's reporter, Kitti Pantapak – Facebook
Keep in contact with The Thaiger by following our
Facebook page
.
Never miss out on future posts by
following The Thaiger
.
Thanathorn, other former Future Forward Party officials, could face criminal charges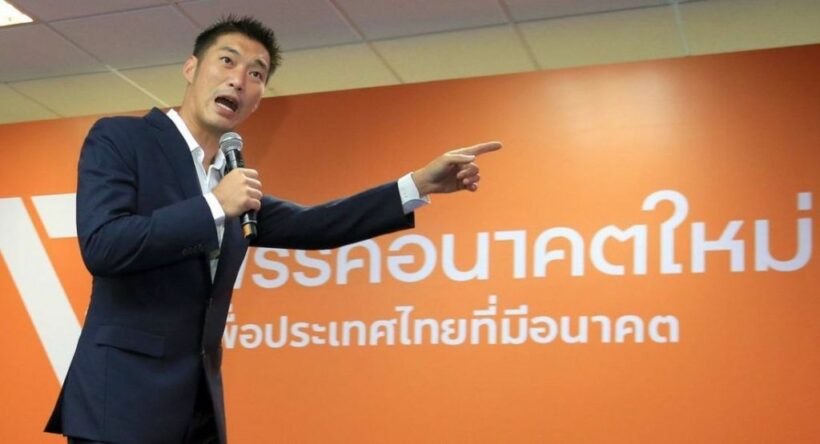 16 people from the dissolved Future Forward Party, including the former leader Thanathorn Juangroonruangkit, could face criminal charges pressed by the Election Commission for a large donation that exceeds the maximum allowed under the Political Parties Act.
The 191 million baht loan, which exceeds the limit of 10 million baht per donor per year, led the Constitutional Court to dissolve the Future Forward Party back in February. The Court also ordered the party's executive MPs be stripped of their parliamentary status and banned from politics for 10 years.
Thanathorn, who is accused of making the large donation to the party, could face a charge under Section 66 of the Political Parties Act which limits donations to 10 million baht per donor per year, a source told the Bangkok Post. If he's found guilty, Thanathorn could spend up to 5 years in prison and a fine of 100,000 baht. He could also be banned from political activity for another 5 years.
15 other former members of the Future Forward Party, including former secretary general Piyabutr Saengkanokkul and spokesperson Pannika Wanich, could face charges for dealing with funds from illegitimate sources, the source told the Bangkok Post. The violation holds a maximum penalty of 3 years in jail and a fine of 1 million baht.
The 191 million baht loan could also be seized and there has been talk that it could be given to the Political Party Development Fund.
The Future Forward Party had gained a large following, especially among young voters who were attracted to the progressive political policies. Thanathorn supports the recent pro-democracy movement which is calling on government and monarchy reform as well as a rewrite of the 2017 Constitution. Activists are also pushing PM Prayut Chan-o-cha to resign.
Thanathorn, also a staunch critic of Thailand's military, ran for prime minster against Prayut last year. Prayut, a former army general who led the 2014 military coup, beat Thanathorn with 500 to 244 parliament votes. Half of Prayut's votes came from senators who were appointed by the military junta National Council for Peace and Order, or NCPO.
SOURCE: Bangkok Post
Keep in contact with The Thaiger by following our
Facebook page
.
Never miss out on future posts by
following The Thaiger
.
In, out, in: human rights lawyer Arnon arrested, released, then arrested again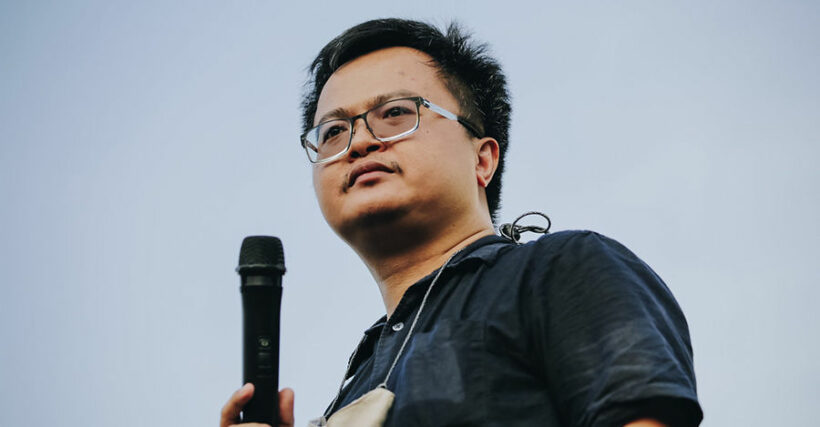 The human rights lawyer and anti-government protest leader, Arnon Nampa, has been re-arrested in one case while on bail in another. Arnon was initially arrested on October 15 and flown to Chiang Mai to face charges of sedition after attending a rally in the northern city on August 9. He was then released on 200,000 baht bail, which it's understood was paid for by funds raised by a group of academics.
He has now been re-arrested on charges related to his participation at a rally at Thammasat University and Sanam Luang in the capital, on September 19. Arnon was taken to Bangkok in a police van, accompanied by his lawyer, but it is unclear where he is currently being held. He has long been an outspoken advocate for reform of Thailand's political system and the monarchy.
SOURCE: Bangkok Post
Keep in contact with The Thaiger by following our
Facebook page
.
Never miss out on future posts by
following The Thaiger
.
Education ministry says curriculum revamp will promote analytical thinking over rote learning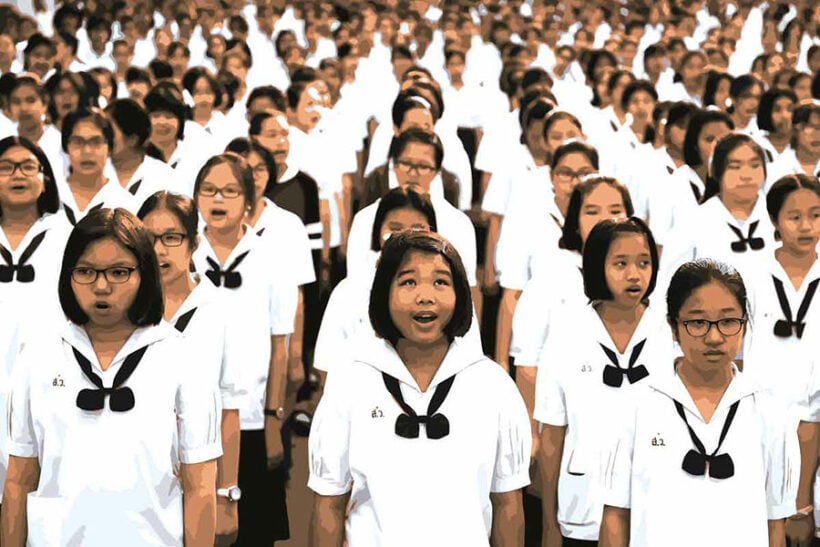 As anti-government sentiment among Thailand's student population shows no sign of abating, the Education Ministry says it plans to overhaul the Basic Education Core Curriculum to provide students with a better understanding of political developments in the Kingdom between 1932 and 1957.
Supat Chumpathong says the new curriculum will also place more of a focus on analytical thinking, instead of learning by rote. The Thai education system has come in for criticism in some quarters for not fostering critical thinking among students.
University academics are being drafted in to help with the revamp, with a draft expected to be submitted to the Education ministry by mid-December, in the hope it can be implemented in the 2022 academic year.
Supat says the social studies curriculum will be updated to consist of information currently not included. The ongoing anti-government protests refer to a 1932 revolution, organised by Khana Ratsadon (the People's Party), that overthrew King Rama VII's government, ending absolute monarchy in Thailand. One group of current-day protesters calls itself Khana Radsadon 2563 (2020) in memory of the original party.
The Bangkok Post also reports that Veera Khaengkasikarn, deputy permanent secretary for education, says the ministry plans to roll out teaching of "Sufficiency Economy" values in Thai schools.
To date, 27,520 academic establishments are considered, "Sufficiency Schools", 570 of which are learning centres promoting the philosophy of Thailand's 3 pillars of nation, religion, and monarchy, nationwide. The philosophy is aimed at creating a spirt of unity during times of crisis in the Kingdom.
SOURCE: Bangkok Post
Keep in contact with The Thaiger by following our
Facebook page
.
Never miss out on future posts by
following The Thaiger
.