Hunt continues for more corrupt officials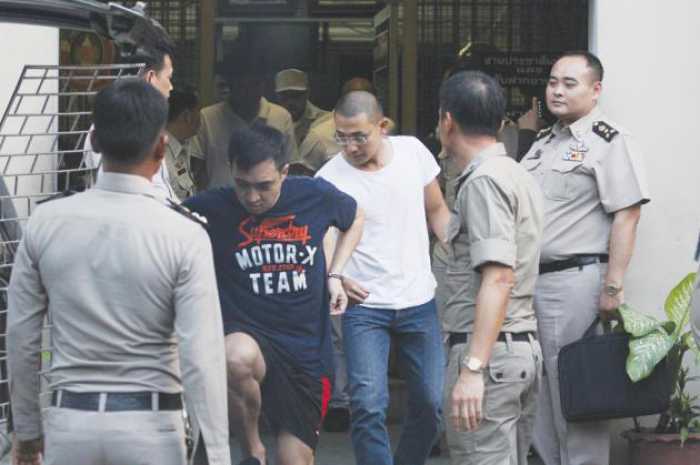 PHUKET MEDIA WATCH
– Thailand news selected by Gazette editors for Phuket's international community
Hunt continues for more corrupt officials
The Nation / Phuket Gazette
PHUKET: Police are tracing more corrupt officials after probing lists of bribe-takers seized from a fugitive, Pattani-based businessman who ran an illegal band petrol trade in the far South.
Initial findings showed some 12 million baht in monthly payments to a number of Marine Police officers, who have already been exposed.
National police chief Gen Somyot Poompanmoung said yesterday that the lists recorded bribes paid over the past two years by Sahachai Jiansermsin.
Gen Somyot said "almost all government units handling security measures in the South had received bribes", including the Marine Police which had received the largest amount of 12mn baht from Sahachai, who is better known by his nickname "Sia Jo".
Justice Minister Gen Paiboon Koomchaya said the Department of Special Investigation (DSI) had also been tracing names on the lists. He said there were probably more DSI agents, apart from the three already exposed. Many names have also been found in the logs of Sahachai's mobile phones obtained by authorities.
"The names are compiled in several pieces of paper," he said, adding the DSI would soon work with the police on the bribe recipients and would seek to find out who these officials were, or from which agencies.
Three senior Marine Police officers – Col Warissiri Leelasiri, Col Somchart Suphawuth and Col Jakkraphan Rattanathewamart – were yesterday transferred to inactive posts, Royal Thai Police spokesman Lt Gen Prawut Thawornsiri, who is now acting commissioner of the Central Investigation Bureau (CIB) supervising the Marine Police Division, revealed.
The transfers were ordered to facilitate the ongoing investigation into the illicit petrol trade, he added.
Gen Prawut said the RTP was considering whether to strip the ranks of all police found involved in the massive corruption scheme engulfing former CIB commissioner Lt Gen Pongpat Chayaphan.
"This issue is being considered," he said, without elaborating.
The three men, out of a total five wanted for their alleged association with Gen Pongpat, last night surrendered to police. Wat Phraya Krai police later sought court approval for the arrest of five other men yesterday evening, making a total of 10 men wanted in the latest crackdown.
All the 10 men also have lese majeste and assault charges filed against them in the latest arraignment filed by Wat Phraya Krai police, apart from charges of armed intimidation, criminal conspiracy involving more than five offenders, restraining one's freedom, and joint theft.
Trio stripped of rank
Gen Prawut gave more details about the Akharapong-preecha men – former Army major Nuttapon, former Army sergeant Sitthisak, and former Bureau of Royal Household official Narong. All three had their ranks and positions stripped, while Sutthisak Sutthijit and Chakarn Phakphoom have been in military custody since Tuesday, he said.
The five new people have been identified as Chalat Phothiraj, Witthaya Theskhunthod, former sergeants Nathakorn Yasri and Theeraphong Chorjampee, Nathanan Thanawes.
The first five suspects have been charged with kidnapping a woman and intimidating her into reducing a total of 100mn baht owed to her by unspecified individuals to 20mn baht.
— Phuket Gazette Editors
Keep in contact with The Thaiger by following our
Facebook page
.
Never miss out on future posts by
following The Thaiger
.
Loose electrical wire causes passing motorbike to burst into flames – VIDEO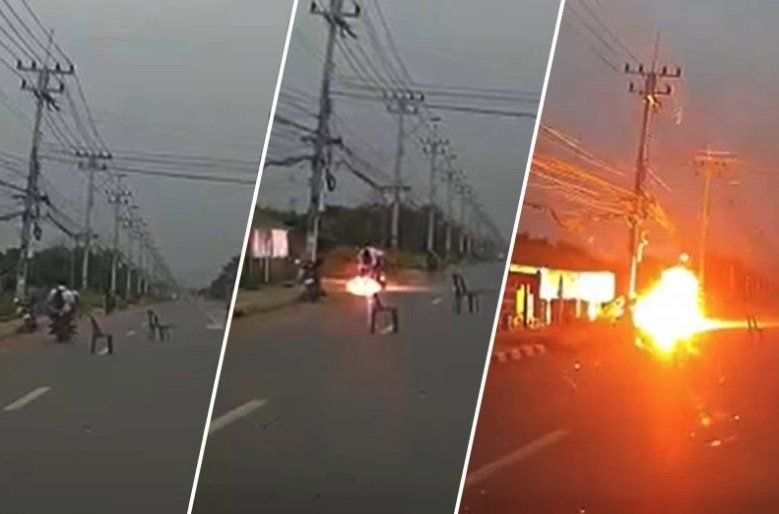 A hanging electrical wire caused a passing motorbike to burst into flames, injuring a 25 year old and a 15 year old. Pathum Thani locals had put 2 chairs out in the road as a warning for the hanging wire. But the chairs weren't enough to signal the motorbike driver to change lanes.
The 25 year old teacher drove straight into the loose wire and his bike burst into flames. 30% of his body was burned. The 15 year old passenger was slightly injured, Thai media reports. Apparently, it was the second time the loose wire caused a bike to catch on fire.
A former rescue worker was on his way home when the incident occurred. He had a fire extinguisher in his car and was able to quickly put out the fire. The dash camera on his car recorded the incident, showing the motorbike suddenly bursting into flames.
SOURCE: Thai Visa
Catch up with the latest daily "Thailand News Today" here on The Thaiger.
Keep in contact with The Thaiger by following our
Facebook page
.
Never miss out on future posts by
following The Thaiger
.
240 kilograms of marijuana found in truck after police chase, driver still on the run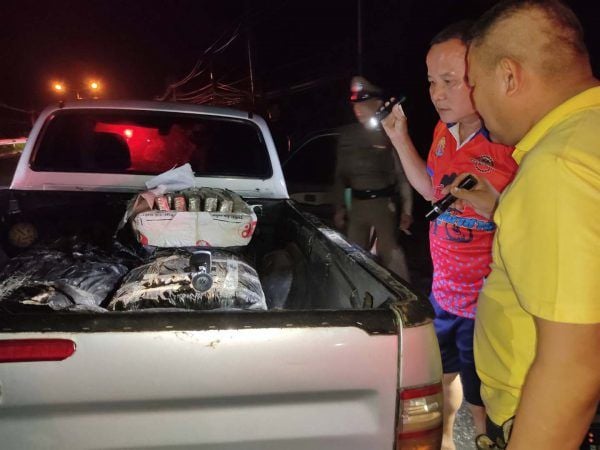 Border patrol officers chased a pickup truck and seized 240 kilograms of marijuana they say was smuggled across the Thai-Laos border. In the chase, the driver allegedly drove into oncoming traffic, hitting another car before ditching his vehicle and running off.
Officers say they believe the marijuana was smuggled across the Mekong River from Laos and then it was piled in the truck at the border province Nong Khai. After receiving a tip about a truck smuggling marijuana in the Nong Khai province, officers caught up with the truck in Mukdahan.
When officers followed the bronze Toyota pickup truck, the truck suddenly swerved across the median and drove against the flow of traffic before colliding with an oncoming car. The driver then got out of the truck and ran off. Police say there were no injuries.
Officers searched the truck and found 240 bars of dried marijuana. Each compressed bar weighed 1 kilogram. The truck was also confiscated by the customs office. Police are still investigating. The driver has not been found.
SOURCE: Bangkok Post
Catch up with the latest daily "Thailand News Today" here on The Thaiger.
Keep in contact with The Thaiger by following our
Facebook page
.
Never miss out on future posts by
following The Thaiger
.
Former immigration chief, "Big Joke" suing Thai PM over transfer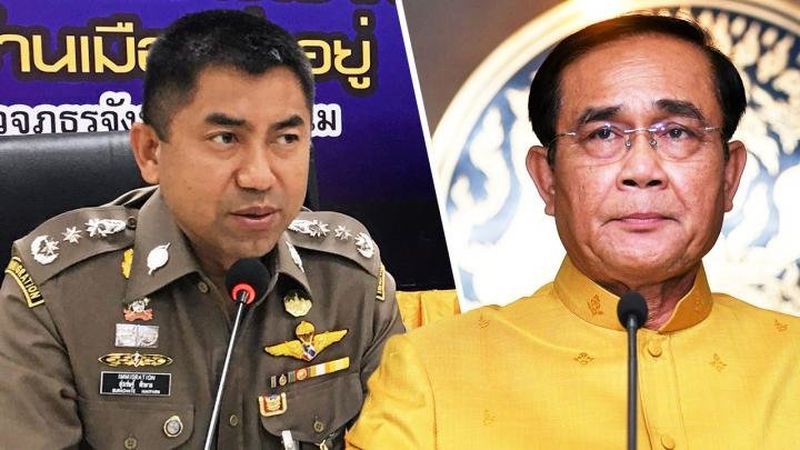 The former head of Thai Immigration, Surachet Hakparn, is taking legal action against Thai PM Prayut Chan-o-cha, after the PM had him unceremoniously transferred to an inactive post last year. Surachet, commonly known by the nickname "Big Joke", (a nickname given to him by Thai media) accuses the PM of transferring him without just cause and has been petitioning for a review of the decision, to no avail.
At the time there was no reason given for the high-profile head of Thailand's Immigration to be 'side-lined' to desk duties at the PM's office.
Following a complaint lodged with the Central Administrative Court, Surachet's lawyer, Sitthi Ngarmlamyuang, says that in the 1 year and 5 months since his client's transfer, there has been "no investigation launched against him". Surachet accuses the PM of an abuse of power in ordering the transfer, pointing to a lack of investigations from either the National Anti-Corruption Commission, the Public Sector Anti-Corruption Commission, or the Office of the Auditor-General.
Since his fall from official grace Surachet has largely remained silent over the matter.
At the height of his fame, in 2017 and 2018, Surachet's face was everywhere in daily media reports, often seen with hordes of foreigners his team had 'rounded up' in immigration crackdowns around the country. If you'd overstayed your visa, or were an international criminal running dodgy dating services, gambling sites or drugs, you knew about Surachet Hakparn and knew it would be no "joke" if he arrived at your door.
But at some point, he appears to have stepped on the wrong toes, calling into question procurement practices at the Immigration Bureau, amid plans to spend billions on smart cars and the much-lauded airports biometrics system (which was since installed at the country's airports). The upshot was his removal from office, while the purchases went ahead.
Since then, little was heard from the former immigration chief, until his parked car was shot at in January of this year. Although caught on CCTV, the 2 perpetrators, who were riding a motorbike and wearing full-face helmets, could not be identified. In July, Surachet was seen making merit at a temple, where he said he was praying to be allowed return to his former duties. He also took an extended overseas holiday.
At the height of his fame, in 2017 and 2019, he was widely tipped to take up a prominent position at the top of the country's Royal Thai Police force.
Sitthi points out that most officials who were previously transferred to the PM's Office have now been re-instated, after investigations cleared them of any offences. He insists that with no grounds to justify his transfer, Surachet must also be re-instated, adding that with the PM unwilling to act, his client will seek justice in the courts.
SOURCE: Thai PBS World
Catch up with the latest daily "Thailand News Today" here on The Thaiger.
Keep in contact with The Thaiger by following our
Facebook page
.
Never miss out on future posts by
following The Thaiger
.