Hopes and prayers unanswered – time is running out.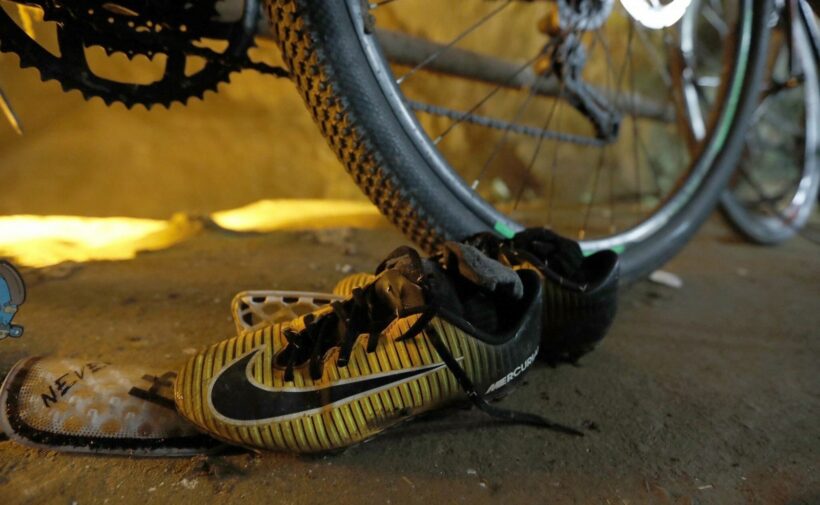 By Tim Newton
Now into the ninth day. Hopes and prayers unanswered.
The 12 teenagers and their coach went into the caves last Saturday afternoon (June 23) following their weekly practice. We are told they were carrying with them basic provisions, water and a first aid kit. Any provisions would now be long finished. Luckily water is in plentiful supply.
But, without some tangible signs of life in the next day or so, hope will quickly slip away and the rescue mission will swing into a mission to recover the bodies. Of course there is still a strong likelihood that the 13 can still be found alive.
But time is running out.
Seven days in the dark, wondering if help is on its way would be a terrifying ordeal. The team, know locally as the Wild Boars, are a close-knit group according to their parents and friends. The team are all aged 11 to 16 years old. The coach with them is 23. It wasn't their first trip to the caves – like most locals they knew a bit about their way around the first sections of the famous cave system. But in seven days nothing has been heard of the team.
The dramatic entrance leads into the first kilometre which features limestone rock formations and high ceilings. Past this point the passages narrow and the locals know that's as far as you should go unless you have proper training and experience.
The group ventured past this point passing signs that warn not to enter during the wet season. Whilst they were inside it started raining. And raining. They couldn't go back to the entrance, the only way was to go further into the bowels of the mountain, deeper into the seven kilometre-long Tham Luang Nang Non cave.
The park closed to the public at 5,30pm but the park ranger noticed the parked bikes, back-packs and shoes at the entrance and contacted the police. The search began immediately, although there was little anyone could do with the access-way flooded.

The tentative early search has now grown into a team of hundreds, many with specific expertise in caving, some with detailed knowledge of the Tham Luang caves. Personnel and equipment have been flying in daily, drones have been scouring access into the caves from above, Navy SEALS have been pushing deep into the muddy waters, trying to progress their search towards where they believe the team is waiting.
Meanwhile the waiting families have been getting increasingly desperate, hanging onto every word from emerging rescuers and pushing officials for information. Some have had to be taken to hospital suffering exhaustion, panic and stress. Officials have now set-up a special tent so the families can stay on site and keep abreast of any developments, any trace of good news. Monks and counsellors are spending time with them, partly as a distraction but also for religious and moral support.
A British caver and long-time resident of Chiang Rai told CNN that, "…it's not a hard cave, it's just very long and it has big passages, small passages. It's not difficult but if the children have gone in too far then the floodwaters from the far end will be coming through. With the rain, it's not making it any easier."
The main issue, from day one, was trying to get the water, flooding into the caves, out. But as soon as the pumps made any headway, new rains would bring more water. Special pumps, usually used to handle floods in the capital, were brought up from Bangkok, but even they've been struggling to keep ahead of mother nature.
There are hundreds of Thai media, now under strict orders to 'behave' and stop intruding on the rescue workers and families. The moment any sign of life emerges from the Tham Luang caves we will all know – with the speed of social and electronic media delivering the news in real time.
We hope that moment will arrive swiftly. We also hope the forlorn sets of soccer shoes, still sitting at the mouth of the cave with the team's bikes, will get some serious use with the Wild Boars again soon.
Keep in contact with The Thaiger by following our
Facebook page
.
Survey – Thais not taking sides and 66% prioritise health care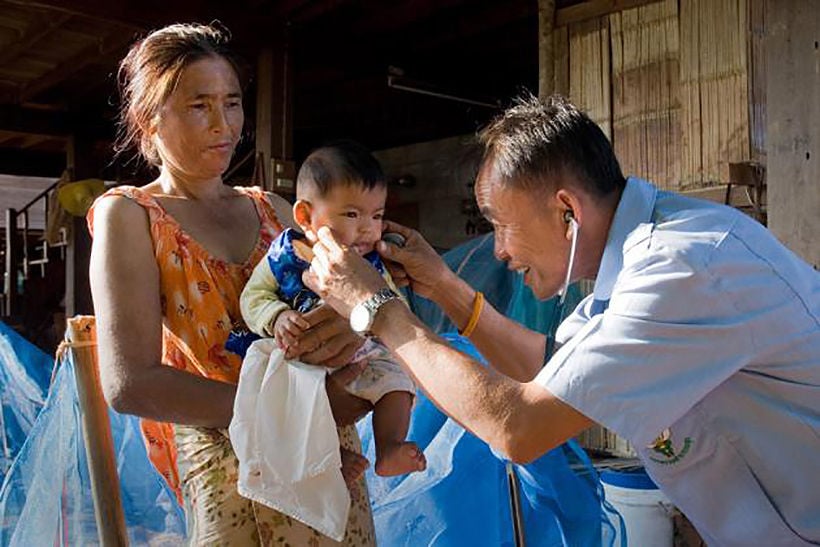 The majority of respondents to a Super Poll survey, say that they are still waiting to see where they will put their future support. For now they're saying they neither support the Government or Opposition, preferring to wait to assess their performance.
Super Poll conducted the survey on 1,069 people from a wide range of occupations nationwide between October 15–19.
The director of Super Poll, Noppadol Kannikar, says that one interesting finding was that 67.2% of respondents admitted that they prefer not to take sides, with the Government or Opposition, because both are currently under-performing and they want to wait to assess their performance.
But 16.9% of the respondents are supportive of the coalition Government, compared to 15.9% who oppose it.
On the question of Government spending, the survey showed 65.9% want quality health care as their top priority, 59.8% want good and secure jobs, 54.3% want security for their lives and property, 50.8% want increased road safety, 48.2% want government help for small and medium-size enterprises and 37.0% want government to provide them with housing.
SOURCE: Thai PBS World
Keep in contact with The Thaiger by following our
Facebook page
.
The 15th Mai Khao Marine Turtle fun run attracts more than 4,000 runners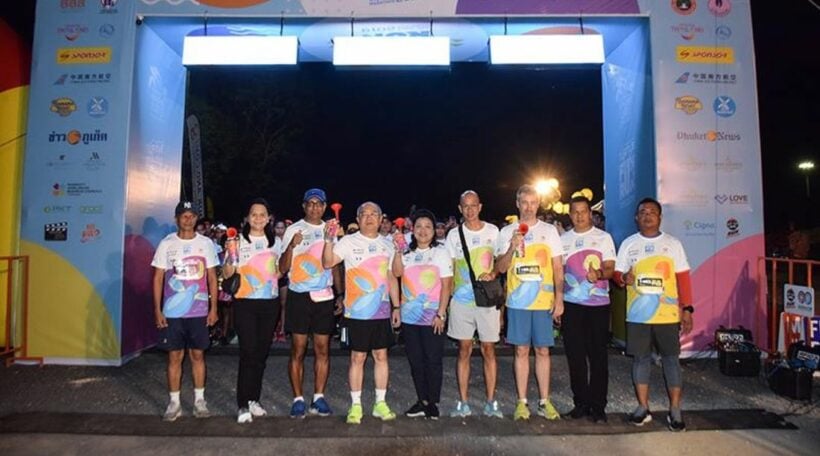 4,000 runners from Thailand and overseas took part in the 15th Mai Khao Marine Turtle Fun Run and Half Marathon 2019 yesterday, starting from the Phuket Gateway.
The event is expected to raise 700,000 baht for the charity, now in its 15th year. The money raised goes towards to The Mai Khao Marine Turtle Foundation, which is committed to protecting the marine and coastal environment, and ecosystems, for the wellbeing of sea turtles that nest in the Mai Khao beach and the surrounding areas.
The annual race also provides funds for thePhuket Marine Biological Centre's Injured Turtle Rehabilitation Program and The Third NavalArea Command's Turtle Hatchery Program.
The race was in its 15th year and runners of all ages and abilities took part in the race. The morning's racing was divided into five categories – the 21.1km half marathon, 10.5km mini- marathon, 5km fun run and 3k family run and VIP participants for all the races. The route of 21.1 kilometre race took runners northwest along the Haad Sai Kaew beach towards Thao Thepkasattri bridge, past the rural road No. 3006, run along the road – Pi Lai viewpoint area returned back along the T. Baan Tha Nun to the iconic Sarasin bridge before finished the half marathon in the Phuket Gateway.
For Mini Marathon 10.5 km – Over all category, Mr. Chinnawat Changlek clocked 39 minutes and 40 seconds to clinch victory in the male half marathon, winning prize money and a trophy with the signature of Phuket's Governor. The winner in the female mini marathon was Surakarn Wanna with a time of 47 minutes and 47 seconds.
Winners also received a prize gift voucher as well as a medal. Congratulations to all participants.
Keep in contact with The Thaiger by following our
Facebook page
.
'Phang Nga Bay and Beyond' exhibition by Marilyn Band at Mom Tri's WOK Gallery Kitchen in November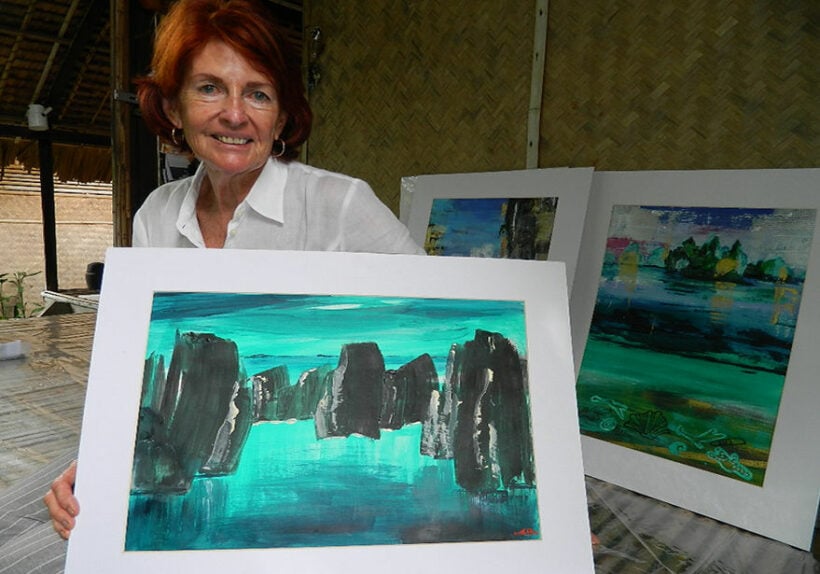 The Art exhibition "Phang Nga Bay and Beyond" by Marilyn Band is being held at Mom Tri's WOK Gallery Kitchen, Chalong, Kata Hill, Phuket from November 30, 2019 – January 31, 2020. The opening will take place on Saturday November 30, 2019 at 6.30 pm.
Artist's Statement
"For the current exhibition, I am presenting recent work, a more abstract expression of Phang Nga Bay's beauty, which intends to encourage the viewer the opportunity to interpret and appreciate a little bit of paradise. I am quite excited about these more abstract works as it has allowed me to explore the essence of these limestone monuments in the bay.
"I find the natural world a beautiful, magical place. My paintings are inspired by many sea voyages. Though based on reality I try to introduce my own feelings and vision which will delight others."
Biography
Marilyn Band has been creating art since childhood, influenced by a family who surrounded her with paintings and the creations of several generations of her ancestors who were famous stained glass artists. She went to Florence, Italy for life drawing and then went on to study graphics at High Wycombe Technical College in Buckinghamshire, England and started her career as a graphic designer in a variety of advertising agencies in London.
On Holiday in the Seychelles, she met her future husband, Nick Band, and they have been sailing around the Indian Ocean and SE Asia for more than forty years allowing Marilyn the chance to draw and paint the now disappearing tropical cultures from Zanzibar to Sri Lanka to Phuket, and beyond.
She arrived in Phuket in 1980 and immediately built a studio that has been the center of her art projects. Between sea voyages and other travels, Marilyn has become one of Phuket's most significant artists with one person exhibitions at Mom Tri's Boathouse and Villa Royale Galleries.
She has also designed and developed the graphics for the island's world famous Phuket King's Cup Regatta media.
She continues to explore new avenues of self- expression in acrylic, oil, watercolour, ink, collage and silkscreen.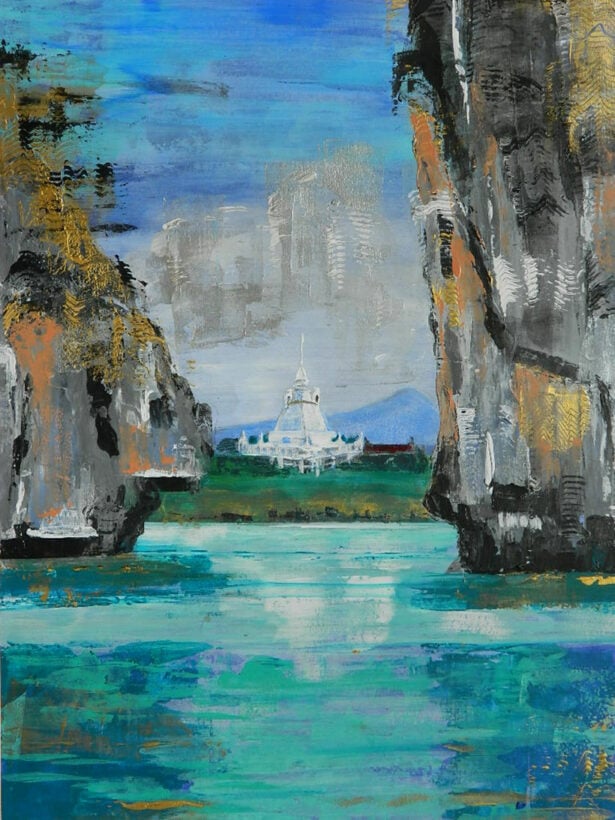 Keep in contact with The Thaiger by following our
Facebook page
.