Hopes and prayers unanswered – time is running out.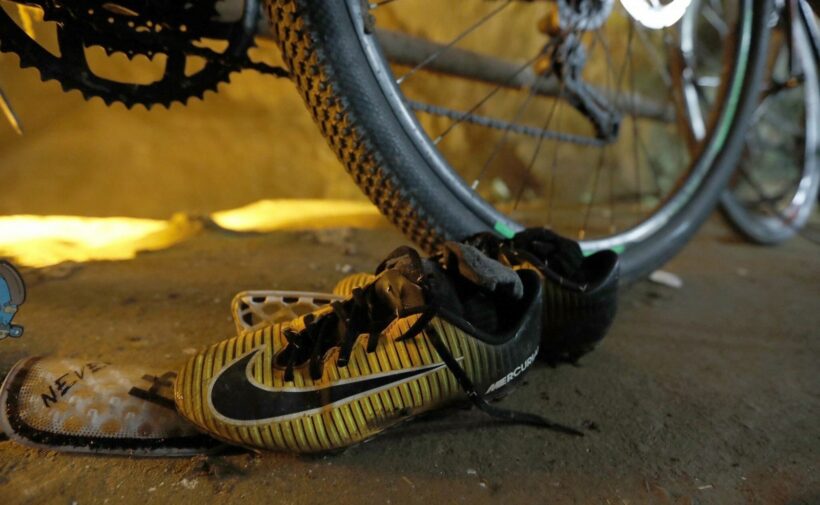 By Tim Newton
Now into the ninth day. Hopes and prayers unanswered.
The 12 teenagers and their coach went into the caves last Saturday afternoon (June 23) following their weekly practice. We are told they were carrying with them basic provisions, water and a first aid kit. Any provisions would now be long finished. Luckily water is in plentiful supply.
But, without some tangible signs of life in the next day or so, hope will quickly slip away and the rescue mission will swing into a mission to recover the bodies. Of course there is still a strong likelihood that the 13 can still be found alive.
But time is running out.
Seven days in the dark, wondering if help is on its way would be a terrifying ordeal. The team, know locally as the Wild Boars, are a close-knit group according to their parents and friends. The team are all aged 11 to 16 years old. The coach with them is 23. It wasn't their first trip to the caves – like most locals they knew a bit about their way around the first sections of the famous cave system. But in seven days nothing has been heard of the team.
The dramatic entrance leads into the first kilometre which features limestone rock formations and high ceilings. Past this point the passages narrow and the locals know that's as far as you should go unless you have proper training and experience.
The group ventured past this point passing signs that warn not to enter during the wet season. Whilst they were inside it started raining. And raining. They couldn't go back to the entrance, the only way was to go further into the bowels of the mountain, deeper into the seven kilometre-long Tham Luang Nang Non cave.
The park closed to the public at 5,30pm but the park ranger noticed the parked bikes, back-packs and shoes at the entrance and contacted the police. The search began immediately, although there was little anyone could do with the access-way flooded.

The tentative early search has now grown into a team of hundreds, many with specific expertise in caving, some with detailed knowledge of the Tham Luang caves. Personnel and equipment have been flying in daily, drones have been scouring access into the caves from above, Navy SEALS have been pushing deep into the muddy waters, trying to progress their search towards where they believe the team is waiting.
Meanwhile the waiting families have been getting increasingly desperate, hanging onto every word from emerging rescuers and pushing officials for information. Some have had to be taken to hospital suffering exhaustion, panic and stress. Officials have now set-up a special tent so the families can stay on site and keep abreast of any developments, any trace of good news. Monks and counsellors are spending time with them, partly as a distraction but also for religious and moral support.
A British caver and long-time resident of Chiang Rai told CNN that, "…it's not a hard cave, it's just very long and it has big passages, small passages. It's not difficult but if the children have gone in too far then the floodwaters from the far end will be coming through. With the rain, it's not making it any easier."
The main issue, from day one, was trying to get the water, flooding into the caves, out. But as soon as the pumps made any headway, new rains would bring more water. Special pumps, usually used to handle floods in the capital, were brought up from Bangkok, but even they've been struggling to keep ahead of mother nature.
There are hundreds of Thai media, now under strict orders to 'behave' and stop intruding on the rescue workers and families. The moment any sign of life emerges from the Tham Luang caves we will all know – with the speed of social and electronic media delivering the news in real time.
We hope that moment will arrive swiftly. We also hope the forlorn sets of soccer shoes, still sitting at the mouth of the cave with the team's bikes, will get some serious use with the Wild Boars again soon.
Keep in contact with The Thaiger by following our
Facebook page
.
Never miss out on future posts by
following The Thaiger
.
Thailand News Today | Army deny Twitter spin, "Don't Reopen", English proficiency low | Nov 27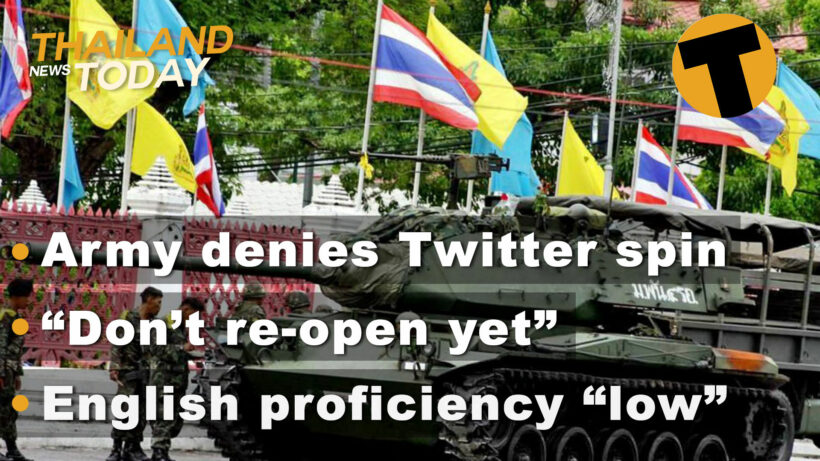 Last day of the week. Thought we'd go outside. Bad idea! Welcome to Friday's Thailand News Today.
Royal Thai Army denies claims about Twitter campaign to spread pro-government propaganda
Following a shutdown of 926 Twitter accounts linked to the Royal Thai Army, documents were leaked of what appears to be a contract between the Army and a private company supposedly hired to spread pro-government propaganda.
But Thailand's Army chief is denying the claims and says the Army never hired a company to spread pro-government propaganda through the over 900 Twitter accounts.
Last month, Twitter announced that it had suspended 926 accounts linked to the Royal Thai Army for violating the social media company's "platform manipulation" policies.
A report by an independent Cyber Policy Centre says the Army used Twitter to "cheerlead" with pro-government propaganda. The report says the Army used Twitter to criticise the now disbanded Future Forward Party and neutralise criticism after February's mass shooting where an Army soldier killed 30 people and injured 57 others.
Former WTO director cautions against re-opening Thailand too quickly
The former director general of the World Trade Organisation has issued a caution against Thailand throwing open its borders too early.
Supachai Panitchpakdi says Covid-19 is still very much a threat, pointing to other countries that appear trapped in a cycle of restrictions and lockdowns. He said that the cycle in many Western countries is not just damaging their economies, it's also leading to more infections and deaths and prolonging the time until the affected countries can restart their economies. He warns that re-opening Thailand's borders too quickly could have long-term negative impacts for the Kingdom.
Within Thailand there is a polarised view as to whether Thailand should be broadly re-opening its borders or not. Successive polls show that the Thai population is, generally, suspicious about re-opening too soon, especially whilst parts of the rest of the world are still trying to contain their infection rates. On the other hand Thailand's tourism and hospitality industry has been decimated with millions unemployed.
Bangkok's canal boat services go electric
A new electric passenger boat service started operating on Bangkok's Khlong Phadung Krung Kasem today. The klong traverses the eastern side of Rattanakosin Island.
The Thai PM launched the service at the Hua Lamphong Railway Station Pier, and was a passenger on the first boat ride this morning.
There's seven electric fibreglass boats in the initial service, each carrying 30 passengers.
The boats can run for four hours per charge at a speed of 10-15 kilometres per hour. There's solar roof panels to help power the electric outboard motors.
The new e-boats operate from 6am-7pm, with a boat departing every 15 minutes. Good news, passengers can travel for free for the first six months of the service.
Thailand's English level drops for the third year – English Proficiency Index
English skills in Thailand have dropped for the third year in a row with an English language proficiency score considered to be "very low."
In the past year, Thailand's ranking dropped from 74 out of 100 countries to 89, according to the 2020 English Proficiency Index by EF Education First. The index is based on test results from 2.2 million adults from 100 countries and regions.
Thailand scored 419 out of 800, which is considered "very low." Thailand ranks 20 out of 24 countries surveyed in Asia and 7 out of 8 countries in Southeast Asia, just ahead of Myanmar in last place.
According to the report, the lack of English proficiency in Thailand, Cambodia and Sri Lanka hampers access to jobs in the tourism industry which makes up more than10% of their economies.
Keep in contact with The Thaiger by following our
Facebook page
.
Never miss out on future posts by
following The Thaiger
.
Local singer dies after crashing his car while on a video call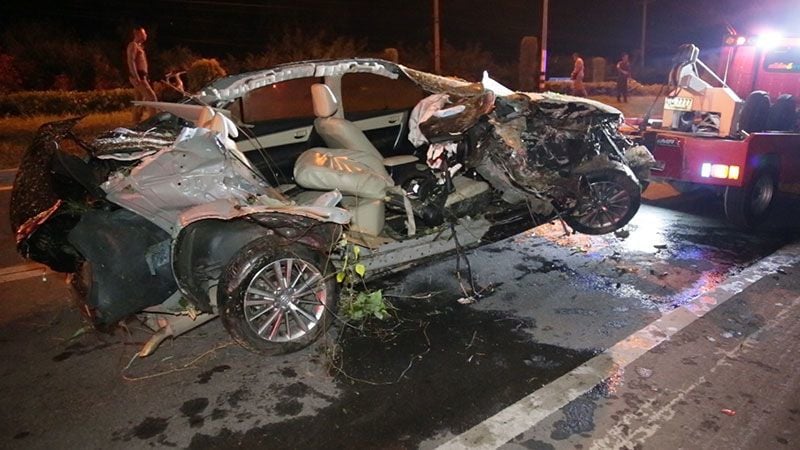 A Thai singer died after crashing his car into a lamppost while on a video call with his girlfriend. Thai media did not report on the estimated speed, but photos of the wreckage show severe damage. The roof ripped off the Toyota Altis and the car is almost unrecognisable.
23 year old Akkarachai, known as Ice, was found dead at the scene on Pahonyothin Road, or Route 1. He performed at many night venues and events around the Central Thailand province Chai Nat. Ice's friend told police that he was on his way home to his girlfriend's house in Nakhon Sawan about 25 kilometres away. While on the phone with his girlfriend, there was suddenly a loud noise and the phone went dead.
Chai Nat police warn people not to use their phones while driving.
SOURCE: Thai Visa
Keep in contact with The Thaiger by following our
Facebook page
.
Never miss out on future posts by
following The Thaiger
.
9 arrested for allegedly embezzling more than 2.8 billion baht from Railway Club Cooperative funds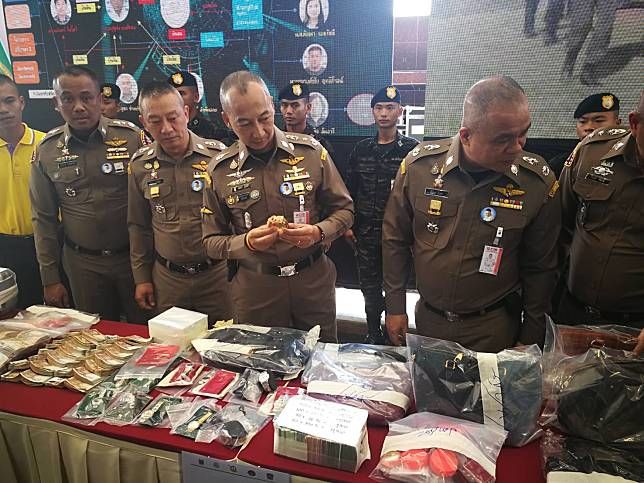 Police arrested 9 people involved in the Railway Club Cooperative, including the former chief, on collusion charges for allegedly approving loans behind closed doors to embezzle a total of 2.8 billion baht from members' funds.
Officers from the Central Investigation Bureau have been investigating since June 30 of last year. Investigators say the suspects approved loans without calling meetings for the roughly 2,300 cooperative members and used falsified documents to take out loans of about 15 million baht each.
When reviewing loan approvals made between January 2012 and November 2016, investigators say they found loans given to a hotel, housing estate, resort and property project. They say loans were also used to buy luxury cars and other valuables.
Officers from the bureau along with the Department of Special Investigation and the Anti-Money Laundering Office recently raided 26 locations in Bangkok, Phetchaburi, Samut Prakan and Nonthaburi. Officers seized a total of more than 10 million baht as well as luxury cars.
The 9 suspects face charges of colluding in theft, falsifying documents, using fake documents and money laundering. Along with arresting the cooperative's former chief executive, 70 year old Boonsong Hongthong, police arrested committee members 49 year old Pimpa Rodrassamee, 31 year old Orchanok Sa-ngadsap, 59 year old Weerachai Srisawat, 69 year old Surat Srisawat, 37 year old Prapat Srisawat, 44 year old Supakit On-aree, 63 year old Preecha Thanapairin and 40 year old Natyanit Mahachot.
SOURCE: Bangkok Post
Keep in contact with The Thaiger by following our
Facebook page
.
Never miss out on future posts by
following The Thaiger
.