His Majesty the King signs Thailand's new constitution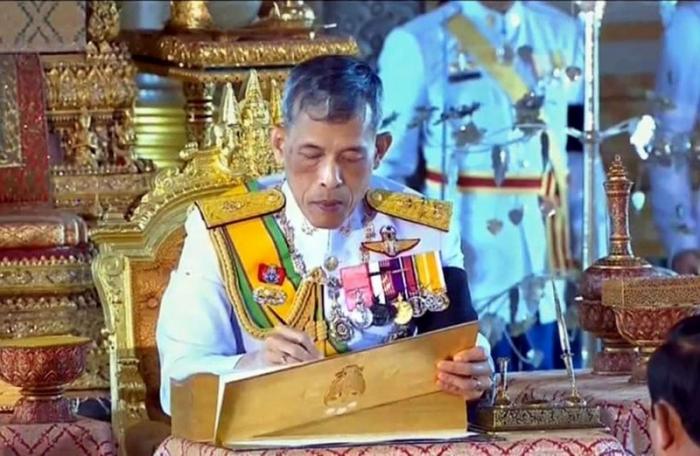 BANGKOK: His Majesty King Maha Vajiralongkorn yesterday signed the country's new constitution – the 20th – giving it royal endorsement and setting in motion a process for the next general election, which is expected late next year.
Through a court secretary, HM proclaimed the new charter's promulgation in a televised royal ceremony that included local and foreign dignitaries, including Prime Minister Gen Prayuth Chan-o-cha.
The new constitution was published in the Royal Gazette about an hour after the ceremony was completed.
The solemn and ritual-laden ceremony, held at the historically significant Ananta Samakhom Throne Hall, was broadcast nationwide. The ornate building served as the venue for the country's parliament until the early 1970s. His Majesty arrived at the throne hall at about 3pm, and the ceremony lasted a little more than 30 minutes.
His Majesty signed three copies of the new constitution, which were then stamped by officials and placed on gilded pillars before the King. After signing the three copies with gilded covers, he ceremoniously handed them to the prime minister.
In his remarks, which were read out by the court official, the King declared that the 2017 constitution would replace the post-coup interim charter of 2014.
The preamble mentioned constitutional crises in the past that had led to political impasses, and said that despite many constitutions, the country still experienced a lack of political stability, occasional disruptions and different conflicts. It partly blamed "dishonest and corrupt people who abused their power and failed to be aware of their responsibility towards the country and the people". Such acts led to ineffective law enforcement, it said.
The new constitution reflects two changes advised by the Royal Household Bureau in January. One change involves Article 5, which allows the King to use his royal prerogative in line with the traditional rule in cases where no existing laws are applicable. This is the same as Article 7 in the 2007 constitution. In the constitutional draft approved in the referendum last August, Article 5 authorized the Constitutional Court to hold a special meeting with political leaders to deal with any severe crisis or impasse.
Another revision involves the appointment of a regent in Article 16, which allows the King to decide whether to appoint a regent or not when residing outside the Kingdom.
Yesterday's ceremony was also attended by the foreign diplomatic corps including many ambassadors, privy counselors, cabinet members, National Legislative Assembly and Constitution Drafting Commission members, the Supreme Court president, heads of independent organizations, and senior military commanders and civil servants.
Gen Prayuth said yesterday that his government still could not provide a clear schedule for the next general election, as organic laws needed to be issued in preparation for the vote.
In his address, he promised that his government would hand over power to a new administration after the next election.
— The Nation
Keep in contact with The Thaiger by following our Facebook page.
Never miss out on future posts by following The Thaiger.
Thailand News Today | Week In Review | February 26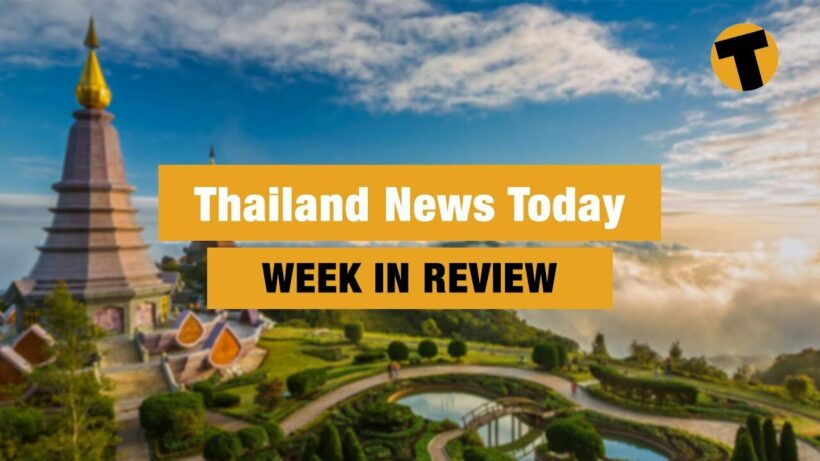 Thailand News Today usually covers five days of the news week. This week only four days as today (Friday) is a public holiday. Now we have a weekend edition which goes over the biggest, or best stories, from the past week. Out every Saturday afternoon, catch up with Jett and Tim's major Thai news stories. Welcome to the Thailand News Today Week in Review. Tim and Jett give you a quick recap of the main news stories.
To get all the latest news and information about Thailand, go to https://thethaiger.com. Like and subscribe our YouTube channel too. Go on, right now 🙂
You can also LIKE our Facebook page https://facebook.com/thethaigernews to get even more information about Thailand.
Keep in contact with The Thaiger by following our Facebook page.
Never miss out on future posts by following The Thaiger.
45 new cases today, 37 local‐Covid‐19‐Update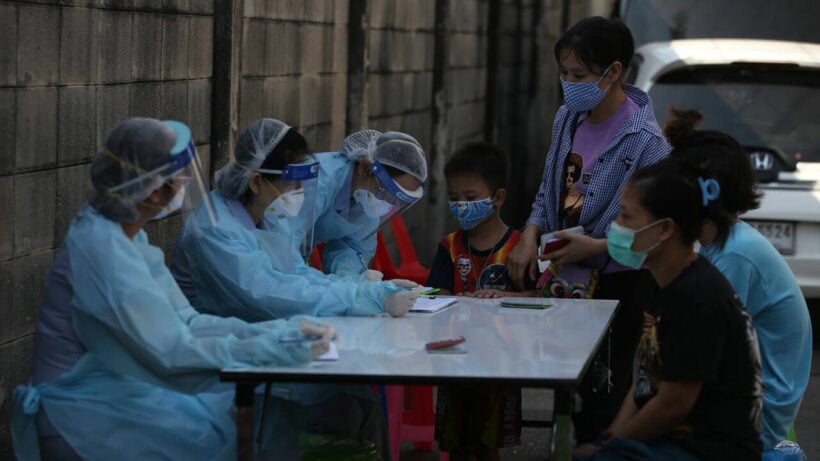 Thailand reports 45 new cases of Covid-19cases today, with 37 infections being locally-transmitted. 8 of those infections were imported, raising the total amount of infections since the pandemic began to 25,809.
The Department of Disease Control reports that 32 cases were confirmed at hospitals with 5 confirmed through active case finding in communities.
Samut Sakhon province, the 2nd wave epicentre, reported over half of the new cases at 19. 14 of those cases were confirmed at hospitals and 5 were detected in Myanmar communities. Bangkok has reported 3 new cases, Nakhon Nayok reported 5, Chai Nat 3, Nakhon Pathom 3, Saraburi 2, Prachuap Khiri Khan 1, and Samut Prakan 1.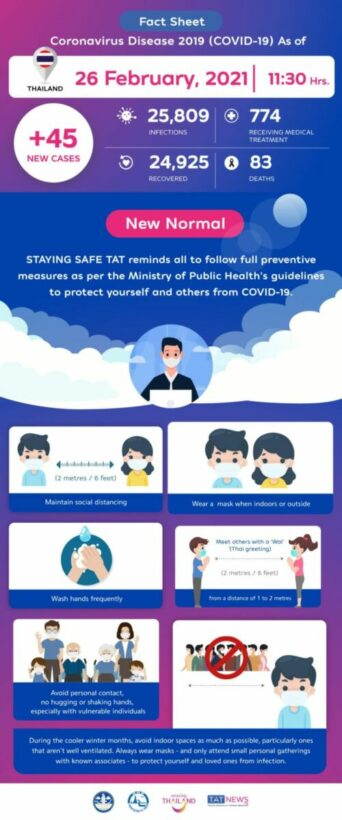 The 8 imported cases were those under quarantine arriving from Pakistan, Bangladesh, the UK, Germany, France, The Netherlands, and Kuwait. The case from the UK was that of a 6 year old Thai schoolgirl.
Globally, Covid-19 cases rose by 444,466 over the past day to 113.54 million. The worldwide death toll increased by 10,552 to 2.52 million. The United States still has the most cases at 29.5 million, with the most deaths at 520,785.
SOURCE: Bangkok Post
Keep in contact with The Thaiger by following our Facebook page.
Never miss out on future posts by following The Thaiger.
Surveys show Thailand still one of the top holiday choices post-pandemic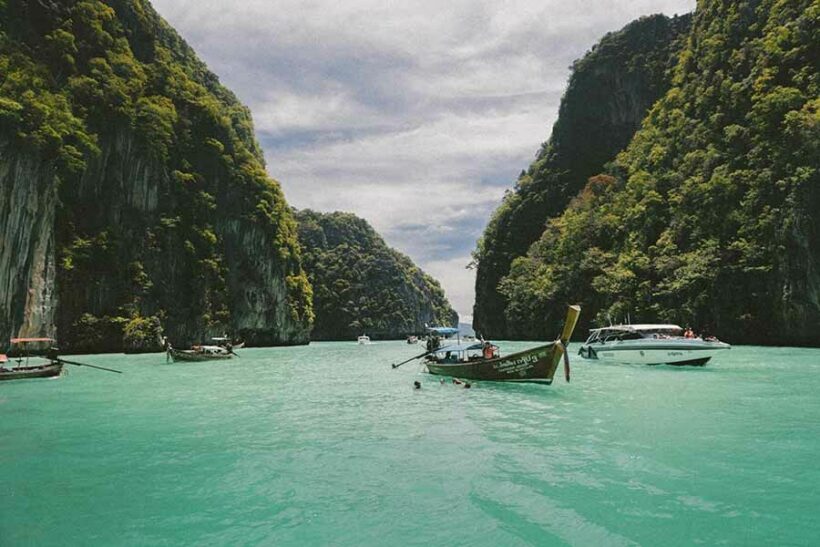 The Stockholm office of the Tourism Authority of Thailand has conducted a survey in which 62% of respondents say they want to spend winter in Thailand provided restrictions are lifted. The top destinations are Phuket, Krabi and Khao Lak, followed by Koh Samui, Koh Pha-ngan, Koh Tao, Bangkok, and Hua Hin.
68% say they would cancel bookings if the 14-day quarantine remains in place. 26% say they would still go ahead, and 13% said they'd be in favour of quarantine being cut to 10 days. 99% of participants say they would be worried about testing positive for Covid-19 after travel plans have been made.
Meanwhile, the TAT's London office has also been busy, carrying out a survey in conjunction with market research firm, YouGov. The idea behind the survey was to get an idea of the future of tourism once the pandemic is over.
4,127 people took part, with 75% of them saying they're prepared to be vaccinated if it's required for travel. 41% are against mandatory quarantine, although 52% would accept a 5-day quarantine. 62% of those planning holidays are over the age of 50 and interested in countries with low infection rates.
According to a Nation Thailand report, Siripakorn Cheawsamoot from the TAT says the findings of the survey indicate that up to 6 million people are interested in travelling to Thailand at some point this year.
Meanwhile, a number of online travel agency platforms in France have also carried out a survey. The poll, conducted by companies such as Go Voy, Opodo, and eDreams, showed that the number of hits to tourism-related websites rose by 15% once the success of Covid-19 vaccines was announced. The top destinations searched for were Dubai at 49%, Marrakesh at 27%, and Bangkok at 25%.
Another travel survey in the Americas found that most holidaymakers have chosen to postpone their trips by 7 months to a year, rather than cancelling completely. Siripakorn says that booking flexibility is a priority for Americans.
"Flexibility to reschedule is the top priority for American tourists, followed by safety. These tourists are looking for safety, no quarantine, flexibility, and no deposit."
Meanwhile, a report issued by Skift Research shows that travel will not recover until 2023 and will not return to pre-pandemic levels until 2025.
SOURCE: Nation Thailand
Keep in contact with The Thaiger by following our Facebook page.
Never miss out on future posts by following The Thaiger.