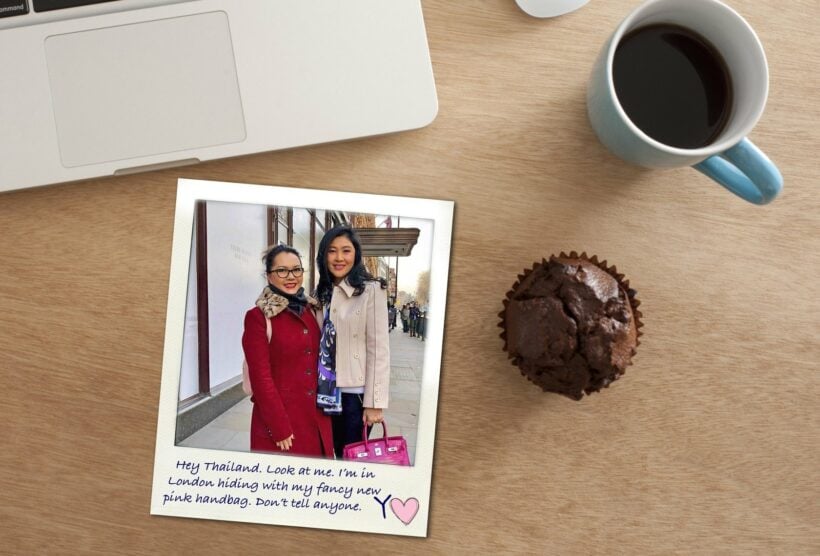 Editorial by Tim Newton
Yingluck's in London. Yep, it's her.  Somehow a Facebook page has been able to achieve what the entire Royal Thai Police and Interpol have been unable to – find former Premier Yingluck Shinawatra.
We are led to believe that these random pics of the fugitive PM are a serendipitous happening, arousing media speculation and allowing the officials to exclaim that they will seek "immediate confirmation of Yingluck's whereabouts and do everything possible to bring her back to face justice."
But do the NCPO really want Yingluck back in the country? And were these random shots, surfacing over a period of two weeks, actually carefully orchestrated leaks by supporters of the Shinawatra clan?
Yingluck's planned exit from the country, just two days before she was set to appear in the Supreme Court to hear the verdict on her role in the Government's failed rice pledging scheme, was the best possible outcome for the NCPO. The last thing they would have wanted was a martyr sitting in a Thai jail giving oxygen to the Red Shirts and lingering hope of a return to Shinawatra rule. She was gone and, hopefully, eventually, forgotten, living in exile alongside her brother – both fugitives forced to live overseas. The Government and Prime Minster have ridiculed any suggestion that her disappearance was an 'inside job', or aiding her escape in any way.
Yet, here she is, seemingly roaming the shopping centres and streets of London allowing happy snaps with strangers (we still don't know who the other person is in the photo). There appears no fear of a tap on the shoulder from an Interpol detective or a Thai policemen who figured out how to buy an airline ticket. Here is a wanted woman wandering around London and posing with a 2 million baht pink crocodile Hermes handbag.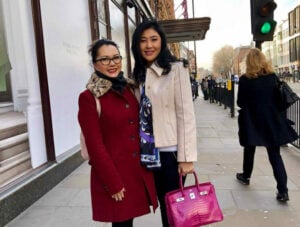 The fifty year old former PM appears to be coping with her exile in fine style. The Shinawatra clan became wealthy before and during the time of Thaksin and Yingluck's premiership. Though Yingluck has said nothing on record since leaving Thailand, her brother is known to continue regular contact with a coterie of influential red shirts and leaders of the Pheu Thai party. The Shinawatras don't need to worry about money to maintain a comfortable lifestyle, anywhere in the world.
That she has said nothing must infuriate the sitting Thai Prime Minister Chan-o-cha who can only mock from afar with no words or actions he can sneer at or sternly pound his lectern.
It all appears a little too staged – the photos turning up, the insistence from the Government that they are seeking official information from the UK Foreign Ministry about Yingluck's whereabouts and her alleged application for asylum, the ease of unamed people taking photos of the former Premier when Interpol and the Thai police force have zero success with their worldwide resources and directions to 'find her'.
But for what end? Is it 'dipping the toe' in the warm waters of Thai public opinion? Is it a damp gauge of lingering popularity? Is it a 'hey, I'm still around – don't forget me'?
For an international fugitive who fled her country fearing retribution from a hostile military dictatorship, she's looking very happy. The granting of an application for political asylum in the UK would give Yingluck a five year stay with opportunities for permanent residency following the first five years. Whether she chooses to stir the pot from 11,000 kilometres away or just spend her days shopping, she has options.
Here's a woman who knows precisely what she's doing politically, although we question her taste in faux crocodile skin handbags.

Join the conversation and have your say on Thailand news published on The Thaiger.
Thaiger Talk is our new Thaiger Community where you can join the discussion on everything happening in Thailand right now.
Please note that articles are not posted to the forum instantly and can take up to 20 min before being visible. Click for more information and the Thaiger Talk Guidelines.