Hemp being proposed as alternative to medical marijuana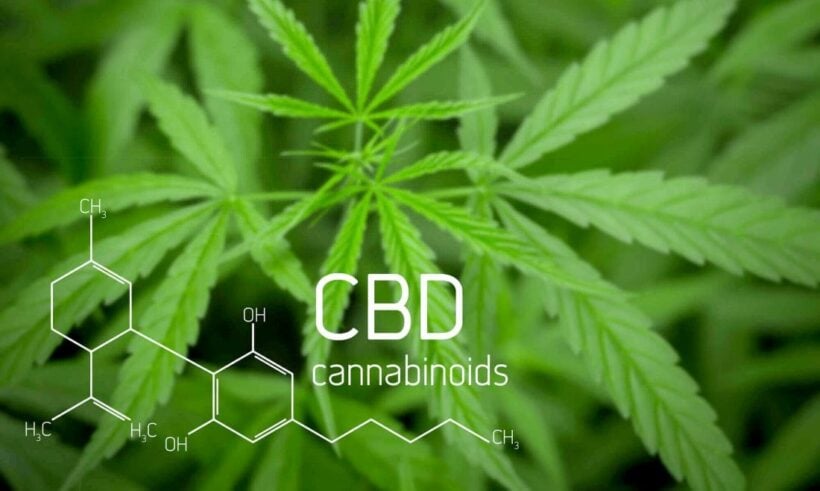 The UN is considering whether to downgrade the classification of cannabidiol – currently a narcotic under international law, says Kasetsart University agronomy lecturer Vichien Keeratinijakal.
Vichien claims the UN was considering reclassification because cannabidiol, found both in hemp and marijuana, had been shown to have medical benefits without the intoxicating properties of other cannabinoids, such as psychotropic tetrahydrocannabinol (THC).
Some countries use cannabidiol in food-supplement products, he added.
Vichien has met with International Narcotics Control Board member Viroj Sumyai last month to discuss Thailand's move to legalise medical marijuana.
With restrictions possibly set to be lifted on cannabidiol, Government Pharmaceutical Organisation (GPO) chairman Sopon Mekthon suggested that the government encourage farmers to grow hemp as a source of cannabis-related remedies rather than marijuana.
He says Thai-grown marijuana still had a rather high THC level and yielded a low amount of cannabidiol, meaning people were more likely to take it for psychotropic effects.
Sopon added that the government should legalise the growing of hemp and conduct further studies on which strains to grow and where to cultivate in order to maximise the cannabidiol content.
According to The Nation, Vichien, who has carried out GPO research into cannabis strains for medical purposes, said hemp (Cannnabis sativa L Subsp sativa) is judged different from marijuana (Cannabis sativa L Subsp indica (Lam) based on the amount of THC content.
Thailand requires that hemp must contain less than 1 per cent THC, while the US requirement is for less than 0.3 per cent and Europe's is for below 0.2 per cent.
Vichien explained that if Thailand wanted to grow hemp to get cannabidiol for global export, it had to ensure the produce contained less than 0.3 per cent THC and ensure there was no heavy-metal contamination.
The government may have to amend its regulation to cap THC content at 0.3 per cent, because anything higher is regarded as narcotic marijuana, the lecturer said.
He added that if Thailand were to grow drought-hardy hemp, which is mostly cultivated for fibre and Omega oil-rich seeds besides cannabidiol, farmers could follow the dual model – focusing on both fibre and cannabidiol – that is applied by China, the world's largest source of cannabidiol.
SOURCE: The Nation


Are you considering a medical procedure abroad? With Thaiger Medical you can research hospitals and doctors, choose a destination in Thailand or abroad, and book an appointment today.

Read more headlines, reports & breaking news in Thailand. Or catch up on your Thailand news.
"A clean and fair election", EC assures international delegates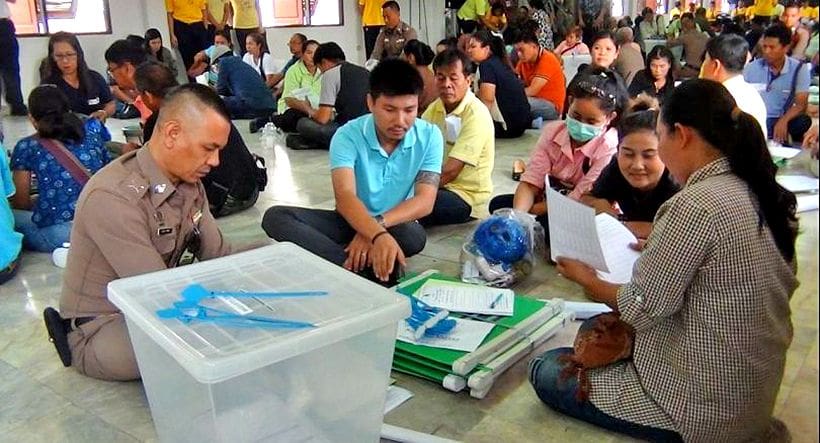 Thailand's Election Commission has assured representatives from 11 nations and one international electoral watchdog organisation of a clean and fair election tomorrow.
The EC briefed representatives of election commissions from Australia, Bhutan, Cambodia, Malaysia, Maldives, Myanmar, Indonesia, Philippines, South Korea, East Timor, and Vietnam at the Rama Gardens Hotel at 9.45am this morning.
Representatives of the International Institute for Democracy and Electoral Assistance also attended the session.
EC secretary general Jarungwit Phumma told the representatives that the EC welcomed them to observe tomorrow's election.
Jarungwit says the EC allowed the representative to monitor the election to show that the polls would be transparent, clean and fair so that the international community would have confidence in the next government.
EC commissioner Wiroj Kowattana assured representatives that the Thai EC was an independent organisation and it was not under anyone's order to 'organise' the polls.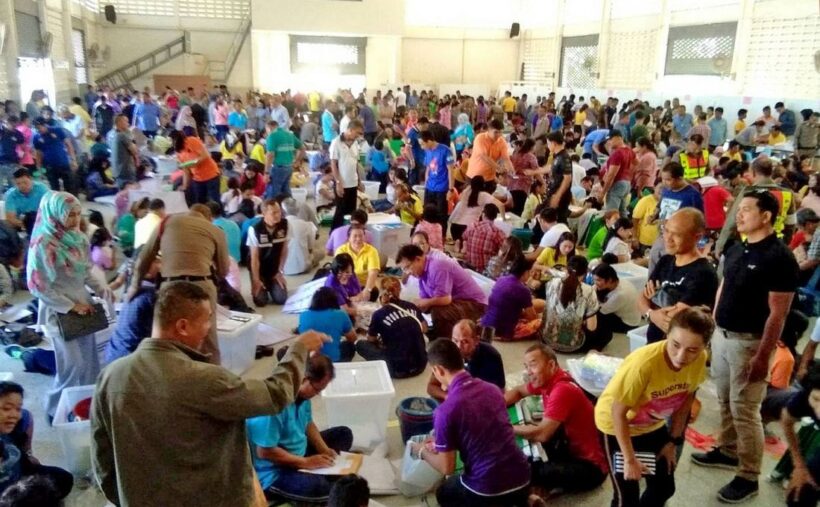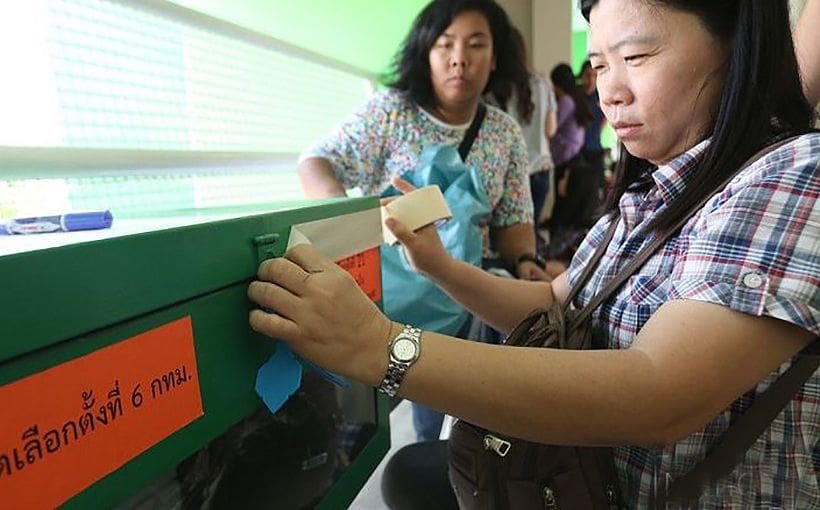 SOURCE: The Nation
Eight Burmese migrants drown, two still missing in Kanchanaburi road crash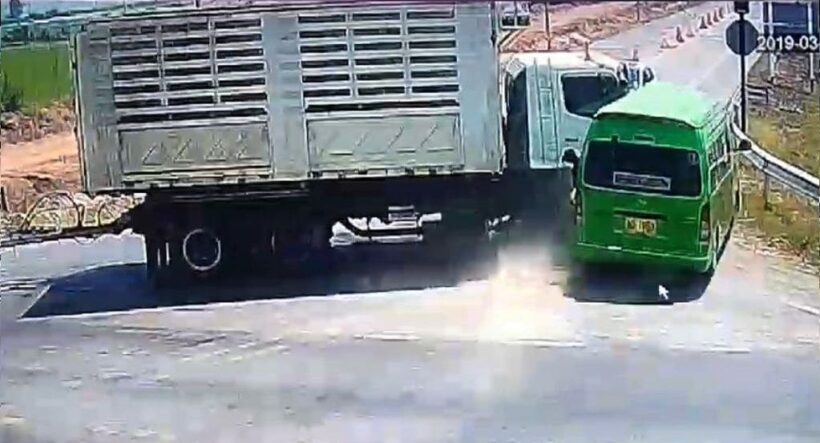 Eight Burmese migrants drowned along with two others that are missing, presumed dead, after a van they were travelling in was hit by a 10 wheel truck and both vehicles plunged into a canal in Kanchanaburi's Tha Muang district in western Thailand today.
Police say the accident happened at 12.10pm at the Sa Setthi Intersection in Tambon Ban Mai.
About 100 rescuers rushed to the scene to try to save the passengers who were trapped inside the van.
The rescuers were able to retrieve eight bodies, one of them a pregnant woman. Four were rescued and were sent to a nearby hospital.
Officials say two of the group are still missing.
The van was transporting the migrants back to Myanmar.
SOURCE: The Nation
Thailand 'slightly impacted' from a no deal Brexit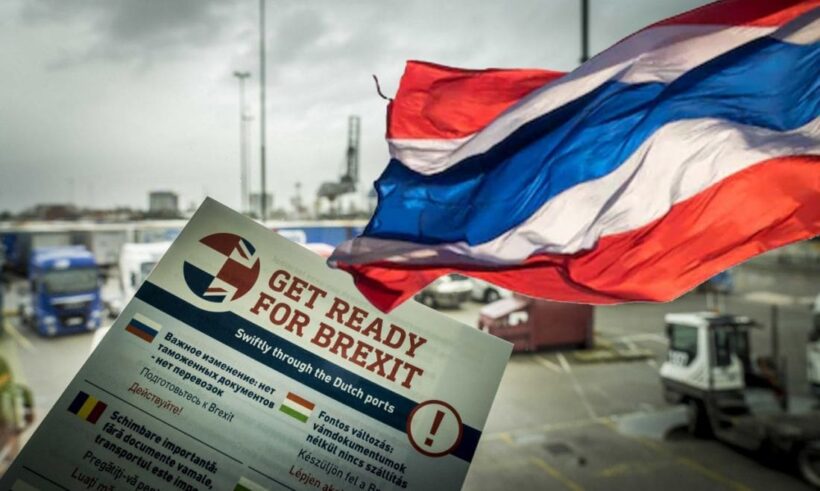 The EU has agreed to postpone Brexit from next Friday and give UK PM Theresa May time to get her deal approved in Parliament.
The PM had hoped to persuade the EU to delay the March 29 Brexit date, set in law, to June 30. But the EU country leaders have offered her two dates…
A delay until May 22 if MPs approve her withdrawal deal in next week's vote.
2. A shorter delay until April 12 if they reject it. But the UK will have to set out its next steps – another extension or leaving without a deal.
But the EU says a further extension beyond April 12 is only possible if the UK agrees to hold EU elections on May 23.
As to how British lawmakers can sort things out in a few weeks after two years of debate remains to be seen.
But economists are warning Thailand to brace for some fallout from the UK exit from the EU because it is more likely to happen than not, just a matter of when.
First of all, no-deal Brexit means the UK will no longer be a part of the EU bloc and will have to revert to World Trade Organisation rules on trade. Made-in-UK goods will be subject to EU tariffs, like that of other non-EU nations. Meanwhile, the price of the EU-made merchandises in the UK may become more expensive as they will have to bear the cost of imported tariffs as well.
According to SCB Economic Intelligence Centre, a no-deal Brexit will impact the UK economy and, consequently, affect British purchasing power overseas. British demand for Thai exports, namely automobiles and parts, and processed chicken meat may reduce.
British expats will also have to face a worsening rate of exchange with the Thai baht, lessening the power of the British pound they bring into the Kingdom for living, retirement or holidays.
Nonetheless, the overall impact on Thai exports should not be significant because the Thai outbound shipment to the UK represents only 1.5 percent of total Thai exports, according to the the think tank of Siam Commercial Bank.
Brexit may also prompt Thailand and the EU to renegotiate some trade deals such as import quota to the EU. Thailand may have to renegotiate the export quota with the EU on processed chicken, as an example. And Thailand may also have to negotiate another chicken export deal with the UK separately after the UK separation from the EU.
Auramon Supthaweethum, Director-General of Department of Trade Negotiations, said Brexit could complicate the process of Thai-EU free trade negotiation, which is scheduled to resume in the second half of this year.
"At any rate, after the Thai general election, Thailand is set to continue to negotiate with the EU on the Thai-EU free trade deal regardless of the UK decision."
On the bright side, Brexit may prompt the UK investors to pay more attention to potential markets beyond the EU border. At present, direct investment from the UK to Thailand is small, accounting for only 3.5 percent of the total foreign direct investment, according to SCB.
Kasikorn Research Centre note that in addition to Brexit, Thai investors should take into account the consequences of the EU and Japan's Economic Partnership Agreement which came into force last month.
The EPA could affect the exports of Thai automobile which is part of the Japanese' supply chains. The EPA will end tariffs of auto and parts between Japan and EU by 2026.
Kasikorn Bank's think tank says, in light of Brexit, some Japanese automakers will likely relocate some of their car production from the UK to other EU countries to maintain the EU trade privileges. Nissan and Honda have already flagged this probability.
Thus, the destinations for Thai exported automobiles and parts, which are part of the supply chains of Japanese automakers, may also change in accordance with Japanese automakers' revised business strategy.
While the actual impacts on trade and investment remain to be seen, Brexit has been chiefly attributed to the volatility of the British pound since the referendum in 2016.
The SCB Economic Intelligence Centre say the weaker British pound could dampen the sentiment of British arrivals. They note that UK holidaymakers are among the high spenders in Thailand with 77,600 baht per trip.
"At any rate, since the receipts from British travelers represent only 2.1 percent of the total, the impact on the Thai tourism industry will be insignificant."