Hemp being proposed as alternative to medical marijuana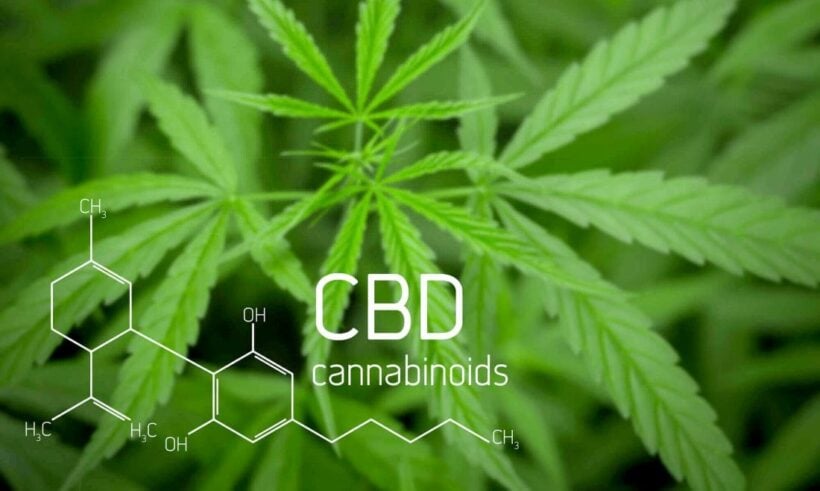 The UN is considering whether to downgrade the classification of cannabidiol – currently a narcotic under international law, says Kasetsart University agronomy lecturer Vichien Keeratinijakal.
Vichien claims the UN was considering reclassification because cannabidiol, found both in hemp and marijuana, had been shown to have medical benefits without the intoxicating properties of other cannabinoids, such as psychotropic tetrahydrocannabinol (THC).
Some countries use cannabidiol in food-supplement products, he added.
Vichien has met with International Narcotics Control Board member Viroj Sumyai last month to discuss Thailand's move to legalise medical marijuana.
With restrictions possibly set to be lifted on cannabidiol, Government Pharmaceutical Organisation (GPO) chairman Sopon Mekthon suggested that the government encourage farmers to grow hemp as a source of cannabis-related remedies rather than marijuana.
He says Thai-grown marijuana still had a rather high THC level and yielded a low amount of cannabidiol, meaning people were more likely to take it for psychotropic effects.
Sopon added that the government should legalise the growing of hemp and conduct further studies on which strains to grow and where to cultivate in order to maximise the cannabidiol content.
According to The Nation, Vichien, who has carried out GPO research into cannabis strains for medical purposes, said hemp (Cannnabis sativa L Subsp sativa) is judged different from marijuana (Cannabis sativa L Subsp indica (Lam) based on the amount of THC content.
Thailand requires that hemp must contain less than 1 per cent THC, while the US requirement is for less than 0.3 per cent and Europe's is for below 0.2 per cent.
Vichien explained that if Thailand wanted to grow hemp to get cannabidiol for global export, it had to ensure the produce contained less than 0.3 per cent THC and ensure there was no heavy-metal contamination.
The government may have to amend its regulation to cap THC content at 0.3 per cent, because anything higher is regarded as narcotic marijuana, the lecturer said.
He added that if Thailand were to grow drought-hardy hemp, which is mostly cultivated for fibre and Omega oil-rich seeds besides cannabidiol, farmers could follow the dual model – focusing on both fibre and cannabidiol – that is applied by China, the world's largest source of cannabidiol.
SOURCE: The Nation


Are you considering a medical procedure abroad? With Thaiger Medical you can research hospitals and doctors, choose a destination in Thailand or abroad, and book an appointment today.

Read more headlines, reports & breaking news in Thailand. Or catch up on your Thailand news.
New 500 baht fine for drunk cycling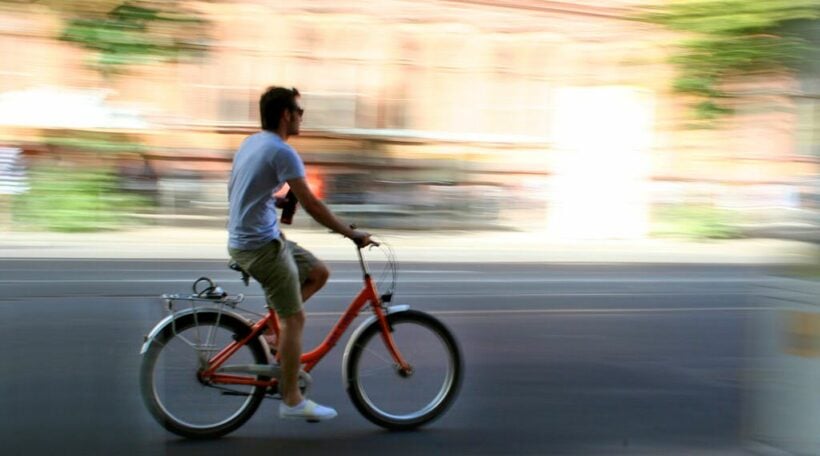 Up to now drink-driving cyclists have not been included in the laws governing drunk drivers of other vehicles in Thailand. But with the rising popularity of cycling as a fitness trend, that's about to change with a new 500 baht fine if bought drunk in control of a bike.
Drunk bicyclists who are currently immune to litigation because there is no law to make drunk cycling an offence. The new laws are covered in the upgraded traffic bill which passed the first reading of the National Legislative Assembly last week.
But, according to the Bill drafters, riding bicycles in public while being drunk is still regarded as a petty offence and the penalty would be just a 500 baht fine.
The same new traffic bill also seeks to empower traffic police to seize driving licenses of drivers found to be drunk behind the wheels and judged incapable of driving.
The bill will also merge the Land Transport Department and police databases to coordinate and share information on backgrounds and traffic violations records of drivers and motorcyclists.
A score system is being introduced under which law-breaking drivers will have their scores cut for every traffic violation.  Everyone will start a 12 month period with 12 points. If the scores are down to zero, the drivers will have their driving licenses suspended for up to 90 days.
Thailand's War Elephants aiming for an upset over China – Asian Cup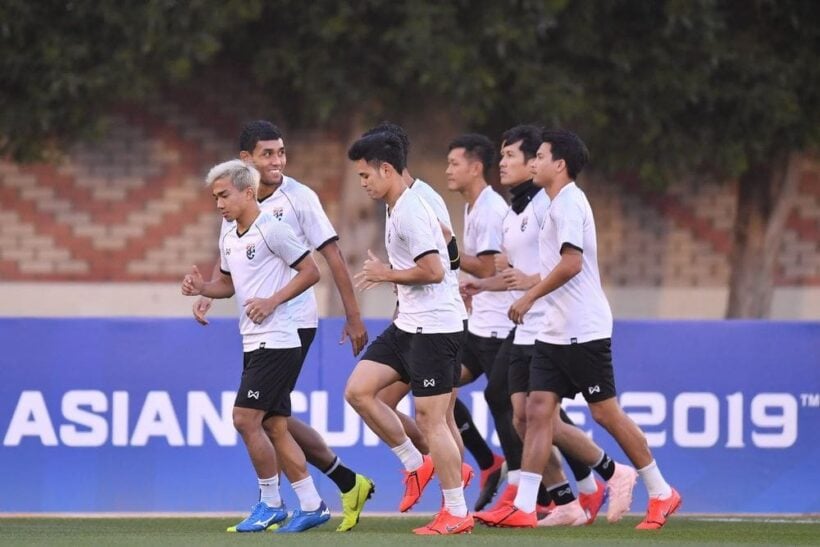 PHOTO: Chanathip Songkrasin (First from the left) getting ready for tonight's game with his fellow teammates
Make sure dinner is wrapped up and the kids are in bed by 9pm because it's Asian Cup round-of-sixteen time with China lining up against Thailand.
J-League star Chanathip Songkrasin says he's determined to spearhead Thailand to an upset over the powerful China team as the two nations face off in the Asian Cup round of 16 at 9pm today in Al Ain.
The Consadole Sapporo midfielder is ready to take up a huge challenge against the two-time finalists supervised by Italian legend Marcello Lippi, manager of the Italy's 2006 World Cup winning team.
"This is a knockout stage. If we lose, it means we have to go home. But that's not what we want. We still hope to continue in the tournament," said 25 year old Chanathip who produced the winning goal for Thailand during the group A stage against Bahrain, taking them into the round of sixteen.
"We wont underestimate China. We have to stick to the game plan and stay really focussed. Chinese players are very strong and have aggressive game. They have improved dramatically. We need to rely on a good teamwork like we've done so far."
The game will be broadcast live on Channel 7 and Fox Sports HD at 9pm tonight.
SOURCE: The Nation
Thailand pledges to soften harsh refugee policies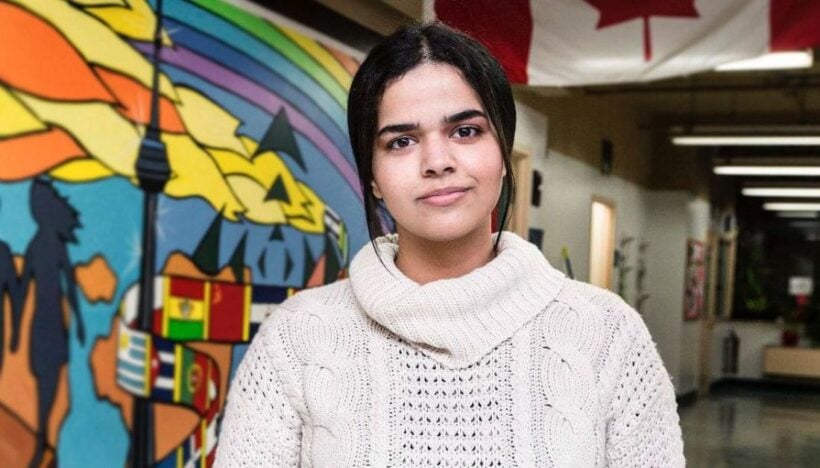 PHOTO: Toronto Star
Thailand's immigration chief is pledging an upgrade of the country's draconian treatment of refugees following the intense international media coverage of the young Saudi woman's attempt to seek asylum.
Rahaf Mohammed became the biggest international story across the world for a week after being intercepted during a transit stopover in Bangkok, on her way to Australia, and was immediately prepared for deportation back to Saudi Arabia.
Following the 19 year old's Twitter stream, as she barricaded herself inside her hotel room, Thai authorities were forced into damage control as the woman's plight shed light on the harsh treatment of people arriving or transiting through the Kingdom in the hope of seeking asylum.
Her barrage of Tweets called on her rights and demanded to speak to the United Nations High Commissioner for Refugees. Thai authorities, painted into a corner, eventually acceded to her demands.
As a diplomat at the the Saudi Arabian Embassy in Bangkok was quoted at the time… "Thai authorities should have confiscated her phone, not her passport."
Rahaf Mohammed was eventually taken in by Canadian authorities.
The high profile Chief of Immigration, Surachate Hakparn, says refugees would no longer be returned home "involuntarily" if they arrived in Thailand and claimed they were seeking asylum. He pledged that, moving forward, when it comes to asylum seekers, "Thailand will now follow international norms".
Thailand has, in the past, refused to recognise and shelter asylum seekers and routinely deports them back to their home countries where they face potential dangers.
At this stage, Thailand is not a signatory to the UN convention on refugees.
Surachate, speaking about the case in recent days, says he was adamant that Thai authorities didn't caved to "pressure" in Mohammed's case.
Surachate has spearheaded a firm crackdown on illegal immigrants over the past year, resulting in women and children refugees, previously released on bail, rounded up again and put back into detention. The Immigration Chief describes the accommodation as "government shelters", despite earlier commitments by Thai authorities to no longer detain single mothers and children.
But this week Surachate has pledged that mothers and children held in immigration detention would be given bail.
SOURCES: The Nation | The Guardian