Government goes retro with new 'moral code' for students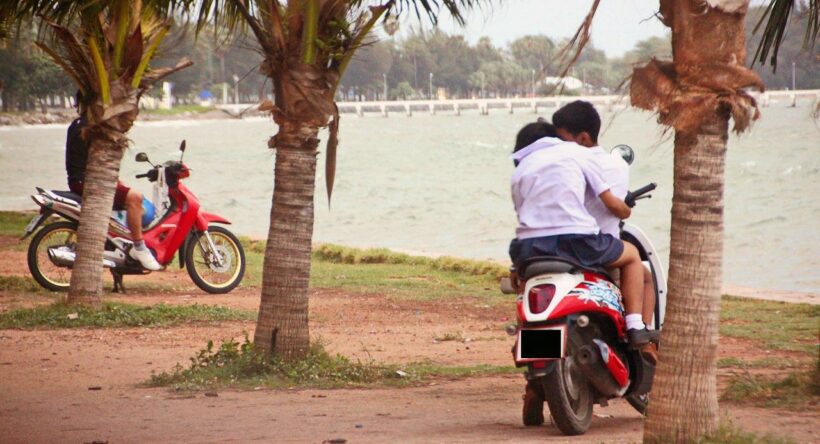 "…kissing the cheeks of a member of the opposite sex or embracing them is "inappropriate."
The Cabinet has approved the Education Ministry's new regulations banning students from holding public gatherings, "inappropriate" displays of affection and causing public nuisance. The attempt to control students' moral and social behaviour is a major step for the Junta, away from building roads and taming dissenting politicians to the private lives of its younger citizens.
The new regulations, which will be implemented after being published in the Royal Gazette, is a revamp of the 2005 regulation on students' conduct that warned students against public displays of affection and causing a public nuisance at night.
The new regulation now also forbids public assembly likely to disturb order or go against morality, inappropriate acts of affection and obscenity in private and public places, and causing a nuisance. The regulation appears to be heavy on rhetoric but light on specifics, leaving broad interpretation for the 'moral police'.
Education Ministry spokesperson Chalam Attatham said the 2005 regulation had to be revised in line with modern society and to close some loopholes.
He says the new rules better aim to protect students and promote acts that are appropriate and socially responsible. He said that though student behaviour seems to be improving, with fewer cases of them engaging in brawls, "[the new regulations] will give schools and authorities a tool to oversee their students".
Meanwhile, Montri Sintawichai, director of the Child Protection Foundation, said: "What students need is not punishment, they need help.
"If a student is at risk of or is engaged in acts of sexual intimacy, apart from alerting the school or parents, we will also need good measures to help [them] continue their education and prevent such acts in the future," he said.
Montri said a public assembly that may cause indecency and public nuisance is too broadly defined, as it could include singing or playing the guitar loudly.
Warat Phrueksakulnan, the director of Bureau of Scout Movement, Red Cross Youth and Student Affairs, said in an interview with Kom Chad Luek, that kissing the cheeks of a member of the opposite sex or embracing them is "inappropriate".
Warat added that authorities overseeing student conduct should deter students from such acts by conducting random patrols at risk-prone areas every month and keeping a close watch during events such as Valentine's Day.
Some students, however, find the regulations too intrusive.
Piyamanida Tumcha from Chulalongkorn University said the regulation infringed on her rights. "What if I like skateboarding, but people in my neighbourhood say it causes a public annoyance, am I banned from it?" she said.
She also questioned how the regulation could be enforced effectively, especially the ban on physical affection in public and private places.
"If it is done in private, I wonder how it harms the public? Also, if it is done in private places, how can they know and enforce the regulation?" she asked.
STORY: The Nation
Keep in contact with The Thaiger by following our
Facebook page
.
Never miss out on future posts by
following The Thaiger
.
Man arrested for allegedly stealing 70 pairs of women's underwear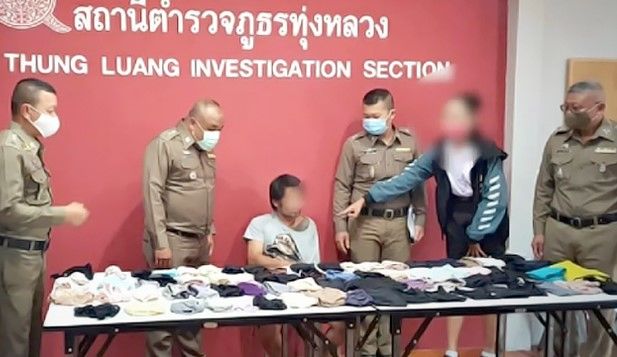 A 46 year old man has been arrested for allegedly breaking into homes and stealing women's underwear. Police say they found 70 pairs of panties and 3 bras at his house in Ratchaburi, a province west of Bangkok bordering Myanmar. Police also found some methamphetamine and amphetamine pills at the man's home, charging him with both theft and drug possession.
The man, identified as Chaiphat, allegedly told police he stole the underwear because he was lonely and he liked to smell them while stimulating himself. His wife of 10 years had left him, Chaiphat says.
Just 2 women reported to police about their missing panties. But by the amount of women's panties found at the man's home, police say they suspect he made about 20 robberies, but Chaiphat allegedly claims it was just "a few times".
"Two women had filed complaints with the station that a thief had broken into their homes and stolen their underwear, so we tracked down the suspect to his house and arrested him."
If any women are missing their underwear, police ask that they check the evidence at the Thung Luang Police Station.
SOURCE: Nation Thailand
Catch up with the latest daily "Thailand News Today" here on The Thaiger.
Keep in contact with The Thaiger by following our
Facebook page
.
Never miss out on future posts by
following The Thaiger
.
Thailand tourism officials to tap into Chinese market as they attract more visitors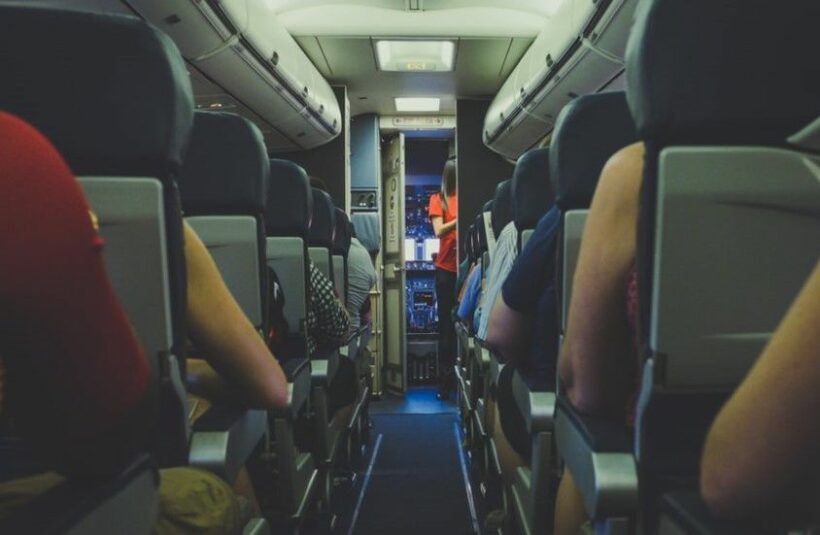 Thailand has so far welcomed 2 flights with Chinese visitors on the new Special Tourist Visa, a first step after a 7 month ban on international tourists. Now, tourism officials are proposing to bring in more whilst tapping into the vast Chinese market to draw in more visitors.
Tourism Authority of Thailand governor Yuthasak Supasorn says they're planning on 7.45 million Chinese arrivals next year with hopes that travel restrictions ease up (in 2019 there were around 11 million Chinese visitors to Thailand). Tourism officials expect a high season in July during the school break, assuming that international travel restrictions are lifted by then. Next year's overall goal for the Asian market is 11.2 million, a 34% decrease from 2019, before the pandemic.
"Some 7.45 million arrivals from China is in our sight, but it depends on how situation develops."
A marketing strategy is being prepared by TAT's deputy governor of marketing for Asia South Pacific, Chattan Kunjara Na Ayudhya.
"When the pandemic subsides we will change their focus from business travellers and retirees, to a younger generation that are 'less concerned' with health risks."
He says he's focusing on millennials, those born in the early 1980s to late 1990s. China has 321 million millennials, while Japan, South Korea, Hong Kong and Taiwan altogether have 69 million.
"Millennial travellers have more flexibility as they can actively penetrate technologies and online information — essential tools for post-pandemic tourism."
SOURCE: Bangkok Post
Catch up with the latest daily "Thailand News Today" here on The Thaiger.
Keep in contact with The Thaiger by following our
Facebook page
.
Never miss out on future posts by
following The Thaiger
.
Thai woman dressed as a zombie sells dead people's clothes – VIDEO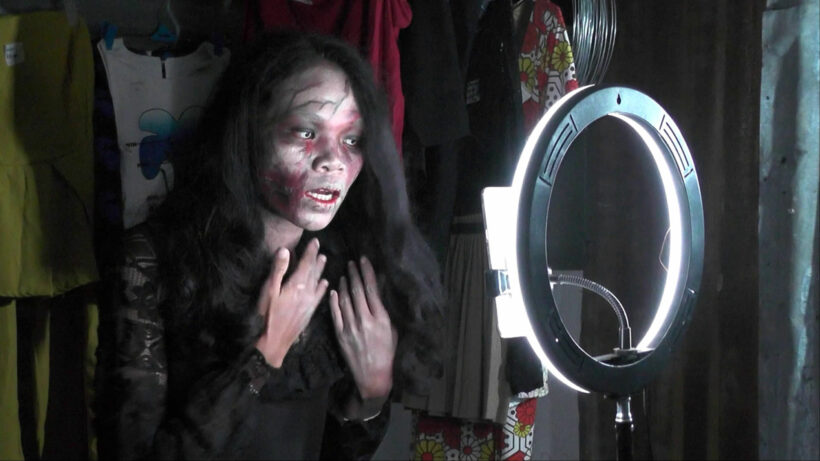 A zombie saleswoman is selling dead people's clothes online. 32 year old Kanittha Thongnak sells clothes of the deceased on a Facebook live stream while dressed as "the living dead". She gives a story behind every pieces of clothing, explaining how each person died. Perhaps it would be a real business kill in most countries, but not in Thailand where the spirit world and superstition are just as real to some Thais as the world of the living.
It all started at a funeral, Kanittha says. Traditionally in Thailand, clothes of the deceased are burned.
"There were a lot of clothes from the deceased, so I thought it would be better to sell them than to burn them."
She gets the clothes from a local temple. She says a monk does a blessing for the deceased before the clothes are given to her. The prices range from 10 to 100 baht. Some brand names and designer clothes are also sold at vastly reduced prices. She's donated some money from the sales back to the temple. In addition to the dead's clothes, Kanittha sells handmade zombie dolls.
"All the clothes belonged to dead people who died from various cause – accident, drowning, suicide."
Kanittha live streams each week from her home in the Northern province of Phetchabun. It takes her up to 3 hours to apply her zombie makeup, but she says the costume helps draw in viewers.
"Since I started to wear scary makeup, the audience increased to 5,000, then 6,000."
Many Thais believe in ghosts and spirits and just about anything vaguely superstitious. While some might be concerned about buying clothes that belonged to someone who is now dead, Kanittha says the people who end up making a purchase don't get scared.
SOURCE: Reuters
Catch up with the latest daily "Thailand News Today" here on The Thaiger.
Keep in contact with The Thaiger by following our
Facebook page
.
Never miss out on future posts by
following The Thaiger
.