Foreigners arrested over eco-vandalism off Koh Phangan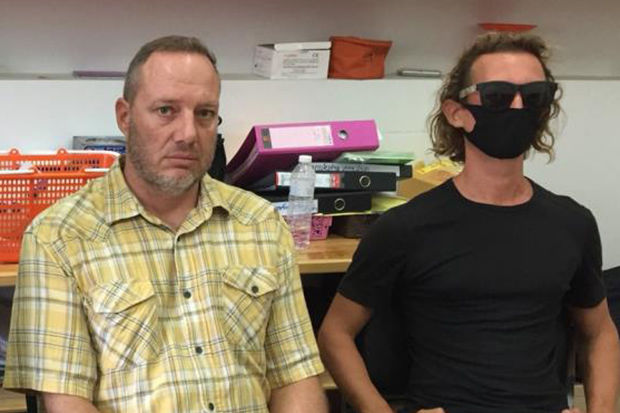 A Hungarian and Dutch man have been arrested for picking up sea animals and taking photos with them whilst diving off Koh Phangan in the Gulf of Thailand. They then posted them on social media, probably oblivious to their potentially criminal act. Police described the two as "long-stayers on Koh Phangan". Their selfies sparked plenty of outrage from Thai netizens who take this type of eco-vandalism very seriously.
"We tracked down the suspects and identified them as Attila Ott, a Hungarian, and Francesco Simonetti, from The Netherlands. Ott is a diving instructor and owner of Pink Panther Scuba Dive Club on Koh Pha Ngan, while Simonetti is a chef at Il Barracuda Restaurant & BBQ, also on Koh Pha Ngan."
"Salad Beach is a protected area, which makes their actions punishable by a maximum fine of 100,000 baht or 1-year imprisonment, or both."
Police charged the 2 men with "intruding in an area designated for environmental protection".
In the video (below), the duo are seen "tickling" marine life with their selfie stick and taking photos with them.
Department of Marine and Coastal Resources director-general Sophon Thongdee reported the pair's misdemeanours to the media yesterday. The two had confessed to taking photos and video with sea animals at Salad Beach on Koh Phangan and then posting them on the internet. But officials were sufficiently unhappy with the duo's antics they decided to throw the book at them.
They investigated the suspects' travel history and fined Simonetti for failing to notify immigration officials within 24 hours after changing his address.
"Meanwhile, Kritiyaporn Khamsing, Ott's wife, was also fined for failing to notify immigration officials in 24 hours after taking in an immigrant who was allowed to stay in Thailand temporarily."
"If you find any offenders of marine and coastal resources, please contact call centre 1310 immediately."
SOURCE: Nation Thailand
Keep in contact with The Thaiger by following our
Facebook page
.
Never miss out on future posts by
following The Thaiger
.
Thailand's ban on hazardous farming chemicals to remain in place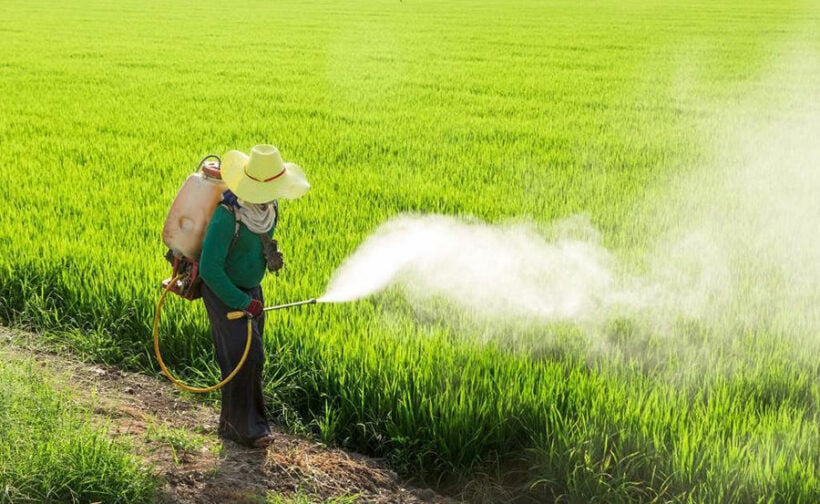 Despite fears to the contrary among those in favour of it, the ban on paraquat and chlorpyrifos is to remain in place. The Hazardous Substances Committee has confirmed that production, possession, and importing or exporting either substance remains illegal, under legislation introduced on June 1 of this year.
Thai PBS World reports that Industry Minister, Suriya Juangroongruangkit, says a discussion of the ban took both pros and cons into consideration, adding that a number of reliable reports clearly illustrate that the chemicals pose a health threat. He points out that they are banned in many other countries, in addition to Thailand.
Thai farmers have been protesting the ban, criticising suggested safer alternatives as ineffective. Abhai Sutthisung, from the Ministry of Agriculture and Agricultural Cooperatives, agrees suitable alternatives have yet to be found. It's understood the Agriculture, Industry and Commerce ministries are attempting to convince farmers to make the change to organic farming, by identifying viable markets for organic produce.
SOURCE: Thai PBS World
Catch up with the latest daily "Thailand News Today" here on The Thaiger.
Keep in contact with The Thaiger by following our
Facebook page
.
Never miss out on future posts by
following The Thaiger
.
Luxury resort built on national park land given demolition order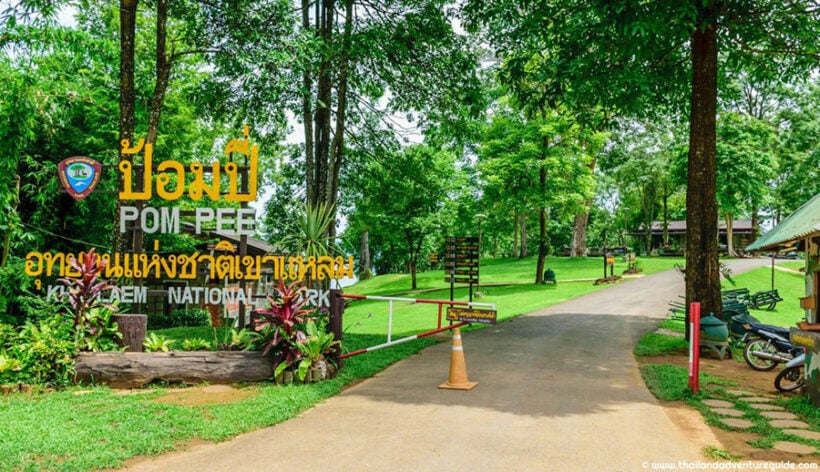 "Tear it down, or we will."
That's the ultimatum officials have given the owner of a luxury resort built on national park land in Kanchanaburi, western Thailand. The Phatsapada Resort, which consists of 17 chalets, has been built on land belonging to Khao Laem National Park. A demolition order, posted outside the property yesterday, gives the owner 7 days in which to pull it down.
"Failure to do so will see officials take charge of the demolition, at a cost of 200,000 baht, which the owner will be obliged to pay."
The Bangkok Post reports that the resort was recently inherited by the heirs of its former owner, Ms Jarupha Detchinda, after she died. It's understood Jarupha represented an alleged "high-ranking member of the military" who built the resort, according to Niphon Chamnongsirisak, from the Protected Areas Regional Office 3.
Jarupha had previously been fined 30,000 baht and sentenced to 6 months' imprisonment in January 2018. She was also required to pay 103,379 baht to the Department of National Parks, Wildlife and Plant Conservation. A subsequent appeal upheld the prison term, but suspended it for 2 years, and her fine was reduced to 10,000 baht.
SOURCE: Bangkok Post
Catch up with the latest daily "Thailand News Today" here on The Thaiger.
Keep in contact with The Thaiger by following our
Facebook page
.
Never miss out on future posts by
following The Thaiger
.
Little has changed: 9 years after devastating floods, Bangkok remains defenceless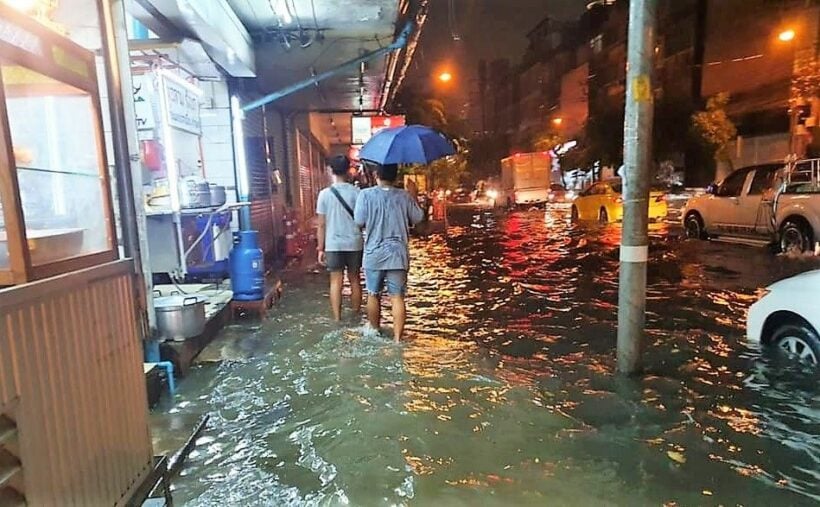 Parts of Bangkok remain at risk of catastrophic floods, as happened in 2011, when thousands of people were displaced and homes partially or totally destroyed. Now, 9 years later, a report in the Bangkok Post says city officials have made little progress in shoring up the capital's flood defences, and the upper-eastern area remains as exposed as ever.
Back in the day, these areas would have been covered in rice paddies, meaning flood water could be retained. In recent decades however, the selling off of huge swathes of land for the development of residential and commercial projects, has made the region much more vulnerable.
While the Bangkok Metropolitan Administration has had some grand plans for various flood catchment projects, progress has either slowed or, in some cases, come to a grinding halt. In 2012, officials began planning tunnels and underground reservoirs to carry excess water to natural reservoirs or ponds.
It was hoped 6 flood catchment projects, encompassing around 1,000 rai, could hold up to 5 million cubic metres of water. Since then, little progress has been made, with 4 out of the 6 failing to take shape as a result of the land in question being – you guessed it – sold off for the development of yet more residential and commercial property.
There are currently 2 flood catchment projects in the pipeline, according to Somsak Meeudomsak from the BMA. The first, in the district of Kanna Yao, is expected to hold around 728,000 cubic metres of water, and the second, in the district of Min Buri, will hold 218,400 cubic metres. Somsak is hopeful both projects will go ahead as they have the support of residents.
However, while the BMA has previously said the Kanna Yao project would see 130 rai of land being used for flood defences, it's understood 30 rai of adjacent land is currently being developed for commercial purposes. Locals in the area are anxious to see the flood catchment project go ahead, with one anonymous resident saying the people are urging officials to move quickly before they lose out to developers.
"The BMA says it has just started the land expropriation. But developers are quick in buying land and developing projects. If the BMA moves too late, this flood catchment project might be grounded like the previous 4."
SOURCE: Bangkok Post
Catch up with the latest daily "Thailand News Today" here on The Thaiger.
Keep in contact with The Thaiger by following our
Facebook page
.
Never miss out on future posts by
following The Thaiger
.