Five Chinese 'fraudsters' arrested in scams valued around 17 billion baht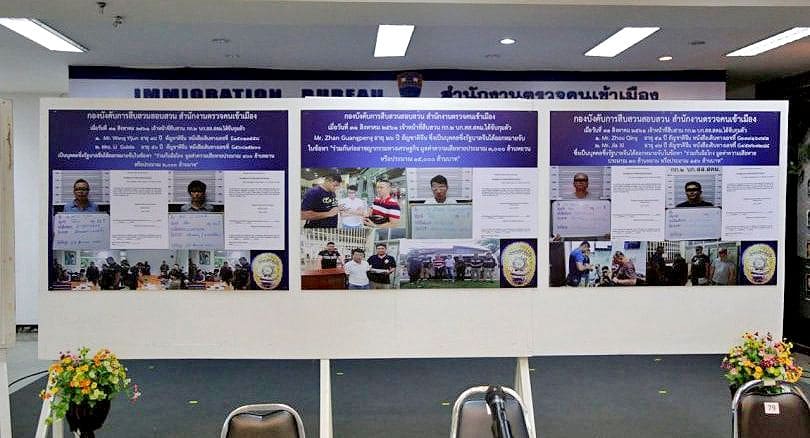 Special report by Khanathit Srihirundaj
Five Chinese suspects in three separate fraud and loan shark cases, who obtained around 3.43 billion yuan (about 17.15 billion baht) from fellow Chinese victims and had fled to Thailand, have been arrested.
Police say they will check ifthe suspects laundered money in Thailand before contacting the Chinese authorities about repatriation.
In the first case, police on August 28 arrested 48 year old Wang Yijun and a 50 year old woman Li Guixia at the Sa Kaew border.
The pair, who had fled to Thailand on August 15, were wanted on Chinese warrants for a fraud case in which they allegedly duped 50 compatriots via a 2 billion baht direct-sale investment scheme early this year, according to police.
In the second case, police arrested a 26 year old man, Zhan Guangpeng, who was wanted for allegedly duping 100 compatriots in a direct-sale investment scheme early this year of about 15 billion baht. He reportedly fled to Thailand on July 31 and was arrested on the Thai-Lao Friendship Bridge in Nong Khai on August 31.
In the third case, police arrested 51 year old Zhou Qing and 47 year old Jia Xi wanted for an illegal money-lending operation who also allegedly used violence to collect cash from around 100 Chinese borrowers.
The pair were arrested in Chon Buri's Bang Lamung district on August 31.
Keep in contact with The Thaiger by following our
Facebook page
.
Never miss out on future posts by
following The Thaiger
.
Phuket workshop helps residents cope with high stress brought on by the economic crisis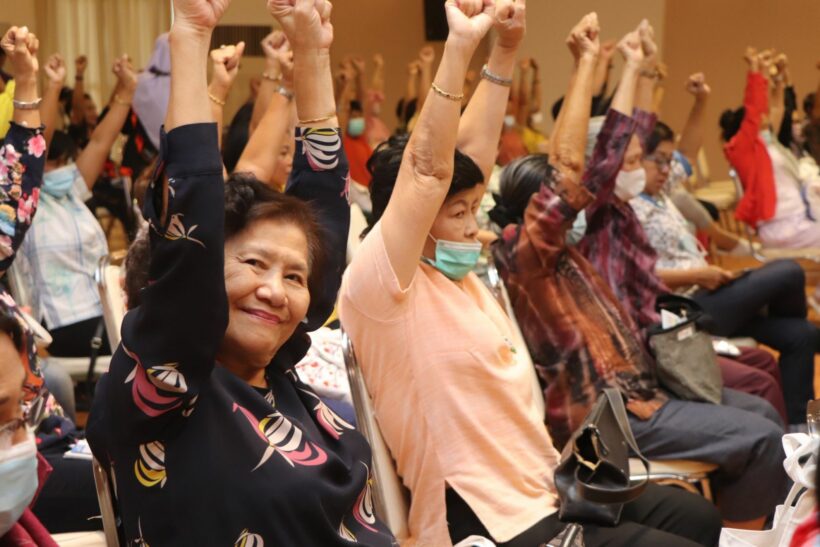 Hundreds of residents in Phuket's Wichit subdistrict attended a workshop focused on reducing stress from to the pandemic-induced economic crisis. A psychologist was even on site to help those who had extreme mental stress and a Buddhist monk taught meditation techniques to reduce physiological effects of stress.
The event was planned in response to an online survey conducted by the municipality asking residents about how much stress they were experiencing from the economic climate. They found that some residents had serious stress issues brought on by the pandemic and financial problems, according to Wichit Mayor Kreetha Chotiwichphiphat.
"The loss of income due to the economic crisis brought on by the Covid-19 situation has resulted in some people in the area suffering serious stress, which can lead to serious mental health issues."
Around 350 people attended the event. The mayor says it was the first step in caring for the residents' mental health. Local officials plan to hold similar workshops in the future.
"It was a good opportunity for people to realise the importance of mental health and to learn techniques of how to deal with stress, which will help people to maintain their physical health and avoid developing mental health problems."
SOURCE: Phuket News
Keep in contact with The Thaiger by following our
Facebook page
.
Never miss out on future posts by
following The Thaiger
.
Rare sighting of an endangered clouded leopard at Isaan mountain range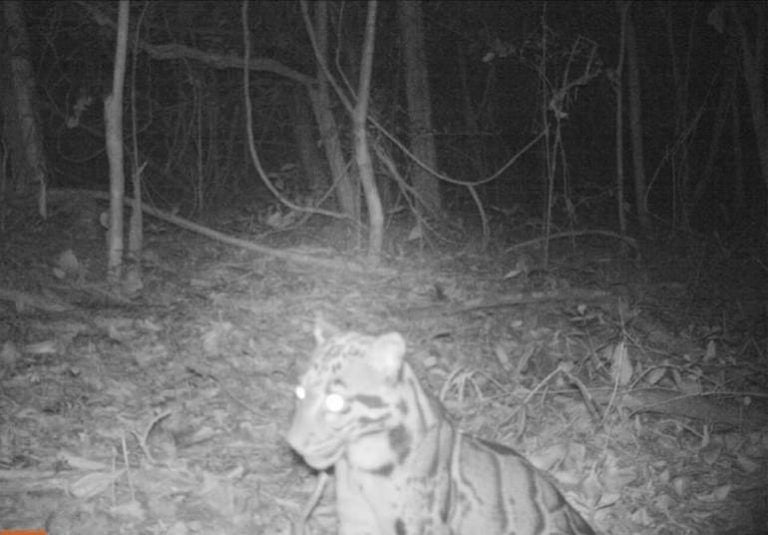 An endangered clouded leopard was spotted at a mountain range in the Isaan province Si Sa Ket. The rare sighting, captured using a camera trap, was the first time in about 20 years the wildcat has been seen in the Phnom Dongrak mountain range which borders Cambodia.
Since the park rangers stepped up patrol against poaching and made efforts to increase food and water sources, more small predators like foxes, dholes and leopard cats have been returning to the area, according to director of a local conservation office Chaiwat Limlikhit-aksorn.
"Today in the Phanom Dong Rak Wildlife Sanctuary there is a clouded leopard, which is a medium sized predator."
Camera traps were set up by local conservation officials from November 1 to 24, capturing footage of the rare clouded leopard. The cameras also filmed hog deer, Asiatic wild dogs, a Malaysian night heron and a leopard.
The clouded leopard is classified as a vulnerable species by the International Union for Conservation of Nature. The organisation says the leopard is hunted for the illegal wildlife, adding that the leopard skins have been seen in market surveys along with bones used for medicines and meat for exotic dishes.
Clouded Leopard exploitation for pelts are well documented in several countries, including the infamous Tachilek market along the Thai–Myanmar border. The frequency of Clouded Leopard parts available at market indicates increased pressure from hunting…However, the trade of cat parts from Myanmar into Thailand has diminished and reaffirms the role of China in the trade of cats out of Myanmar.
Sightings of the clouded leopard have also been reported at the Kaeng Krachan National Park, Huai Kha Khaeng Wildlife Sanctuary, Khao Sok National Park and Khao Yai National Park.
SOURCES: Bangkok Post | IUCN| Thai PBS
Keep in contact with The Thaiger by following our
Facebook page
.
Never miss out on future posts by
following The Thaiger
.
International travel in 2021 is unpredictable – Tourism Authority of Thailand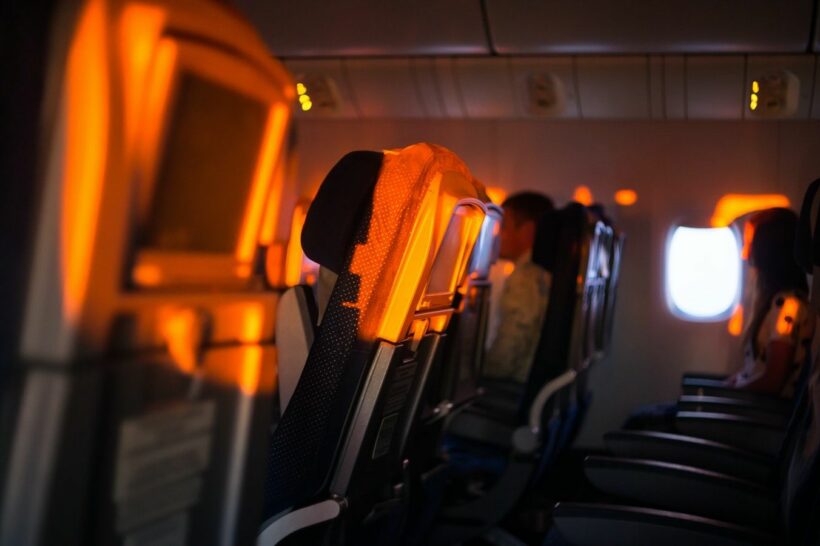 The future of Thailand's travel industry is "opaque", according to Tourism Authority of Thailand governor Yuthasak Supasorn. For once the usually over-optimistic TAT has made a completely honest assessment of the current situation.
"There are unpredictable factors that come into play when trying to determine how 2021 will pan out, like the availability of a Covid-19 vaccine, the number of coronavirus infections and travel restrictions. The tourism sector might not have what's considered a normal revenue, at least 80% of the pre-pandemic level, until 2022."
"We set 2021 as a year of adjustment before seeing a leap in 2022. We forecast Thailand will achieve 2.5 trillion baht in tourism revenue in 2022, or 80-90% of 2019, which recorded 3 trillion baht."
In reality, any large tourism recovery to pre-Covid numbers could take a lot longer.
Yuthasak says he met with an official from the Chinese Embassy and says that large groups of Chinese tourists, who made up around 10 million, or 25%, of foreign arrivals in 2019, will probably not travel to Thailand until a coronavirus vaccine is widely available. It's unclear how long it will take to commercially produce a vaccine and distribute it across the world.
A rebound in international tourism is expected around the third quarter of 2021 or in 2022, according to the World Tourism Organisation, based on the current situation but, learning from this year's events, recoveries in any industry are highly speculative.
For Thailand, Yuthasak says the country might see a moderate number of international guests around the second and third quarter of 2021 with more tourists visiting during the summer when the spread of the virus is considered to slow down due to the hot weather.
SOURCE:Bangkok Post
Keep in contact with The Thaiger by following our
Facebook page
.
Never miss out on future posts by
following The Thaiger
.