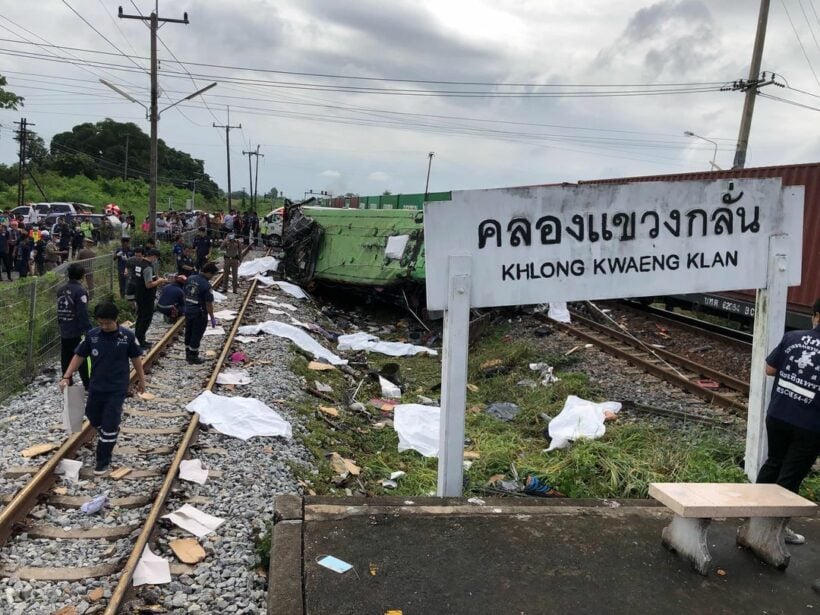 After the fatal freight train-charter bus collision earlier this month, authorities are looking into ways to make the rail crossings safer and to prevent potentially deadly incidents from happening in the future.
An expert in rail engineering says all rail crossings need to upgraded, urgently, while unofficial or illegal crossings should either be permanently closed off or upgraded with the proper safety equipment. Unofficial crossings are those that are used by locals, but are not approved by the State Railways of Thailand.
Chairperson of the Rail Engineering Committee at the Engineering Institute of Thailand, Rattapoohm Parichatprecha, gave suggestions about how to improve the rail crossings after an incident in Chachoengsao. On October 10, a train collided with a charter bus crossing the railway, killing 18 and injuring 44 who were on their way to a merit-making ceremony. Officials say the signal was broken and the crossing didn't have a barrier gate to block traffic.
Then, a passenger train collided with a car, killing a woman and injuring 2 others at a railway crossing in Phetchaburi's Khao Yai district on October 15.
The State Railway of Thailand says an average of 77 railway crossing incidents happen each year, killing an average of 28 people yearly and injuring 74. Some crossings are known as "black spots" where accidents occur more frequently, sometimes up to 4 times a year.
Rattapoohm says all legal crossings upgrade the warning signs and barricades, but warns that revamping the crossings could be expensive. In a previous report, Transport Minister Saksiam Chidchob acknowledged that the State Railways of Thailand's budget to install railroad crossing gates has been cut.
The size of the rail crossing as well as the direction also comes into play, according to Rattapoohm.
"The width of the crossing must not be at least three metres. The road should also cut through the rail tracks in a straight line and not in a diagonal direction which would create blind spots."
He says tree canopies must also be trimmed regularly to prevent branches and leaves from obstructing the view for both train conductors and drivers crossing the railway.
For illegal crossings, Rattapoohm says some can stay put since they are just used by the locals who are familiar with the terrain and know where the blind spots are, but says they should make sure the unofficial crossings stay off Google Maps.
"People outside the areas are unaware of the lurking danger the illegal crossings pose and many just follow directions in Google Map."
SOURCE: Bangkok Post