Thailand
Entertainment: 'Lost in Thailand' draws more Chinese; Crazy about cabaret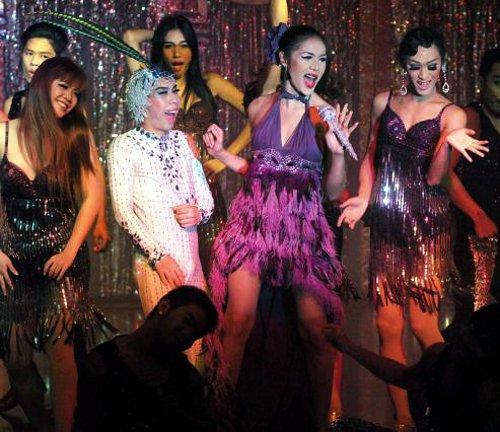 PHUKET MEDIA WATCH
– Thailand news selected by Gazette editors for Phuket's international community
'Lost in Thailand' draws more Chinese
Phuket Gazette / The Nation
PHUKET: Chinese New Year in Thailand this year is likely to see a taste of real culture from China. Thanks to the movie "Lost in Thailand", a huge box-office success in China, a greater number of Chinese tourists are being attracted the Kingdom.
"Why not?" asked Jamnong Junnapiya, executive director at the Tourism Authority of Thailand (TAT) East Asia, adding: "It's similar to Korean pop culture, which has influenced Thai society. And this trend has caused Thais to visit South Korea to explore the country culturally. Similarly, Chinese people are coming here."
Ms Jamnong projects some 300,000 Chinese tourists visiting Thailand this month, up from 200,000 in February last year.
According to Kasikorn Research Centre, Thailand will be a major destination for Chinese tourists during the Lunar New Year period, thanks to the hit film. The research expected the number of Chinese tourists to grow by 37.9 per cent to at least 800,000 in the first quarter compared with the same period last year. It expected they would spend Bt29.6 billion in total, a 44.4-per-cent increase year on year.
Beijing has announced that the Chinese New Year holiday period will be from February 9 to15, a total of seven days.
Jamnong expects the number of Chinese tourists visiting Thailand this year most likely to reach 3 million, up from 2.7 million in 2012. KResearch projected at least 3.35 million, an increase of 20.5 per cent year on year. Total tourism revenue from Chinese visitors is projected to increase by 27.5 per cent to about Bt123 billion.
Chiang Mai was one of the filming location for "Lost in Thailand". Sarawut Saetiao, president of the Chiang Mai Tourism Business Association, said the film had boosted the number of Chinese tourists visiting the area. The occupancy rate has been averaging 80 to 90 per cent and existing facilities in the city have been enough to serve them. At present, there are more than 40,000 rooms in Chiang Mai. He acknowledged that accommodation downtown had been almost fully booked, but said there were more rooms in other areas if demand kept increasing.
"Lost in Thailand" reportedly earned Bt6 billion at the box office in China.
Crazy about cabaret
Phuket Gazette / The Nation
PHUKET: The Playhouse joins the push to make Bangkok the world's capital of transgender entertainment extravaganzas.
Bangkok danced another step closer to becoming the world's cabaret hub when the Playhouse Theater Cabaret opened at the Asia Hotel in October. After a deliberately careful start, it's joined the already long list of clubs that offer "gay cabaret" in the capital as well as Chiang Mai, Pattaya, Samui and Phuket.
The demand mostly comes from tourists. Straight Westerners and increasingly more visitors from East Asia can't resist a "safe" opportunity to gawk at the most beautiful men (or former men) on the planet – Thai ladyboys "in the wild", as it were. And no one gets offended.
But best not call the cabaret performers ladyboys.
"I really hate it that some people still use terms like katoey and ladyboys," says Australian hotelier-entrepreneur David Paul Shrubsole, who founded and runs the Playhouse Theater Cabaret.
"So what? They can dance, entertain and make a living for themselves. Thailand has moved past that point, and we're living in a very accepting part of the world. The rest of the world – even America with its same-sex marriage -– looks up to Thailand because we've been very generous, all over the Kingdom. There's no place like this in the world.
"Thailand, and Bangkok in particular, are very unique places. These are performers with great potential, and the world can see that," Mr Shrubsole.
The Playhouse consistently astonishes the occupants of its 300 seats with 30 pairs of gorgeous legs, a string of mesmerizing Broadway-style performances and the promise to be Bangkok's first "boutique cabaret".
It began as a small act at a Pattaya hotel and ventured to Phuket and Chiang Mai before finding its home in Bangkok. The Playhouse venue in the Asia Hotel was formerly home to Bangkok's longest-running cabaret show, Calypso, which moved to new digs on the Chao Phraya River at Asiatique.
"We've been delighted with what's happened because we really do want to take things slowly," says Shrubsole. "We offer great competition for the established cabarets, and competition is very healthy in the entertainment business. And we're very committed to raising the level of tourism in Thailand. What we have now we see as a starting point for us in Bangkok, and we'll definitely develop into something much more in the near future, a step forward in the performing-arts sector."
Moving beyond the typical cabaret production, the Playhouse makes it clear that it takes the name "playhouse" seriously, adding acrobats and other circus entertainment to the line-up for a more rounded experience. It's hoping to soon have some of the artists actually singing as well, rather than just lip-syncing.
"We rehearse a few hours every day and an English tutor comes to teach us how to pronounce the words correctly so we don't just mumble through the song," Niracha "Nicha" Pattanachian told The Nation as she prepared to hit the stage. She's one of the troupe's veterans and has pretty much heard it all.
"A lot of people might look down on us and call us whatever, but I'm just happy I can do what I've always loved to do and put smiles on people's faces. And I can support myself and my family too. Besides dancing, the management teaches us to be business-savvy and constantly educates us about show-business know-how. What more can I ask?"
— Phuket Gazette Editors