Chon Buri coffee shop in a converted aircraft ordered to close temporarily – VIDEO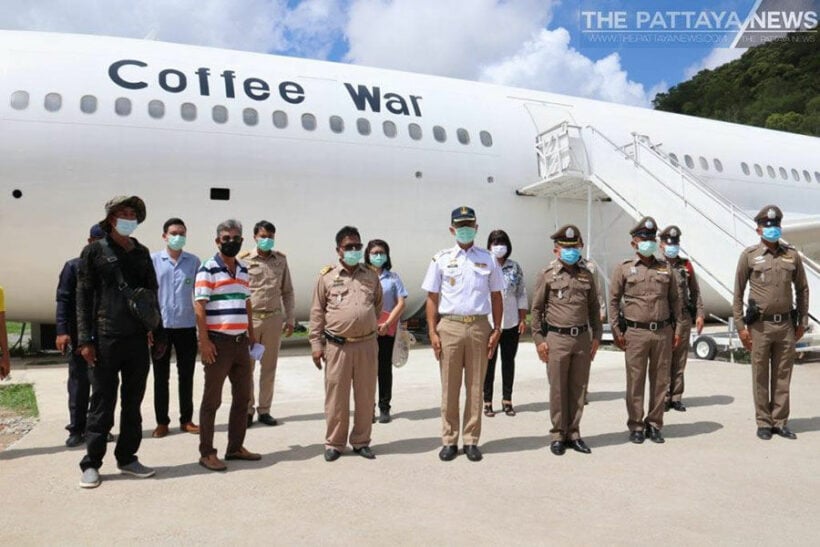 A novel coffee shop set up in a decommissioned Airbus 330 has been ordered to close temporarily after the business simply became too popular after going viral on social media. It's understood thousands of customers a day were arriving for a latte or cappuccino from "Coffee War" in Sattahip, a district in the south of Chon Buri province.
Manager Suttipong Boonloi says the aircraft cost 10 million baht and was converted into a quirky cafe selling coffee for between 60 and 80 baht a cup. He adds that strict Covid-19 hygiene measures are already in place, including temperature checks, the wearing of masks, regular disinfection of surfaces, and hand sanitiser being made available for customers. Furthermore, only 60 customers are permitted "on board" at any one time, with each customer limited to 40 minutes inside.
Public Health officials, accompanied by Sattahip District Chief Anucha Intasorn, have asked the coffee shop to close for a week, in an attempt to alleviate the daily overcrowding and dissipate the enthusiasm. Officials say Covid-19 remains a risk and such large numbers increase the chance of a resurgence in the virus. The province of Chon Buri, including Pattaya, has now gone more than 60 days without any new cases of community transmission.
The unusual coffee shop is similar to a venture in Korat, north-east Thailand, where another entrepreneurial spirit has created a restaurant inside a retired Airbus A330. Both aircraft were formerly part of the Thai Airways fleet. There might be some more unused aircraft available soon…
SOURCE: The Pattaya News
Keep in contact with The Thaiger by following our
Facebook page
.
Thailand disease expert says salmon cannot be infected with Covid-19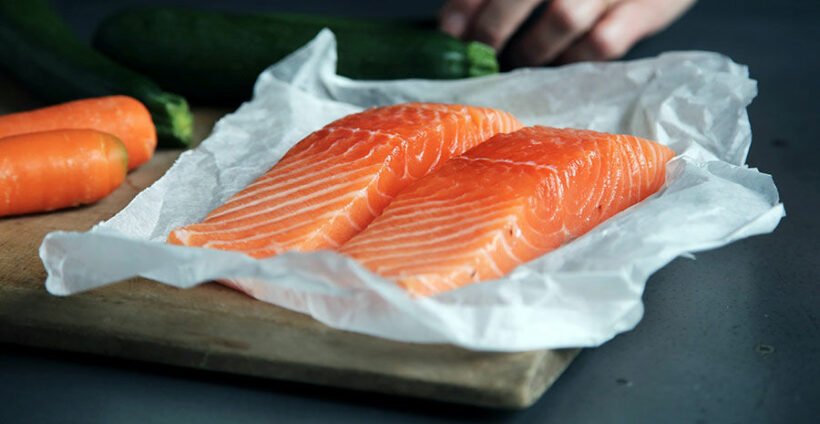 Fish lovers can relax, says the deputy director-general of Thailand's Disease Control Department. "It is not possible for salmon to be contaminated with Covid-19.: Dr. Thanarak Palipat's reassurance comes amid reports that chopping boards used for imported salmon at a market in China could carry the virus.
Beijing's Xinfadi Market is at the centre of a new Covid-19 outbreak, with the Chinese capital recording 106 new cases since last Thursday. However, Dr. Thanarak says he doesn't believe it's possible for the salmon itself to be contaminated with the virus.
"We have not studied the case in detail, but we believe salmon cannot be contaminated with the Covid-19 virus. We believe that the sellers contracted Covid-19 from their cutting boards."
However, a report in Nation Thailand quotes Dr. Thanarak as saying the Disease Control Department has always cautioned against eating raw meat or fish, warning that it could carry other germs.
"We always emphasised that people eat hot, cooked food and use a serving spoon while eating. We also advise that vegetables and fruits be washed before they are eaten."
SOURCE: Nation Thailand
Keep in contact with The Thaiger by following our
Facebook page
.
Pattaya police chief battles Thailand's Iron Chef in cook-off for the needy – VIDEO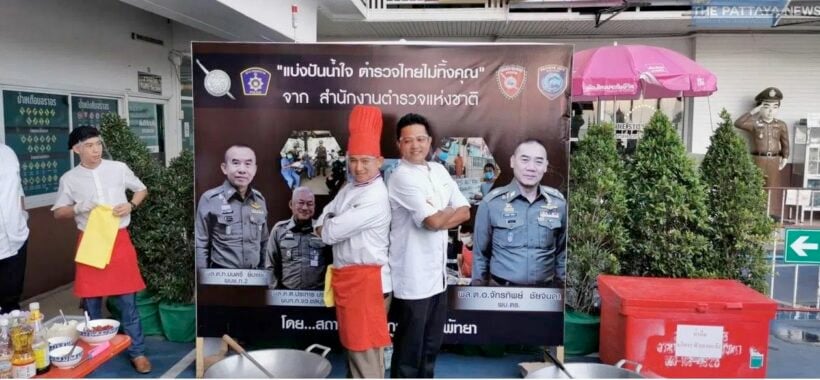 Police in Pattaya are doing more than continue their project to cook food for the needy and unemployed: yesterday they had an upbeat cook-off between the police chief and a famous Thai TV chef. The project is designed for locals who are unemployed or furloughed due to the current Covid-19 crisis. Read more about that HERE.
The Pattaya City police chief took on Thai celebrity chef Kengraratwat Wichianrat, from the show Iron Chef Thailand. The chief is wearing the red hat in the video below:
They cooked around a hundred meals for some of the locals deeply affected by the lockdowns ad closure measures, while officers provided proper physical distancing, hygiene standards and a queue system for diners, all of whom ate for free.
SOURCE: The Pattaya News
Keep in contact with The Thaiger by following our
Facebook page
.
Social distancing pandas fill empty seats at Bangkok restaurant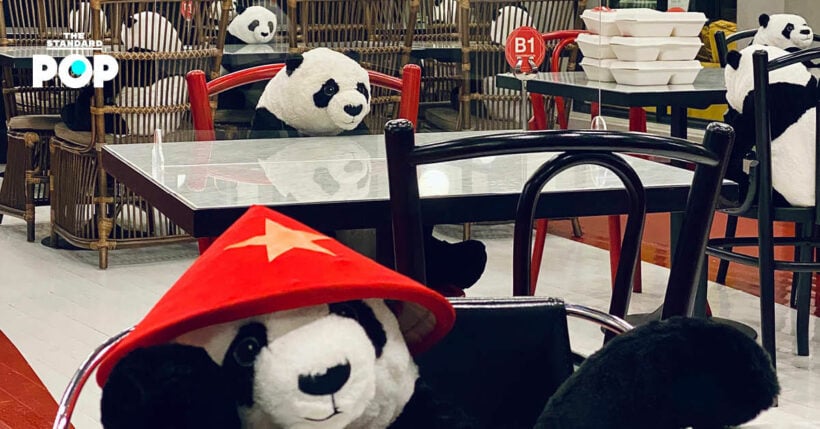 An "X" usually marks the seats in restaurants and other establishments to make sure people are social distancing to prevent spread of the coronavirus. Sometimes the "X" on the empty is marked with red tape, unintentionally sending a negative message. Now one Vietnamese restaurant in Bangkok has found a more fun way to make sure people are sitting apart but still marking the seat spacing.
Big, stuffed panda bear toys are placed in the vacant seats instead. (So far publishers have resisted to use the term 'food panda' in the headline).
Natthwut Rodchanapanthkul, owner of Maison Saigon, near Lumphini Park, told Reuters that he thought the red crosses looked a bit strange.
"Earlier we had only one chair for the tables where the customers would sit alone. But for me, it felt strange, so I thought I'd give them some company."
Thailand has recently lifted restrictions, on restaurants and for some it might be the first time eating at a restaurant since the lockdown. With strict rules and various seats marked with "Xs," going out for a meal has been a bit daunting.
Photos of people eating next to and across from the pandas look a lot happier. One customer told Reuters the pandas made her feel less lonely while she ate a meal by herself.
The next step in easing restrictions around Thailand is set for this Sunday.
Shopping centres and retail shops plan to reopen but a full confirmation on precisely what will open is yet to emerge from the CSSA… hopefully today.
SOURCE:Reuters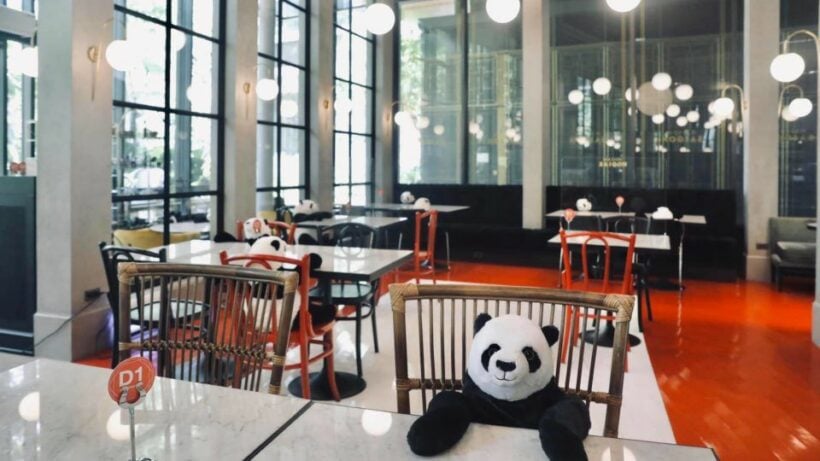 Keep in contact with The Thaiger by following our
Facebook page
.