Charter panel brushes aside call for direct election of Cabinet, PM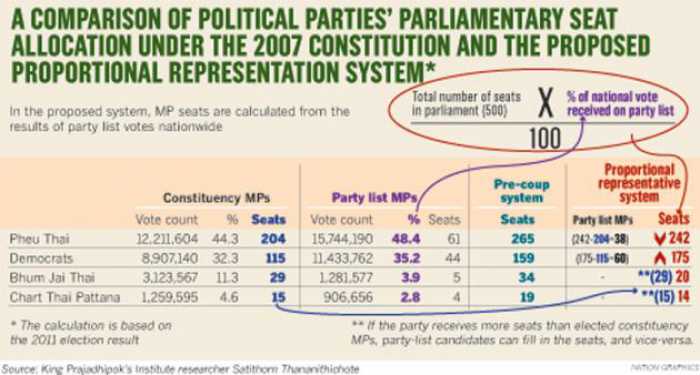 PHUKET MEDIA WATCH
– Thailand news selected by Gazette editors for Phuket's international community
Charter panel brushes aside call for direct election of Cabinet, PM
The Nation / Phuket Gazette
PHUKET: The suggestion for Thais to directly elect both the prime minister and members of Cabinet has been brushed aside by a subcommittee of the Constitution Drafting Committee (CDC) working on the framework of a new charter.
The committee yesterday maintained the previous system authorising the Lower House to elect the head of government was preferable.
"We will use the same old system as in the 2007 constitution to have the House of Representatives elect the prime minister and approve Cabinet members, said Suchit Bunbongkarn, head of the panel on state policy, Parliament and Cabinet.
However, a minority in the subcommittee reserved their right to debate the proposal for direct election of the PM in a general meeting of the CDC, he said.
Directly electing the prime minister and Cabinet would make the government too strong if a monopoly of power was held by ruling politicians, he said.
Israel once adopted a system to directly elect the PM but changed it later, believing it led to too strong a premiership, Suchit said.
He said that directly electing the head of government, as in the presidential system in the US, might not fit Thai political culture.
In regard to elections, Suchit said the subcommittee proposed to reduce the number of MPs in the House of Representatives to 350 from both party list and constituencies. The smaller number of MPs may enable the Lower House to work more efficiently, he said.
The Senate membership would comprise elected and selected senators, he said, and noted a selection committee for the Senate would include representatives of civil society. The Senate would retain its power to impeach office-holders in executive branches as in the previous charter, he said.
"These are proposals. They could be changed later when the CDC makes its final decision," Suchit said.
The CDC yesterday held a meeting with all 10 sub-committees assigned to collect ideas and proposals from members to put in the constitution.
CDC spokesman Khamnoon Sitthisaman said the meeting assigned Kanchanarat Leeviroj, who is now secretary of the CDC, to chair a subcommittee to write the text of the charter. CDC chief Bowornsak Uwanno, who is a law expert and familiar with constitution drafting, would act as an adviser to the writing subcommittee. Other writers included law expert Banjerd Singkaneti.
Kanchanarat said she would collect all elements, ideas and proposals from all subcommittees and members of the CDC to draft the charter. The constitution, she would draft, would be clear and accurate in all details, she said.
The National Reform Council would consider the framework and elements of the constitution next week, Khamnoon said.
On the subject of an amnesty, which was earlier proposed by a CDC member, Prime Minister Prayut Chan-o-cha said any amnesty declaration would not ignite more conflict in the country.
But when asked if it was necessary to have an amnesty for reconciliation, Prayut said the two issues were separate. "No need to link them. If you want reconciliation you can, and we don't need any reason. But the amnesty is about the law and I don't have any suggestions on that matter.
German-style electoral system spurs interest
The Nation / Phuket Gazette
PHUKET: In a suggestion seen as an attempt to prevent "parliamentary dictatorship", a German-style parliamentary and electoral system proposed by a charter drafter has been welcomed as an "interesting" proposal.
Nevertheless, it is difficult for those proposing the idea to deny that such a proposal was not aimed at limiting the power of former prime minister Thaksin Shinawatra.
Constitution Drafting Committee (CDC) member Nakarin Mektrairat this week proposed the implementation of a new parliamentary and electoral system similar to that of Germany, saying it would help solve Thailand's political problems.
Deputy Prime Minister Wissanu Krea-ngam reacted yesterday that it was an interesting proposal – and such a system might be tested in certain areas before a final decision could be made on it.
"The good thing [about the German system] is that all votes would be taken into account," he said. However, he cautioned that such a system may create groups of small political parties – something that is not desirable.
So what is it that makes the German system an attractive option?
After World War II, Germany came up with a way to prevent a dictatorial administration from taking power.
It was to be through a system that combined the best of the first-past-the-post (FPTP) and proportional-representation (PR) electoral systems.
FPTP systems that had been used in the West such as Britain and the United States usually produced clear majorities in a parliament or congress controlled by a few large parties. Their downside, however, was that votes for the losing candidates counted for nothing, as "winner takes all."
On the other hand, the PR system boasts that every single vote from voters is taken into account, as the number of seats allocated to political parties in the parliament are consistent with the proportion each party receives nationwide. Hence the number of votes is better reflected.
However, it was evident that the PR system could produce political fragmentation – many small parties – that resulted in an ineffective and highly unstable government.
The German political system compromised, by letting people adopt both systems. On the ballot, people voted for, first, a candidate for constituency MP and, second, for a party.
The number of parliamentary seats allocated to a party was relative to the percentage of accumulated nationwide votes for that party.
In addition, to curb political fragmentation, the party must receive at least 5 per cent of national votes to be allocated any seats in the parliament.
The Bundestag (German lower house) consists of 299 constituency MPs and an equal number of party-list MPs. Thailand's pre-coup electoral system consisted of 400 constituency MPs and 100 party-list, using the FPTP electoral system.
As evident in the most recent general election in 2011, two large parties dominated Thai politics – Pheu Thai and the Democrats – and the former received a landslide majority.
This led many to view it as a problem, since the governing party could pass any bills it wished, while parliamentary debates had become meaningless, since the governing-party members acted in unity and discipline when it came to voting.
A study by King Prajadhipok's Institute researcher Satithorn Thananithichote suggested the seats' allocation to the first- and second-largest parties in Parliament would have been much closer if the German proportional representation system was used.
However, he cautioned that "it cannot solve all the problems [of so-called parliamentary dictatorship]. If we change the system [into a German-style one], the real deciding factor for voters will be the person whom voters want to be prime minister, who is candidate No 1 on the party list."
He said such emphasis on a party list could result in the winning party getting even more seats in Parliament.
"It is possible that [if] the German system is implemented, the Pheu Thai Party could get as many as 70 per cent of the national vote, hence this wouldn't solve the problem," he told The Nation.
He concluded that although "it could narrow the margin between the biggest and second-biggest party, it could not prevent [a party] winning a landslide".
He said he personally thought the German system was "acceptable" in Thai politics, because it would give more chance to smaller and medium-sized parties.
The deputy rector of Thammasat University, Prinya Thaewanarumitkul, said the German system would better reflect the votes a party received in the election. He said that in the past, the governing party received more parliamentary seats than it should have, while the opposition received fewer seats than it should. The result was a weak opposition and overly strong government.
He said the German system was suitable for a country with deep political conflicts, because the Parliament better reflected more accurately voters' representation and it would encourage more compromise. Therefore, the German system was one of the most interesting options.
He then concluded: "A bigger party like Pheu Thai wouldn't like this system because it would be allocated fewer parliamentary seats, while the smaller parties would get more seats. I think it is the fairest electoral system."
— Phuket Gazette Editors
Keep in contact with The Thaiger by following our
Facebook page
.
Never miss out on future posts by
following The Thaiger
.
News of American sued over bad Koh Chang hotel review has everyone talking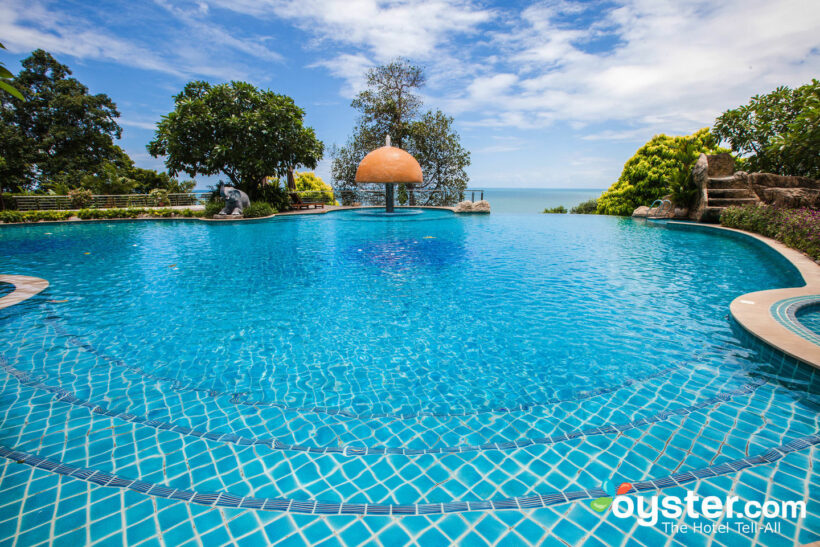 After news hit of an American being arrested and sued for defamation over leaving a bad review about a Koh Chang hotel on TripAdvisor, many are taking to the internet to voice their opinions on the issue. The Sea View Resort owners say it tried in vain to negotiated with Wesley Barnes after he posted the reviews, but he continued to post completely untrue comments.
The owners released a five-page statement after the news of it suing the American gained widespread attention. You can read their response HERE. Then, Barnes submitted his own response detailing the situation which was also published online.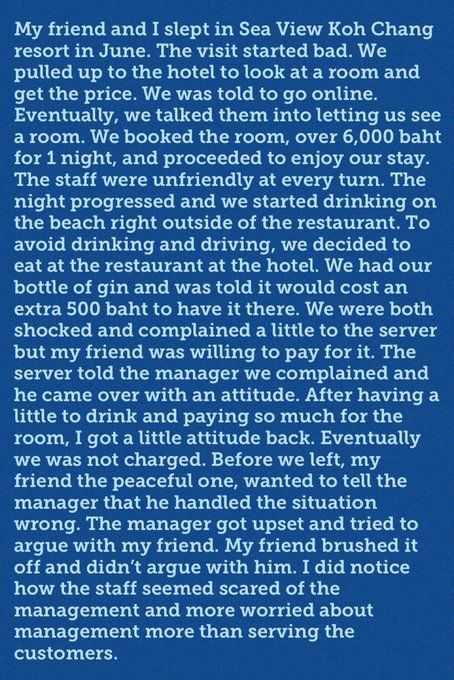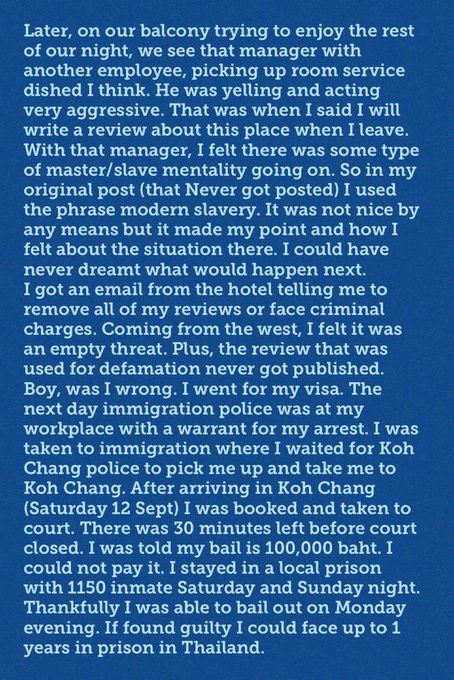 Now, the story has gained even more attention as netizens have begun posting their opinions on the controversial issue of Thailand's defamation laws. Below, are some of those posts on The Thaiger's Facebook page.
"Can someone clarify for me Thailand's position on people leaving honest bad reviews as my girlfriend says it's fine to leave a bad review of a business and it's not defamation if honest of course? I have heard people say that you simply can't leave bad honest reviews at all here but that sounds ridiculous. The thing about many Thais is that they think they're beyond reproach. They can't accept criticism because it's not aligned with their grandiose self-image. Many also have a torrid time when it comes to ownership of their own actions and decision making."
"OMG! He is arrested for a review.?! I know of an expat in Malaysia that wrote a bad review about a Thai-owned resort in Penang and he was sued as well. Be careful with what you share in that neck of the woods."
"It's one thing to leave a bad review but to throw in "modern slavery" remarks escalates to thai defamation law. He shouldn't be arrested for his comments but you need to respect the country laws no matter how crazy they seem compared to your own country. This press is going to negatively affect the business way more than that review would have done though."
"The owner should have settled with the review platforms privately and move on. I would hardly hold up Trip Advisor as a beacon of truth, however some people write extremely personal and vindictive comments that go beyond a review, in an attempt to gain product or refunds in return, this is an absolute fact, and hopefully this might make people think before they start writing reviews that are not exactly honest, I have read stories critical of the General Managers because they didn't contact the guests, some really petty reviews by rather petty people."
If Barnes is indeed found to be guilty of defamation, he could spend up to 2 years in prison and pay up to a 200,000 baht fine.
SOURCE: Chiang Rai Times
Keep in contact with The Thaiger by following our
Facebook page
.
Never miss out on future posts by
following The Thaiger
.
Phuket police arrest 6 after finding large amounts of methamphetamine in raid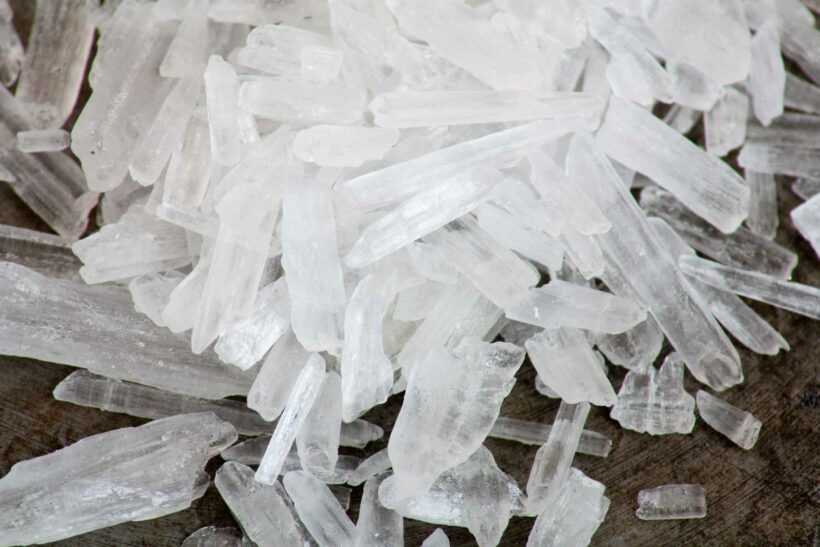 Phuket Provincial Police have arrested 6 people after finding large amounts of methamphetamine and other drugs during a raid. One suspect alone allegedly had 7.6 kilograms of crystal meth (ya ice) and over 12,500 methamphetamine pills (ya bah). 29 year old Surasak 'Bank' Wijit and 27 year old Panida 'Mei' Saeyang were arrested at an apartment car park in Soi Lookkaew, Moo 6, Rassada, in eastern Phuket, after they were found in possession of the drugs.
Police also found 2 mobile phones and a red Honda PCX, registered in Phuket, as evidence. Both suspects have been charged with posessing a Category 1 drug with the intent to sell.
Other suspects arrested at the same time include 36 year old from Chiang Rai, 42 year old Sarawut 'An' Srichanon, from Ranong and 31 year old Pornthep 'Iew' Thepchampa, who were charged with the same crimes in Chalong after police found more drugs in their possession. 33 year old Kamon 'Kung' Sae-ngow, was arrested as well after police found kratom juice and leaves at a house in Rassada. He was taken to Phuket City Police station and was charged with a Category 5 drug possession.
SOURCE:The Phuket News
Keep in contact with The Thaiger by following our
Facebook page
.
Never miss out on future posts by
following The Thaiger
.
Phuket Muay Thai fighter is the first Thai national to compete in UFC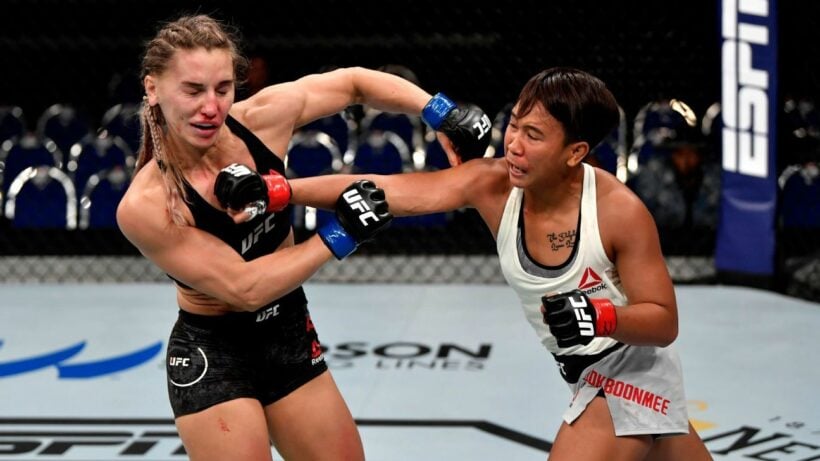 The upcoming Ultimate Fighting Championship Fight Night event in Abu Dhabi will feature Thailand's only national marking her third fight with the UFC, the world's largest mixed martial arts competition. 24 year old Loma Lookboonme, from Burirram in northeastern Thailand, will fight in the event on October 3, 2020.
Loma is a Muay Thai fighter who has adapted her MMA skills to fight in the UFC where she currently trains at the Tiger Muay Thai gym in Phuket. Loma qualified for the national team at the age of 19 and has fought in over 12 nations worldwide. She currently trains 6 days a week starting daily at 6:30am with a 3 kilometre run. In the UFC, she will be competing against China's Angela Lee who is the undisputed champion of the 52 kilogram fist weight category.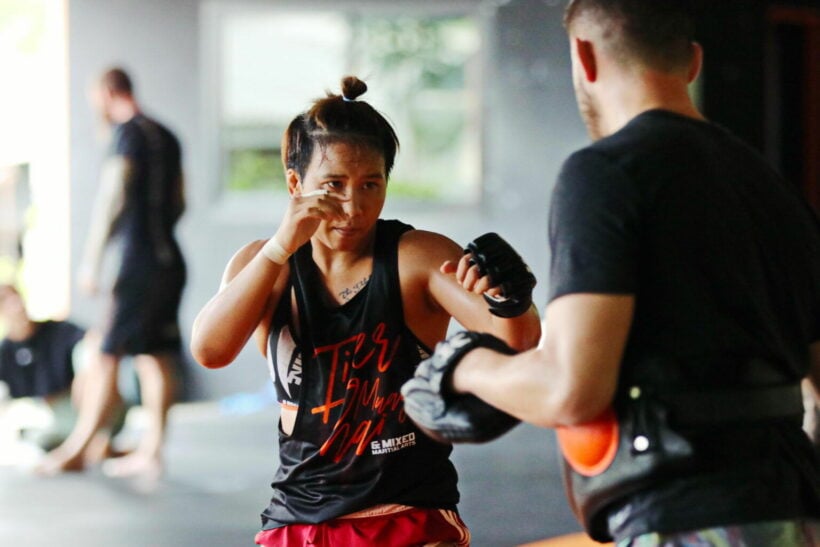 Loma's parents are former Muay Thai fighters and her 2 sisters currently compete as well. She reportedly started training at 8 years old after being inspired by her father, whom she describes as her "hero."
Like most Thais in such fighting sports, Muay Thai offers a way to rise out of poverty-and fighting for the UFC can be financially lucrative. But Loma says her only Thai sponsor is the gym where she trains, with the rest of her sponsors being from foreign brands. She says she is trying to get more Thai sponsors but feels that maybe she needs to win the UFC first before Thai brands notice her.
Loma lost her last fight and says her new opponent gives her nothing to lose. She says her goal is to get into the Top 10, but is not sure when it will happen. Loma says for now, it would be good to fight against someone in the Top 10 to help her prepare for her future.
FULL INTERVIEW: Thisrupt.co
Keep in contact with The Thaiger by following our
Facebook page
.
Never miss out on future posts by
following The Thaiger
.