Thailand
Car licence plate sells for record Bt25m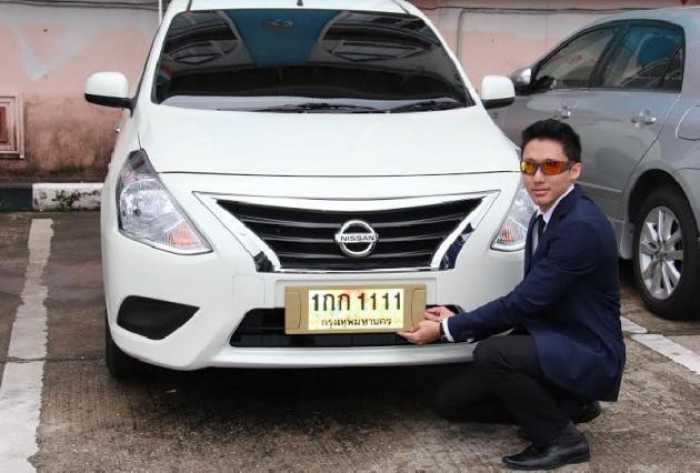 PHUKET MEDIA WATCH
– Thailand news selected by Gazette editors for Phuket's international community
Car licence plate sells for record Bt25m
The Nation / Phuket Gazette
PHUKET: Car licence plate number 1 Kor Kor 1111 was yesterday passed to a 19-year-old student, who bid Bt25 million for it, making it the most expensive number sold at an auction organised by the Department of Land Transport since 2003.
At Bt25 million, the plate has a value 52 times the price of the Nissan Almera to which it is to be attached. A Nissan Almera E CVT costs Bt480,000.
As the winning bidder, Thanapat Tuntisevekul, a law student at Assumption University, was allowed to create his own design for the licence plate. The graphic design chosen by Thanapat for his Bt25-million plate is named "Eight Horses on the River of Nine Gems", which is believed to give luck, prosperity and safety to the driver of the car.
The right to this 1 Kor Kor 1111 number is transferable through sale or inheritance. Thanapat said an offer was made to buy it for Bt33 million but he turned it down. He said the price was "inexpensive", as Bt50 million had been prepared by his family for this bid.
Thanapat, also know as James, said his family operated a real-estate business in Chon Buri, and they had obtained a few licence-plate numbers before.
He said he and his family were glad that the money raised by the auction was for a good cause – a fund to promote road safety.
The bid was completed on March 15, but the ceremony to hand over the number not held until yesterday.
Land Transport Department chief Asdsathai Rattanadilok Na Phuket said the money from the auction would be given to the Road Safety Fund, which aims to cut accidents and raising awareness on safe driving. The fund has accumulated more than Bt320 million in the 11 years these auctions have been held.
A previous bid record was for number Yor Ying Yor Ying 9999, which fetched Bt11 million, he said.
The department's projects sponsored by the Road Safety Fund include, for example, establishing a safe public-transport driver database and 1584 hotline for complaints about public transport.
— Phuket Gazette Editors