Arrest warrants issued for university students in police scandal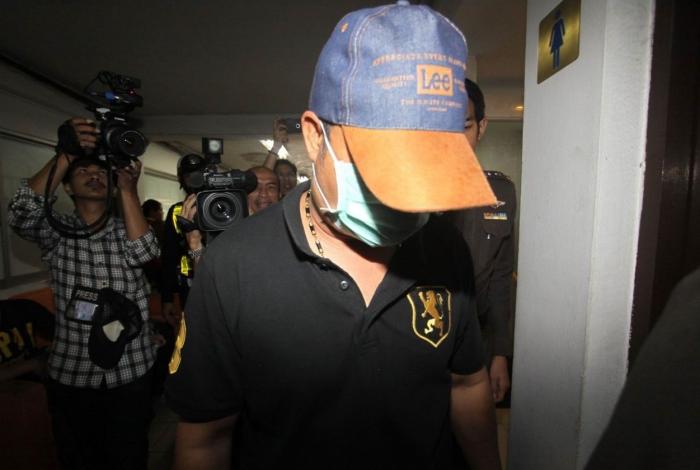 BANGKOK: Dozens of medical and engineering university students now face arrest warrants for their alleged roles in cheating during police officer entrance exams last month at the Metropolitan Police Bureau (MPB).
Criminal arrest warrants were issued today for about 51 university students and a Bangkok city regulation enforcement officer, after MPB Training Centre Chief Colonel Uthen Nuiphin filed cheating complaints against Pathumwan-based officer Jiraphot Plaidoung and 347 applicants who were seeking to be police officers (story here).
Mr Jiraphot surrendered to police on Tuesday and allegedly confessed to arranging the cheating in exchange for up to 400,000 baht per applicant. He was released on bail yesterday.
Gen Sanit said that during a one-hour interrogation, Mr Jiraphot admitted he had offered to facilitate cheating on entrance exams to people who were attending tutorial schools in Pathumwan to qualify as police and state officials. He said he had been operating the scheme for about a year, adding that many such cheating groups operate in Thailand, according to police.
Police have charged Mr Jiraphot with racketeering, giving false information to police and violating the Computer Crime Act.
Deputy city chief Maj General Adul Narongsak, head of the sub-panel supervising the test, said that police had interviewed 12 people of interest. He said that the initial investigation revealed as many as 300 people could be involved and that each 'customer' had to pay 5,000-20,000 baht to the officer.
The discovery of cheating prompted national police chief Pol General Chakthip Chaijinda to order acting deputy Pol General Dechnarong Suticharnbancha, who oversees police recruitment policy, to investigate the Metropolitan Police Bureau, Provincial Police regions 1 to 9, the Southern Border Provinces Police Bureau and the Border Patrol Police Bureau to determine if there had been further dishonesty.
Gen Chakthip said Gen Dechnarong reported that the Metropolitan Police Bureau and the Provincial Police Region 7, had been affected by similar cheating schemes.
The city police exam, held at Ramkhamhaeng University's Bang Na and Hua Mark campuses, was held to recruit 1,800 officers out of 13,000 applicants.
Medical students were allegedly paid to sit in at the exams and sabotage their own answers. They got the lowest scores to avoid being caught, but some later admitted they had participated in cheating.
— The Nation
Keep in contact with The Thaiger by following our Facebook page.
Never miss out on future posts by following The Thaiger.
Thailand to issue vaccine certificate to everyone who gets 2 doses of Covid jab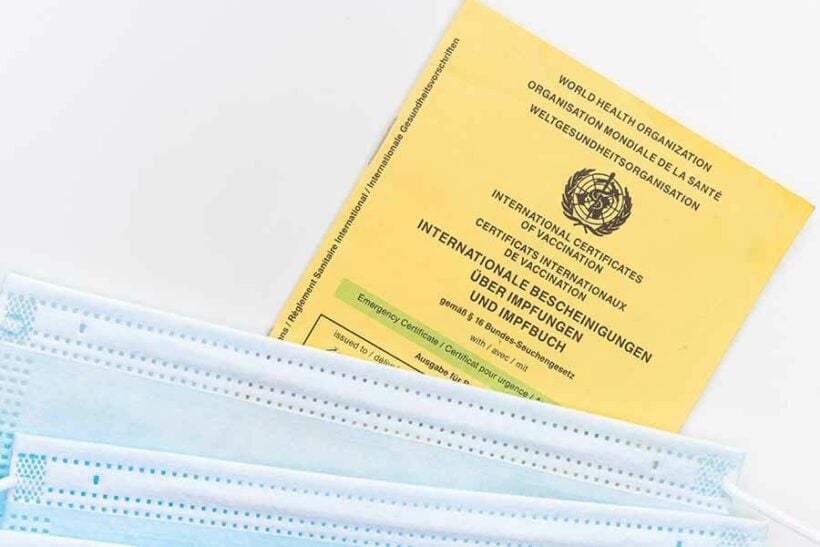 Thailand's Public Health Minister says everyone who receives both doses of a Covid-19 vaccine will be issued with a vaccine certificate. The vaccine certificate will be similar to the vaccination books already in circulation for some time and used to prove inoculation against yellow fever. According to a Coconuts report, both the paper and online version of the certificate will cost 50 baht and will be available from hospitals administering the vaccines.
While there is currently no standard vaccine passport, with most countries waiting for World Health Organisation guidance on the matter, it's hoped Thailand's vaccine certificate could help citizens with international travel plans. Anutin says recipients can use them for international travel and the certificates will have a validity of 1 year.
The government is also considering a reduction in mandatory quarantine for vaccinated foreigners entering the Kingdom. A proposal going before the government's Covid-19 task force on Monday includes cutting quarantine to 7 days for vaccinated visitors or reducing it to 10 days for unvaccinated arrivals who have tested negative 72 hours prior to travel. It's understood the 7 day quarantine would apply to travellers who have been vaccinated for at least 2 weeks, but no longer than 3 months.
The proposals come as vaccine rollouts continue around the world, although Anutin points out that travellers from South Africa will not be eligible for reduced quarantine, due to the highly-contagious variant detected there, which health officials fear may be more resistant to vaccines.
Meanwhile, the Health Minister has even hinted at quarantine being cancelled completely if Thailand manages to inoculate 70% of people with underlying conditions and those working in the health and tourism sectors by October. Vaccine registration is set to kick-off in May, with the full national rollout beginning in June, when additional doses of the AstraZeneca vaccine are expected to arrive.
SOURCE: Coconuts
Keep in contact with The Thaiger by following our Facebook page.
Never miss out on future posts by following The Thaiger.
Blackout on Koh Samui, Koh Pha Ngan after navy ship anchor damages underwater cable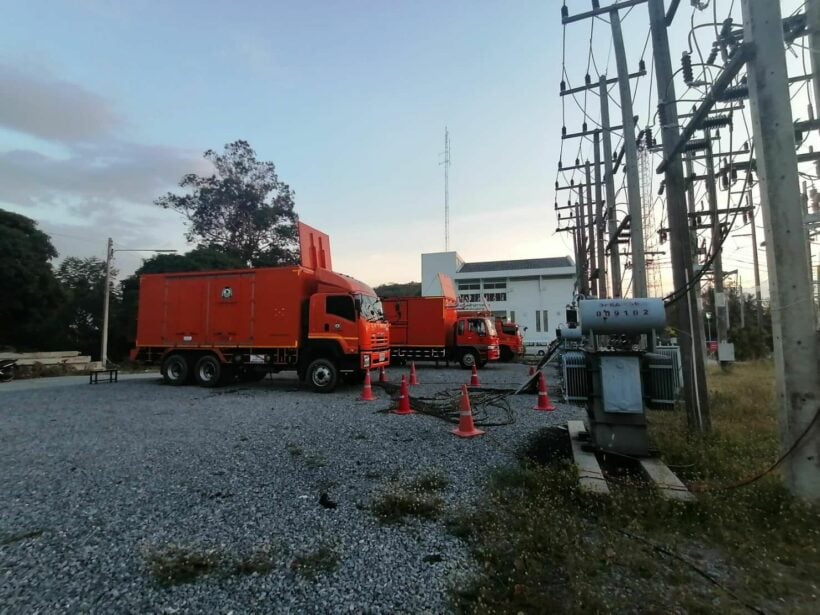 A widespread blackout swept over Koh Samui and Koh Pha Ngan after a Thai navy ship anchor dropped on an underwater cable which supplies power to the islands in the Gulf of Thailand off the Surat Thani coast.
The 115kv cable runs from Nakhon Si Thammarat's Khanom district to Koh Samui. The anchor damaged the cable about 2 kilometres out from the island, blacking out the tambons Bo Phut, Mae Nam and Maret, the Provincial Electricity Authority district manager Jakkrit Meedet told the Bangkok Post. The repair will take several days.
On the PEA Koh Samui Facebook page, the authority said electricity supply will be circulated for 1 hour per area and outage for 3 hours per area. Additional power generators are being sent to the island today. The authority is still supplying electricity to hospitals on the islands.
Apparently a similar incident happened back in 2018, Jakkrit says, and 6 mobile power-generating trucks were used to supply electricity to the island.
SOURCES: Bangkok Post | Facebook
Keep in contact with The Thaiger by following our Facebook page.
Never miss out on future posts by following The Thaiger.
AstraZeneca rollout confirmed for Thursday, with PM first in line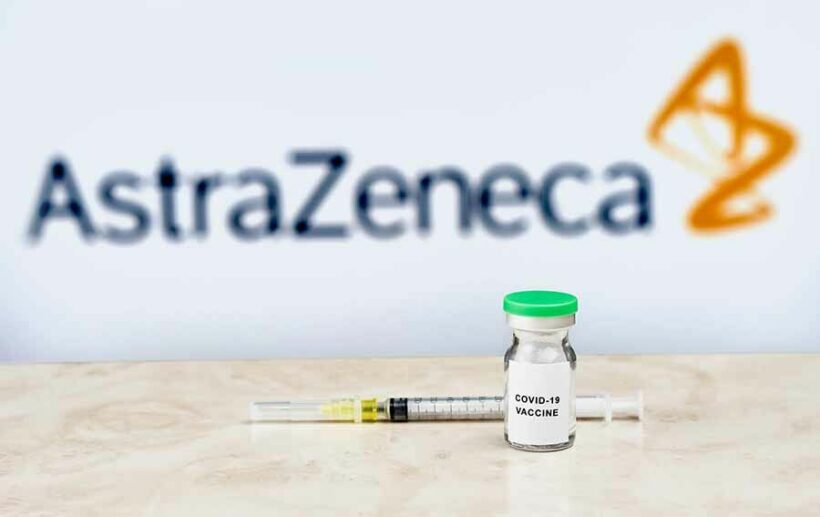 First, there was the unexpected arrival of the AstraZeneca vaccine on the same day Thailand took delivery of the Chinese one. Then there was the announcement that PM Prayut Chan-o-cha was too old for China's Sinovac jab and would get the AstraZeneca one instead. And then there was the delay to the PM's inoculation, blamed on paperwork that was missing from the AstraZeneca shipment. Now, finally, the rollout of the Oxford University/AstraZeneca jab is scheduled for Thursday and the PM will be first in line.
The Bangkok Post reports that Public Health Minister Anutin Charnvirakul has confirmed that quality checks on the 117,000 AstraZeneca doses are nearly complete and the PM will be vaccinated this week.
"(The rollout of) AstraZeneca vaccines in Thailand will take place on March 11 at the earliest, with the PM to be the first to receive the vaccine."
According to Anutin, a number of senior politicians, including the foreign affairs minister and the acting education minister, have requested the AstraZeneca jab. Those over the age of 60 are being prioritised, while younger people will receive the Chinese vaccine, whose efficacy and safety have not been tested in those over 60.
Meanwhile, the Health Minister adds that China has asked for Thailand's help in inoculating 200,000 Chinese citizens living in the Kingdom. Beijing has also floated the idea of making Thailand a regional vaccination centre for Chinese people living in the ASEAN region and says it will provide the necessary vaccines for free.
Thailand's Public Health Ministry has confirmed it will issue vaccination certificates to everyone who receives the required 2 doses of a Covid-19 vaccine. Apisamai Srirangson from the Centre for Covid-19 Situation Administration says such certificates have been approved by the World Health Organisation and can be used in the future to obtain a vaccine passport.
SOURCE: Bangkok Post
Keep in contact with The Thaiger by following our Facebook page.
Never miss out on future posts by following The Thaiger.