Thailand
AirAsia joins Interpol's I-Checkit campaign against using stolen passports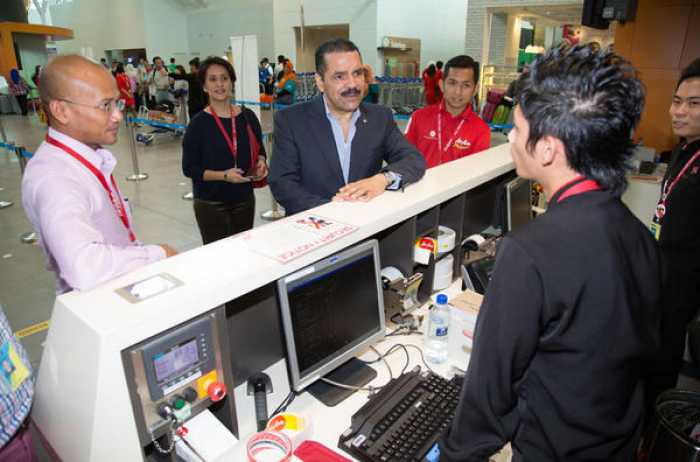 PHUKET MEDIA WATCH
– Thailand news selected by Gazette editors for Phuket's international community
AirAsia joins Interpol's I-Checkit campaign against using stolen passports
Reuters / Phuket Gazette
PHUKET: nterpol has agreed to expand its I-Checkit initiative under the Turn Back Crime campaign to other businesses after its cooperation with AirAsia, Asia's largest budget airline, proved successful.
Commencing in June, the initiative saw the passports of passengers wishing to board the airline checked against Interpol's Stolen and Lost Travel Documents (SLTD) database that has about 43 million records. The aim is to detect individuals attempting to use stolen or fraudulent travel documents and provide better aviation security.
By using stolen passports, people are able to conceal their real identity, move between borders and access key services in a bid to conduct illegal activities and escape justice. Therefore, enhanced measures to detect illegal use of stolen travel documents are seen as critical for crime prevention around the world.
Malaysia-based AirAsia is the first airline that applied I-Checkit after Interpol approached its executive, who immediately agreed to join. Some hotel chains in Europe have also agreed to participate in the testing stage of the system. When a passport is found in the database, security officials will be alerted to handle the person who presented it.
Last week the General Assembly of Interpol members endorsed expansion of the initiative to cover a wider range of industries, such as more airlines, banks and hotels.
Some six million AirAsia passengers have been screened against the database since June when checking-in for flights with 69 found to have lost or stolen documents. Some 18 of them were not allowed to board their flights.
"As an airline that flies to more than 23 countries, we take international security very seriously, which brought us to collaborate with Interpol," AirAsia's Group CEO Tony Fernandes said.
"We are proud to be the first airline in the world to have our check-in system fully integrated with I-Checkit solution to screen passengers travelling with our network of 100 airports across Asia and 600 international flights per day."
During I-Checkit queries made by a partner hotel in Monaco in July, a "positive" response occurred against the passport number of a guest wanted by Austrian police for aggravated theft and robbery – resulting in his arrest.
Interpol's outgoing chief Ronald Noble said during the assembly: "This is solid evidence that the initiative can stop potentially dangerous criminals and terrorists from boarding an airplane and threatening the safety of their fellow passengers, as well as can stop them from checking into a hotel and endangering the welfare of the other guests.
"Passengers travelling with AirAsia know that the airline has their safety and security in mind and is doing all it can to prevent anyone using a stolen passport from boarding. With the overwhelming support of the member countries for expanding the system, my hope is that one day soon, all citizens the world over will feel as secure when conducting their daily activities."
American Noble will be replaced next year by German Jurgen Stock, who won endorsement from the General Assembly.
Under the system, no airline gains direct access to Interpol's database of some 43 million lost/stolen passports from 168 countries. But it can enter searches through the I-Checkit. Personal information would not be disclosed to companies, but the system would flag passports if there was any concern, and there is a procedure to refer passengers to the authorities. AirAsia also said no personal data would be transmitted to Interpol other than passport numbers and issuing nation.
Important partnership
To give importance to the partnership with Interpol, AirAsia has painted one of its A320 aircraft with a special livery which flags Interpol's "Turn Back Crime" campaign. The airline sent this special aircraft to Nice Airport in France, touching down just hours before the opening of the General Assembly.
The theme of this year meeting is "Turn Back Crime: 100 years of International Police Cooperation". This special aircraft livery took six days or 130 hours to complete and will join the AirAsia fleet travelling to 23 countries.
Malaysia's Home Affairs Minister Ahmad Hamidi said AirAsia had been proactive and taken positive steps to screen all of its passengers with Interpol, as well as through their commitment to using the latest technology to stop crime.
The five-day General Assembly was attended by more than 1,000 delegates from 166 countries members to discuss key issues including building strong law enforcement institutions, and increasing collaboration between police and the public and private sectors.
Executive director of the campaign Roraima Andriani said she hoped AirAsia's innovation approach would inspire others to identify new and exciting ways to help us turn back crime.
At the Interpol summit, Qatar Airways became the second airline to join the initiative. It became the first full-service airline to use the pilot project.
Meanwhile, an AirAsia source said the airline was willing to pay if Interpol decides to collect fees – reportedly a few cents each time the database is consulted by a business – as the initiative would certainly help boost security for its passengers and aviation as a whole.
— Phuket Gazette Editors