75 year old burned to death while fighting plantation fire in Sa Kaew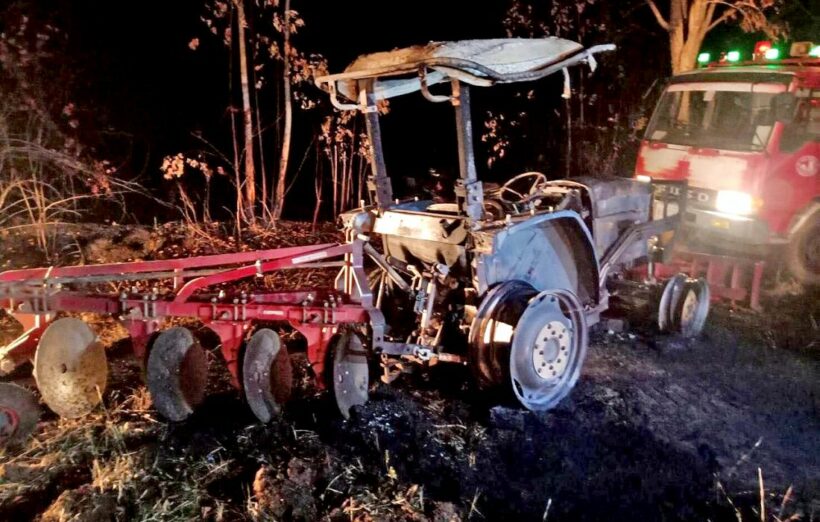 A 75 year old has been burned to death while fighting a fire in Sa Kaew's Aranyaprathet district last night. Sa Kaew is east of Bangkok on the Cambodian border.

The incident happened in a eucalyptus plantation.

District police received an alert at 8.30pm that the man, Boonsee Thamungmee, was killed at the plantation in Moo 6 village in Tambon Hunsai.

The man's charred body was found near a pond about 100 metres from his tractor. Locals say they saw Boonsee drive his tractor to the plantation to stop the fire from spreading, but the blaze could not be controlled and even the tractor eventually caught fire.

Boonsee tried to save himself by running toward the pond, but could not move fast enough due to a physical disability and found himself caught in the blaze.

SOURCE: The Nation
Keep in contact with The Thaiger by following our
Facebook page
.
All Nakhon Ratchasima hotels ordered closed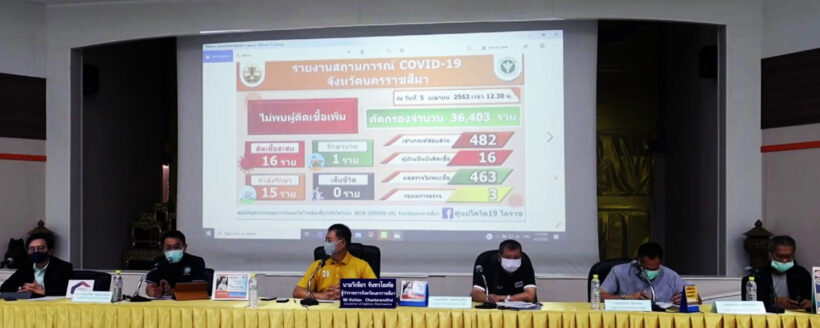 Today the governor of the northeastern Nakhon Ratchasima province Vichian Channothai, also chairman of the provincial communicable diseases committee, signed an order to shut down all hotels to fight the spread of the Covid-19 coronavirus. The order is effective immediately and until further notice.
All hotels with current guests are required to inform district health officials of their total numbers, their names and their expected departure dates. Any guests who show any symptoms or are suspected to be infected with the virus must be reported to health officials for investigation.
Earlier the governor issued several orders closing down high risk places such as entertainment venues, department stores, service outlets and most natural and tourist attractions. A village in tambon Tha Ang of Chok Chai district was also ordered locked down.
The Nakhon Ratchasima Covid-19 Response Centre reported today that the number of confirmed infections in the province stands steady at 16.
Nakhon Ratchasima, also called Korat, was the site of a February massacre by a disgruntled soldier that shook the nation, leaving 30 people dead including the shooter, and wounding 58 others.
SOURCE: Bangkok Post
Keep in contact with The Thaiger by following our
Facebook page
.
New immigration measures for stranded visitors considered by Thai cabinet tomorrow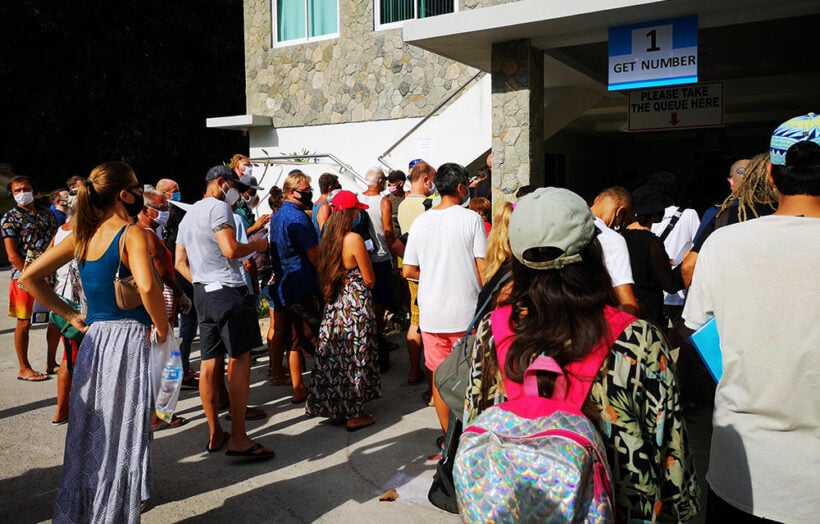 "Under the government's social distancing policy, these tourists will no longer have to visit the immigration bureau and risk contracting the virus in a crowd." 
Thai Immigration officials are seeking cabinet approval for new measures to categorise foreigners stranded in Thailand because of the Covid-19 crisis. The proposals will be submitted to tomorrow's cabinet meeting.
Last week Thai TM Prayut Chan-o-cha expressed concerns about foreigners who are stuck in Thailand after flights were in short supply and many countries had, as Thailand has, locked their borders to incoming passengers. Social media has been full of complaints from well-intentioned expats and visitors who have been forced to wait for hours in queues trying to sort out their immigration woes. Of course their main concern has been the lack of social-distancing.
There will be three classifications…
• Foreigners with resident visas who normally reside in Thailand but cannot return to Thailand due to the Covid-19 crisis
• Foreign tourists who are unable to depart Thailand due to the crisis
• Visitors from neighbouring countries who hold a temporary border pass and were stuck in Thailand after the borders were shut
Bangkok Post reports that foreigners in the first group are normally required to return to Thailand within 12 months of their departure and because they might not be able to re-enter the country in time, the Immigration Bureau will propose extending their compulsory return deadline until after the pandemic subsides.
"The extension of the return period would not affect any immigration rights and benefits they usually receive when strictly following the one-year return period requirement."
But immigration officials are advising them to return to Thailand as soon as they can after the situation improves and they can safely travel again.
"For foreign tourists in the second group who reported to immigration authorities for a 30 day extension after their visas expired on, or after, March 26, their visas will be automatically renewed every 30 days until the pandemic subsides."
The updated measures, as recommended, won't apply to any foreigners who are currently working and/or have a family in Thailand.
"They will still be required to report to immigration authorities regularly."
"For visitors from neighbouring countries in the third group, they will be allowed to stay in Thailand until the borders are re-opened. They will be required to leave Thailand within seven days after the borders reopen."
"Foreigners who are in Thailand and affected by the Covid-19 crisis, but not covered in the three new categories are advised to adhere to the usual laws," (meaning they will likely be required to report to a local Immigration office).
NOTE: These proposed measures are currently NOT in place and will need cabinet approval and an official announcement before they are.
SOURCE: Bangkok Post
Keep in contact with The Thaiger by following our
Facebook page
.
World body bans Thai weightlifters from Tokyo Olympics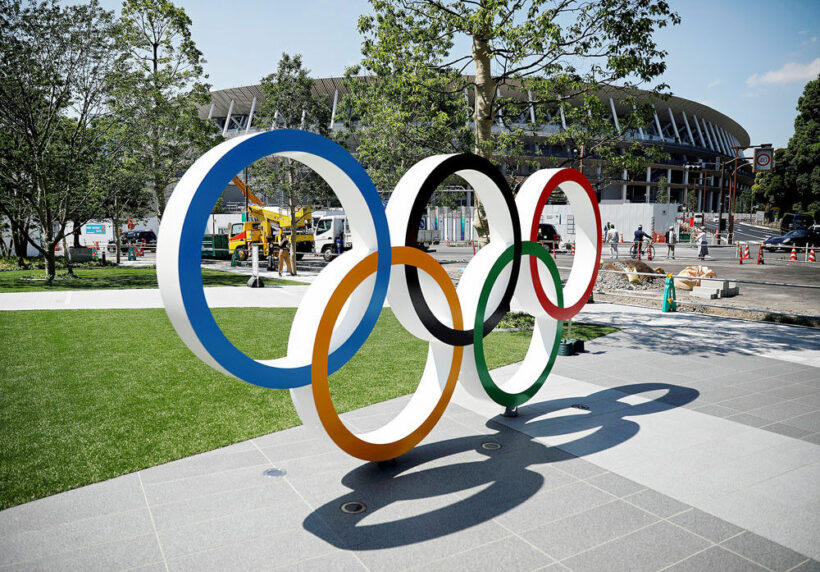 Thai and Malaysian weightlifters will be barred from the Tokyo Olympic Games, whenever they're held, over their high numbers of doping cases. The sport's governing body, the International Weightlifting Federation (IWF) said in a statement that the two countries' lifters can't compete at the Tokyo Games, regardless of the change of date.
Previously there had been some hope in Thailand that its lifters might get a chance to compete in a rescheduled Olympics if the local federation could clean up its act.
The 2020 Olympics have been postponed for a year due to the Covid-19 coronavirus outbreak, and are currently scheduled to be held from July 23 to Aug 8, 2021.
The Thai and Malaysian federations can appeal the ruling to the Court of Arbitration for Sport (CAS) within 21 days.
The IWF also imposed a 6.6 million baht fine on the Thailand Amateur Weightlifting Federation (TAWA), which has already voluntarily banned itself from all weightlifting, including the Tokyo Games, because of its recent doping record.
8 Thai lifters, including 2 reigning Olympic champions, tested positive for banned substances at last year's World Championships. They were caught when the IWF carried out extra tests in Germany, on samples taken last November from "target athletes" and using "the most sophisticated techniques available" at the World Championships in Turkmenistan.
Thailand was also involved in a doping scandal in 2011 when 7 teenage girls were banned after testing positive, 2 of whom are among the 6 new cases.
The IWF suspended TAWA's membership status for three years, saying the sanction would be reviewed on or after March 2022 if "Tawa can demonstrate it has met pre-defined criteria".
The Malaysian Weightlifting Federation has been suspended for a year. The the IWF says sanction will be reviewed and may be lifted as early as Oct 1.
SOURCE: Bangkok Post
Keep in contact with The Thaiger by following our
Facebook page
.