51 year old Frenchman arrested over allegations of soliciting sex with teenagers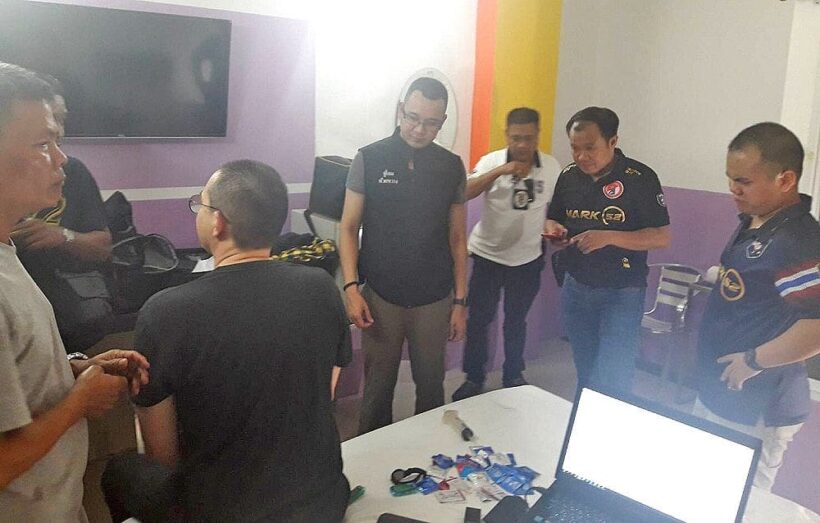 by Jessada Chantharak
A 51 year old French citizen, reportedly working as a French teacher in Singapore, has been arrested in Bangkok, Thailand for allegedly buying sex with teenage boys.
The suspect is Quenot Jean-Christophe Marie Georges. He was arrested on February 4 at a hotel room in Soi Inthamara 47, Bangkok.
A computer notebook, a memory card, two hard disks, a camcorder, camera, cell phone, eight packs of Kamagra oral jelly (a cheaper version of erectile dysfunction-treating Viagra) and 36 condoms were seized, according to police.
He allegedly picked up boys aged 13-15 at the Huay Kwang Stadium to have sex with him. A father complained that his teenage son had gone missing and police say they traced him to the foreigner's hotel.
The suspect was allegedly caught with two boys aged 14. Neither were not the missing teenager.
Officers said they found a tripod in the room and a computer with pornographic movies for the boys to watch with him.
Police said they found a video of the suspect having sex with a teenager. Two boys reportedly told police they were invited on Facebook by the suspect to have sex with him for 800-1,000 baht.
Deputy divisional commander Col Nakarin Sukhonthawit reported that the police had been notified that teenagers at the stadium had an unusual amount of cash because they were "going out with a foreigner".
Nakarin said the suspect had admitted to recording sex videos with a boy but insisted it was for his own viewing. Police are checking for the videos online, which would lead to additional charges.
The suspect reportedly told police that he taught French in Singapore and had befriended teenagers at the stadium by volunteering to teach them English and football for over a year.
"As he grew closer to the boys, he invited them to have sex with him for cash and would record it," according to police.
Police found the suspect had entered Thailand 10 times before, with the previous trip mid-2018, each time staying in the Huai Kwang hotel for around five days.
Police initially charged the man for "taking away" minors under 15 from their parents or guardian and raping children.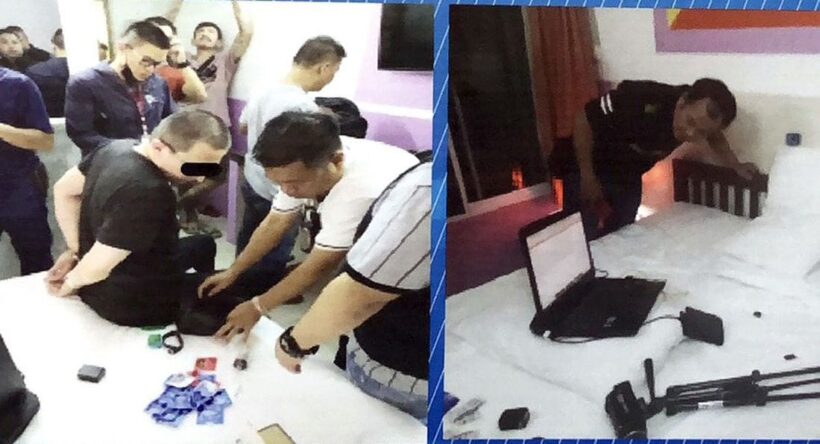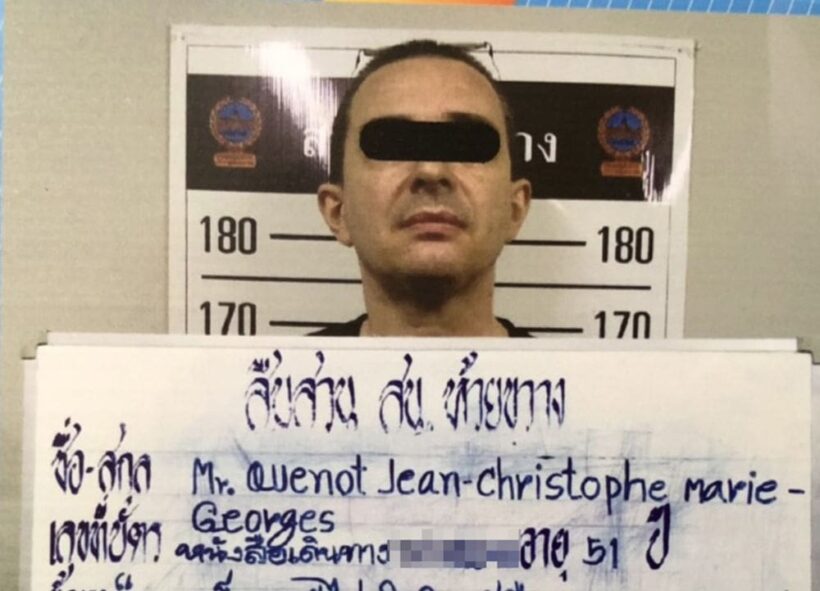 SOURCE: The Nation
Want more from the Thaiger family?
📱 Download our app on Android or iOS for instant updates on your mobile
📧 Subscribe to our daily email newsletter
👍 Like/Follow us on Facebook
🔔 Subscribe to or Join our YouTube channel for daily video updates
Activist lawyer contracts Covid-19 in prison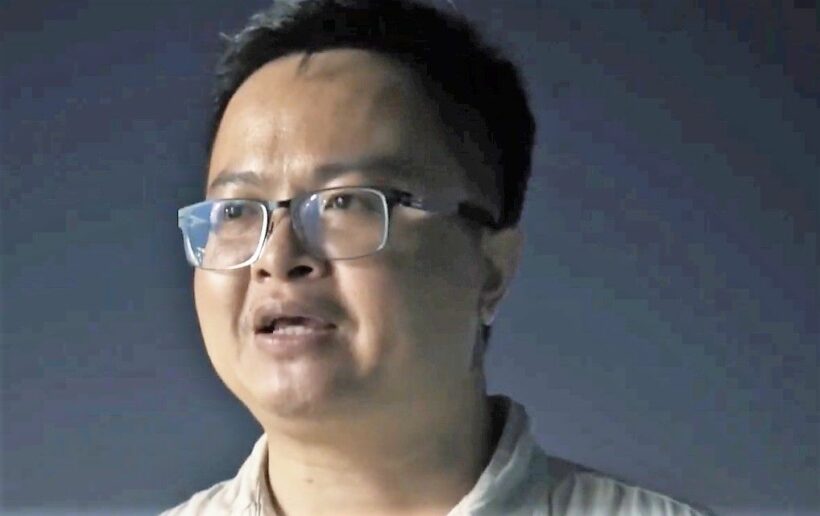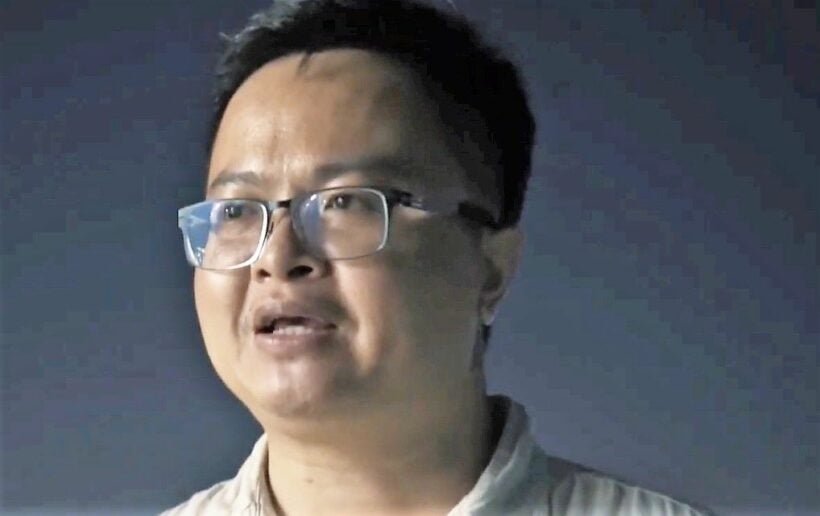 Arnon Nampa, an activist lawyer in jail without bail since February on lese majeste charges has been infected with Covid-19, according to his Facebook page. An anonymous source at the Corrections Department confirmed with Reuters that Arnon had tested positive yesterday and has been sent to the prison hospital for treatment. The department later released a press statement confirming the activist he had Covid-19.
Held without bail for more than 3 months, Arnon has been a leader in the pro-democracy demonstration calling for the resignation of PM Prayut Chan-o-cha, along with a revision of power for the Thai royal family. The protests had gained momentum last summer and still maintain widespread support though the government has cracked down on marches and demonstrations. They have discouraged political dissent by using the lese majeste law, which carries harsh penalties of up to 15 years in jail for anyone who insults royalty in Thailand.
Arnon, who is 36 years old, confirmed this morning he was being taken to the Medical Correctional Hospital in the Chatuchak District of Bangkok. He has been a key legal advisor who helped activists voice a push for reform that was previously unspeakable in Thailand. Once only whispered in private conversations, the call for reform has now been thrust into the spotlight by student protests.
Thailand has seen several outbreaks of Covid-19 within the prison system throughout the country. Clusters in Narathiwat that later spread to Surat Thani prisons as well, and outbreaks in larger prisons in Chiang Mai and Bangkok have recorded about 475 coronavirus infections within prison walls.
The jailed attorney is one of many protesters and activist leaders who have been held for weeks or months without bail on lese majeste charges. 22 year olds Parit "Penguin" Chiwarak and Panusaya "Rung" Sithijirawattanakul are both on a hunger strike to protest being denied bail multiple times. Penguin was hospitalized last week after his health condition worsened, and there are reports that his trial may be delayed after the activist was exposed to Covid-19 by being held in a cell with a prisoner later confirmed to be infected.
Want more from the Thaiger family?
📱 Download our app on Android or iOS for instant updates on your mobile
📧 Subscribe to our daily email newsletter
👍 Like/Follow us on Facebook
🔔 Subscribe to or Join our YouTube channel for daily video updates
Phuket struggles towards herd immunity, vaccine rollout slow in other provinces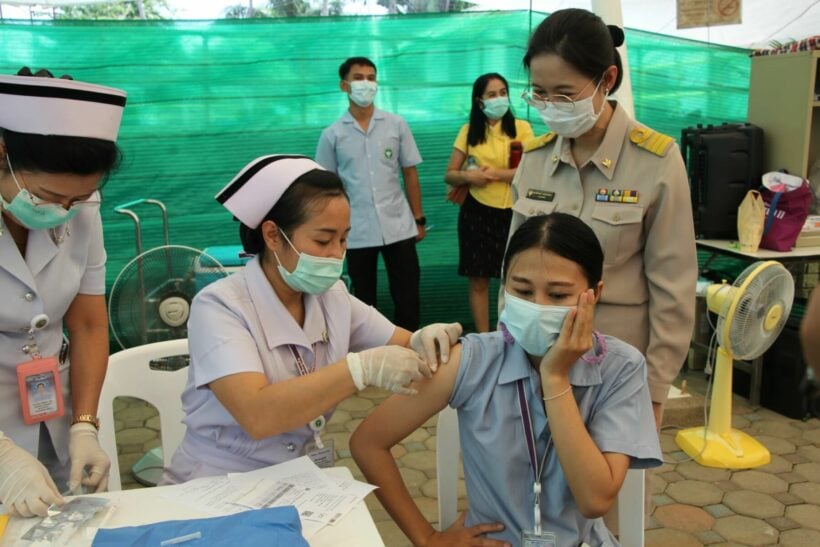 So far, 22% of the population in Phuket is fully vaccinated against Covid-19 while the majority of provinces in Thailand have not vaccinated any of the residents, according to data compiled by researcher Peter Scully.
Bangkok, the epicentre of recent infections with more than 15,000 confirmed cases since April 1, has only fully vaccinated 1% of the population. Around 10 million people live in Bangkok. Surrounding areas Samut Sakhon, Samut Prakan, and Nonthaburi, which have all been hit hard by the recent outbreak, have each only fully vaccinated 1% of their populations.
Despite the recent wave of coronavirus infections, which has made up more than half of Thailand's cumulative count of confirmed cases and virus-related deaths, the Thai government says they are still moving forward with plans to reopen Phuket to vaccinated tourists by July 1.
The island province has been rolling out a mass vaccination campaign in an effort to administer the 2-dose vaccine to 70% of the population by the end of June to reach herd immunity and reopen to foreign tourists. Tourism officials also plan to reopen Krabi, Phang Nga, Koh Samui, Pattaya, and Chiang Mai.
It's unclear exactly how many vaccines have been administered on the island of Koh Samui where health officials are rolling out a mass vaccination campaign. Some expats who work as English teachers on the island say they have received the vaccine. According to Peter's data, 2% of the population in Surat Thani, which includes Koh Samui and Koh Pha Ngan, have been fully vaccinated against Covid-19.
| | |
| --- | --- |
| Province | Population fully vaccinated |
| Bangkok | 1% |
| Nonthaburi | 1% |
| Phang Nga | 1% |
| Phuket | 22% |
| Ranong | 1% |
| Rayong | 1% |
| Samut Prakan | 1% |
| Samut Sakhon | 7% |
| Surat Thani | 2% |
| Tak | 3% |
*Data compiled by Peter Scully
Want more from the Thaiger family?
📱 Download our app on Android or iOS for instant updates on your mobile
📧 Subscribe to our daily email newsletter
👍 Like/Follow us on Facebook
🔔 Subscribe to or Join our YouTube channel for daily video updates
Thursday Covid UPDATE: 18 deaths and 1,911 new infections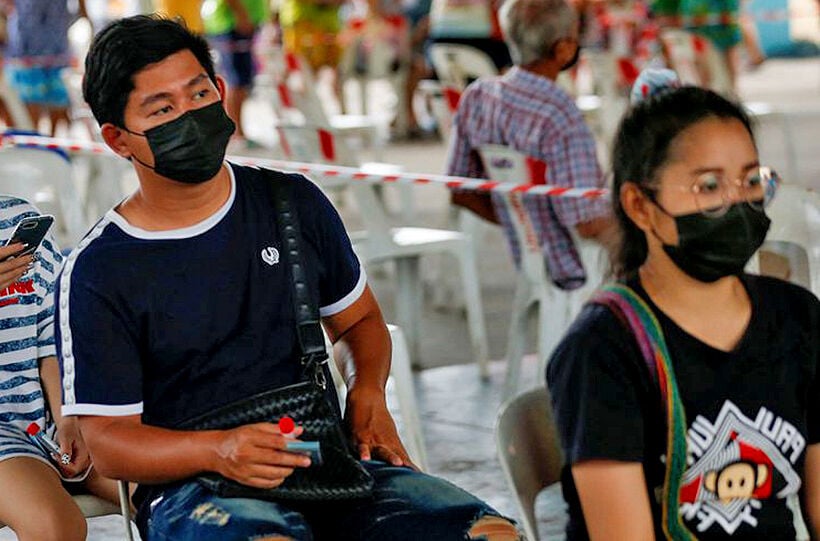 The Thai ministry of health has announced the Wednesday tally from Bangkok and the provinces. There has been 18 new Covid-related deaths and 1,911 new infections in the past 24 hours.
The oddly consistent daily tally suggests that the infection rate is steady and not running "out of control". (The Thaiger is not suggesting anything 'sinister' about the numbers but notes, statistically, that there is little variance in the daily figures despite a highly dynamic situation)
29,680 patients are still under state-controlled care. 2,435 people were discharged from care yesterday.
Here are the provinces with the highest number of new infections reported in the past 24 hours…
Bangkok – 739
Nonthaburi – 273
Samut Prakan – 143
Chonburi – 76
Samut Sakhon – 65
Surat Thani – 53
Nakhon Pathom – 47
Ayutthaya – 35
Chachoengsao – 35
Pathum Thani – 31
Nakhon Si Thammarat – 31
The worsening situation in the Klong Toey 'slum' area, a community of some 100,000, is the BMA and government's most pressing issue. There's been a surge of resources and mass testing in recent days. After recently testing, 1,336 Klong Toey residents over a period of 3 days, results showed 1 in 14 people testing positive. This could produce a new spike in the daily infection total in the next few days.
Meanwhile, a spokesman from the Ministry of Foreign Affairs noted that, following discussions with Thailand's Centre of Disease Control relating to foreigners, expats and access to Covid vaccines, a further briefing on the matter will be made today.
On Tuesday, a ministry spokesperson Rungrueng Kitphati rolled back some of the earlier commitments to vaccinate "everyone", including foreigners with a free Covid vaccine…
"The vaccines right now are only reserved for Thai people who are now at a high-risk level or living in the severe outbreak areas. Expats should wait for a clear policy from the government."
He flatly denied reports of expats living in Thailand being allowed to register for free vaccines. But did offer a glimmer of hope…
"In the future, the country will provide more alternatives for vaccines so they could have a chance of getting it."
Hopefully there will be some clarification of those comments. The Thaiger tips there will be another back-flip and foreigners will be offered some access to the next vaccine roll out (pure speculation on our part). We will report the results of that media conference as soon as it's available.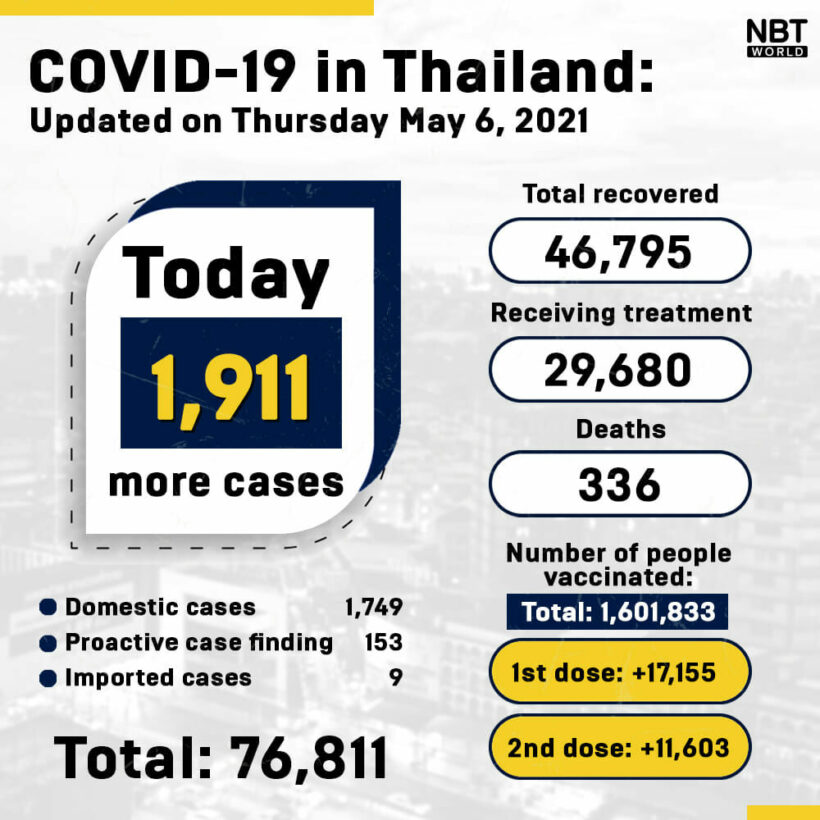 Want more from the Thaiger family?
📱 Download our app on Android or iOS for instant updates on your mobile
📧 Subscribe to our daily email newsletter
👍 Like/Follow us on Facebook
🔔 Subscribe to or Join our YouTube channel for daily video updates