Muslim paramilitary soldiers injured in Yala bomb attack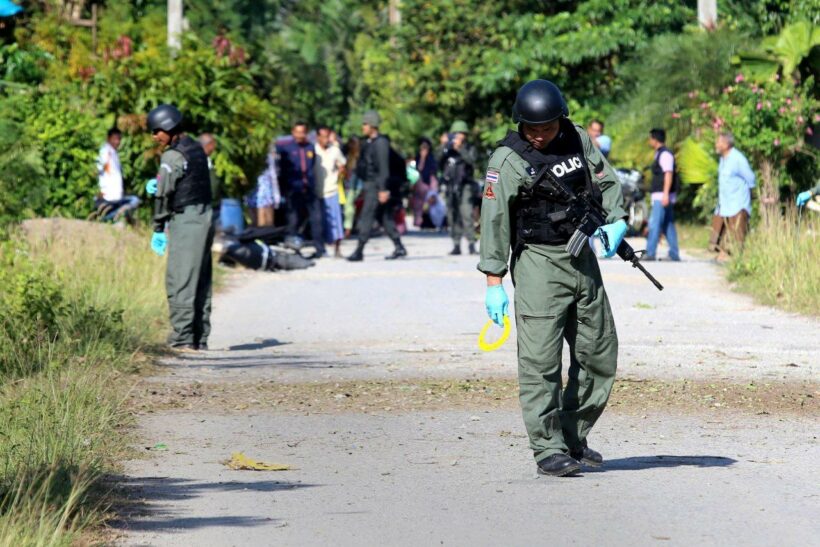 Two Muslim paramilitary soldiers were severely injured in a bomb attack while they were escorting a group of teachers to a school in Yala province on Thursday morning, police said.
Police said Muslim insurgents had detonated an IED hidden along the main road in Bannang Sareng village in Muang district at 7.30am. A team of seven paramilitary soldiers on four motorcycles were escorting teachers on their way to Pracha Uthi School.
50 year old Muhammadroni Laohama and 40 year old Wansurohwan Jehming, who were riding on the last motorcycle in the procession, were injured by the blast.
Police said insurgents had used a walkie-talkie to detonate the bomb, so they must have been hiding nearby to monitor the group.
STORY: The Nation

Enterprising young Cambodian impresses with multi-lingual skills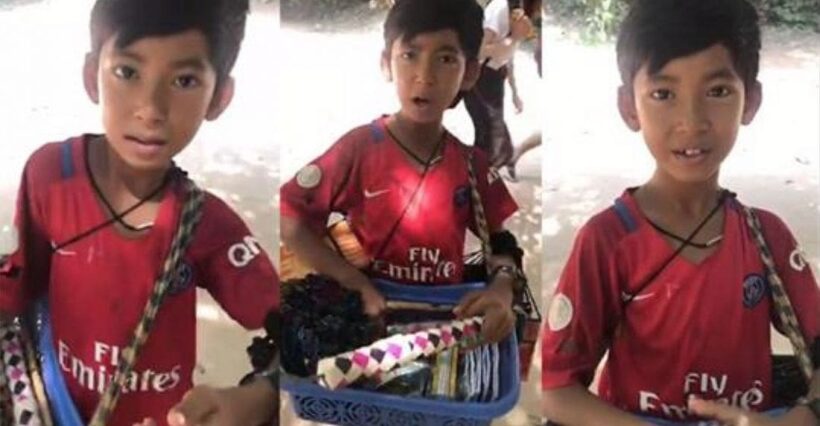 Young vendors become very resourceful at extracting money from tourists. All in the quest of making an honest living and bringing some money to their families. This young boy seems to have knowledge of at least seven languages, obviously representing the most popular languages spoken by the tourists he speaks to during his daily rounds.
Netizens are impressed by his talents but some are saying that the boy has to develop this skill in order to survive. A translation follows some of the many languages he is able to use in his daily work. Let's hope he gets the opportunity to use his skills in a prosperous career in the future.
We'll take five of whatever you're selling!
The Phoenix rises to the surface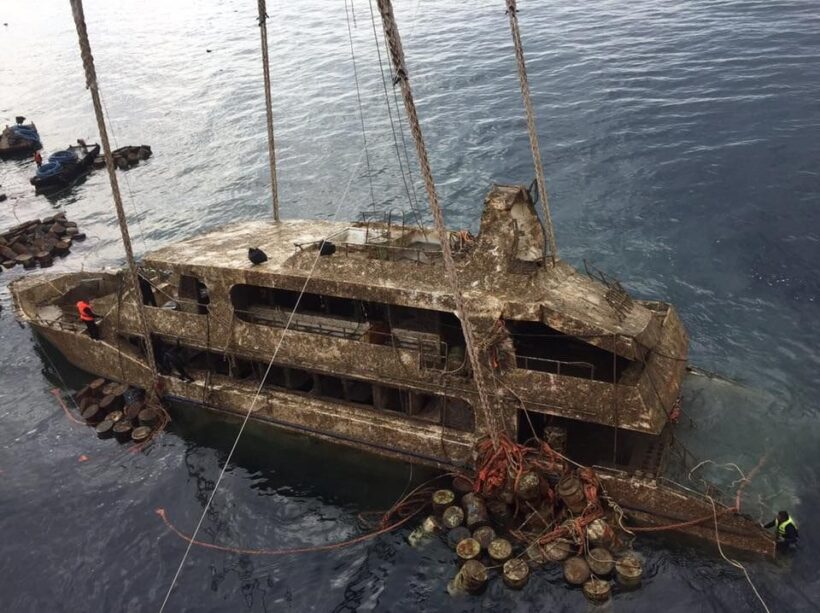 PHOTOS: Facebook/สุรเชษฐ์ หักพาล
The yacht sank late afternoon on July 5 in a short, sudden storm. Most boats would have quite capable of withstanding the wind squal and waves on the day. But Phoenix capsized and sank, taking with her 47 Chinese tourists. The full reasons are stilll being investigated. Today, the actual yacht rose from the depths of the Andaman Sea, off Koh Hei, providing prosecutors with a key piece of evidence.
The yacht has been stuck at the bottom for three and a half months. One salvage team tried and gave up after two months of amateur operation, resulting in no boat but diver dying.
This week a crane and barge arrived from Singapore, organised by the Thailand police under the supervision of the acting chief of Immigration, Maj Gen Surachete Hakparn. And there he was today, with a collection of local and Bangkok media to capture the moment, happily speaking to the media about the success of the operation.
The boat eventually broke the surface just after 3pm this afternoon, the local sea-life starting to make their home on the Phoenix after its three and a half months submerged.
The Phoenix will be brought back to Phuket for a full examination of its design and safety equipment on the fateful day. Questions have already been raised about the sea-worthiness of the vessel's design and how it might have been able to satisfy inspectors before its work as a local tour boat.
New additions to the Thailand Michelin foodie guide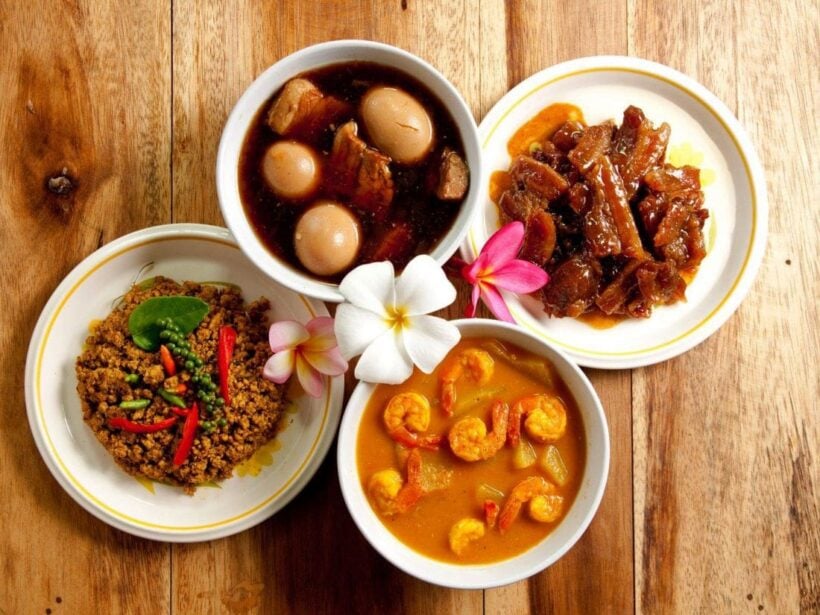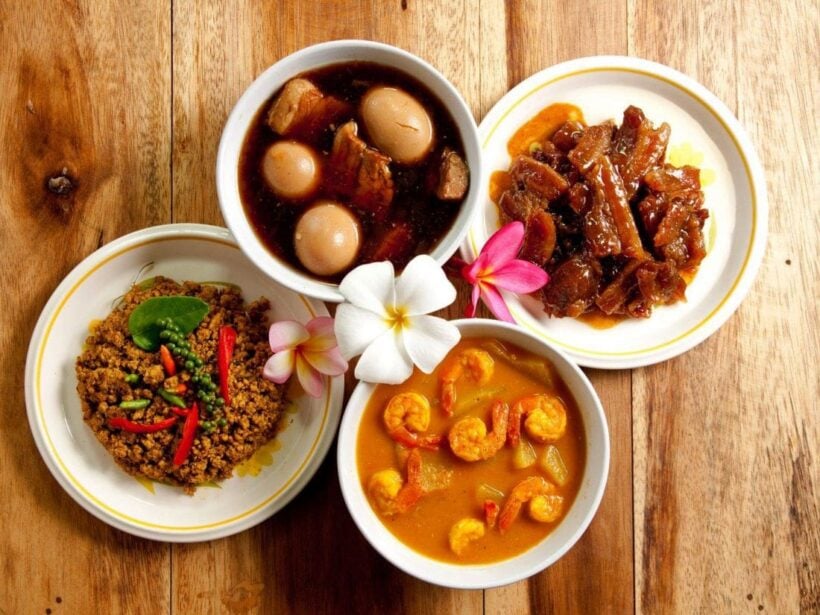 by Khetsirin Pholdhampalit
Thai street food eatery Jay Fai has retained its one Michelin star for the second consecutive year and the legendary Thai restaurant Methavalai Sorndaeng is among the new 10 additions to have been awarded one star, according to the announcement of eateries making it the second edition of Michelin Guide Bangkok.
No restaurant has achieved the coveted highest three-star rating.All three two-starred restaurants in the inaugural edition, namely Gaggan, Le Normandie and Mezzaluna have retained their stars, while Suhring has been upgraded from one to two stars.

The little red guide has been extended to cover the best dining venues in the Southern provinces of Phuket and Phang Nga for its 2019 edition.

However, Pru restaurant in Phuket is the only restaurant in the two Southern provinces to have been awarded one star.

The other 14 restaurants in both cities, such as the famous venues of Raya and Chomchan received Bib Gourmand awards for being 'good value for money'.

In addition to Methavalai Sorndaeng and Pru, other new one-starred additions include Le Du, Gaa, Canvas, R.Haan, Saawan, Sorn, Ruen Panya, and Suan Thip.

Dining venues in Bangkok's neighbouring provinces of Nonthaburi, Pathum Thani, Nakhon Pathom, Samut Sakhon and Samut Prakan are also covered in this new edition.

ORIGINAL STORY: The Nation