Maybe this idea might get off the ground – Uber takes to the skies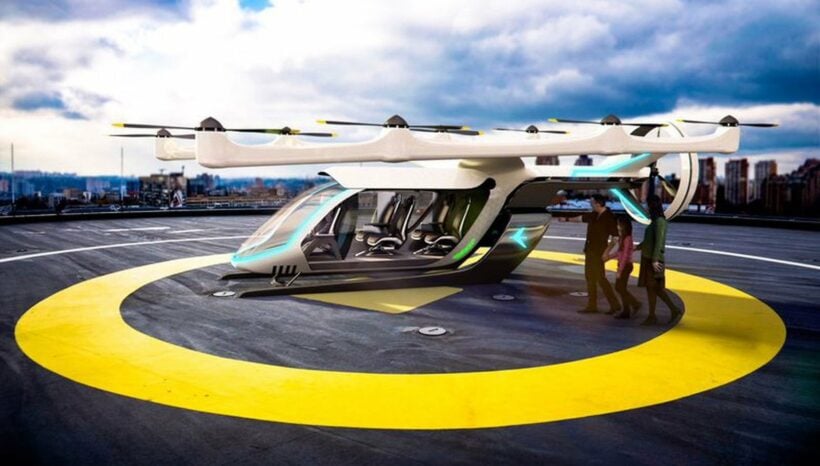 Uber has held its second annual "flying taxi" conference in LA showcasing its prototype future taxi service and promising to revolutionise the way we get around busy urban areas..
Embraer and Pipistrel Aircraft, two aircraft manufacturers that are working with Uber, released new concept images of aircraft they plan to build for the ride-hailing company's ambitious project. Karem, also based in California, the latest aircraft manufacturer to partner with Uber, also had a new vehicle to show off at the conference as well.
A model of Uber's electric vertical take-off and landing concept 'car' (eVTOL), looking like a helicopter but flying more like a drone, was displayed at the second annual Uber Elevate Summit in Los Angeles.

According to the presentation Uber's all-electric flyer can achieve speeds over 300 kph with a range of 100 km on a single battery charge. (Luckily in Thailand there's a 7/11 or Family Mart on every corner if they need extra batteries).
Uber continues to become global force in transportation with its ridesharing services, but has also been working on autonomous vehicles and flying cars as ways to take ride-sharing to the next level and help solve the problems of urban traffic congestion.
Uber plans its first demonstration flights in 2020 and commercialisation of the flying taxis sometime in 2023.
The heads of Uber's Aviation programs, Eric Allison, says the flying vehicles are part of an overall strategy allowing people to do without personal cars.
"We want to price it so low, it'll be irrational to drive your car."
Other companies are chasing Uber's attempts to design, test, launch and get approval for similar kinds of aerial devices.

SOURCES: Engadget, The Verge, The Nation
Keep in contact with The Thaiger by following our Facebook page.
Never miss out on future posts by following The Thaiger.
Survey shows growing acceptance of Covid-19 vaccines in some countries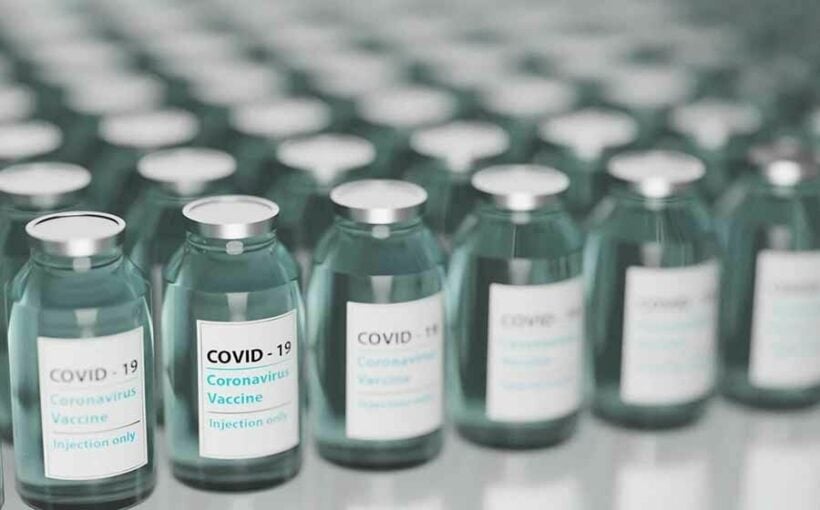 A survey of 6 countries shows that the number of people willing to be vaccinated against Covid-19 is on the rise. The poll, conducted by the international consultancy KekstCNC, indicates that the number of people willing to be vaccinated has risen since last year. The countries that took part were the US, the UK, France, Germany, Japan, and Sweden, with all reporting a similar trend.
The highest percentage in favour of vaccination was in the UK, where mass vaccination is well underway. 89% of those surveyed say they're in favour of being vaccinated, an increase on December's figure of 70%.
Sweden's percentage of those in favour of vaccination rose to 76%, from 53% in December. In the US, it was 64%, up from December's 58%, in Germany, 73% favour vaccination, up from 63%, and in Japan, the percentage is 64%, up from 50% in December.
Perhaps unsurprisingly, the numbers were lowest in vaccine-sceptical France, with 59% in favour of the vaccine. However, this is a significant rise from December's 40%.
In some countries, people were critical of the vaccine rollout, but 76% of people in the UK feel the government has done well. In the US, only 32% are happy with the vaccine rollout, in Germany and Japan it's 28%, 22% in France and just 20% in Sweden. Both the UK and Israel are seen as having the most success with the rollout of their vaccine programmes.
Covid-19 has now killed 2,543,285 people and infected 114,686,933 around the world since the start of the pandemic in December 2019. The US has recorded the highest number of deaths, at 525,776.
SOURCE: Bangkok Post
Keep in contact with The Thaiger by following our Facebook page.
Never miss out on future posts by following The Thaiger.
Injuries and arrests as Bangkok protests turn violent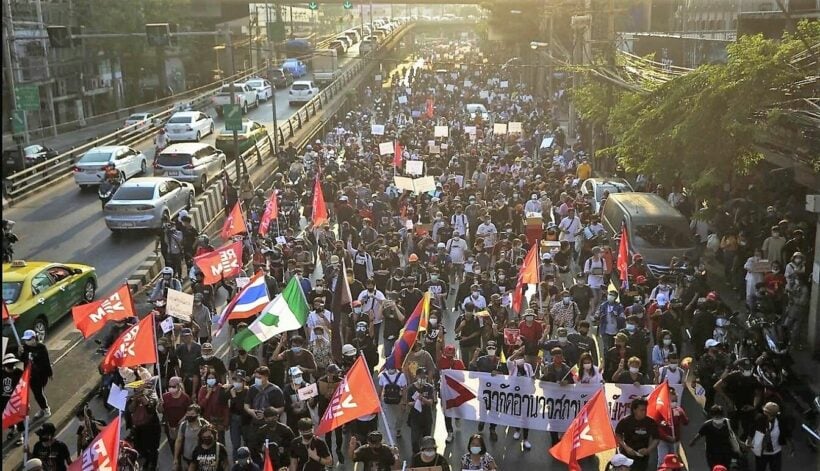 Pro-democracy protesters clashed with police in Bangkok yesterday, leading to injuries and arrests as activists attempted to reach the residence of PM Prayut Chan-o-cha. At least 33 people were injured, including 23 police officers. The clashes happened in front of 1st Infantry Regiment barracks, King's Guard on Vibhavadi Rangsit Road and involved around 1,500 activists from REDEM (Restart Democracy), part of the Free Youth group. The group has been protesting against the government and calling for reform of the monarchy since protests began in July of last year.
Yesterday, the Metropolitan Police Bureau deployed over 2,000 riot police, with barricades erected to prevent protesters reaching the PM's home. The Bangkok Post reports that at around 6.30pm, activists clashed with police. Officers deployed tear gas and water cannon and allegedly used rubber bullets as protesters threw objects their way.
Piya Tawichai from the MPB has denied that police used tear gas or water cannon, accusing protesters of instigating violence by using weapons and vandalising government property. Thai PBS World reports that yesterday's demonstration was the most violent anti-government protest in recent weeks. Protesters' demands include the PM's resignation and reform of the monarchy.
SOURCE: Bangkok Post | Thai PBS World
Keep in contact with The Thaiger by following our Facebook page.
Never miss out on future posts by following The Thaiger.
UN condemns violence in Myanmar as at least 18 killed in clashes with authorities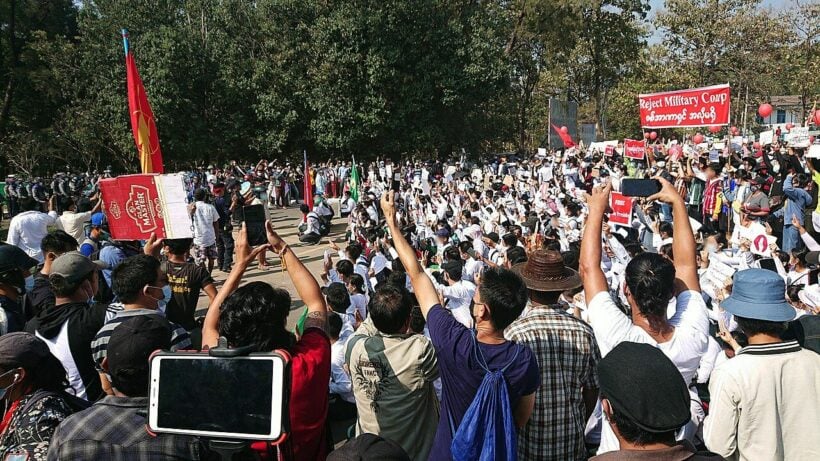 The UN human rights office (OHCHR) has called for an immediate end to the use of force in Myanmar, after at least 18 people were killed in violent clashes yesterday. Those opposed to the February 1 military coup have been taking to the streets, with police and military forces opening fire in what was the deadliest day so far.
A spokesperson for UN Secretary-General António Guterres says he condemned the use of force against protesters, which resulted in at least 30 people being injured and 18 killed.
"He is deeply disturbed by the increase in deaths and serious injuries. The use of lethal force against peaceful protestors and arbitrary arrests are unacceptable."
The Burmese army claims that the parliamentary elections, in which State Counsellor Aung San Suu Kyi was elected, were fraudulent. She was arrested on February 1, along with several members of her administration. According to media reports, she is due to appear in court today.
The UN Ambassador to Myanmar also condemned the military coup in a General Assembly address in New York and called on the international community to act. He has since been fired.
OHCHR spokesperson Ravina Shamdasani has also condemned the violence, saying the Burmese people have the right to peacefully protest in the name of democracy.
"The people of Myanmar have the right to assemble peacefully and demand the restoration of democracy. These fundamental rights must be respected by the military and police, not met with violent and bloody repression."
After clashes between protesters and the military and police, deaths have been reported in Yangon, Dawei, Mandalay, Myiek, Bago and Pokokku, with Shamdasani claiming tear gas and stun grenades were used against protesters. She has slammed the use of force and condemned the arrest and detention of activists.
"Use of lethal force against non-violent demonstrators is never justifiable under international human rights norms. Since the beginning of the coup d'état, the police and security forces have targeted an ever-increasing number of opposition voices and demonstrators by arresting political officials, activists, civil society members, journalists, and medical professionals.
"Today alone, police have detained at least 85 medical professionals and students, as well as 7 journalists, who were present at the demonstrations. Over 1,000 individuals have been arbitrarily arrested and detained in the last month – some of whom remain unaccounted for – mostly without any form of due process, simply for exercising their human rights to freedom of opinion, expression and peaceful assembly."
The military coup of February 1 came as Myanmar was edging towards democracy after years of army rule. It has been condemned by countries around the world and brought hundreds of thousands of Burmese onto the streets to demand an end to military rule and the restoration of democracy.
SOURCE: UN News
Keep in contact with The Thaiger by following our Facebook page.
Never miss out on future posts by following The Thaiger.