Singapore businessman's Porsche hits Krabi Police officer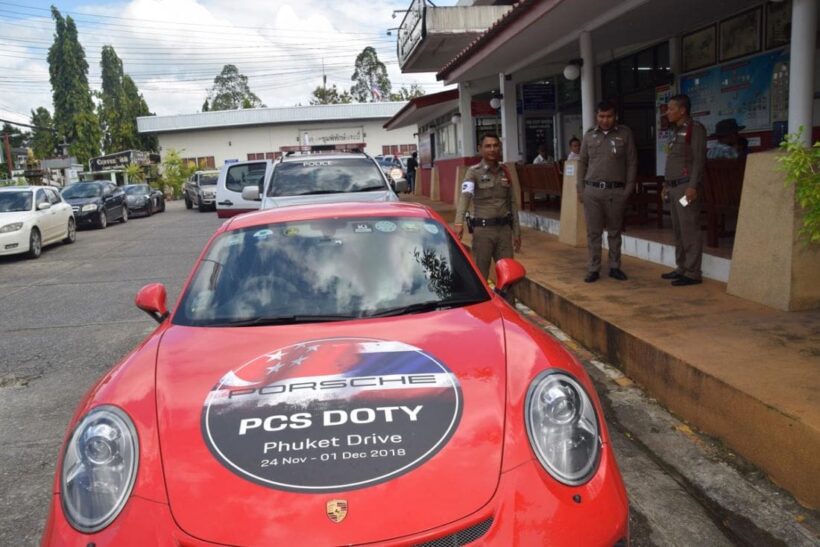 A Singaporean businessman, driving a luxury sports car, has hit Krabi police at a checkpoint yesterday in Krabi.
The Krabi City Police were conducting a scheduled checkpoint at about noon yesterday on Petkasem Road in Krabi City.
The Porsche was driven by 65 year old Simon Ong Chin Sim, a Singaporean businessman, His vehicle struck traffic police Sen Sgt Maj Suriya Chumduang. The officer was taken to Krabi Hospital while Mr Sim was taken to Krabi City Police Station.
Police checked and clocked Mr Sim's car was travelling at 200 km/hr, along with another five Porsche cars heading to Krabi City. Mr Sim was the third car in the group. He tried to brake and avoid the collision when the car in front of him tried to stop. His car spun around and hit the police officer.
At this stage he has been charged with reckless driving causing injury.



Read more headlines, reports & breaking news in Krabi. Or catch up on your Thailand news.
His Majesty sends flowers to five year old attacked by dogs in Krabi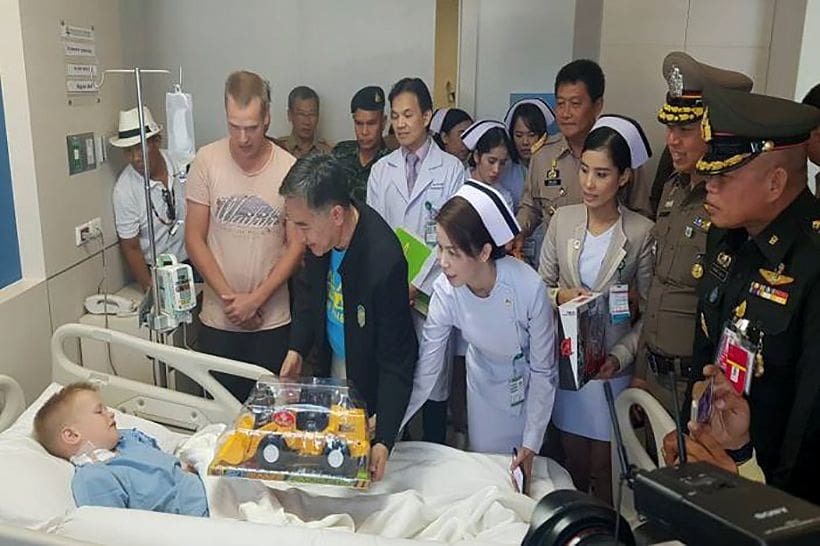 PHOTO: Krabi's Governor visits the boy on the morning after the attack
His Majesty the King has sent a vase of flowers to a five year old Finnish boy who was attacked and bitten by a pack of dogs at Ao Nang in Krabi on Wednesday afternoon.
The King instructed Captain Khumsup Iamsri, an officer attached to the King's royal villa, to send the flowers to the boy at the Krabi Nakharin International Hospital in Krabi's Muang district at 9.30am.
The gracious gift from His Majesty follows visits from city officials, Krabi Governor and, yesterday morning, the Thai PM during a visit to Krabi and Samui.
Read the original story about the attacks from The Thaiger HERE.
The boy was covered in bite wounds and screaming in pain when he was rushed to hospital after the attack.
His father, who carried the boy from the beach as he desperately sought help, said he and his two children were on the beach when about five dogs started attacking his son before being chased away by locals. The boy's father maintains the attacks were unprovoked and vicious.
One of the beach vendors said that dogs had bitten many tourists on the beach before, mostly young children.
Today the boy's condition has improved to the level that he could sit up on the hospital bed on his own and he appeared less frightened. The wounds on his neck and body continue to heal with no sign of infections, according to attending medical staff.
Doctors say the boy may be discharged in one or two days.
SOURCE: The Nation
PM visits Finnish boy attacked by dogs in Krabi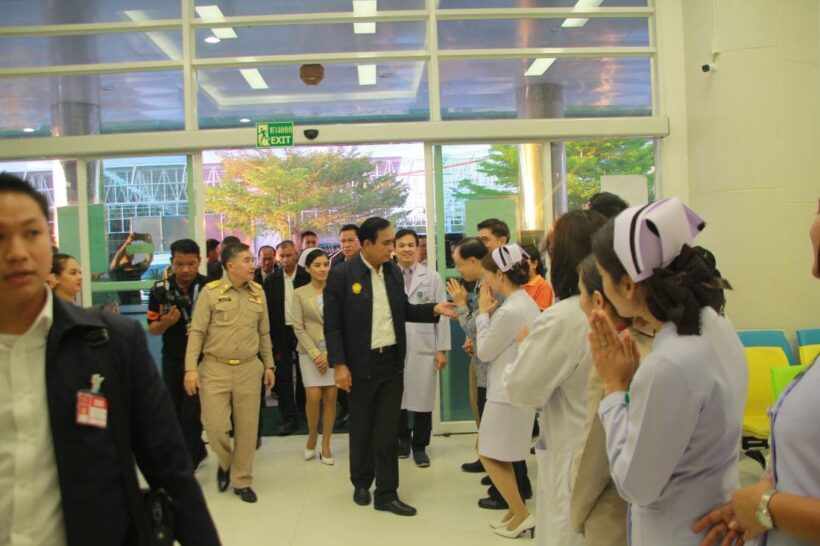 Thailand PM Prayut Chan-o-cha yesterday paid a visit to a five year old Finnish boy who was attacked by stray dogs at Ao Nong beach on Wednesday late afternoon.
Read more about the attack HERE.
The young Finnish boy, savaged by a pack of dogs living on the beach, continues to recover at the Krabi Nakarin International Hospital. Krabi's Governor visited him at the hospital yesterday to present gifts and meet the boy's father. The boy is recovering well according to doctors.
Krabi Livestock officials went to Ao Nang Beach to catch the stray dogs that have been bothering some tourists recently, according to reports.
And then yesterday afternoon, during a scheduled visit to Krabi and Samui, the Thai PM Prayut Chan-o-cha also took time out of his schedule to visit the boy at the hospital.
The PM thanked locals and foreign tourists who helped the boy immediately after the attacks and urged people to do not feed stray dogs.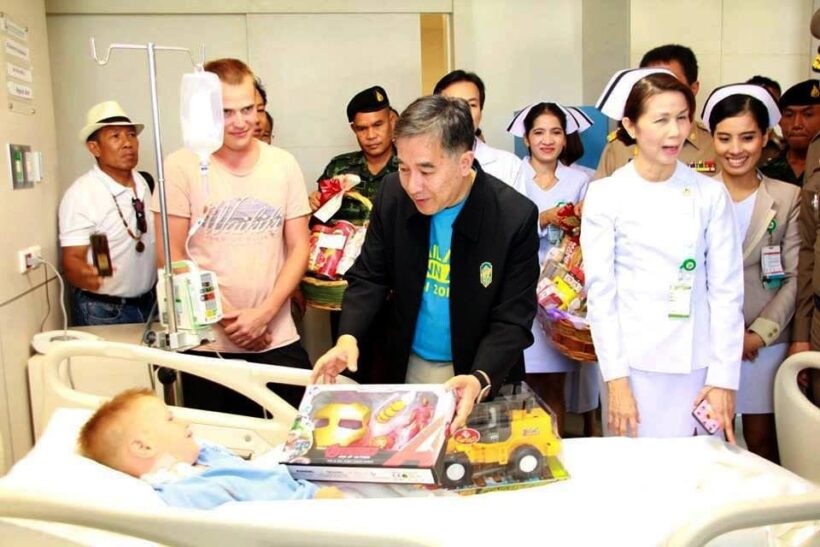 Five year old Finnish boy mauled by dogs at Krabi Beach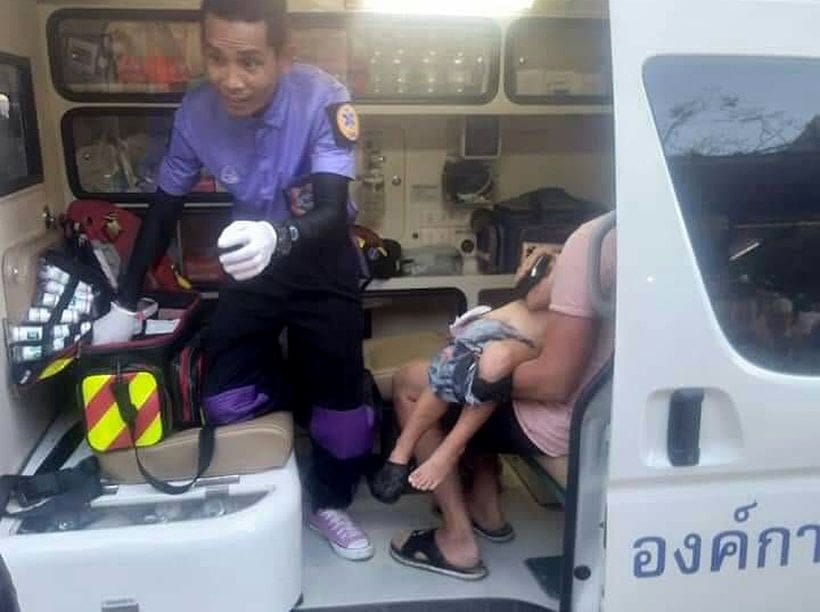 A five year old Finnish boy has been seriously injured after being attacked and mauled by a pack of dogs at Ao Nang Beach in Krabi.
Rescue workers at Ao Nang were notified of the incident at 6.30 last night. Rescue workers arrived to find the Finnish boy in distress and crying out with pain.
The boy's father was already carrying boy from the beach seeking help. Bite wounds were found all over the boy's body. He was taken to Krabi Nakarin International Hospital.
The boy's father says he and his two children were heading up from the beach when about 5 dogs started attacking his five year old son. Locals ran to help and chased the dogs away.
One of beach vendors says that dogs have been biting many tourists at the beach. Most of them are children aged around 4 – 8 year old.
A seven year old boy was seriously injured after being attacked and mauled by a group of dogs near Sarasin Bridge in Phang Nga last month.
Read more about that attack HERE.