Japanese man gets bitten by 'something' at Kamala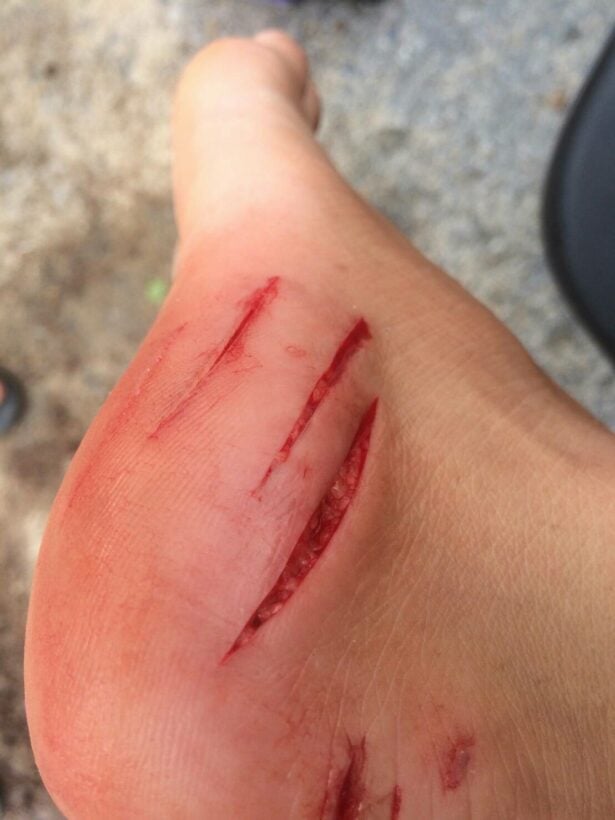 A 25-30 year old Japanese man was calling for help yesterday (Wednesday) after getting attacked by a mystery marine creature at Kamala Beach which left him with some severe, deep wounds.
Kamala police and locals in the area have surmised that the wounds seem to have resulted from sharp teeth, perhaps even a shark. The man suffered a deep wound on the left heel while there were 3 other marks on the side of his left foot. The rescue team gave him first aid before he volunteered to go to the hospital on his own. He refused to tell his name to rescuers or police.
He briefly explained that he was surfing in the sea before feeling some bites on his left foot. He shook his foot before reaching onshore to call for help.
The incident follows a similar episode which happened two years ago on Karon Beach when a Bull Shark was thought to be behind an attack on a tourist. The pictures of this man's wounds have been sent to Bangkok specialists to investigate whether it could have been from a shark or not.
The Japanese man was later identified at Bangkok Hospital Phuket as Keita Koshigoe.
(We've posted a photo of the man's wounds for the purpose of possible identification or information from a reader.)


Read more headlines, reports & breaking news in Phuket. Or catch up on your Thailand news.
'Fast and Furious 9' to be partly filmed in southern Thailand, including Phuket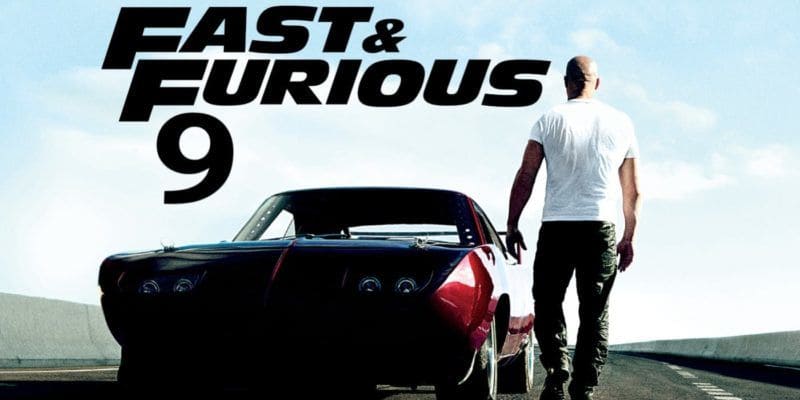 The latest sequel of the 'Fast and Furious' movie franchise will partly be filmed in Phuket, Phang Nga, Krabi and Surat Thani next month.
Yesterday Piya Petonji, the film's production manager, met with Krabi Governor M.L. Kitibadee Prawit at the Krabi City Hall before the cast arrives and filming begins.
The filming will be from July 1-27 in locations around Phuket, Phang Nga, Krabi and Surat Thani. It is estimated the production will bring a 340 million baht benefit to Thailand and the local film industry.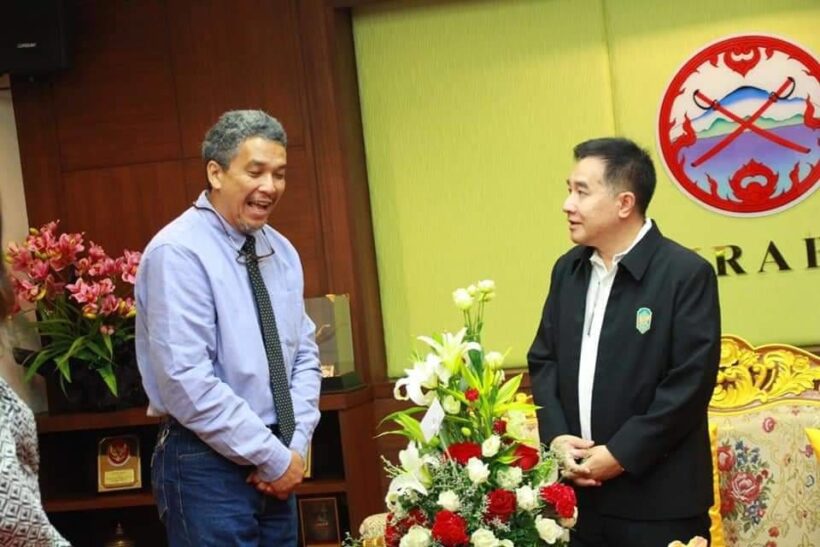 The Krabi Governor says this is a good opportunity for Thailand to present its beautiful nature, culture and history to the world through the film. There has been no announcement of when filming may be taking place around Phuket's roads.
The Thaiger recommends the plot of the film as a race between a visa-run passenger van and a Chinese Tour Bus to the Malaysian border, with a feature muay thai face-off on Maya Bay beach between Vin Diesel and Leonardo DiCaprio (though the 45 year old might have to get some training in before returning to 'The Beach').
Here's our Top Ten movies made around Phuket and Thailand.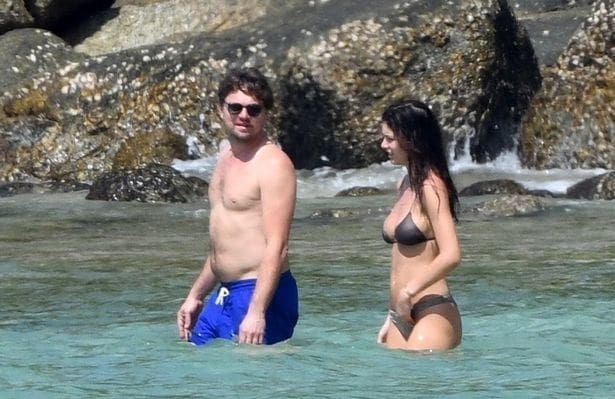 Leonardo in Phuket last year during a quick break
Chiang Mai netizens outraged after porn movie released online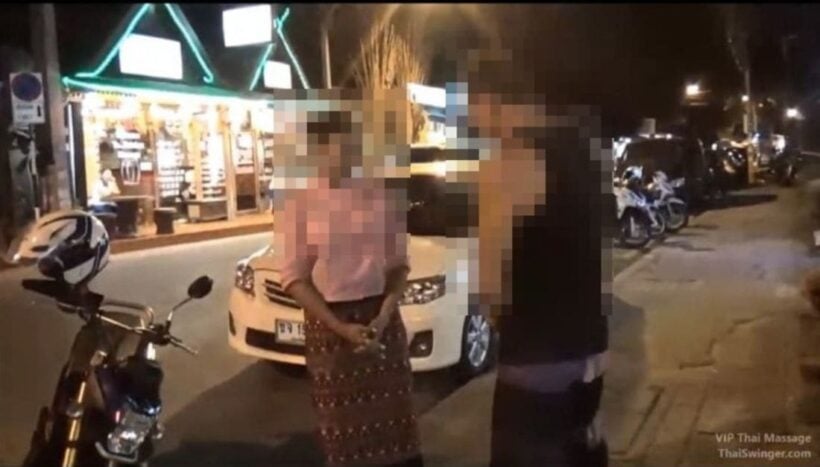 Chiang Mai locals are sharing their outrage over a porn video shot in a local massage shop where the massage ends up in a lot more than just a happy ending. The clip is called "Thai VIP Massage" and is credited to ThaiSwinger.com.
Manager Online reports that netizens are calling for the police to investigate the adult movie shot in the northern city. The clip was filmed in various locations around the city.
The plot (we use the term loosely) shows foreign tourist goes into the Thai massage shop which is reported to be located near Loi Kroh Road. The man is greeted by a woman wearing traditional Lanna style clothing. She starts off with a traditional massage but her handiwork gets increasingly more sexual in nature and, well, you sort of know the rest of the 'plot'.
Police say they are yet to receive an official complaint about the clip, which was shared on the Line App, but they have made some preliminary investigations (The Thaiger believes this may involve several detailed viewings of the clip).
Complaints about the 'adult film', say that the clip will sully the good reputation of Chiang Mai and Thai's living in the north. They also complained that people viewing the clip may get the wrong impression about Thai massage.
The mock-moral outrage over the porn video appears contrary to Thai's actual online viewing habits. The two most popular websites in Thailand are porn video sites, after Google, YouTube and Facebook, a long way ahead of local sites like Pantip.
SOURCE: Manager Online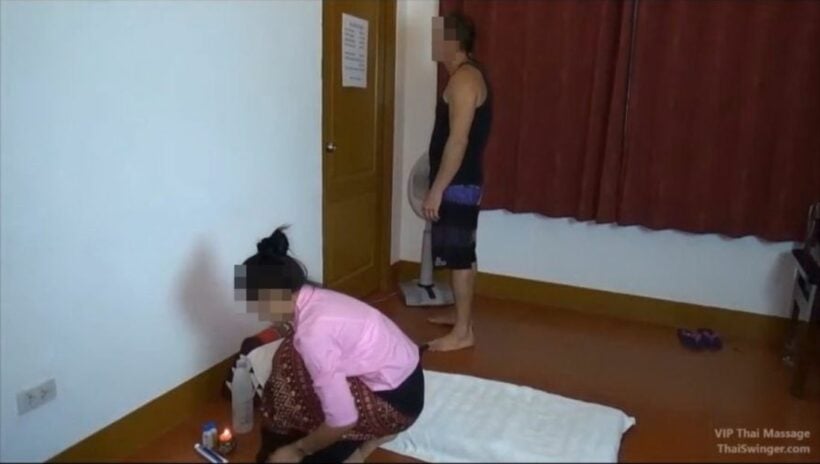 Malaysia's Deputy PM sympathises with Azmin's family over gay sex video scandal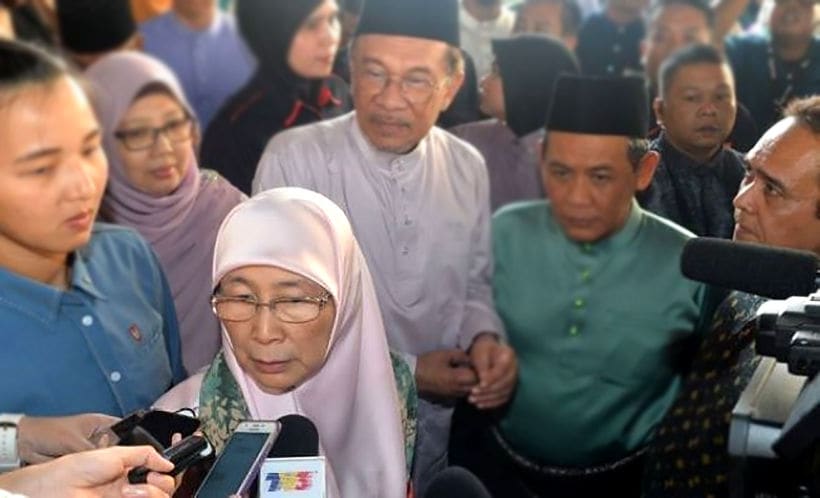 Malaysia's Deputy PM Datuk Seri Dr Wan Azizah Wan Ismail has expressed sympathy for the family of Economic Affairs Minister Datuk Seri Mohamed Azmin Ali, who has been linked to a sex video scandal.
Read The Thaiger story HERE.
She said she rejected any practice of gutter politics as she had experienced it before.
"I reject 'gutter politics' because I have been through it and I sympathise with Azmin's family," she said when commenting on the confession by Santubong PKR Youth chief Haziq Abdullah Abdul Aziz that it was him in the sex video with, as he claimed, Malaysia's Economic Affairs Minister.
In his online confession he alleged that Azmin was the other man in the video, but the minister has categorically denied the allegation. In several videos released since the first allegations, the faces of the two men are quite clearly identified.
The Malaysian deputy PM stressed that there was no place for dirty politics as all parties needed to focus on developing the country.
"We Malaysians have to think more about everything because we want to develop our country," she told reporters after the Aidilfitri open house hosted by her husband Datuk Seri Anwar Ibrahim.
Meanwhile Anwar Ibrahim quashed rumours that his faction is behind a plot to topple Datuk Seri Azmin Ali by releasing video clips allegedly showing homosexual acts between his deputy and another party man.
The Port Dickson MP said there was no reason for him or his supporters to be involved in such a despicable act.
"There is already an attempt to slander one person and the reason why that happened cannot be justified by another slander.
"What's the reason for us to do such a thing? Some say it was due to threat, what threat?" said Anwar, who is PKR president.
Anwar has been caught in several high profile allegations, court cases and imprisonment over alleged gay sex acts.
Anwar served as the Deputy PM of Malaysia from 1993 to 1998 and Finance Minister from 1991 to 1998 when he was a member of UMNO, the major party in the ruling Barisan Nasional coalition. However, he was removed from his post by then Prime Minister Mahathir Mohamad (who is currently Malaysia's PM) and jailed in April 1999.
His prosecution was criticised by human rights groups and several foreign governments, including the US, UK and Australia. Following his release in 2004, Anwar became the leading figure in the opposition and helped coalesce the opposition parties into the Pakatan Rakyat, which contested the 2008 and 2013 general elections.
Anwar began a five-year prison sentence in 2015, after a second sodomy conviction was upheld. Human rights groups again called the conviction politically motivated. However, he received a royal pardon from Sultan Muhammad V, and was released from prison on 16 May 2018.