'It is not the whale shark's baby' – Fishing boat captain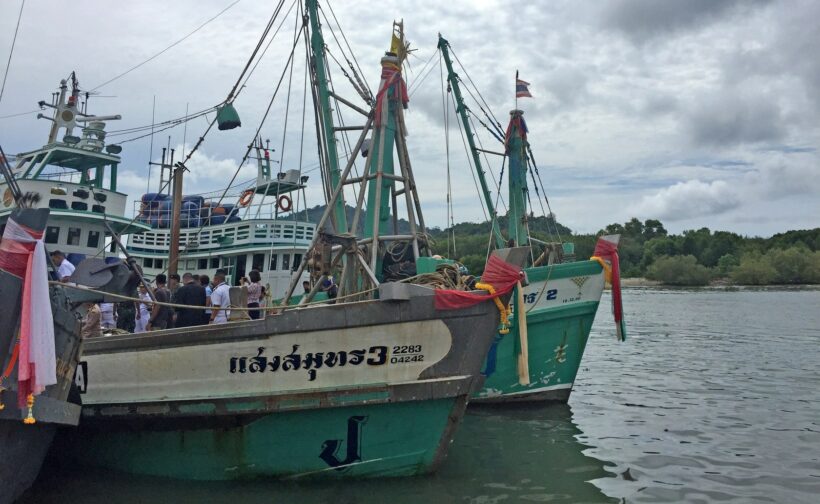 On Saturday (May 19) officials at the Phuket Fisheries Port In-Port Out Control Centre (PiPo) says, "There were 13 boat crews on Sang Samut 3 fishing boat on which Somsamai Meejom is the captain. They departed from the pier on May 11 and scheduled to return on May 22."
"We were informed that the boat will be back early on May 18 at 10pm to transfer their catch back to land. We have not found any illegal actions."
"The issue about the whale shark that was brought onto the boat, this action is in contravention of the Royal Ordinance on Fisheries in Section and Ministry of Agriculture and Cooperatives Announcement. Whale sharks are one of the aquatic mammals listed as near extinction, must not be fished or caught or brought onto a boat."
(We note that whale sharks are 'fish', not mammals)
"On Saturday early morning officials filed a report to Phuket City officials against the Sang Samut 3 and 2, the captains and crews. These two boats, including are marine life onboard, have been seized. The case was transferred to the Chalong Police Station because the incident happened under their area of responsibility."
Read more HERE
"The captain of Sang Samut 3 fishing boat told us that a white thing that was shown in pictures and videos under the whale shark's belly is not a baby. It is a buoy that was part of the fishing net. The captain told us that he did not try to escape while the fishing boat was getting near the diving boat."
Read more HERE
"They had to balance the fishing boat while trying to release the whale shark back into the sea. If they were releasing the whale shark without holding the net, the boat could lose its balance where they were at the west of the Racha Island at about 2pm on May 18."
Here's the original photo – make up your own mind.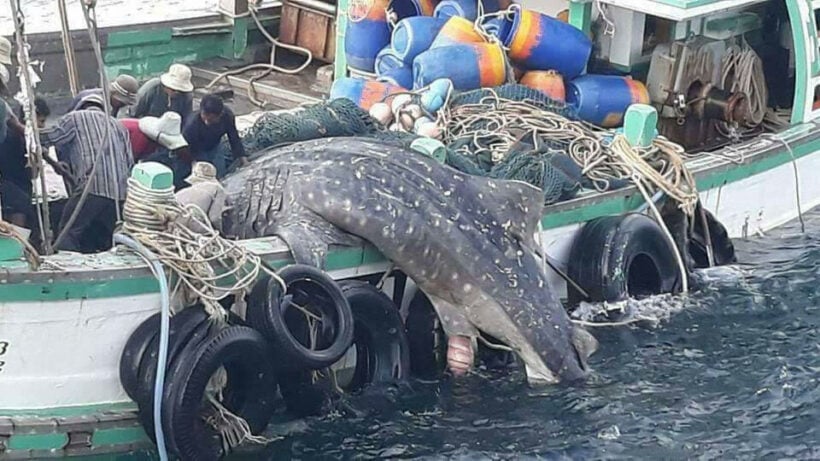 Keep in contact with Thaiger by following our Facebook page.
Never miss out on future posts by following Thaiger.
Covid UPDATE: Daily infection number drops slightly on Tuesday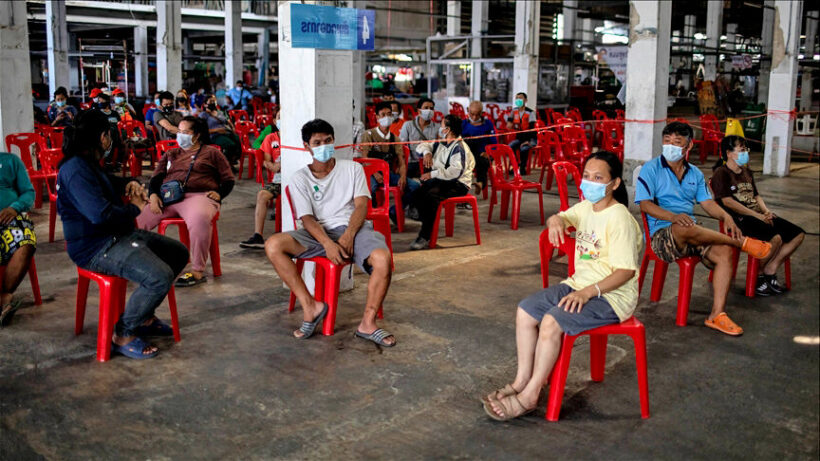 965 people have been detected as infected with Covid-19 in the past 24 hours. The daily total is the first drop in daily numbers for 10 days. 28,288 people have fully recovered. The total deaths remains at 97 people since the start of the pandemic in Thailand. 6,190 people remain under hospital care or are being monitored.
654 of today's cases are local community infections.
Out of today's infections, the CCSA announced that most were in the northern city of Chiang Mai (251) which has been hit particularly hard, followed by Bangkok (194), Chonburi (97), Prachuap Khiri Khan (73), Nakhon Ratchasima (67), Samut Prakan (49), Samut Sakhon (34), Rayong (25) and Pathum Thani (21). 8 new infections were officially reported in Phuket by the CCSA.
Regarding vaccinations, 578,532 people have now been vaccinated. Yesterday, 6,424 people received their first injection, 2,056 received their second Covid vaccine.
There's now a total of 34,575 people who have now been infected with the coronavirus in Thailand.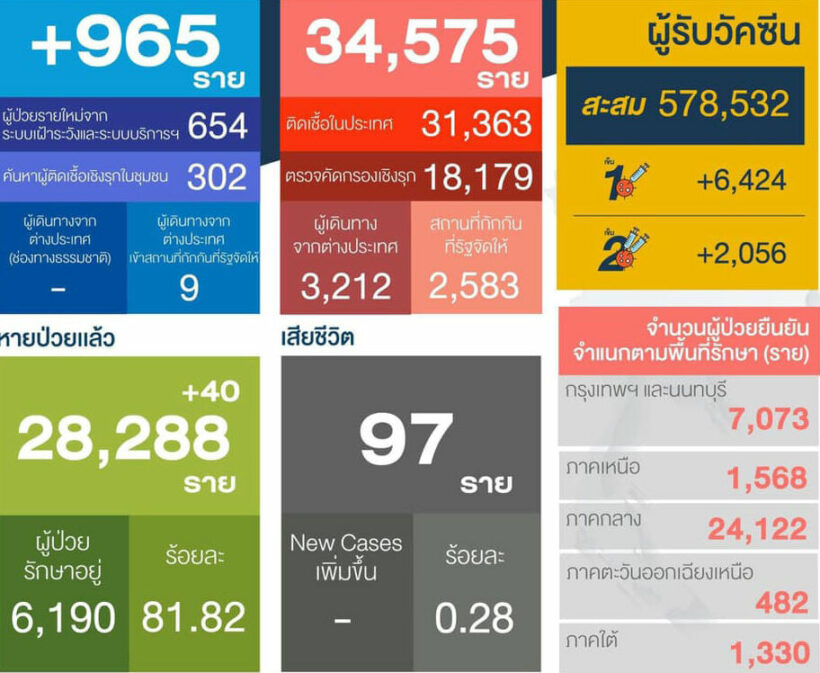 Keep in contact with Thaiger by following our Facebook page.
Never miss out on future posts by following Thaiger.
Burmese students to hold Bangkok cultural event to support Civil Disobedience Movement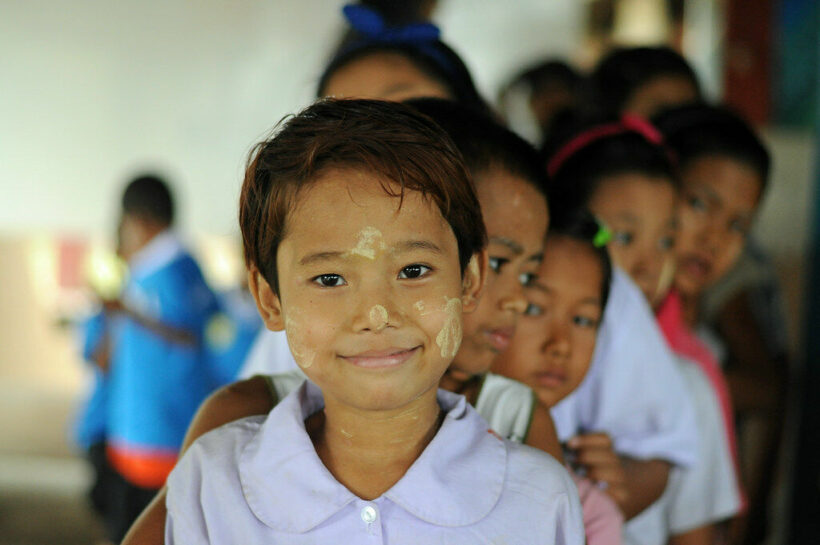 Burmese students in Thailand are holding an art and culture concert to raise awareness and funds for the Civil Disobedience Movement. The concert, called "Myanmar Spring," will be held on April 24 at the Bangkok Art and Culture Centre. The event will help fund the movement, which has staged protests over the February 1 coup in Myanmar by the military. It will honour the families of internally displaced individuals and of those who have lost their lives in the conflicts.
Last Friday, the Myanmar military allegedly killed 82 civilians, according to the Assistance Association for Political Prisoners, an advocacy group. The military then told the families of those killed that they would have to pay US$85 to recover their loved ones' bodies, according to Bago University Students' Union's Facebook page as well as Radio Free Asia's Burmese service.
Eyewitnesses in Bago say the Burmese military used grenades, RPGs, and assault rifles to quell anti-coup protestors, forcing many villagers and activists to flee and go into hiding. Military security forces are going through the neighbourhoods now and have cut off internet access. Since the February 1 coup, the military has been systematically cracking down against peaceful protesters, detaining 3,000 civilians and killing over 700 more.
NGO Human Rights Watch had published a call for the EU to take action and implement strict sanctions on the Burmese military on Thursday. And yesterday the US Embassy in Myanmar joined the call, posting on Twitter, urging peace.
The art and cultural event will also be held virtually on the same day. Anyone wishing to support the event outside of attending can buy t-shirts at the food festival being held on April 13. The orchestral music concert will be performed by a group of student volunteers and others. There will also be a poetry recital and other heartfelt performances, which the artists say will reflect the struggles for democracy in Myanmar.
Information on tickets and performances for "Myanmar Spring" is on their Facebook page HERE.
SOURCE: Thai PBS World
Keep in contact with Thaiger by following our Facebook page.
Never miss out on future posts by following Thaiger.
5 killed, including 2 children, in north east Thailand bus disaster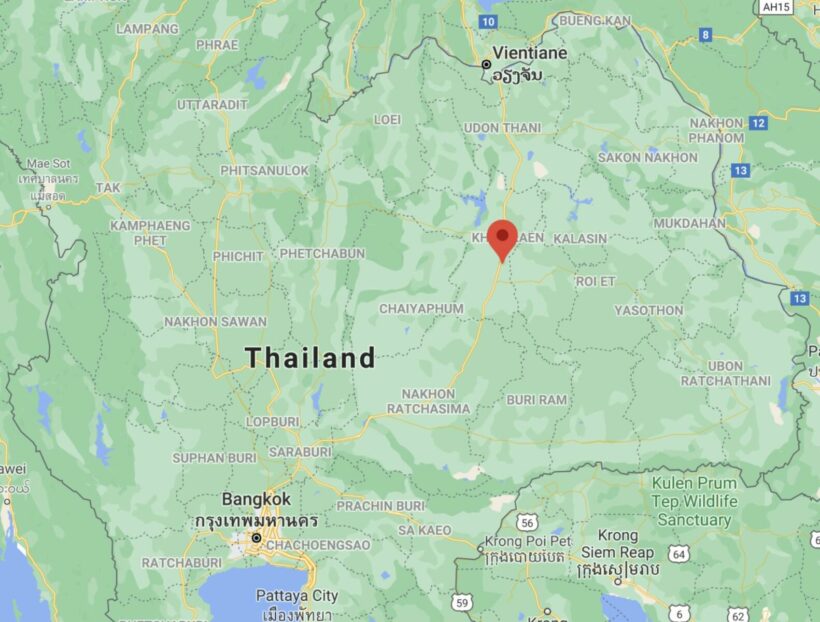 5 people are dead, including 2 children, and another 12 seriously injured after a double-decker interprovincial bus caught fire near Khon Kaen. It was heading to Bangkok. The bus erupted into flames just after midnight on the Mitrapap highway. There were 33 passengers on the bus. The bus driver was also injured.
The 407 Pattana Company bus left Bung Kan province on the Laos border, near Vientiane, last night, stopping in Udon Thani before making its way to Bangkok.
Witnesses say a rear tyre burst and then caught fire just after the bus had left Khon Kaen. The fire then spread to the engine compartment in the back of the bus. The bus soon became engulfed in flames, according to the Bangkok Post. Fire units got to the burning bus soon after but it took an hour to extinguish the flames.
12 people suffered serious burn injuries whilst 16 others were able to get out of the bus before it was engulfed in flames.
Police have spoken to the bus driver and will continue with their investigation.
SOURCE: Bangkok Post
Keep in contact with Thaiger by following our Facebook page.
Never miss out on future posts by following Thaiger.