Prachuap Khiri Khan floods trigger evacuations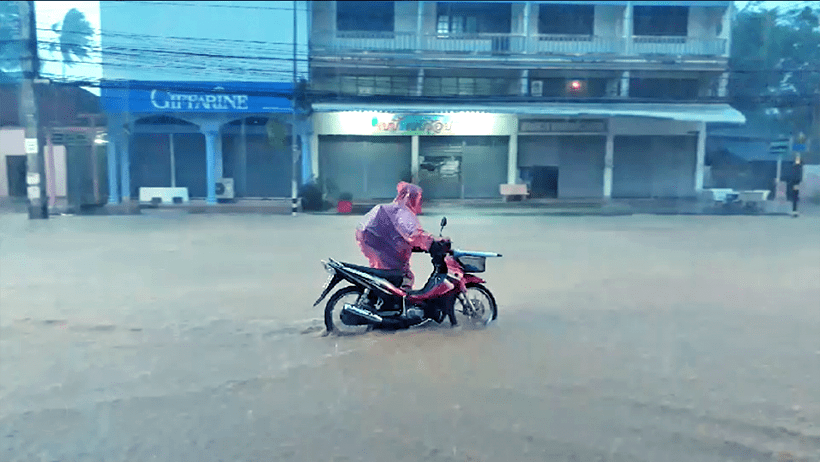 Bang Saphan Hospital in Prachuap Khiri Khan transferred 10 patients in critical condition to a provincial hospital last night amid heavy flooding triggered by more than 200 millimetres of rainfall in just 24 hours in parts of the province.  Floodwaters outside the Bang Saphan Hospital prompted the evacuation of nine patients on respiratory aid as well as a pregnant woman.
At least five schools remain closed today.
Kittikorn Thepyoo-amnuay, head of the provincial disaster prevention and mitigation office says the water level at Wang Yao Bridge on the Phetchkasem Highway was "beyond critical" at above 7.5 metres and still rising.
Parts of urban Prachuap Khiri Khan were inundated and runoff from the Tanaosri Mountain Range was expected to add to the city's woes this afternoon, he warned. Some 3,000 residents of Bang Saphan Noi district have already been affected, Kittikorn said, and aid was being distributed.
Second Lieutenant Kowit Sukkham, head of the Muang Prachuap Khiri Khan military team charged with maintaining order, has supplemented his officers with soldiers from Thanarat Military Camp in helping flood-affected residents of Tambon Bang Saphan in Bang Saphan Noi district, where hours of rainfall had left low-laying areas submerged in 130 centimetres of floodwater.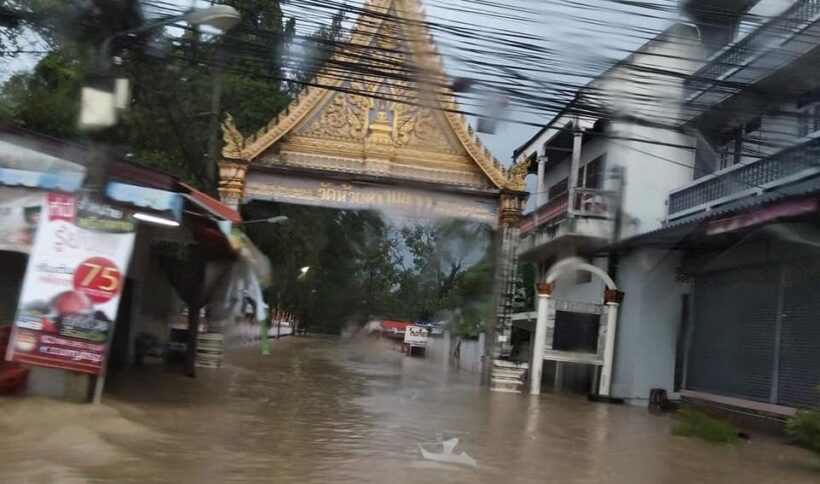 STORY: The Nation

Beware. Horny elephants in Hua Hin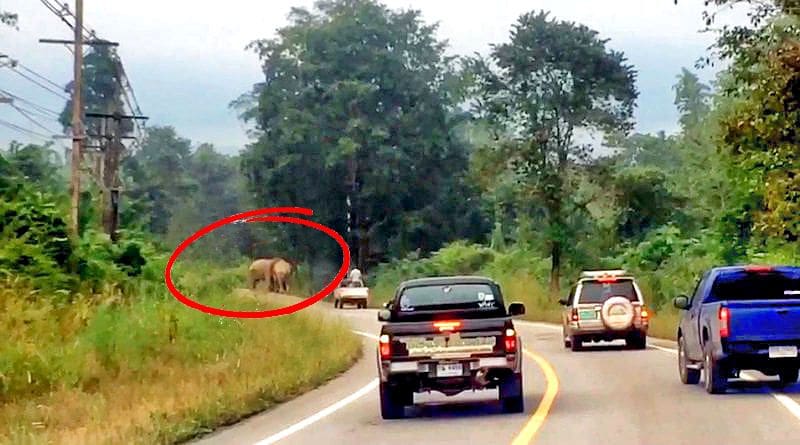 PHOTO: Talk News Online
Kulsawek Sawekwannakorn has posted on Facebook about two elephants causing a traffic jam as they faced off on the Phusai to Sai-En Road near Hua Hin last Sunday morning.
Traffic was stopped for 20 minutes as pachyderms Bunchuay and Bunmee charged at each other. Because that's what you do when you're a horny bull elephant and vying for a lady elephant's attention.
The cars would just have to wait it out. Park managers and very loud 'elephant whisperers' appeared to have the situation under control.
People on the video say that the elephants are in musth and drivers would just have to wait it out.  Musth is when male elephants can be very aggressive around each other and can be a danger to anyone or anything around at the time, including humans and cars.
Check out the video HERE.
Rescuers get provisions into flooded Prachuab Khiri Khan district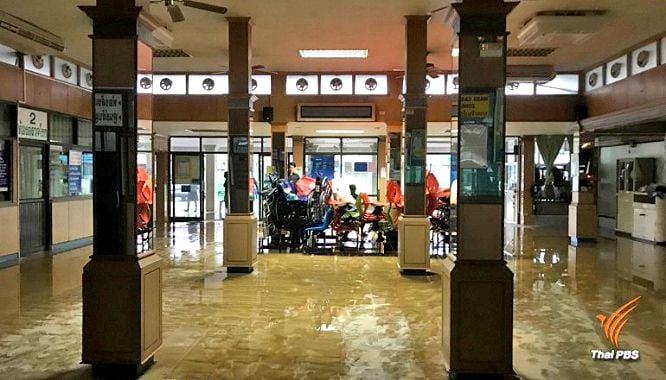 Army and rescue workers, loaded up with ready-made foods and drinking water, were visiting villages behind Chong Lom dam in Bang Saphan Noi district of Prachuab Khiri Khan yesterday after the area was cut off from the outside world.
The only road into the district was flooded and had become impassable.
Rescuers responded to a distress alert from Amporn Thaokruamat, village head of Village 8 in Tambon Chang Rak where residents of 70 households have been trapped in their village and are unable to get out to get food, drinking water and other necessities.
Thai PBS reports that the rescuers travelled in four-wheel drive vehicles up to a certain distance and then trekked through rubber plantations to reach the village with their supplies of ready-made food and bottled drinking water for the residents.
Rain has stopped in Bang Saphan and Bang Saphan Noi districts on Saturday but severl areas still remain flooded as backhoes of the Royal Irrigation Department stepped up dredging operation to widen the mouth of Klong Bang Saphan to facilitate the flow of excess water into the sea.
Water level in Klong Bang Saphan has lowered to about 15 centimetres below the edge of both banks of the klong, hence, causing flood water to recede at Bang Saphan hospital, the market and the railway station.
Water level at several small reservoirs in the district has returned to normal.
ORIGINAL STORY: Thai PBS
Pattaya – Hua Hin ferry service back again for high season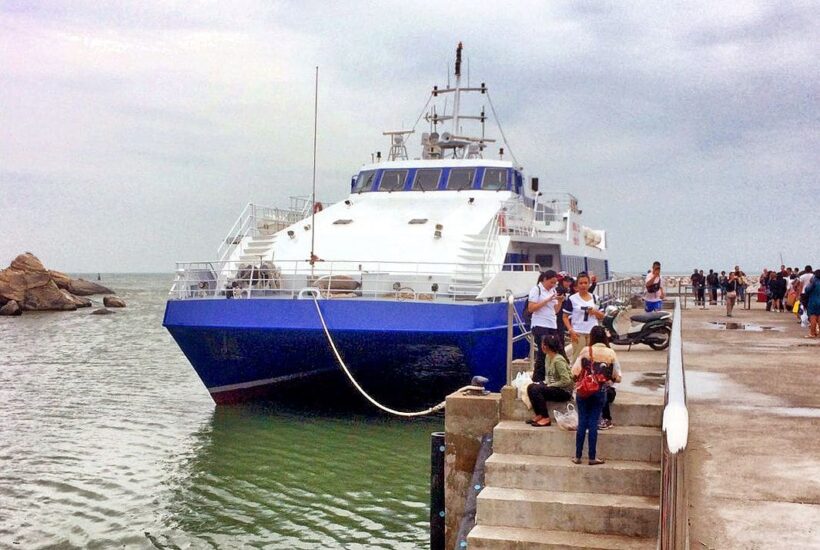 PHOTO: Talk News
The Pattaya – Hua Hin ferry service has started again for the high season.
The Hua Hin deputy chief Chareewat Phramanee has confirmed that Royal Passenger Liner will operate a daily service again between Hua Hin and Pattaya during the high season.
The service was suspended in September, with Royal Passenger Liner blaming the drop in numbers during tourist low season as the reason for suspending services.
Tickets for the 340 seat catamaran ferry start at 1,250 baht. The journey normally takes around 2.5 hours.
Meanwhile, the head of Prachuap Khiri Khan Tourism Association has told Talk News of plans to build a new pier in Pak Nam Pran, approximately 10 kilometres south of Hua Hin, which would be used for a car ferry service.
You can read about that announcement, part of the Thailand Riviera project, HERE.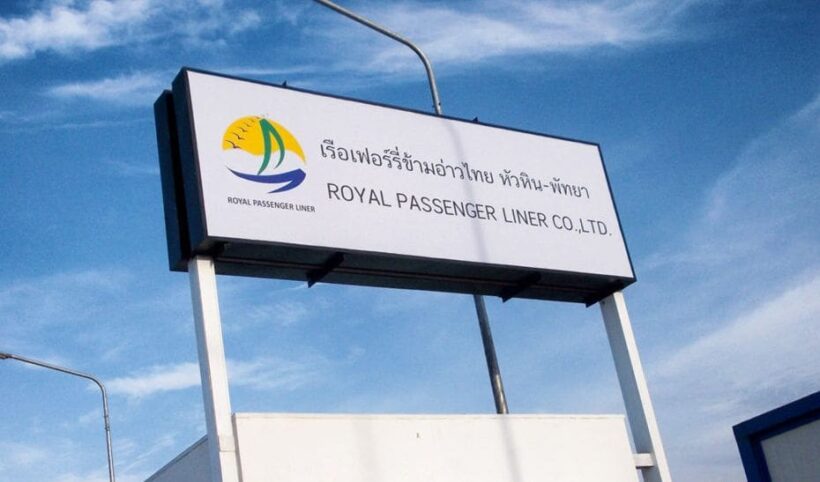 STORY: Talk News