Dog owners shot by neighbour over loud dog barking in Wichit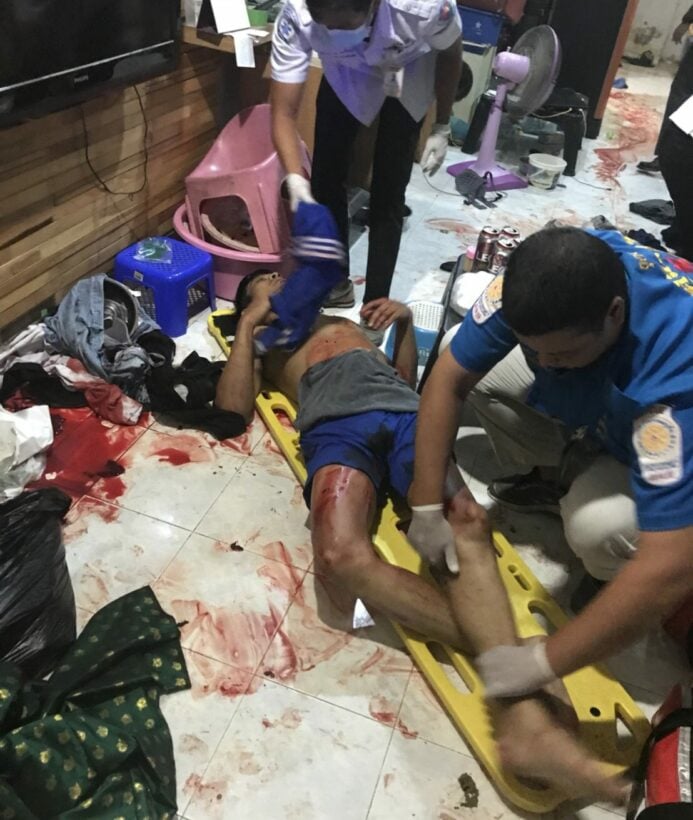 A family of three has been shot late last night (April 9) resulting in injuries after their neighbour got angry over their dog barking loudly.
At about 11.30 pm last night, Wichit Police received a report about the shooting at Tinnawut Village, off Chao Fah West Road. Police and rescue teams found a lot of blood at the scene from inside the house to the outdoor areas around the house with 6 spent cartridges on the floor.
There were 3 people injured including 41 year old Somchai Kiengchan, 43 year old Urarat Songsirisombat and 20 year old Thanawat Kiengchan.
After an investigation, police have been told that the three were eating in the house at about 10.30 pm and the neighbour, Panpakorn Suwannarit, walked in the house demanding that 'the dog must stop barking', then left.
According to police, while Thanawat was trying to make the dog stop barking by locking it in a room, Panpakorn walked back inside the house with a gun and started shooting at the mother, Urarat.
Thanawat tried to stop the neighbor and ended up being shot as well. His father shouted 'don't shoot' and ended up on the receiving end of several shots. Thanawat's father sustained the worst injuries of the three.
Panpakorn fled with the gun before Thanawat crawled outside calling for help but couldn't find anyone so he called the police.
Wichit Police Station Superintendent, Pol Col Nikorn Somsuk said that an arrest warrant is being issued today for Panpakorn Suwannarit.

Keep in contact with The Thaiger by following our
Facebook page
.
Never miss out on future posts by
following The Thaiger
.
Former policeman smashes airport laptop after missing flight – VIDEO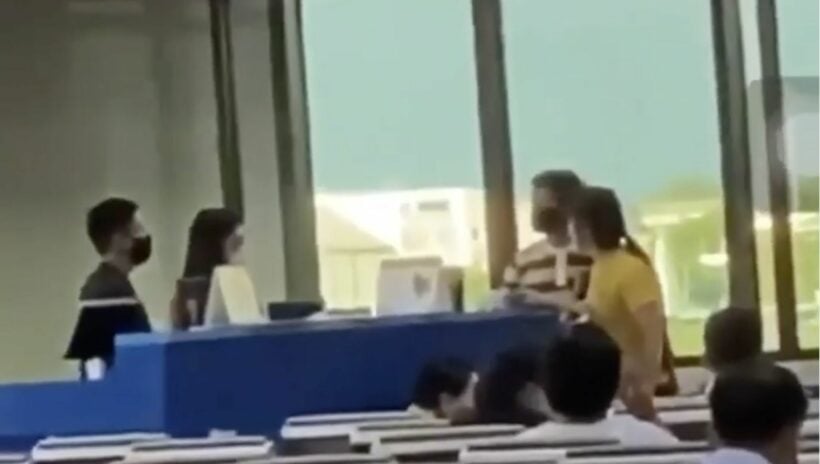 An ex-police colonel in the Thai police force smashed a computer at Don Mueang Airport after missing his flight. But he may not face any legal action according to police. Apart from smashing the laptop into the departure desk, the man's wife did most of the yelling, screaming and swearing amid hushed chuckles from the other people in the lounge area.
The unnamed former officer arrived with his wife at the departure gate desk just 4 minutes before the scheduled 6pm flight they were booked on. The video shows the man smashing a computer in anger. A local police commander noted that no one has been charged for the altercation so far.
"Depending on who owned the property that was damaged, the process of this case will be different. The extent of the damage was still under investigation."
"Property destruction is an offense that can be settled. The company can choose not to continue to pursue it."
The boarding time for the Bangkok-Khon Kaen flight was 5.20pm and the other passengers had long-since boarded the flight and the gate closed.
A police spokesman said that the former officer's behaviour was completely unrelated to the current Thai police force. The former police colonel served at the Na Mon Police Station in Kalasin province before quitting in 2014 due to "personal reasons", according to Thai media.
Watch the action at the Don Mueang departure gate HERE.
Keep in contact with The Thaiger by following our
Facebook page
.
Never miss out on future posts by
following The Thaiger
.
Thailand's international borders not re-opening for tourists until 2021 – TAT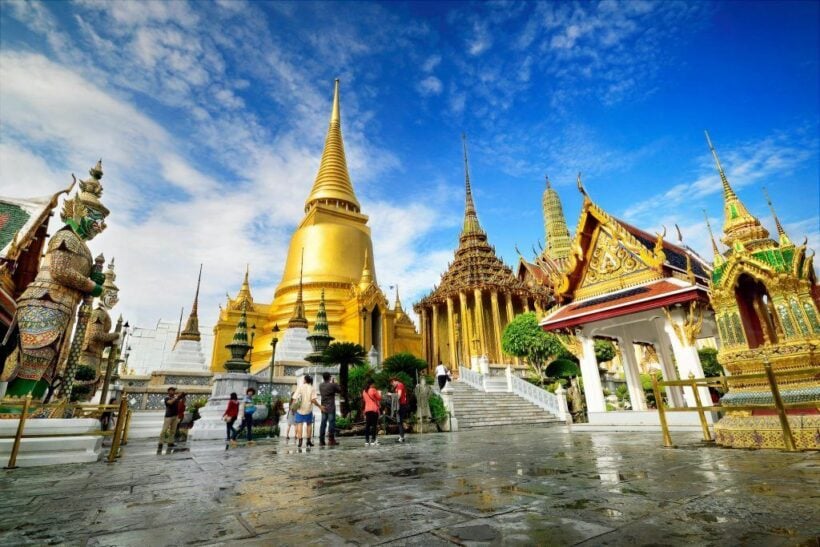 Thailand is unlikely to reopen its borders to international tourists before the end of the year – the prediction from a deputy governor of the Tourism Authority of Thailand.
Speaking at yet another webinar, this time hosted by Mekong Tourism and TravelMole, the deputy governor for international marketing at TAT, Chattan Kunjara Na Ayudhya, noted that there has been "no talk of a timeline issued for reopening the country to inbound or outbound leisure travel during weekly Covid-19 national meetings".
He spoke of the Thai government's "very, very cautious" approach to reopening borders and said he doesn't expect Thailand to welcome tourists until at least 2021.
"I see no signal from the government that the country will open this year. That's putting lot of pressure on the tourism industry. The Christmas period, usually the high season, is in jeopardy and I'm looking horribly even to Chinese New Year in February, which is an iffy proposition at best now. Unfortunately, this is not a rosy picture."
Discussions about the creation of travel bubbles have also stalled.
"Last month, there was talk about forming travel bubbles. That talk has not continued so far because of outbreaks in many of the countries we were hoping to get tourists from, including Vietnam."
Meanwhile the list of groups allowed back into Thailand, under strict health measures, has been expanded from diplomats and UN officials, to business people, investors who have an agreement with the government, film crews, some migrant workers, exhibition personnel and the holders of Thailand Elite visas.
But there are also conditions set on these categories of people allowed back into the country, including their country of departure. Everyone must spend 14 days in state sanctioned quarantine.
Thailand is also opening up to select countries for medical tourism.
The TAT deputy governor also added that plans are being discussed safe bubbles that can be formed for leisure travel, with a proposal that all visitors spend a minimum of 30 days in Thailand. This would be in designated areas – probably islands, such as Koh Samui or Phuket.
"Currently, this is not moving forward as the government is taking a wait-and-see attitude. They want to see how the current groups of foreigners, such as film crews and diplomats, do first. There is still a lot of nervousness."
With uncertainties surrounding the reopening of borders to international travel, Thai tourism operators are proposing a new inbound tourism plan, called "Safe and Sealed", to replace travel bubbles.
During a joint meeting of the Tourism and Sports Ministry and the private sector chaired by tourism and sports minister Phiphat Ratchakitprakarn, tourism-related groups proposed letting tourists return to Thailand in Q4. As compared to the travel bubble scheme, the plan envisages safer, more flexible screening procedures for many countries.
"Only visitors from cities with a record of zero infections for at least 30 days will be selected, and they will only be able to travel and stay in designated hotels and provinces. Other conditions include a Covid-free certificate 72 hours before flights, as well as insurance and swab tests.
The tourism sector used to employ 4 million workers pre-Covid, but with businesses having zero revenue over the past 6 months, unemployment in the sector could soon exceed 2.5 million.
Meanwhile, EVA Air has announced today that it is pushing back its re-introduction of flights to Phuket from next month until at least March next year.
Keep in contact with The Thaiger by following our
Facebook page
.
Never miss out on future posts by
following The Thaiger
.
Repatriation flights suspended after Thai staff contract Covid-19 at foreign embassies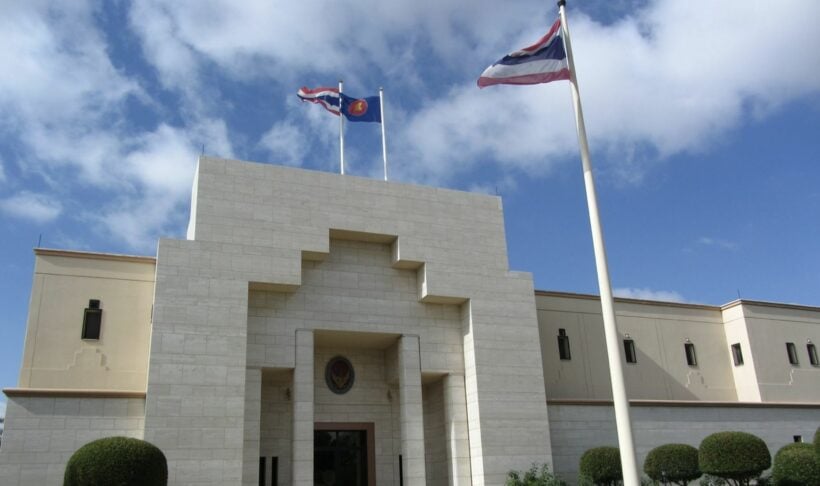 Thai embassies in Bahrain and Saudi Arabia have been hit with outbreaks of Covid-19, affecting a number of Thai staff, according to the Foreign Ministry.
The Thai embassy in Manama, the capital of Bahrain, said that a foreign employee was suffering "mild symptoms" and tested positive for Covid-19. The official was reportedly receiving medical treatment. The embassy has also suspended arrangements for an upcoming repatriation flights heading back to Bangkok.
"For the sake of public safety, the embassy would suspend its consular services until August 22."
In Riyadh, Saudi Arabia, another foreign employee and 1 Thai official have contracted the coronavirus. The Thai government official was admitted to a hospital, while the local employee, whose symptoms were mild, was being treated at home.
The Thai embassy is asking people who need services to make appointments in advance to help comply with "disease control measures".
The Foreign Ministry noted that the Thai embassies and consulates-general around the world were on the frontlines, taking care of Thai citizens abroad – those who were infected and those wishing to repatriate to Thailand.
67,000 stranded Thais have flown home since April.
"Foreign Ministry personnel have been dedicated to their work for months, taking care of Thai people while at risk of infection."
Keep in contact with The Thaiger by following our
Facebook page
.
Never miss out on future posts by
following The Thaiger
.