Chiang Rai: Mu Pa team speak of their ordeal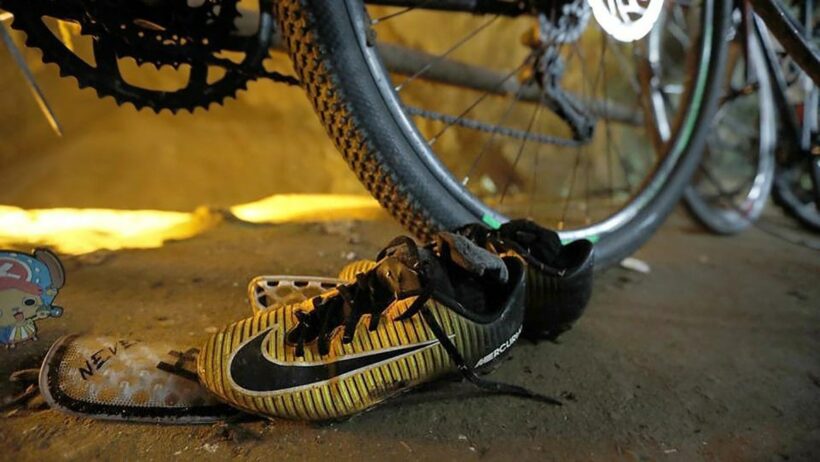 As the team continues to recover in the Chiang Rai Prachanukro Hospital, the parents and guardians are now being given time with they kids. Here are some of the first details to emerge from some of the team members, as reported by Marisa Chimprabha…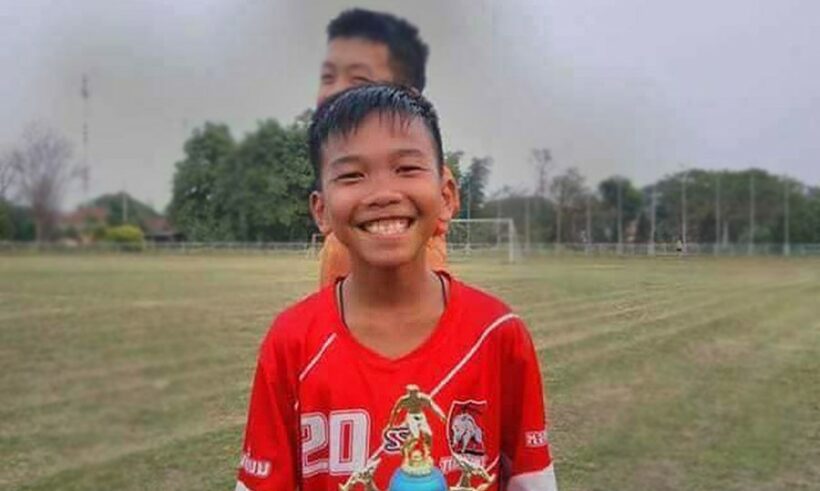 Chanin 'Titan' Wibulrungrueng
Chanin Wibulrungrueng, one of the 13 Mu Pa Academy football club members who were trapped inside the cave, told his mother, Aikan, that the team wanted to go inside the cave after football practice. Their assistant coach, 25 year old Ekkapon Chantawong, joined the trip.
"My son had an extra tutorial class that day after practice. He told me when I visited him in the hospital that he planned to go into the cave for just an hour and go home," Aikan said.
Chanin, nicknamed Titan, is the youngest of the 13 Mu Pa (Wild Boar) team members who were trapped inside the cave after a flash flood hit the area and the cave, blocking their exit.
Chanin was speaking to his mother through a glass partition at Chiang Rai Prachanukroh Hospital where the group was undergoing a medical check-up.
"While we were in the cave, there was heavy rain that resulted in fast and heavy flow of water," he told his mother.
"Coach Ek told the boys to build a wall to block the water but to no avail because the water ran very strong and fast. This forced us to retreat deeper into the cave," Chanin was quoted as saying.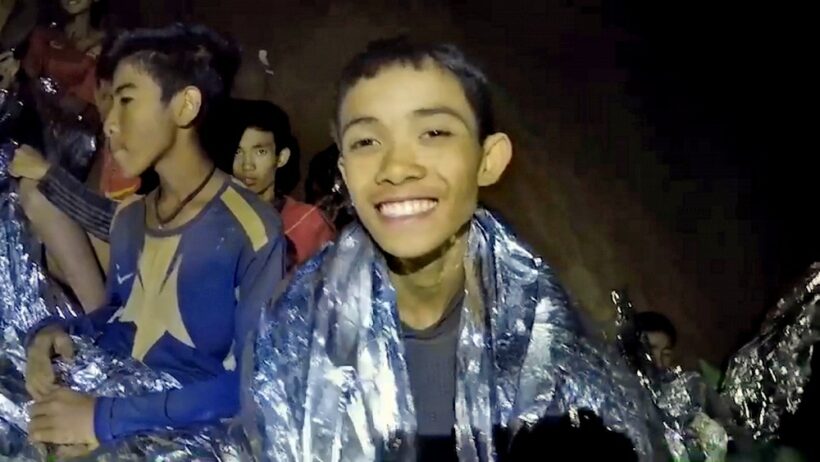 Duangpetch 'Dome' Promthep
In a separate interview with Thai media, another rescued boy, 13 year old Duangpetch or Dome Promthep, echoed Chanin's account, saying that he joined the others on the trip because it was to be a short visit.
He brought a small amount of snacks on the trip. "When they got stuck inside the cave, they had nothing to eat," he told his 45 year old father Banphot who visited him at the hospital.
His statement contradicted an earlier report that the group planned a small birthday party for one of the boys, so they brought food and snacks. Those reports comforted people outside the cave who believed that they had something to eat during the ordeal.
He told his father that on the day they got trapped, everyone panicked but Coach Ek calmed them down and tried to find a way out. Duangpetch said that Ekkapon told the boys not to move and to stay still so that they would save their energy.
"If we were thirsty, Coach Ek told us to use a flashlight to find a hole where rainwater seeped in. So, we drank that water to survive. We did not know the days and nights because it was very dark inside the cave," he said.
Chanin told his mother that on the first three nights, he was so hungry that he burst into tears. He only consumed rainwater that seeped into the cave through the roof of the cave.
"It was really cold inside the cave. He told Ekkapon that, so he hugged my boy until he slept," according to Aikan.
It was difficult for the team to sleep on the ledge where they were stranded as it was so small, she said.
Chanin also said that Ekkapon told them not to move a lot to save their energy and meditate to stay calm and not panic.
Duangpetch, the captain of the football team, said that the group was staying on higher ground when the British divers discovered them. They ran down to ask for help when they saw the divers. The discovery was recorded by the divers' helmet camera, footage that brought joy to their parents and a worldwide audience.
Banphot said his son lost about three to four kilograms during the ordeal and he asked for pork barbecue, Thai-styled noodle soup and a new phone to replace the old one he lost in the cave.
Aikan said she prepared sticky rice and grilled pork which are her son's favourite food when he leaves the hospital.

ORIGINAL ARTICLE: The Nation
Keep in contact with The Thaiger by following our
Facebook page
.
6 Pakistani nationals arrested for convenience store scam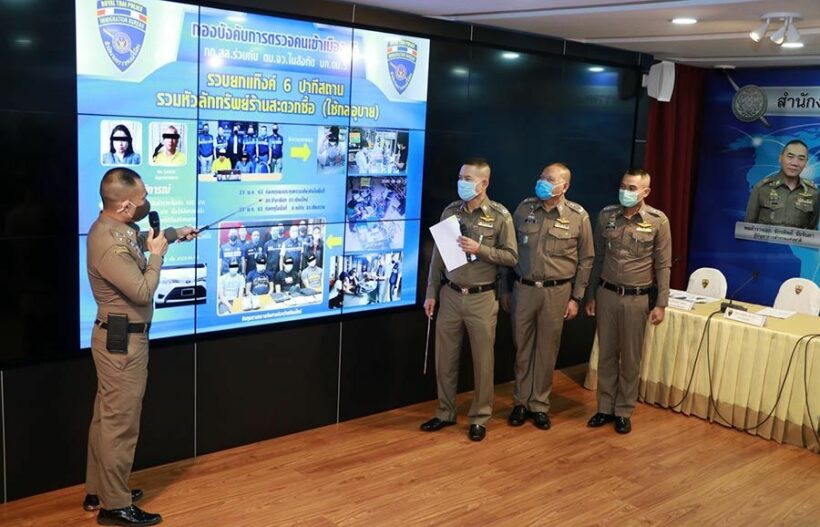 Police in Chiang Rai have arrested 6 Pakistani nationals charged with scamming convenience stores around northern Thailand. Thai Residents reports that the men would hand over a 1,000 baht note to pay for an item in a convenience store and receive change. They would then claim they didn't want the item after all and ask for their money back. The gang deliberately targeted stores where very little English was spoken, using communication difficulties to their advantage. In many cases, the confused store employee would hand the 1,000 baht note back, forgetting the men had already been given change.
After a convenience store employee filed a report, police launched an investigation, which initially led to the arrest of 2 of the gang members at a checkpoint in the Mae Chan district of Chiang Rai province. The two have been named as 38 year old Shakeela, who would play the role of "buyer" in the scam, while 31 year old Muhammed acted as lookout and getaway driver. Both are now in custody at Mae Chan police station.
Police were able to use the GPS data from the vehicle used by the gang to establish where they had been, discovering that they had committed similar offences in the northern provinces of Lamphun, Chiang Mai and Phitsanulok earlier this month, and that there were others involved. 4 arrest warrants were subsequently issued by the Chiang Mai Court, with the remaining suspects discovered in a vehicle that was stopped at a drugs checkpoint while travelling from Chiang Mai to Bangkok.
They have been named as 20 year old Mudasser, 35 year old Hussain, 29 year old Anwar and 29 year old Imran. All 4 are in custody at Chiang Mai police station, awaiting prosecution.
SOURCE: Thai Residents
Keep in contact with The Thaiger by following our
Facebook page
.
Teacher sends questionnaire to students asking for their phone passwords and social media accounts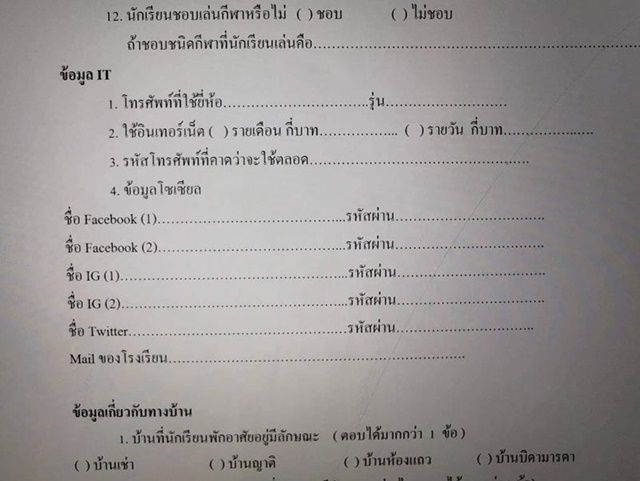 …and the school has since been forced to apologise.
A teacher in Chiang Rai asked students to hand over passwords to their social media accounts and phones. But many have criticised the teacher saying it overstepped privacy boundaries. The school has since apologised and imposed stricter rules.
The teacher gave students a questionnaire, asking them to fill out information about multiple social media accounts, their phone password, internet expenses and the phone brands and models. It's unclear why the teacher wanted the information. A photo of the inquiry form was shared on social media and many people online agreed the move violated students' privacy, big time!
The Chiang Rai Municipality 6 School wrote a letter apologising for the teachers actions, saying it was inappropriate and breached privacy guidelines. From now on, the school is requiring all inquiries regarding personal information to be vetted by school administrators first.
"We will order every employee of the school to ask permission from the executives if they are doing any questionnaire that involves personal information."
SOURCE: Coconuts Bangkok
Keep in contact with The Thaiger by following our
Facebook page
.
Justice minister targets drug money laundering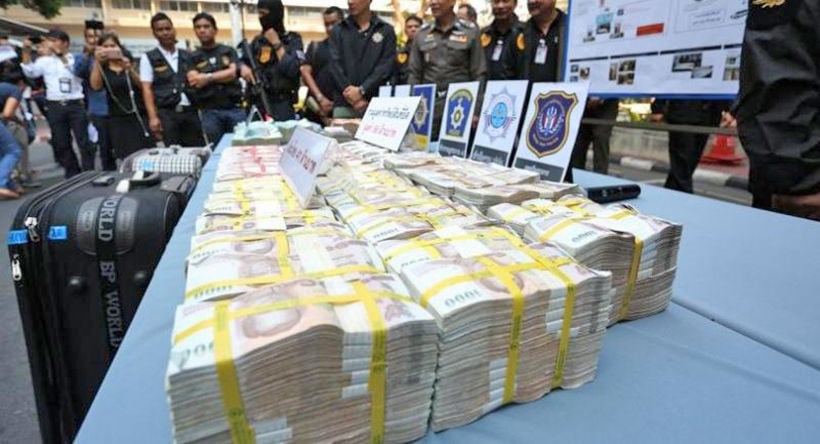 With the government struggling to find revenue streams for its economic stimulus plans to rebuild an economy battered by Covid-19, Thailand's justice minister thinks he has an idea to help. He wants authorities to target businesses that launder drug money from the Golden Triangle and has set a target of 1.5 billion baht by August.
The minister says anti-drug forces, both civilian and military, have arrested 125 drug suspects and seized millions of speed pills and manufacturing equipment in northern Thailand. Officials are also expected to freeze around 50 million baht worth of assets related to the arrested traffickers. He says the Golden Triangle, bordering Chiang Rai and northern provinces, is a huge source of drugs and a haven for traffickers. Traffickers launder money there then send it back to drug syndicates in other countries.
The money laundering involves the purchase of precious metal bullion, gold ornaments and construction materials as well as online gambling, which facilitates daily money transfers.
"Officials will look for suspicious businesses that have grown disproportionately in the past few years. The Revenue Department will also support the investigation."
The justice minister believes intensified action should result in the seizure of at least 1.5 billion baht by August, compared with 700 million baht seized from drug traffickers last year. Just last week, assets valued at 42 million baht were frozen by Chiang Rai police.
Drug syndicates smuggle drugs into Thailand across the border from Myanmar, Cambodia or Laos, then distribute them to Bangkok and other major cities. The Thai and Burmese governments have independently stepped up their anti-narcotics efforts in the Golden Triangle region, mostly with little real effect, other than a parade of weekly photo opportunities with large drug seizures – in truth, a tiny proportion of the drugs that leak through their patrols.
Authorities say the number of drug seizures has risen 1000% in just the past 2 years, a stark indication of the growth in industrial-scale production in the Golden Triangle.
Thailand remains a major trafficking route for opiates and synthetic drugs manufactured in Myanmar's Shan and Kachin states, the northeastern states that border China, Laos and Thailand.
SOURCE: Chiang Rai Times
Keep in contact with The Thaiger by following our
Facebook page
.