"Alert and in good spirits." Team alive. Rescuers now face evacuation challenges.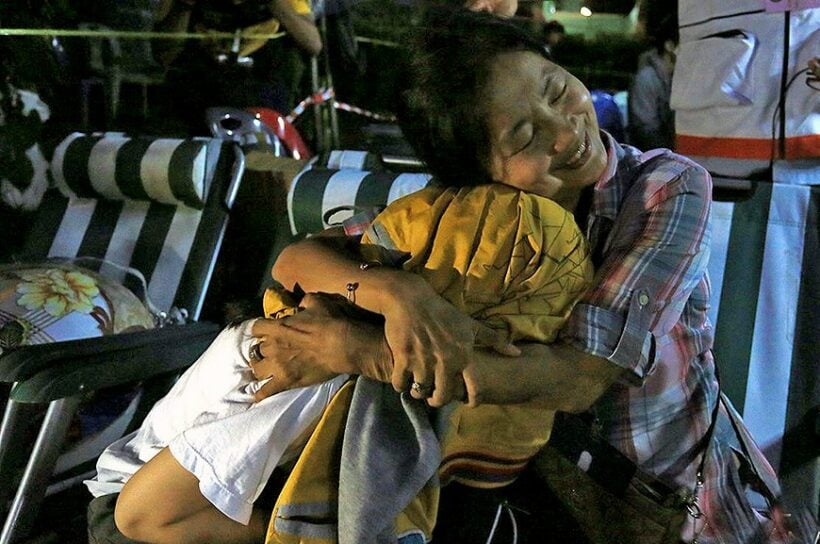 The twelve boys and their coach have been discovered alive following nine days of frantic searching. They were trapped by floodwaters in a cave complex in the far north of Thailand. The governor of Chiang Rai Province said rescue workers were providing care and managing their extended stay whilst they await a supervised extraction.
Divers reached the group after enlarging a narrow, submerged passageway that was too small for them to get through while wearing their air tanks.
The group, captured on video by one of the English specialist diver, were alert, appeared in good spirits and engaged in conversation with the rescuers. The first worlds they said, in English, were "Thank you."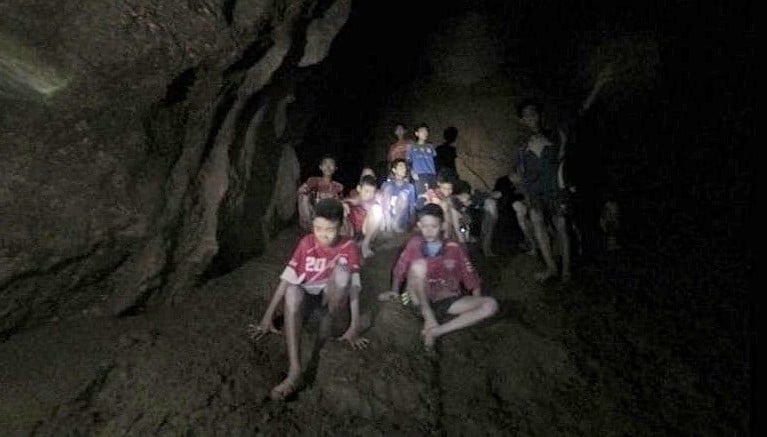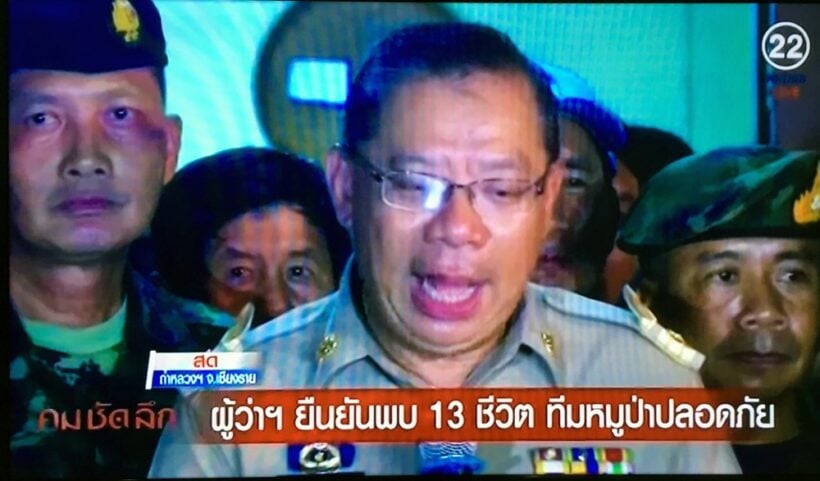 Getting the boys and their coach out of the caves. in their weakened condition, and without diving training, is the next challenge.
The Chiang Rai Governor Narongsak Osottanakorn confirmed at 10.25pm last night (Monday) that the teenagers and their coach had been found.He also made clear that rescue operations would continue non-stop until the victims were safely transferred out of the cave and to hospitals.

Doctors with diving skills have been heading to the spot where the victims were found. Checkups are needed to determine whether the football's team members can be moved out of the dark cave immediately. If not, they will receive medical treatment and food inside the cave and evaluations made how to best extract the group. Victim evacuation and transportation plans have already drawn up.

The announcement by Governor Narongsak received loud cheers.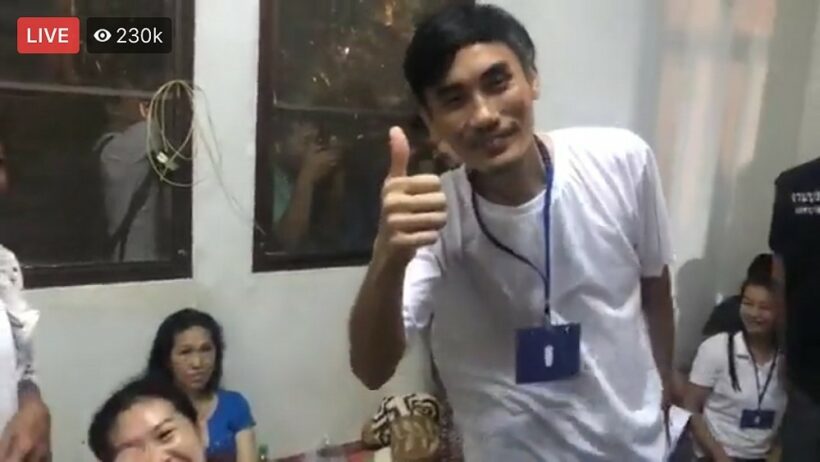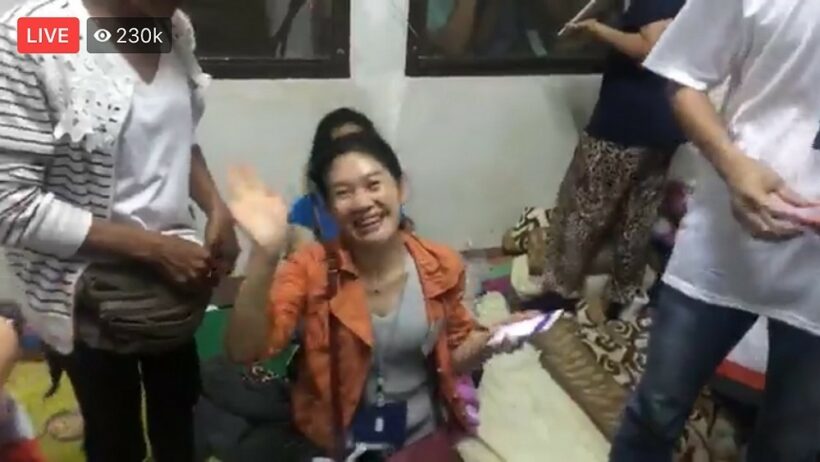 Meanwhile, the families of 13 victims could hardly contain their joy when they learned that the 10 day long rescue operation had been successful and their children had been found, safe and reasonably alert and in good spirits.
I am so glad that I cannot think of anything else," an uncle of a 13 year old football player from Mu Pa Academy Mae Sai said. A mother in the waiting group of families said, "I'm over the moon."
The efforts of rescuers now turn to the tricky challenge of extracting the 13 members of the group. Teams are still trying to reduce the amount of water in the caves but it's likely that the boys will have to put on diving equipment to get out of the caves.
Meanwhile the Thai Meteorological Department says that more rain is on the way from Wednesday, so rescuers will be keen to get the extractions started before more rain makes their operation more difficult.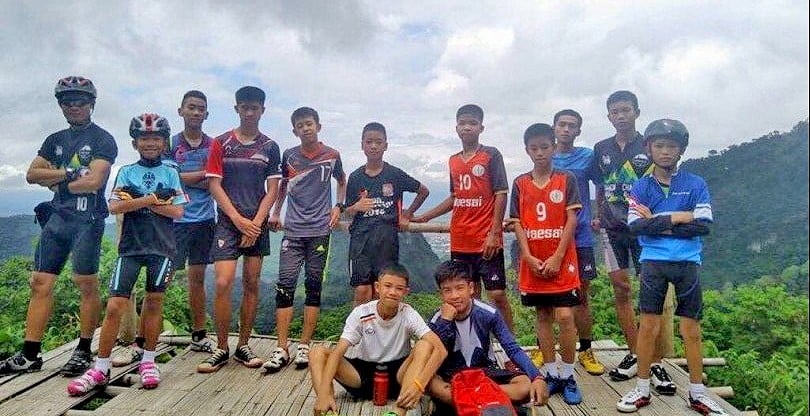 SOURCES: Thai PBS, The Nation, The Thaiger
Keep in contact with The Thaiger by following our
Facebook page
.
Never miss out on future posts by
following The Thaiger
.
2 Burmese nationals arrested while crossing river into Thailand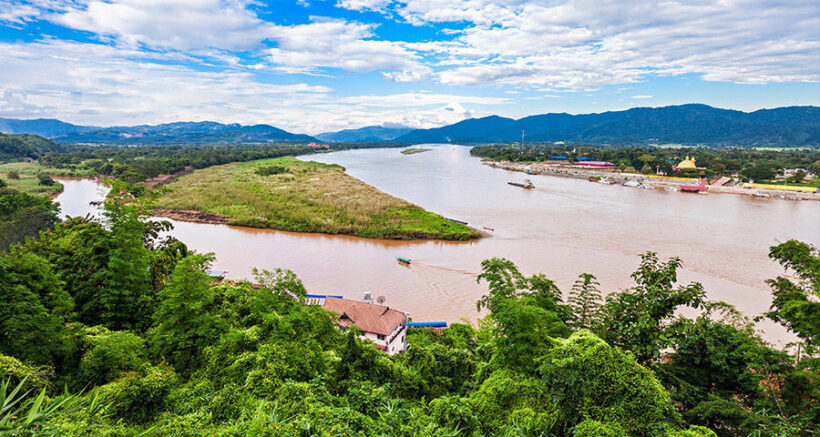 Border forces have arrested 2 Burmese nationals as they were crossing a river in the northern province of Chiang Rai in an attempt to enter Thailand. There has been an increase in security patrols along the border with Myanmar in recent weeks, as the country experiences a spike in Covid-19 cases. There have been reports of Burmese nationals attempting to enter Thailand without submitting to any of the Covid-19 measures currently in place, including testing and mandatory quarantine.
The latest arrests are of a 20 year old man named only as Saiunkaew, and 30 year old Sailu. Both men were detained while crossing the Mae Sai river, in the Koh Chang sub-district of Chiang Rai.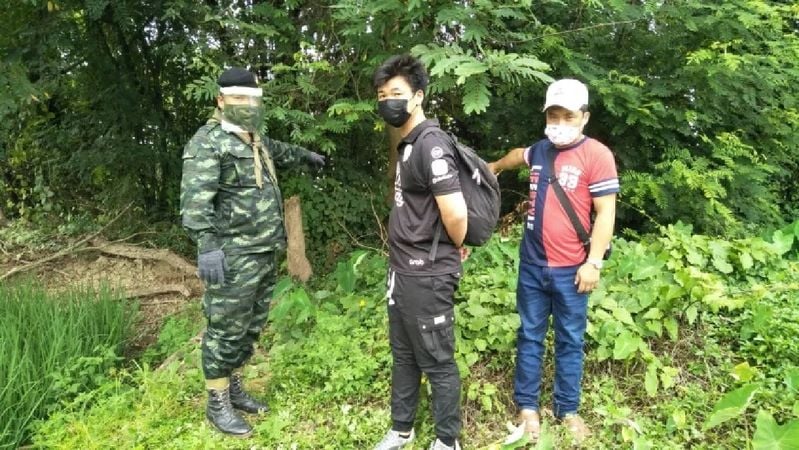 PHOTO: Nation Thailand
Saiunkaew says he travelled from Myanmar's Shan state and claims he was on his way to study at Chiang Mai's Mahachulalongkorn Rajavidyalaya University. He says he paid 4,000 baht to an agency in his home country to facilitate his border crossing. Sailu says he was hoping to find work in Thailand, adding that he paid 17,400 baht to Burmese border officials in order to allow him cross. Both men are now being processed by Chiang Rai Immigration, after which they will be deported to Myanmar.
SOURCE: Nation Thailand
Keep in contact with The Thaiger by following our
Facebook page
.
Never miss out on future posts by
following The Thaiger
.
Immigration announce the arrest of 18 Chinese illegal migrants in Chiang Rai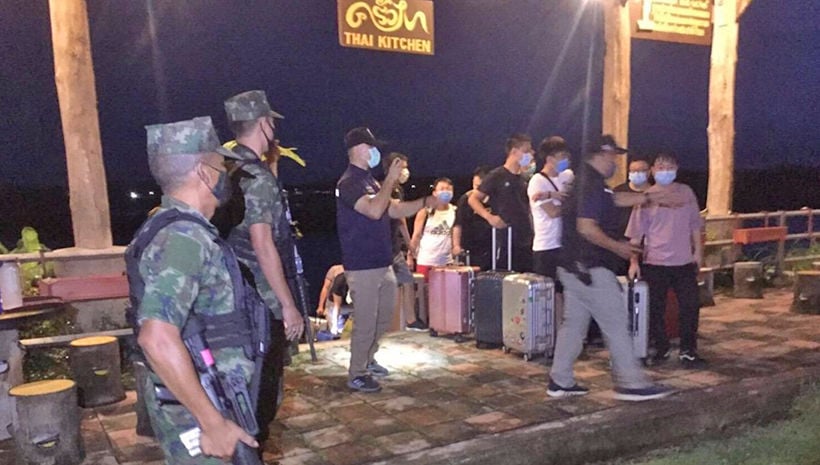 Immigration officers yesterday announced the arrest of 18 undocumented Chinese immigrants Chiang Rai on August 2, who reportedly attempted to cross the Mekong River from Laos to enter the kingdom illegally. A team of investigating officers from the Chiang Saen Immigration Checkpoint was patrolled the Mekong River area after receiving a tip that a group of unlawful migrants would be smuggled from Ton Pheung District in northwestern Laos via boat.
The 18 were caught as they reached a riverbank behind a restaurant in the Chiang Saen district around 5:50pm August 2. They were brought to Chiang Saen Police Station for an initial interrogation and to arrange a translator, since none of the group any travel documents.
They were initially charged with entering the Kingdom of Thailand without permission and failing to comply with the Disease Control Act, according to an announcement. That order requires that all potential immigrants go through proper channels to enter the country and enter a mandatory 14 day quarantine, amoong other rules and regulations. The commissioner of the Immigration Bureau, told the Thai Associated Press:
"The public health officers did an initial temperature test on all the immigrants and none of them showed a sign of Covid-19 coronavirus infection. The group did not have exposure to the general public as they were caught swiftly."
"They were detained at the Chiang Saen police station for legal proceedings. Meanwhile, investigators were checking their mobile data and usage of their mobile phones as they might contain useful information regarding people who may have contributed to this trafficking or lead to further investigation."
Thailand has been cracking down on illegal border crossings and encouraging residents of border towns to report any strangers. Thailand has officially gone 86 days with no confirmed locally transmitted cases of Covid-19, but has identified the danger of illegal immigrants importing the virus from elsewhere as the biggest potential roadblock to staying free of the disease. International borders remain closed for general tourists and only small, select groups of foreigners are currently allowed to enter the country.
It's unclear why the group were trying to enter Thailand or where they were originally from in China.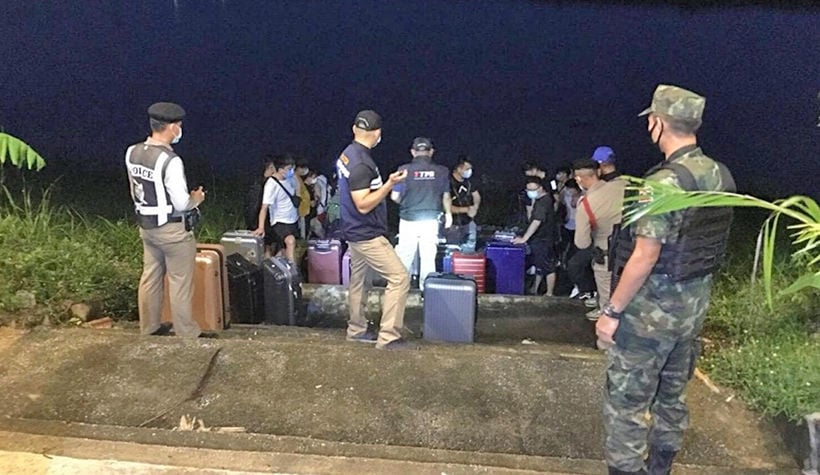 SOURCES: The Pattaya News | 77kaoded
Keep in contact with The Thaiger by following our
Facebook page
.
Never miss out on future posts by
following The Thaiger
.
Police: No foul play in Vorayuth witness's death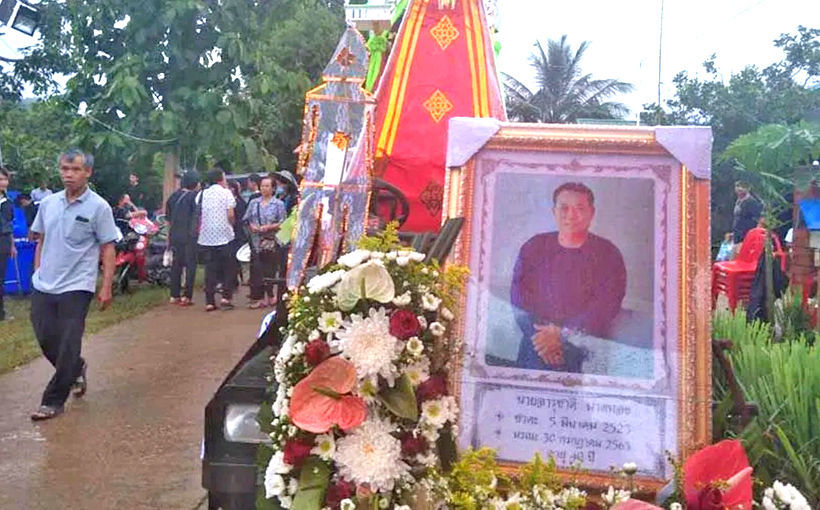 Police today ruled out the possibility of murder in the death of a key witness in Red Bull drinks heir Vorayuth "Boss" Yoovidhya's hit-and-run case. The regional police commander in Chiang Mai, where the witness died in a motorcycle incident last month, said new autopsy results found no trace of any suspicious substance apart from alcohol in Jaruchart Mardthong's body. Investigators ruled his death a drunk driving incident. A high concentration (218 milligrams) of alcohol was found in his bloodstream.
"All the evidence suggested that it was an accident. We also found no evidence which suggests the driver of the other motorcycle knew Jaruchart before they met."
The other motorcyclist was identified as Somchai Tawino, but no charges have yet been filed for his involvement in the incident, according to police.
Jaruchart was one of 2 witnesses who told investigators that Vorayuth was driving under 80 kmph when his Ferrari crashed into a patrol motorcycle, killing senior police officer Wichian Klanprasert in Bangkok in 2012. Their testimonies are believed to have contributed to prosecutors' decision to drop the charges against Vorayuth.
His abrupt death during renewed scrutiny over the case prompted many to believe a conspiracy was involved. PM Prayut Chan-o-cha himself instructed authorities to secure Jaruchart's body for further examination earlier this month, just hours before it was due to be cremated.
Investigators will also question Pasin Akaradejthanachot, an aide to the former Chiang Mai Senator Chuchai Lertpongadisorn, who stole and destroyed Jaruchart's phone from the hospital.
Pasin had said to police that he was concerned about the photos of him taken with Jaruchart, which could have affected his campaign for a local election.
SOURCE: Khaosod English
Keep in contact with The Thaiger by following our
Facebook page
.
Never miss out on future posts by
following The Thaiger
.