Chiang Mai: Son finds father dead in car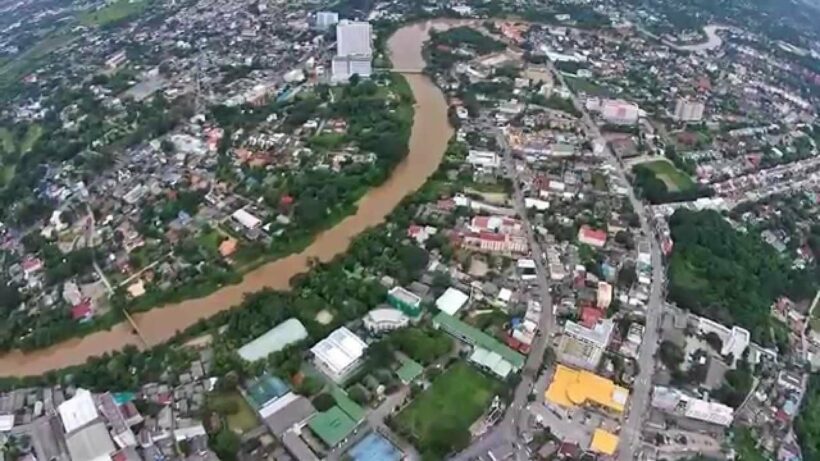 A man has been found dead in his own car in Chiang Mai's Muang district.  The car was covered near his house when his adopted son found the car with his father inside this morning.
Police estimate that 48 year old Somphet Thaso died at least two days earlier. His adopted son, Sukit Somboonpattanakoon, said Somphet could not be accounted for two days and he was unable to find him until he walked past the car and smelled a strong stench. He lifted the car cover canvas and found the body so he called the police.
The car was not locked but its four windows were closed.
Police say there were no traces of injuries on the man and suspect carbon monoxide poisoning caused the man's death. The fact the car was covered might suggest suicide, they added.
But his relatives claim his bag with a mobile, ID card and some cash was missing.
The investigation continues.
ORIGINAL STORY: The Nation

Heavy rains leave provinces on flood alert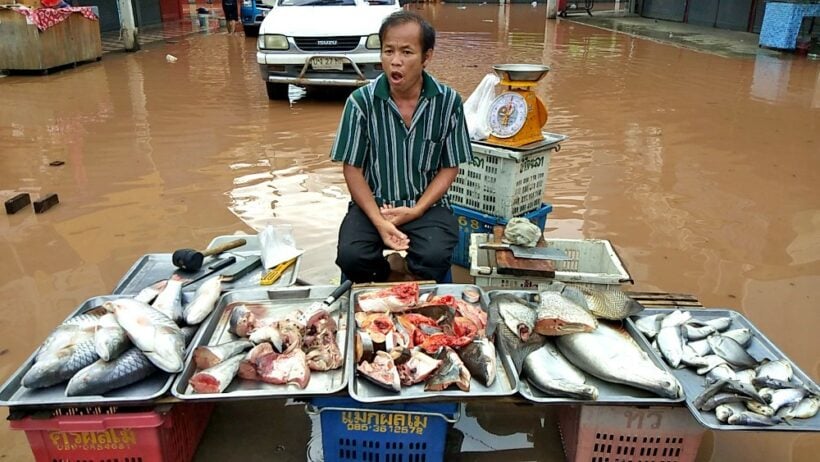 Tropical storm Bebinca has now moved westwards into Myanmar as it continues to weaken but it's left a trail of floods behind as home and farmland across the the north and north-east as rivers and canals swelled with the heavy rains. Around Petchaburi the situation is still perilous for residents in the wake of the Kaeng Krachan Dam.
In Chiang Rai, a large section of a half-completed flood barrier along Lam Nam Kham canal in Tambon Mae Kham, Mae Chan district, collapsed, inundating 230 homes in four villages with floodwater up to a metre deep. Residents of Ban Moung Khammai Moo 11 and Moo 13, Ban Rong Kor Moo 4 and Ban Santhat Moo 9 were sent scrambling as the tide submerged roads as well.
The runoff then also submerged 100 homes in Tambon Jajawatai further downstream.
Chiang Rai Governor Prajon Prajsakul dispatched officials to help people evacuate their homes and to distribute drinking water and food. Prajon said 76 villages in 23 sub-districts of six districts had seen flooding in recent days, but he expected most to return to normal soon if the rain stopped.
In Muang Nan, home to Tangjit Nusorn Market, flooding was not as severe. Nan Governor Paisal Wimonrat and disaster-prevention chief Narong Inso inspected the Ban Don Kaew sluice gate to supervise repairs to broken panels. With pumps installed around affected areas, officials were optimistic that the situation would improve – again, if the heavy rain lets up.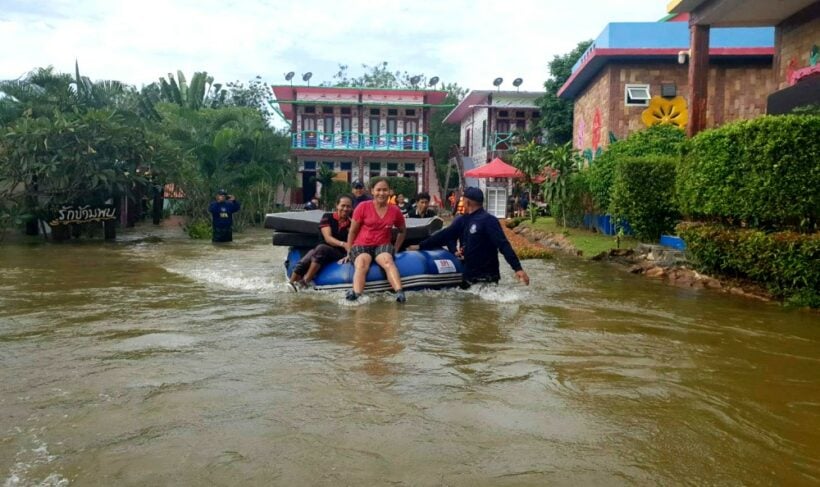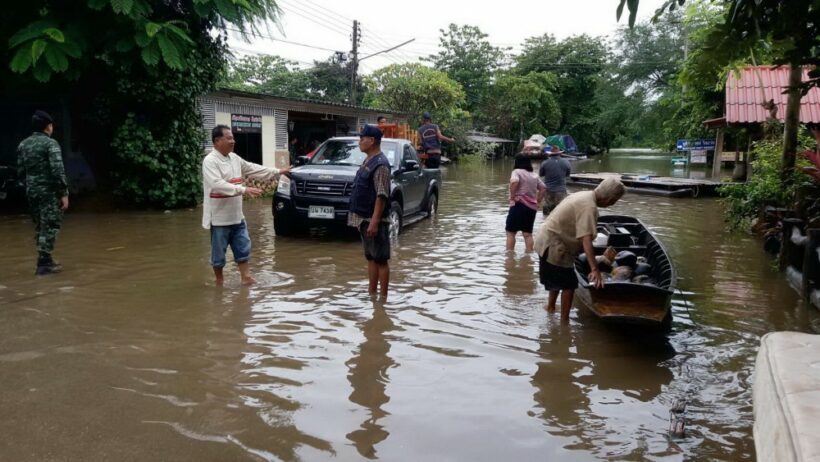 In Chiang Khan and Pak Chom districts in Loei, the Mekong River had risen to within one metre of breaching its banks as of 7am yesterday. Residents living along the river and connected canals were bracing for floods and prepared to evacuate if necessary, Chiang Khan district chief Chatchapong Art-kaew said. Downstream in Nong Khai, the Mekong reached its highest level of the year yesterday – 11.91 metres – with overflow spilling into to low-lying homes and farmland in Tha Bo district on the southern bank.
Sluice gates were closed and pumps installed in Muang Nong Khai and 3,000 sandbags were prepared.
In Phetchaburi, the Kaeng Krachan Dam was holding nearly 767 million cubic metres of water as of 6am yesterday, representing 108 per cent of its capacity. The sluice gates remained close to minimise impacts on nearby communities, but water was being released via spillways and 20 siphon pipes were installed to help drain it.
As the water was flowing at the rate of 247 cubic metres per second, from the Kaeng Krajan Dam to the downstream Phetch Dam, lowlying downstream areas located between these two dams were flooded. The Tha Yang, Ban Lat, Muang and Ban Laem districts which were downstream from the Phetch Damj were not yet flooded as of press time but Phetch River running through them were rising and inundating some riverside lowlaying areas.
Dozens of specially designed boats to push water were anchored in the river at Ban Laem with their engines trying to hasten the current towards the Gulf.In Kanchanaburi's Sai Yok district, people living along the Kwai Noi River in Tha Nam Pak Saeng felt the double impact of flooding from the rain-swollen river and fromVajiralongkorn Dam, which was releasing water at a rate of 43 million cubic metres per day.
With that amount to be boosted to 53 million cubic metres from August 23-27, residents were told to move belongings to higher grounds.Residents along both sides of the Moei River in Tak's Mae Sot district, meanwhile, were warned of possible flash floods. The river had risen close to the "red alert" level near the First Thai-Myanmar Friendship Bridge in Tambon Tha Sai Luad, disaster-prevention chief Kittisak Boonchan said.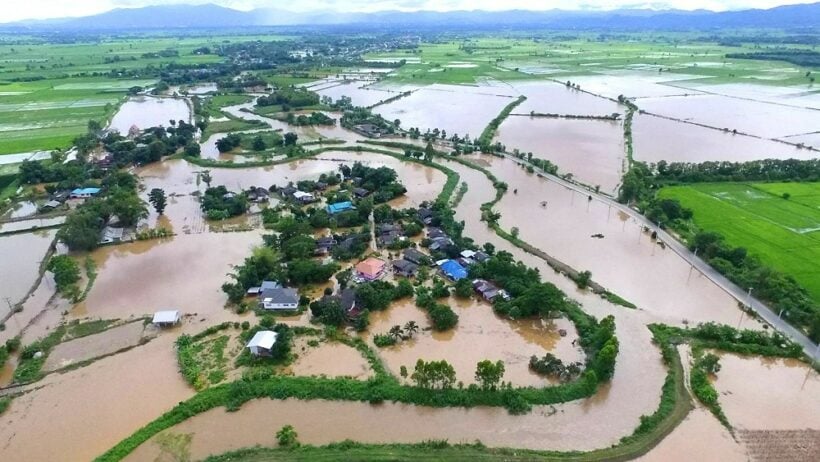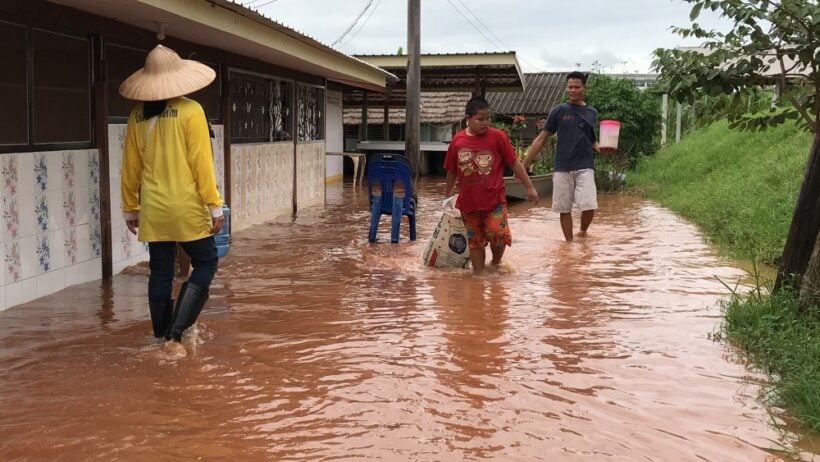 SOURCE: The Nation
Nan, Chiang Mai and Chiang Rai report damage from current floods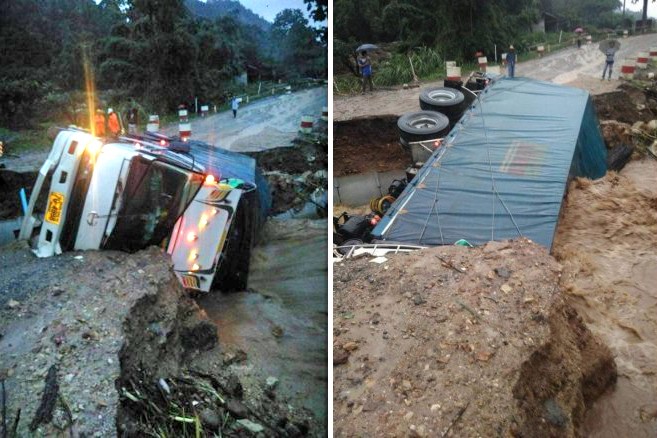 Weather warnings remain current for 38 Thai provinces affected by tropical storm Bebinka which is currently hovering over northern Vietnam, moving west. Meanwhile its affects are already being felt in the north.
Moutain run-off has hit and washed away three sections of the main Chiang Rai-Chiang Mai road early today. The Doi Saket police station in Chiang Rai was alerted at 3am that the run-off had taken out sections of the highway No 118 making the road impassable. The police station issued an urgent warning for motorists to instead use the Chiang Rai-Prao-Chiang Mai route.
The Highway Department is currently trying to provide urgent temporary repairs to the highway.
Meanwhile, a community on the Nan River bank in the downtown of the northern province has been inundated after the river burst a flood levee.
Nan Governor Phaisarn Wimolrat and Muang Nan Municipality Mayor Surapol Thiansutr visited the Ban Suan Tan community shortly after the river burst its flood levee at 6.40am this morning and the water from the bloated river gushed into the community, flooding it. The community was quickly under 30 centimetre-high water, causing problems for small vehicles.
Officials have since said that water has started seeping into other communities along the river.
Surapol said the water level in the river has surpassed the crisis level to now reach 8.4 metres – the same level as during the 2006 "great flood".
But Surapol said the damage this year could be less than in 2006, because flood levees have subsequently been built along the river banks and local residents have been warned in advance of possible flooding.
At 7.10am workers were using sandbags to build flood levees around the Nan Provincial Hospital. At 7.50am, hospital officials closed the bridge near the hospital.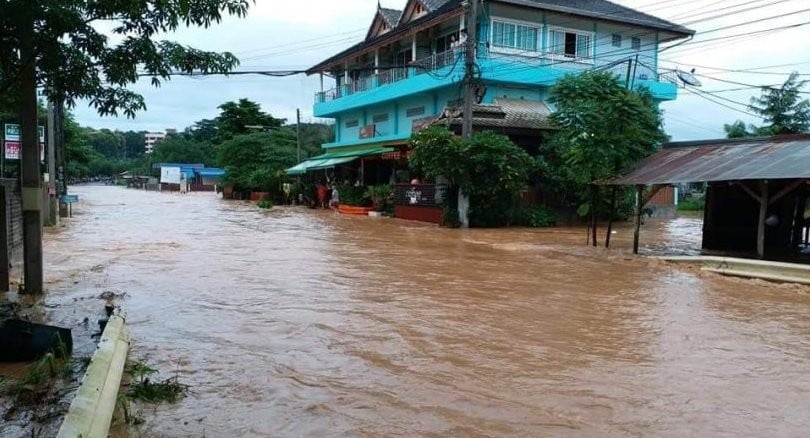 PHOTO: Nan provincial administration's PR office
SOURCE: The Nation
Malaysian tourist caught lying to Chiang Mai police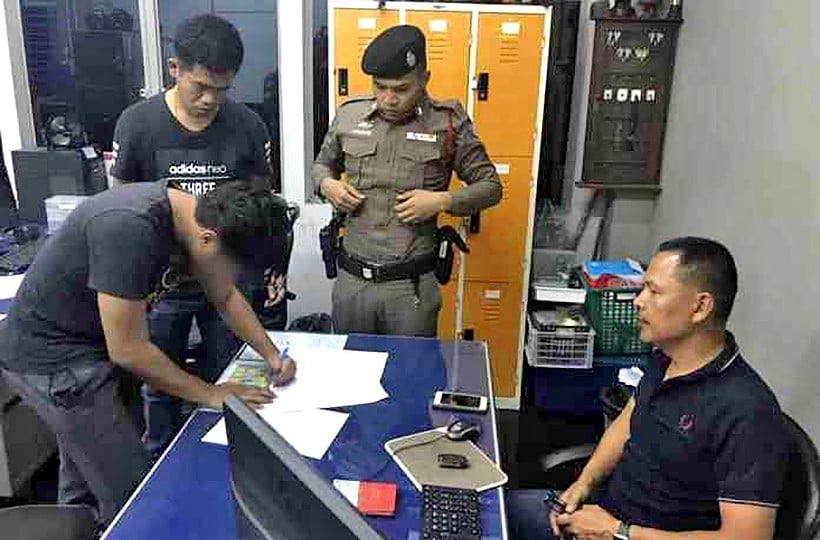 PHOTO: Chiangmai News
A Malaysian tourist is in hot water after telling Chiang Mai police that he'd been robbed by a foreigner in the city centre this morning. He's now been charged with filing a false police complaint.
20 year old Pravin Krishnan was charged early this morning (Friday) less than two hours after lodging the complaint. Police say that he admitted to lying but claimed he did so because he'd run out of money and wanted an excuse for his parents in Malaysia to send him more.
Krishnan's original complaint was that a Western man with a blond beard robbed him at knifepoint while he was walking along Loi Kroh Road at 1am.
Police went to the scene, spoke to residents and a security guard, but found no witnesses. They returned to the station and confronted Krishnan. The Malaysian admitted he'd made up the story.
He wanted the police complaint document to convince his parents to give him more money and didn't want to be get in trouble for exceeding his holiday allowance. He's now got a lot more explaining to do to his parents.
SOURCE: The Nation