Phuket Business: Smile – you're on THAI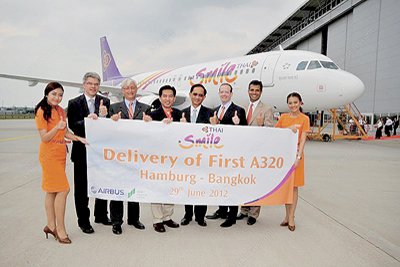 PHUKET: Last week Prasert Tanhansa, manager of the THAI Airlines (TA) district sales office in Phuket, announced new Phuket routes to be serviced, starting next month, by the national carrier's new airline, THAI Smile (TS). Here, the Phuket Gazette's Chaiyot Yongcharoenchai speaks exclusively with Mr Prasert about market positioning, strategies and more.
PHUKET GAZETTE: TS has been called by some as an Ultra Low Cost Carrier (ULCC) compared to Nok Air, which is an LCC. Is this classification correct?
PRASERT TANHANSA: We do not classify TS as an Ultra Low Cost Carrier or Low Cost Carrier. We position ourselves as 'Light Premium', which is in between premium and low cost.
The current situation of our market has not been very good. The parent airline, TA used to be the leader in the aviation business, but now we share the market with many other low cost airlines. We used to enjoy 70% market share, but now it is down to 40%.
Even though we are hurting, we can't reduce our standards. TA has always offered premium standard service and we intend to keep it that way. However, if we don't do anything to get the market share back, we will lose all of our business to LCCs.
Therefore, we've launched TS, which will contain some of the same premium services as TA, but the pricing, as well as some products and services, such as meals and on-board entertainment, will be reduced. For example, TA serves full meals on all its flights, but TS flights will have snack packs or light meals instead. If the passengers want to eat more food, they can choose to buy more.
What is TA's current and anticipated future stake in Nok Air (NA), and what is the difference between TS and NA?
TS is another product under the brand name of TA, while TA holds a 49% share of NA, so we do not directly operate NA. Even though NA classify themselves as an LCC, they position themselves as a low-fare, high-value budget airline.
Originally, TA planned for TS to service routes covering different destinations from those of TA, but now that NA services those destinations – small towns – already, TS will will service the exact same routes for main destination of TA.
The only difference between TA and TS will be price and services. The service offerings of TS and NA are quite similar. The differences are the brand names and their respective mileage programs. TS passengers can collect mileage under the Royal Orchid Plus program, just like TA passengers.
NA uses an entirely different mileage program, however. TS passengers can use their mileage to fly with TA. TS passengers can also choose their seats, check in up to 20 kilograms of luggage for Smile Class (Economy class) and 30 kg for Smile PLUS Class (Business class) – at no extra charge.
Can you confirm the initial and future routes of TS?
We ordered 11 brand-new, 168-seat Airbus A320-200 aircraft. So far, four of them have already arrived. The first route we launched, as of July 7 this year, was Bangkok to Macau.
Routes from Bangkok to the South will include Surat Thani, Krabi, and Phuket. Routes planned from Phuket include Bangkok and Chiang Mai. In the near future, we also plan to launch a Phuket-Singapore service. This should launch by January 2013. Another potential route with high demand that we may launch is Phuket-Udon Thani. We cannot confirm this route yet as it is now in the process of review.
What is your expectation for the first year of the operation?
We are not that concerned about most of our routes, with the exception of the Phuket-Chiang Mai leg. Compared with other routes, this route can be very challenging.
Phuket seems to be the last destination Thailand's international tourists visit before returning home. There are not that many tourists who want to travel from Phuket to Chiang Mai before they head back home.
Part of it is because Chiang Mai doesn't have that many outbound international flights. TA has always offered flights from Chiang Mai to Phuket because many tourists travel this route. We don't expect much from the Phuket-Chiang Mai leg in the first year. We will keep the price down to attract passengers initially. Once this route becomes more popular, we may reconsider the price.
We have publicized this new route to all of our sales representatives as well as tour operators. I asked them to include the tour program that starts from Phuket to Chiang Mai and some other places so that we can promote this route.
Our primary target for the Phuket to Chiang Mai route is foreigners, while Thais are our secondary target. There might be some Thais who use this route to visit their home town. We expect the occupancy rate for this route to be about 60% in the first year. Compared with other airlines that already service this route, our price is still a bit higher.
I have just proposed a promotional price that is attractive enough for passengers to decide to fly with us. We are now waiting for the approval of the special promotion price. Even though our price may not match the competitor's price, our service is much better. I think that is our strong selling point.
How do you view competition?
I believe we can compete with other low cost airlines in the market. We have the advantage of being the premium airline. Even though TS offers less than TA, we are still offering 'Light Premium' service. Unlike any other LCC in the market, our passengers can use the mileage program from Royal Orchid Plus of Thai Airways.
They are also allowed to check in luggage and select seats at no extra fee. Business class passengers of TS can also use the business class lounge of TA. The passengers of TS can still enjoy the lighter premium service as offered on TA's flights, for example, snack packs or light meals.
On-board entertainment, such as magazines, will not be provided on TS flights. Most of the passengers of our flights aren't too concerned about inflight meals or entertainment on such short trips though.
How would you describe Thai Smile?
We have three keywords that can define our brand:
1) Trendy: We are a trendy airline with chic interior design in our aircraft. We use orange as the main color scheme for TS, which reflects liveliness. Our flight attendants and crew are younger, look refreshingly young and have a great service mind.
2) Friendly: Our staff are very friendly and they will make all of the passengers feel warm and welcome with a great smile living up to the name of the airline.
3) Worthy: The price of a TS flight is worth the money passengers spend. Passengers can enjoy light premium service at an affordable price.
Who are your targets?

We want to attract the younger generation who love to travel in style, while keeping the price within their reach. Our main target is different from TA. We set our target for the young generation who love to travel, such as the backpacker group and fresh graduates who just start to earn their income and love to travel.
Tthe main target group of TA is business travelers. I believe that TS will take a year before becoming well known and getting more market share from other LCCs. It should not take so long since TS is operated under TA, [so travellers will] consider our reputation for a high standard. We have a reliable brand name that everyone trusts.
— Chaiyot Yongcharoenchai

Join the conversation and have your say on Thailand news published on The Thaiger.
Thaiger Talk is our new Thaiger Community where you can join the discussion on everything happening in Thailand right now.
Please note that articles are not posted to the forum instantly and can take up to 20 min before being visible. Click for more information and the Thaiger Talk Guidelines.