PHUKET BUSINESS: Artificial reefs key to mass tourism dive industry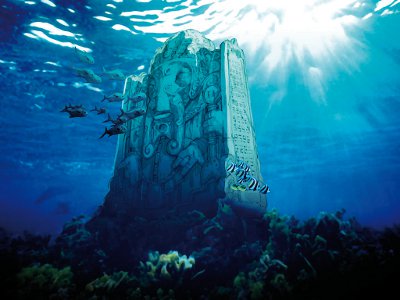 PHUKET: In the tourism game creating memories is everything, explains the Head of Development at Reef Worlds, Dave Taylor.
"If you can create a tourism memory then you have won your game. You have won everything, because that's a memory that never leaves a potential client, and they always come back to it," Taylor told the Phuket Gazette in an exclusive interview.
Reef Worlds was established three years ago with the goal of working alongside resorts to create sustainable artificial reef systems that help reduce tourism pressures on natural reefs. Reef Worlds are fully monetized discrete mini-marine "protected areas" within the resort's own footprint, allowing them to brand the signature underwater experiences of their guests, explained Taylor.
"It's something NGOs [non-government organizations] have been trying to do for years; engage developments to take stake in their oceans. Reef Worlds combines conservation with tourism to get the best out of both worlds," he said.
We now have the technology, interest and mass tourism to allow for a company like ours to come to the fore and really blow out traditional perceptions of what an artificial reef is, Taylor added.
The company, based in Los Angeles in the United States, targets mass tourism across the globe. Reef Worlds has already visited Phuket to talk with two potential clients and is now in the concept stage for those projects.
Taylor pointed out that despite the good work being done by many artificial-reef-building NGOs there is little tourism value in what they do – and tourism drives the economy, especially true in places such as Phuket.
"What we are trying to do is build iconic forms underwater. Forms that people will approach and know from a distance…then when they get really close, they are truly blown away," Taylor said.
Reef Worlds is attempting to create a moment for tourists akin to when Doctor Howard punched through the Valley of the Kings and shined his light inside. When asked what he saw, he whispered back, "I see incredible things".
"We've got a great team. There are guys (with us) who worked on Avatar, Lord of the Rings, you name any Hollywood blockbuster that was really unique and eye popping (and) they worked on it," Taylor explained.
During the design phase of a project, Reef Worlds looks at what iconic design forms are used at the resort and then works with those themes to create a "seamless transition from land to ocean," Taylor said.
However, Reef Worlds is balancing it's revolutionary push into the world of artificial reef construction with the essentials of sustainability.
By using crushed rock, from ancient coral beds, and low PH concrete for their structures they create a "super platform" for wildlife, such as corals to adhere to. These in turn attract the charismatic mega fauna like sharks and manta rays that tourists want to see, explained Taylor.
Taylor admitted Reef Worlds has turned down several projects due to the sites being unsuitable, as the potential clients had asked them to build on "A-class" reefs.
"(We were asked to build on) a beautiful staghorn coral forest, and they were like 'let's just move it'", Taylor said.
"They were missing the whole point," he continued.
What Reef Worlds is looking for are white-sand bottoms or crushed coral flats that are denuded of life.
"We promote 'do no harm tourism'," Taylor said.
As part of their "do no harm tourism" Reef Worlds provides 10 years of follow-up analysis for their reefs.
Reef Worlds is confident that their pieces, weighing between 4,500 to 18,000 kilograms are not going anywhere and guarantees them against category five hurricanes.
"If they actually come off the bottom we'll replace them at our cost," Taylor said.
Each individual piece can be stamped up to five times allowing a resort that only has ten designs to have fifty shapes put into the water.
"We design it to be cost effective for the resorts," Taylor said.
A three acre site might cost US$ 100,000 and a project with all the bells and whistles from a kiddy tide pool to baited monoliths could cost up to US$ 1 million .
The reefs are a marketing tool, as each site will be completely branded to the resort with its own name and back story, explained Taylor.
"You need a little vision," admits Taylor, "I've had conversations with folks who don't dive and have been in the resort business for so many years, and they just look at us blankly – wait there is something beyond the hide tide mark?"
After serious coral bleaching and the amount of pressure on reef systems, wildlife is on the move, and people are going with it, Taylor said.
"We are trying to hold down the fort by giving folks what they want to really interact with," he added.
"A Reef Worlds artificial reef is the ultimate marketing tool, because no one else has it. Holiday memories are being created and branded to you [the resort].
"And guests are going to take videos and images and put them up on social media sites, which gives exposure in a way you just can't get to yet," he said.
— Isaac Stone Simonelli

Join the conversation and have your say on Thailand news published on The Thaiger.
Thaiger Talk is our new Thaiger Community where you can join the discussion on everything happening in Thailand right now.
Please note that articles are not posted to the forum instantly and can take up to 20 min before being visible. Click for more information and the Thaiger Talk Guidelines.