Phuket Aviation: Jetstar Asia CEO talks regional markets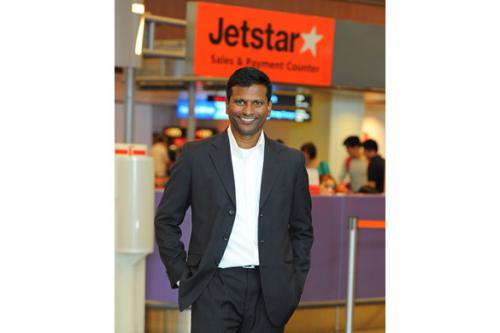 PHUKET: Well-positioned to meet swelling demand for one of Phuket's top three tourism source markets in the post-GFC era, leading low-cost carrier Jetstar celebrated its first direct flight from Melbourne to Phuket on December 14; As reported earlier this month by the Phuket Gazette, story here. The airline also recently announced that it will deploy one of its flagship Dreamliner aircraft to service its existing Sydney to Phuket route. Here, the Gazette's aviation corespondent Somchai Huasaikul speaks with Jetstar Asia Chief Executive Officer Barathan "Bara" Pasupathi about the new flights, the stress of being an airline CEO, safety issues and more.
What factors led Jetstar to decide to launch the first-ever direct flight linking Melbourne and Phuket?
That's an easy question, but before I answer you have to understand a little bit about the Jetstar organization. I am the CEO of Jetstar Asia, which operates out of the Singapore hub. The flights coming into Phuket directly from Australia are part of the Jetstar Australia and New Zealand business, but we collaborate as a group, so the question is quite relevant.
It was quite an easy decision to make, as Phuket is naturally one of the favorite destinations among Australians. Whether they are from Melbourne, Perth, Sydney, Brisbane or Darwin areas, they always include trips to Phuket for family holidays, couples, honeymooners, or free independent travellers, so it's quite a natural choice to offer them direct services so that they don't have to travel through Bangkok or Singapore.
Phuket is a very popular destination for Singaporean tourists as well. I took my wife and two kids there recently, staying at the Indochine resort. They loved it, especially the elephant rides. Just as an example, at the Singapore Zoo they have elephant rides, but they only last two minutes. In Phuket they last an hour.
Is the Melbourne-Phuket route intended as a long-term, year-round service, or is it just to take advantage of a seasonal demand?

These flights are intended to run permanently, because there is a year-round demand for [flights to] Phuket in Australia. We know this because we have also had to increase the number of flights through our Singapore hub to meet [increased] demand [for Phuket flights] last year, so this is just another option for passengers.
I know you started taking reservations a few months ago. Is it too early to say anything about response to the service? Can you say anything about load factor at this point?
I am generally only hearing good things about this service out of Australia. It has helped that the service was launched at an optimal time, because it is the annual Australian travel season at the moment. The Australians love Bali and they love Phuket, but to many degrees certain destinations closer to Australia are getting congested. I think Phuket is one destination that is huge, has good infrastructure, a good pedigree of hotels, has transport readily available and is generally available. So it ticks all the boxes for maintaining good, year-round demand.
I know there are a lot of Thais that live, work, visit or study in Australia. Do they comprise a significant part of the target market for these flights?
Generally our Bangkok services see a lot of Thais heading to Australia. In terms of the Phuket services, it is predominantly leisure-based. We do see some percentages from the Thai market, but it is mostly serving inbound passengers from the Australian and Singapore markets, or even beyond Singapore and hubbing there to Phuket. We may see some Thais travelling outbound out of Phuket, but it is much thinner than with the metro destinations like Bangkok. I do think that kind of demand can build over time, however.
Thai AirAsia has publicized Phuket International Airport as one of its hubs in recent years. Can you comment on competition with AirAsia, especially in terms of the Phuket market?
Jetstar Asia has its hub in Singapore to serve the Phuket market, but as a group we have 31 branded airlines that we work with, both Jetstar branded airlines and other carriers under code share agreements. We work with these carriers to bring traffic into markets. Some of the partners we work with, on the back of our Qantas relationship, include Lufthansa, Emirates, China Southern, China Eastern and Japan Airlines, to name just a few. Our partner airlines feed our hubs into Phuket, as well as from Phuket into Singapore. Benefits to the customers include not having to travel under separate itineraries and the ability to check baggage all the way through to their final destinations. For Jetstar Asia, Phuket is an important market that is predominantly Asia driven, with a significant component of people travelling there for MICE [meeting, incentive, convention, exhibition] events.
We do not claim Phuket as a hub, but it is an important market for us from Singapore, as well as for Jetstar in Australia. In the future I would not be surprised to see other branded airlines look at direct fights to Phuket through Australian cities like Melbourne and Sydney, which serve the entire outer core of the Australian market, as well as other source markets in third countries, such as Japan.
With so many factors involved, it must be difficult for you to process all of the information that you need to determine the optimal route system. Do you have a computer program that you use? How do you figure it all out?
We have various analytical tools and data sets where we can draw down traffic data at airports in detail. We have to grow in a managed and controlled manner, feeling confident we can fill the aircraft going into a new market so that we have consistent product and schedule delivery for our customers.
We have been in the business for 10 years now, so we have both inhouse tools and third party tools that we use to study markets. Besides demand, there are also other primary considerations to consider before entering a new market. These include such issues as safety and operational performance at the airport, runway specifications and environmental factors.
It seems that before your promotion to CEO most of your experience was in finance and logistics. How do you deal with the underlying stress of being the person that would be held ultimately accountable if there were some sort of disaster?
Well, the aviation industry is a very sophisticated business; it always has been and it is even more sophisticated today with all of the advanced technology… Safety is our primary focus, and we play the safety card in a big way at Qantas and the Jetstar group in general. We exchange information on a daily basis to enhance the safety of the aircraft and training of personnel. We are the only low-cost carrier in this region that has signed up for IOSA [IATA Operational Safety Audit] certification. IOSA is an accredited certification, usually acquired only by full-service carriers, where we put ourselves under the most stringent safety standards and protocols.
We do this because we want to give comfort and communicate our degree of safety to all our passengers, not just our own passengers but also those flying with us under interline, code share agreements. This is a business in which complacency is simply not an option.
— Somchai Huasaikul

Join the conversation and have your say on Thailand news published on The Thaiger.
Thaiger Talk is our new Thaiger Community where you can join the discussion on everything happening in Thailand right now.
Please note that articles are not posted to the forum instantly and can take up to 20 min before being visible. Click for more information and the Thaiger Talk Guidelines.