Goodbye e-commerce, hello 'new retail'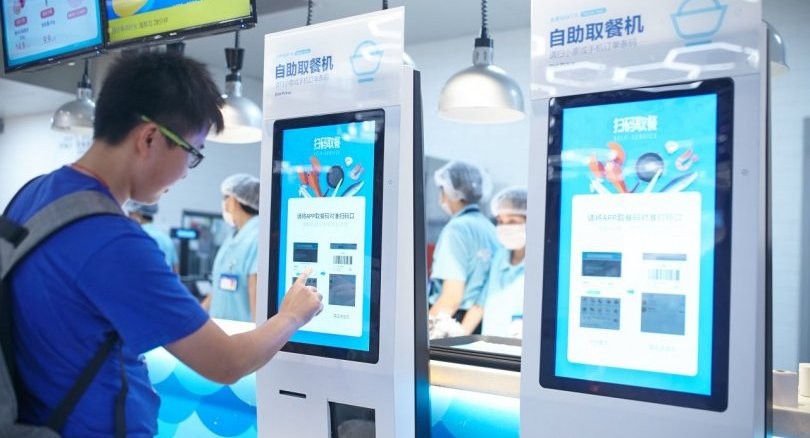 PHOTOS: Alibaba Group
Our lifestyles are quickly evolving as the digital age kills off the 'old' and the 'new' inexorably creeps in to our daily life. Goodby Kodak and Polaroid – hello smartphone cameras and Facebook. Goodbye newspapers – hello instant news websites, blogs and live-streaming.
The same is happening to retail as the shopfront moves to websites and screens around the world, shopping centres re-invent their approach to shoppers. We've heard of 'new media' – welcome now to 'new retail'. E-commerce is already outmoded.
China's Alibaba Group has launched what it calls the age of "New Retail", which the online giant says will replace today's "e-commerce".  New Retail will see the distinction between online and offline retail businesses soon disappear, the Chinese conglomerate said. The company is testing the new model at Hema, one of its New Retail brands, in Hangzhou, Shanghai, Beijing and other large Chinese cities.
At Hema, a premium-quality supermarket front with a wide range of home delivery services, consumers living within a 3 kilometre radius can get home delivery of fresh food items, fruit (including Thai durians), vegetables and other daily necessities within 30 minutes of placing an order.
The service is part of a so-called 3-in-1 retail experience that covers tech-driven online delivery, in-store purchases and in-store consumption.
Big data and cloud computing are among the key infrastructures supporting the use of artificial intelligence where both online and offline platforms converge through mobile and enterprise technology. For example, consumers can visit the Hema intelligent supermarket when they wish, or may prefer to stay home on a rainy day and order anything, including fresh seafood like king crabs imported from Alaska, have them cooked in a preferred style and home-delivered.
The price of imported seafood in this instance is competitive largely because of Alibaba's global reach for imported products, which are bought directly from suppliers without layers of middlemen.
At present, more than 50 Hema branches are operational in China where mobile payment is a key driver of the Chinese digital economy that has been expanding rapidly into foreign markets, such as Thailand.
Alipay, part of Alibaba Group's Ant Financial, is helping to turn China into a cashless society as mobile phones and apps become the predominant payment platform.
In Thailand, Alipay's merchant network now covers hundreds of thousands of locations across the country, especially in tourist areas, as a huge number of the nearly 10 million Chinese visitors to Thailand each year use such a payment platform.
In addition, Ant Financial and Thailand's CP Group have jointly launched the TrueMoney Wallet to provide payment and other financial services using technology to promote a cashless society here.
For e-commerce customers, Lazada, also majority-owned by Alibaba Group, is currently the front-runner in the Thai market.
On a global scale, Alibaba is the world's largest e-commerce retailer in terms of gross merchandise value with 552 million active consumers, as of March this year, mainly on its giant Taobao and Tmall platforms for Chinese consumers.
The group's eco-system encompasses retail commerce, consumer service, wholesale commerce, digital media and entertainment as well as new innovative initiatives supported by logistic, payment, financial and cloud computing services.
James Xu, deputy chief representative of Alibaba Group's Thailand market, said the group had already signed four MoUs with the Thai government to implement a wide range of collaborative programmes.
The group's eco-system will be used to help leverage the Thailand 4.0 initiative with a focus on the Eastern Economic Corridor. In addition, Alibaba will help develop Thai small and medium enterprises (SMEs), farmers and financial services.
In the tourism sector, Fliggy, Alibaba's online travel service platform, is working with Alipay and Thai tourism authorities to attract a new generation of Chinese tourists to Thailand and offer them a cashless travel experience.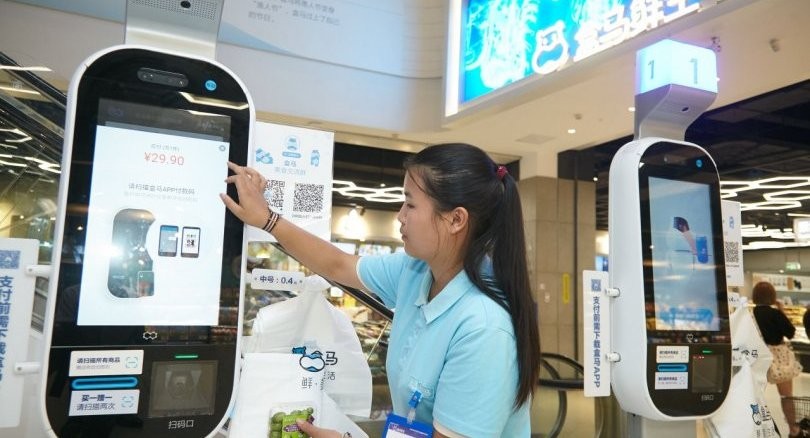 SOURCE: The Nation Weekend

Do you need help with your business? Are you searching for a new job? Or an employer looking to hire? Try Thaiger Jobs today.

Thai economy's growth in 2018 projected at 4.5% – World Bank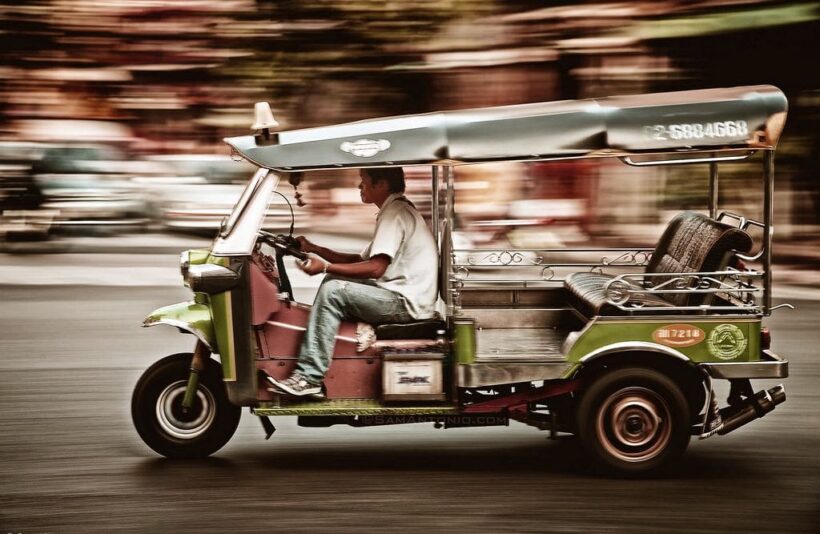 Things are looking up for more economic smiles in the Land of Smiles with more positive news coming out of the World Bank. Projections are being revised upward, again.
The World Bank says it's adjusted its projections for Thailand's economic growth upward, for the whole of 2018, to 4.5%, from the previous projection of 4.1%. The announcement comes from Kiattiphong Ariyapratchaya, a senior economist of the World Bank in Thailand.
He says the government's serious implementation of large-scale investment projects is part of the contribution to the rise in Thailand's gross domestic product (GDP) projection this year.
These mega projects as well as the Thai government's efforts to revamp the country's economy by overhauling the taxation system were seen as key factors contributing to Thailand's economic growth this year, he said.
The Thai economy was regarded by the World Bank as being very strong given the fact that it remains in good shape and with least volatility in its foreign currency exchange situation during the past Turkish economic crisis, he said.
Other countries in the same region such as Malaysia, Indonesia and the Philippines were far more seriously affected by the Turkish economic crisis, he said.
Thailand also has massive current account surplus while inflation remains at a low level, he said.
The financial sector is also viewed as having high security with public debts accounting for only 43% of the GDP and ample foreign reserves, he said.
The World Bank, however, projected that Thailand's economic growth will slow down in 2019 and 2020 when the GDP is expected to grow by only 3.9%, due to some signs of a slowdown in export, he said.
Pattaya's hotel performance rebounds as EEC drives positive market sentiment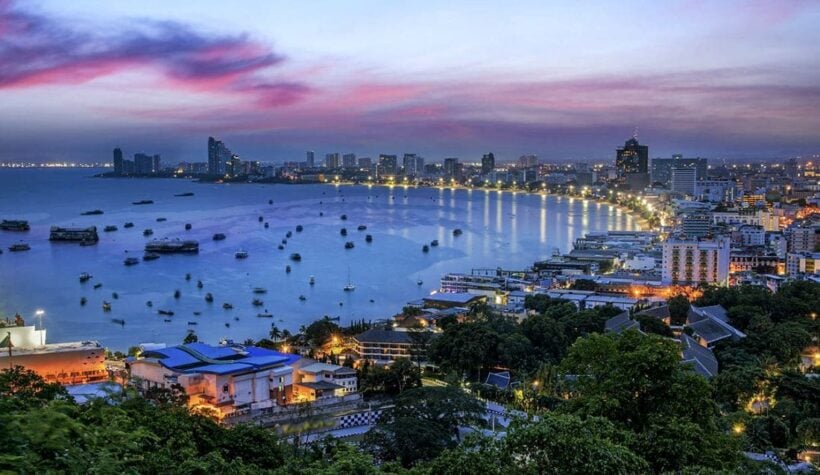 Domestic tourism growth outshines Mainland China and Russia source business
Thailand's second largest tourism market, Pattaya has pushed through the glass ceiling from the volatility hangover of the 2014 era, with its hotel sector now showing strong signs of rising stability. According to the latest available data, strong demand from the Thai domestic sector accounted for 38% of hotel guests at Chonburi province accommodation establishments.
Greater Pattaya's expanding gateway aviation hub U-Tapao International Airport has been a critical stimulator of demand, where passenger arrivals over a three-year period rose at a compound annual growth rate (CAGR) of 79% according to a new report from consulting group C9 Hotelworks.
One key infrastructure investments in the area has the Thai government finalising plans for high-speed rail links between U-Tapao and Bangkok's two airports, Suvarnabhumi and Don Mueang, which is undoubtedly a game changer for the Eastern Seaboard area. New international routes into U-Tapao grew dramatically through the past three years as airlift arrivals increased significantly with a CAGR of 59%.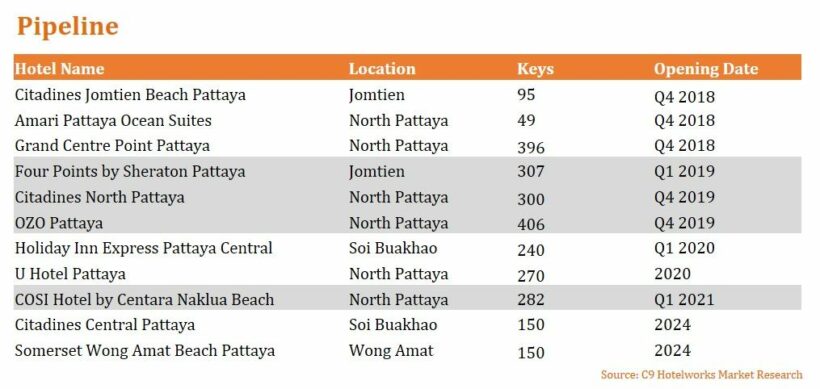 Translating airlift into hotel metrics, global data provider STR recorded an 8.7% year-on-year spike in key indicator RevPAR at the end of 2017.  By mid-2018, market-wide occupancy hit 77.9%. While the current number of accommodation establishments in Chonburi province is 1,046 with 81,607 keys, most of the growth is centered in Greater Pattaya.  C9 Hotelworks report shows 11 new hotels in the development pipeline which accounts for 2,645 additional rooms.
Speaking about the incoming supply, C9's Managing Director Bill Barnett said "there is a substantial influx of branded select service and economy hotels including Holiday Inn Express, OZO, COSI and Citadines which are targeted at not only Mainland China and India but regional Southeast Asian markets.
The impact of this new supply in the short to medium period will take time to absorb and likely create rate issues in the economy and midscale tiers, until such time as the EEC (Eastern Economic Corridor) development becomes more pronounced. Though at the same time, Chonburi province last year racked up more than 16,000,000 hotel guests at accommodation establishments and there is little doubt that Greater Pattaya is moving into a broader tourism platform."
To download and read C9 Hotelwork's Pattaya Hotel Market Update 2018 click HERE.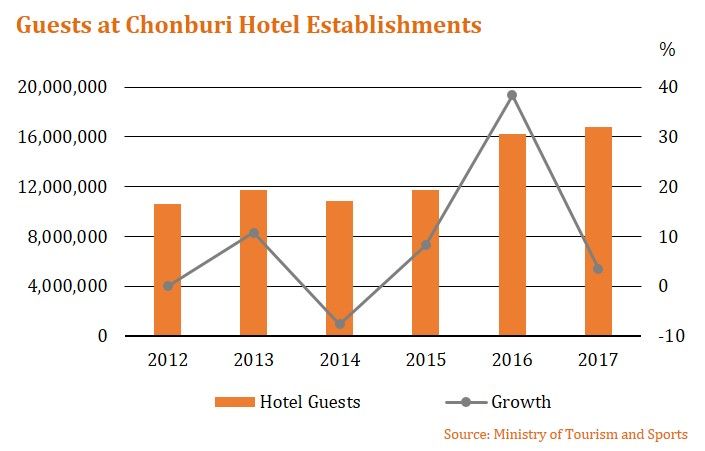 Breakfast in Rome. Dinner in Bangkok.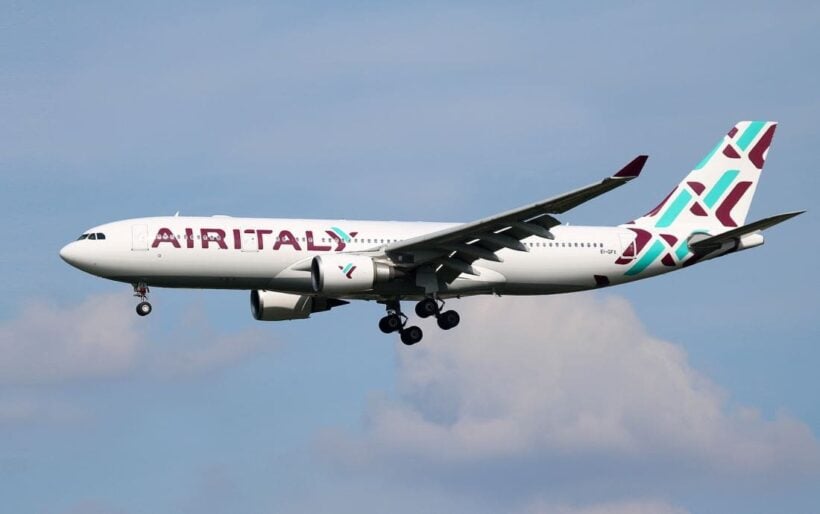 Air Italy has touched down in Bangkok for the first time as it launches four weekly services into the Big Mango. The company intends to increase services to five weekly by the end of October.
Bangkok is Air Italy's third new international route launched this summer following launches in New York and Miami. It's the airlines' first route in Asia.
The airline is based in Milan, Italy and is owned by AQA Holdings. The airline is launching its new international routes in concert with it's local destinations to connect passengers from Rome, Sicily, Naples, Calabria and Sardinia.
The airline is also hoping to add two new routes, from Milan to Delhi and Mumbai in India, with a Delhi launch set for 28 October and Mumbai 30 October.
Air Italy's Milan – Bangkok service uses an Airbus A330-200 with 24 seats in business class and 228 seats in economy.
The airline offers departures from Italy on Monday, Tuesday, Thursday, Saturday and Sunday and intends to add the fifth service on Sundays starting October 28.