Central "deeply appalled" by Nazi pics at their Christmas display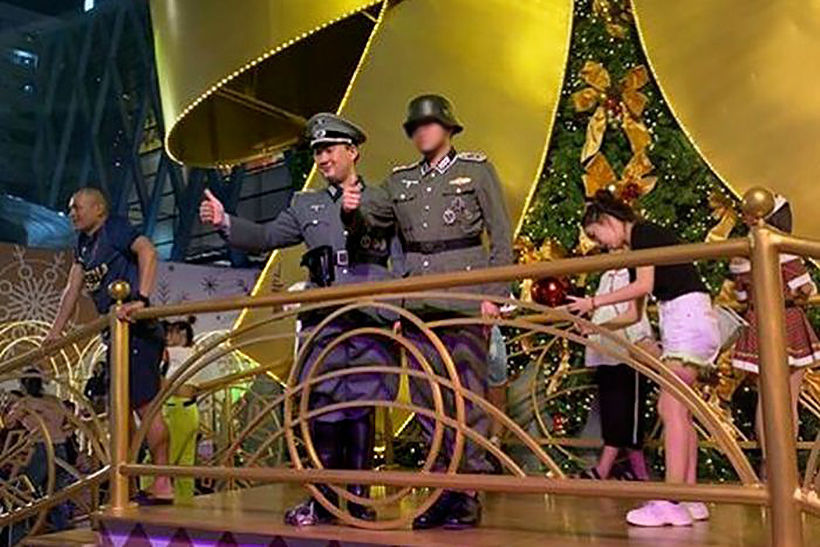 UPDATE: The family of one of the people in the photo, has contacted The Thaiger and asked us to remove the photo. We have blurred one of the faces to comply with their wish after a discussion on the matter.
"Three French hens, Two turtle doves and a pair of Nazi's in a Bangkok shopping centre".
A cultural collision, a misunderstanding or simply some really bad taste?
Photos have emerged, first published on the paragon-of-all-things-tasteful-in-Thailand, Stickboy Bangkok, of two men dressed in full World War II Nazi uniforms posing for photos and giving their thumbs-up at a Christmas display at the CentralWorld shopping mall. Yep, it happened (photos below).
That sparked a Facebook page "Israel in Thailand" responding by posting a message from Meir Shlomo, the Israeli ambassador to Thailand who said the photos and costumes offended Jews.
Central Pattana management, the owner of CentralWorld, hurriedly issued a statement that both they and Mastercard, the sponsor of the shopping plaza's decorations, had nothing to do with two men in Nazi uniform who had their photos taken at the event.
Central's management insisted they knew nothing about the incident.
"Neither CPN nor Mastercard has anything to do with the two persons' actions. The company has a policy not to support inappropriate activities that could cause offence." They said they were "deeply appalled".
Israeli ambassador to Thailand, Meir Shlomothe shared his offence.
"I am disappointed to see the sad reoccurrence of incidents in which Nazi symbols are displayed on random occasions in Thailand. Needless to say, that this is an insult to the 6 million Jews and other victims of the Nazi regime, and their relatives."
The incident isn't the first where Thais have, seemingly ignorant of the symbolism, trotted out Nazi symbols, pictures of Adolf Hitler and Nazi uniforms and helmets in the most inappropriate situations.
The two men, at this stage unidentified, were wearing detailed replicas of Nazi soldier uniforms, including the Nazi Party's eagle symbol and swastika emblems. After the photos and outrage had reached the netisphere one of the men came forward and apologised to the Israeli Embassy in Bangkok. Neither of the men have been identified at this stage.
SOURCE: Bangkok Post | PHOTO: Stickboy Bangkok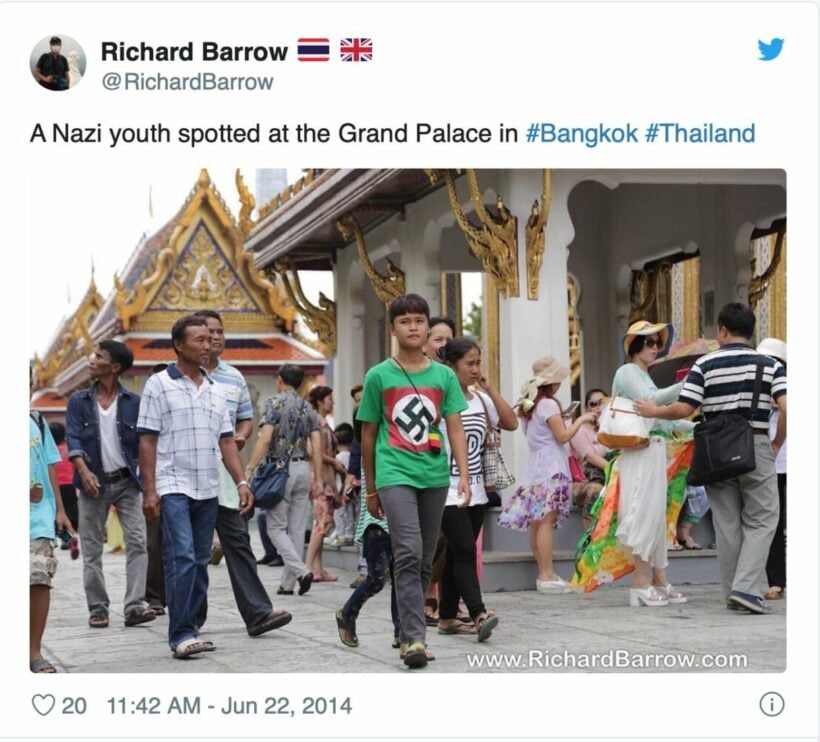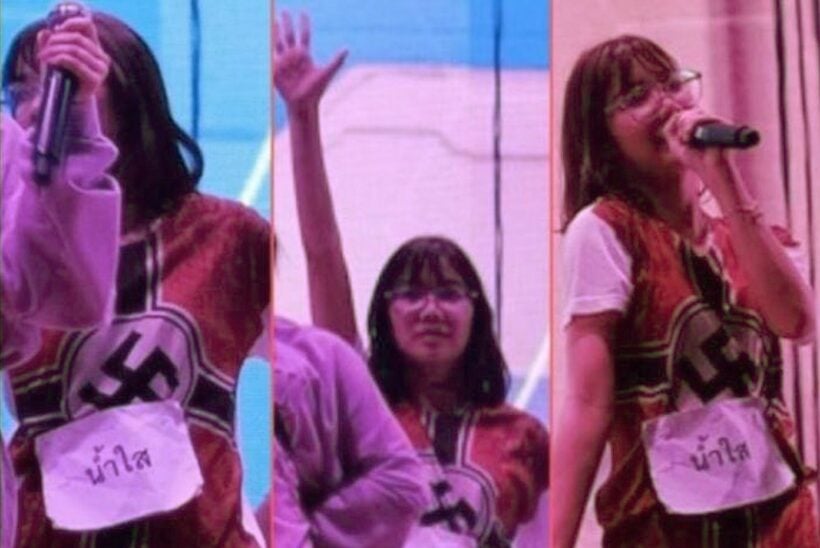 PHOTOS: Nazi symbolism seems to be commonplaces and little understood amongst Thais
Keep in contact with The Thaiger by following our
Facebook page
.


Do you need help with your business? Are you searching for a new job? Or an employer looking to hire? Try JobCute today.

Read more headlines, reports & breaking news in Bangkok. Or catch up on your Thailand news.

Police announce nationwide crackdown on air pollution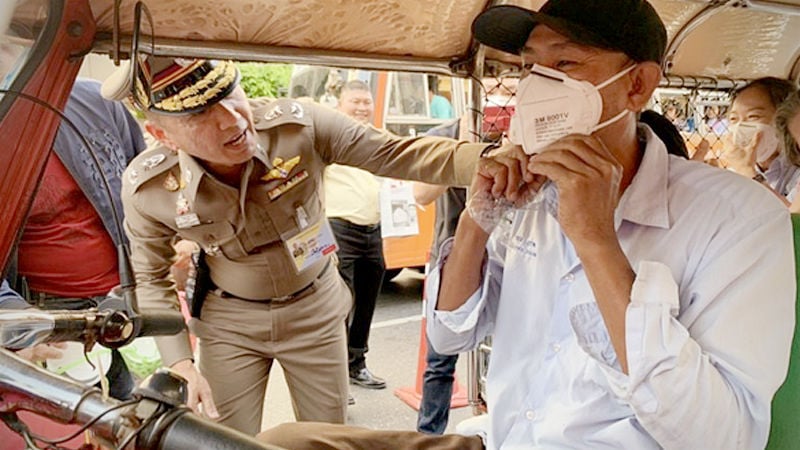 The Royal Thai Police are preparing measures to counter the PM2.5 problem by tackling the sources of air pollution in areas reported with poor air quality, a spokesman said on Sunday. (PM2.5 is particulate matter having a diameter of less than 2.5 microns)
"National Police chief Pol General Chakthip Chaijinda has ordered deputy chief Pol General Suwat Jaengyodsuk to be the central administrator of these measures. They are to be enforced at traffic routes, industrial factories, construction sites and burnt crop fields where the PM2.5 comes from nationwide."
The measures are as follows:
1. Increased frequency and thoroughness of emissions inspections on routes around big cities, especially Bangkok and surrounding provinces.
2. Random inspections at public bus and van terminals, distribution centres, as well as at businesses that use multiple trucks.
3. Coordinate with road construction contractors to reduce air pollution and restore traffic lanes as quickly as possible after construction ends to minimise traffic congestion.
4. Coordinate with related agencies to enforce laws against industrial pollution as well as illegal burning of garbage, forests and crop fields.
5. Improve traffic flow to reduce congestion and ensure that no one parks cars on the sides of main roads, blocking traffic and increasing emissions.
6. Use public relations measures to discourage vehicle owners from parking with the engine on and encourage them to regularly check their vehicles' condition.
Police will also work with private partners to distribute free surgical masks for road users in areas with poor air quality throughout Bangkok.
SOURCE: The Nation

AirVisual
Keep in contact with The Thaiger by following our
Facebook page
.
Air quality improves in Bangkok, North still battling some haze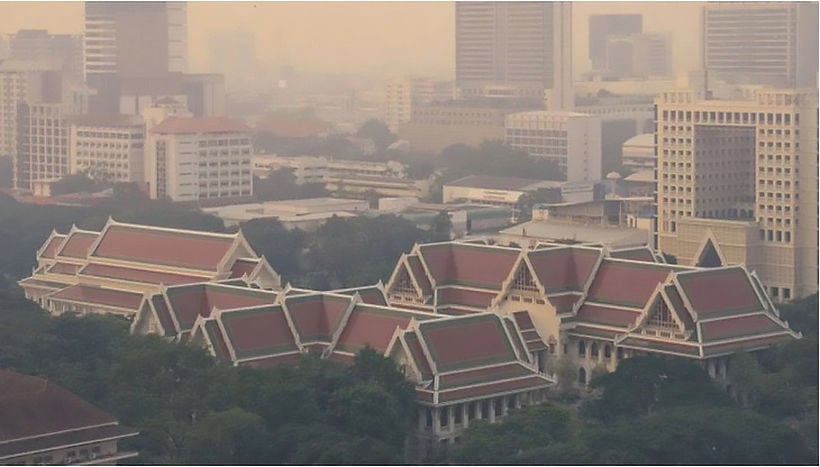 The severe air pollution which has plagued Thailand in recent weeks is improving: air quality is dramatically better in most areas today except in the north, where the PM2.5 level remains above safe levels, especially Lampang and Phrae provinces. According to the Pollution Control Department, at 10 am the PM 2.5 levels in the northern provinces of Lampang, Lamphun, Nan, Phrae, Phayao and Tak were higher than the standard level, except for Chiang Rai, Chiang Mai and Mae Hong Son where the air quality ranged from moderate to very good level.
The highest PM 2.5 level, 134 micrograms per cubic metre, was measured in Mae Mo district.
In northeastern, central and eastern Thailand including greater Bangkok,the air quality is from a moderate to very good level due to fluctuating weather.
In Bangkok, today, the local media surveyed the Sukhumvit area where the air quality has improved. According to the Air Visual application, the air quality ranges from good to a moderate level, according to the National News Bureau of Thailand.
On Ekamai road in Bangkok, police have set up a checkpoint to detect trucks that are not covered with canvas to lessen the dust and pollution problem.
SOURCE: NNT

AirVisual this morning
Keep in contact with The Thaiger by following our
Facebook page
.
Nonthaburi mansion fire burns away damages valued at 10 million baht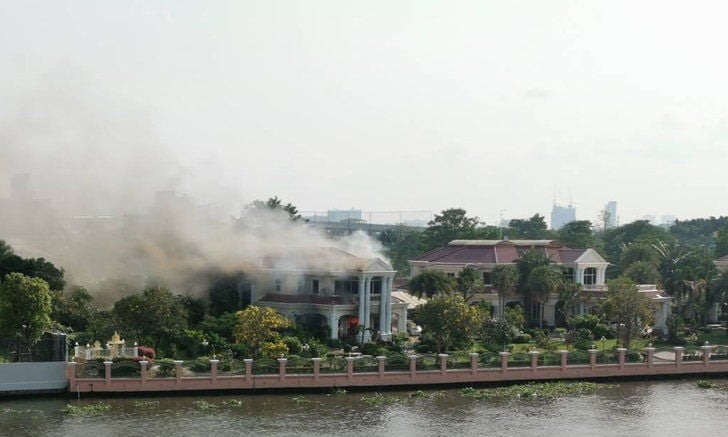 A fire at a mansion in the central province of Nonthaburi has created over ten million baht worth of damage. The home, on the Chao Phraya River in Nonthaburi City, lit up on Saturday, the morning of Chinese New Year. Firefighters rushed to the scene.
Firefighters arrived at the two-storey house on 16 rai (6.3 acres) of land to find the main living room on the 1st floor ablaze. Damages were extensive and included French-style furniture, teak furniture, curtains, a large chandelier, a set of elephant ivory, designer bags, and other decourations amounting to over ten million baht.
No one was inside at the time of the fire. The source of blaze is believed to be an overheated air conditioner inside the house. The owner, 60 year old "Suree," who is also the owner of the famous Owl Night Market, says he was outside celebrating Chinese New Year at about 9:30 am when he saw smoke coming out the windows. The gardener and other staff tried to use a garden hose to put the fire out but the pressure was too low. Firefighters put out the blaze in 20 minutes using 6 fire trucks.
SOURCE: Thai Residents
Keep in contact with The Thaiger by following our
Facebook page
.