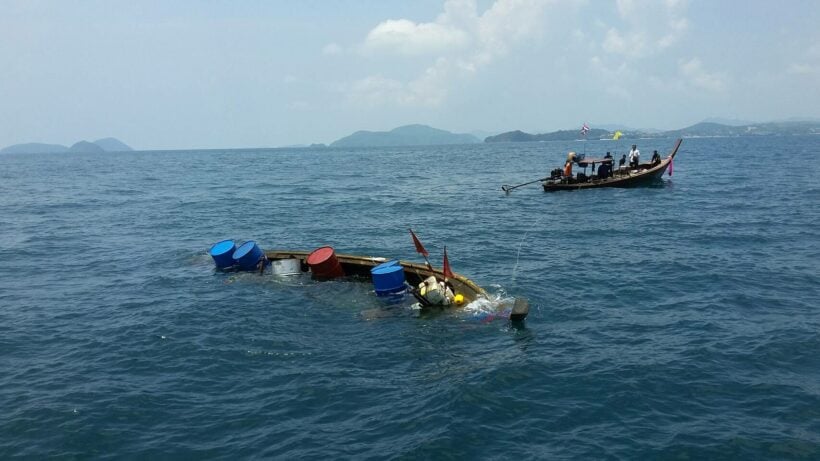 A fishing boat sank after its anchor was stuck in a reef near Maithon Island three days ago (March 13), a Burmese fisherman downed in the incident.
Phuket Marine Police received a report that a fishing boat 'Chok Ubon' sank at the north side of Maithon Island before another fishing boat came to their rescue and found a 38 year old man, Stomping Rungsuwan, and rescued him from the water. He claimed there was still another person missing, a 45 man called 'Mira'.
Yesterday afternoon (March 15), the marine police received a report that the man's body was floating just off the coast at the front of of Maithon Island. His body has been sent to Vachira Hospital for an autopsy.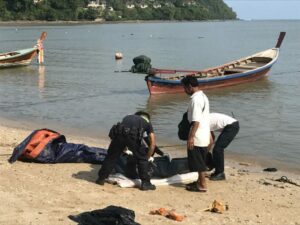 The 38 year old says they both struggled to pull up the anchor but fell in the water when a wave struck their boat.
After questioning, Sompong told the police that he was anchored at the scene but the two men were unable to pull up the anchor. At the same time, there was a strong wave that swept the boat, making it flip. Both of them fell from off boat.
Stomping says he managed to grab some floating steel drums. He says he saw the Myanmar man grabbed a foam box cover but a strong wave swept the foam from his hands and he drowned.
The boat has been recovered and brought ashore.