The Suvarnabhumi shopping shambles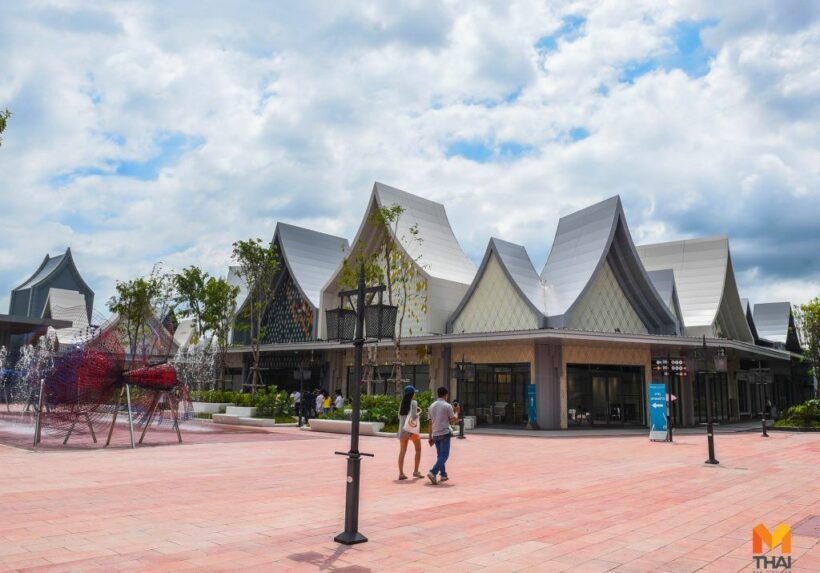 Retailers want 'in' at the world's 21st busiest airport in the world. With through-traffic of 60 million+ each year, and growing, Thailand's biggest retailers want a slice of the passenger spend. But if you can't get a shop inside the airport, build your own shopping centre just outside to capture passengers, and some of their money, just before they arrive at the Suvarnabhumi drop-off area.
That's what Central Pattana did when they set up the Central Village which opened last Saturday. It almost didn't, having to fend off last minute legal challenges from an aggrieved Airports of Thailand (AoT) who, through a number of curved ball legal challenges in the final week before the opening, tried to prevent the new retail outlet from opening. The Administrative Court threw out their objections on Friday paving the way for the retailer to open their doors of the huge factory outlet complex on Saturday morning.
There are some very prominent Thai families involved in this latest retail game – the AoT, King Power Duty Free and Central Pattana involve some big names and an awful lot of potential retail income. And a lot of egos playing the 'my retail empire is bigger than yours' game.
Now, Siam Premium Outlets, a joint venture of Siam Piwat and US-based Simon Property Group, will be another new retail outlet situated about 10 minutes from the airport as well. That will open sometime in the second half of next year.
As Bangkok's first 'factory outlet' style retail complexes, Central and Siam's plan is to lure passengers on the way to the country's largest airport and also attract a lot of local Bangkok shoppers with the alternative retail experience. The promise is huge discounts on luxury items. The reality never quite matches the marketing claims.
But there are plenty of challenges ahead for retailers trying to lure buyers in to buy their luxury items. The retail market in Thailand continues to grow at an annual rate of 3-4%, mostly driven by Chinese tourism. But Thailand's 30% tax on imported luxury products makes it tough to compete against the more shopper-friendly Hong Kong and Singapore.
Line this up with the inexorable trend towards online retail and the shopping malls, wherever they are, are an expensive and elaborate gamble.
Outlet malls, usually known for offloading excess or out-of-season goods, are not very good at attracting the bigger luxury brands who prefer to be associated with high-end shopping experiences, rather than fire sales, left-overs and 'last years' fashion.
But to the current dominant force in the airport arena, King Power, who owns and operates duty-free stores at Suvarnabhumi airport and at a King Power Srivaree Complex 15 kilometres from the airport, the new outlets threaten their dominance and will be seen as a way of gnawing away at their bottom line without having to pay exorbitant airport rents and huge commissions to the AoT.
No wonder they're throwing a few legal bricks at the newcomers – there's much to protect.
On August 21, the AoT claimed that the new Central Village was encroaching on state land (owned by the Treasury Department) under the supervision of AoT, put up a sign to that effect on the disputed land, and put up barricades to the entrance.
It then blocked the entrance to Gate 1 of Central Village the next day by setting up a large tent and placing barriers on a kilometre of the approach road. During a period of furious final touches, shop fit-outs and retailers stocking their shelves, instead there was a war of paperwork and ego that ended up in the Administrative Court.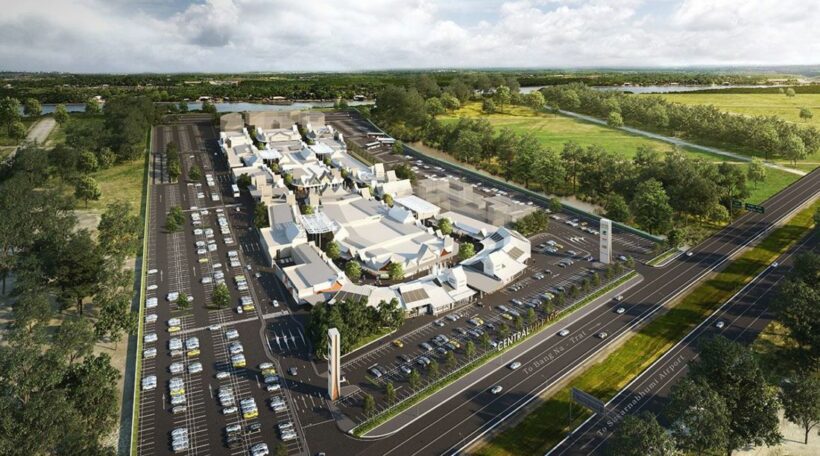 Keep in contact with The Thaiger by following our
Facebook page
.


Do you need help with your business? Are you searching for a new job? Or an employer looking to hire? Try JobCute today.

Read more headlines, reports & breaking news in Bangkok. Or catch up on your Thailand news.

More arrest warrants issued over Bangkok's August bomb attacks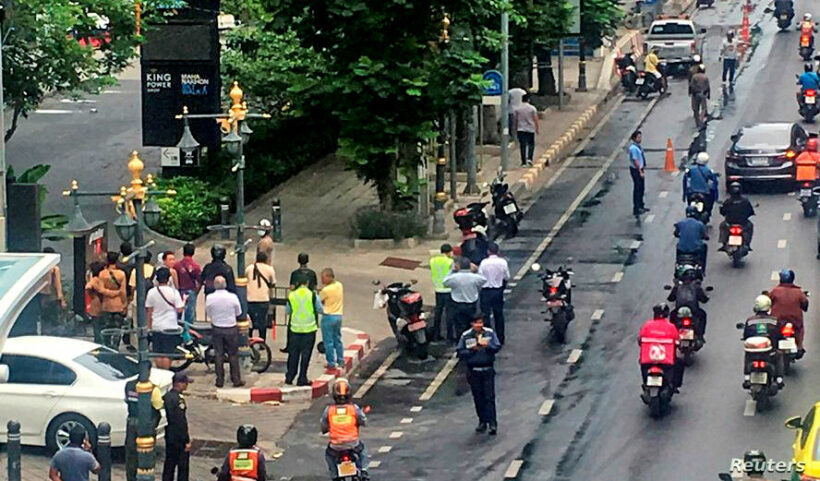 PHOTO: Voice of America
The Criminal Court issued arrest warrants for five more suspects yesterday over their alleged involvement in the simultaneous bomb and arson attacks in Bangkok back on August 2.
Police presented evidence against them to the court yesterday to obtain warrants for their arrest. They are accused of being members of an unlawful syndicate and collaborating to carry out, or tell others to carry out, terror attacks, attempting to and having launched bomb attacks to harm others and damage others' properties.
Earlier, police investigators have obtained arrest warrants against 13 other suspects. The Nation lists the current list of suspects awaiting arrest…
1 ) Ammari Maming
2 ) Assamee Abuwae
3 ) Ussaman Pohlor
4 ) Mayaki Malasing
5 ) Sattha Ahwae
6 ) Ussaman Jehteh
7 ) Sukree Duraman
8 ) Hakeem Punyung
9 ) Hasae Baeloh
10 ) Nassaru Maprasit
11 ) Ussaman Lateh
12 ) Hasan Ahwae
13 ) Mayusoh Hayisamah.
Police investigators have arrested three suspects, namely Lu-ai Saengae, Wildun Maha, and Muhammadilhum Sa-i. Lu-ai and Wildun were arrested on board a bus in Chumphon early on August 2 after the bombs they allegedly planted in front of the Royal Thai Police headquarters were detected on August 1 and were safely disabled.
SOURCE: The Nation
Keep in contact with The Thaiger by following our
Facebook page
.
14% of condos around Bangkok are empty – good time to buy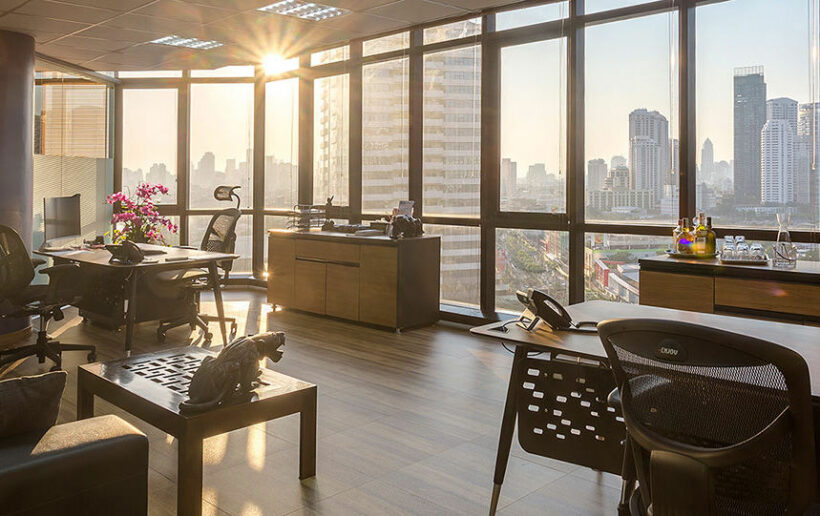 Looking for a condo around Bangkok? Now might the right time to take the plunge with the head of the Appraisal and Estate Agents Foundation saying some areas have between 8-14% vacancy rates, some areas of Bangkok up to 17.5%.
Dr Sophon Pornchokchai made the remarks at a news conference yesterday.
"Adding developer price wars, plus inducements to purchase, this represents a buyers' market."
He says the figures relate to condos, single houses, townhouses and other dwellings where less than 15 units of electricity were being used, deeming them to be classified as 'unoccupied'.
Around Bangkok there are 525,889 such vacant properties.
The top three areas for vacancies were Nonthaburi (north west of the central area) with 335,421 available properties with 45,848 unoccupied or 14%. This percentage was also true of Bang Na (south east of Bangkok) with 231,192 properties, 31,289 unoccupied. Bang Yai – to the far north west of the capital – has 221,492 with 28,016 unoccupied or 13%.
Locations with the lowest unoccupied dwellings are Bang Plee (south east) with 8% unoccupied, Min Buri (north) 9% and Lat Krabang (south east) 9%.
Dr Sophon says that when it comes to condos in Bangkok and the surrounding areas, between 13.5% and 17.5% are unoccupied.
"This glut has prompted a selling war with discounts and deals."
FazWaz's CEO Brennan Campbell says that we're in part of the buying cycle right now that is definitely in the buyer's favour.
"Long-term, the Bangkok market continues to show its strength, but there is definitely an enormous range of property to choose from, in almost every location, right now. The current dip in demand is just part of the cycle."
SOURCE: Daily News
Keep in contact with The Thaiger by following our
Facebook page
.
Robber steals Thailand Post van, then robs gold shop in Bangkok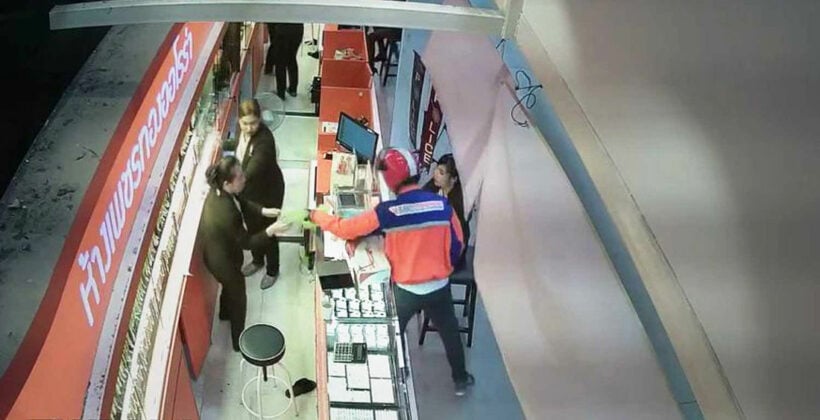 A man dressed up in a Thailand Post uniform has got away with gold necklaces valued around 70,000 baht. He robbed the gold shop in Bang Phli, Samut Prakan and then fled in a Thailand Post van. Samut Prakan includes the southern and south-eastern suburbs of greater Bangkok.
It was revealed later that Thailand Post had reported the van stolen the night before and that the robber wasn't an employee, despite using the uniform as a costume.
The incident happened this morning at the Aurora Gold and Jewellery shop about 10am. The shop is part of the Thai Watsadu store on Theparat Road.
09.41 น.คนร้ายจี้ชิงทรัพย์สร้อยคอทองคำ ร้านทองออโรร่า ภายในร้านไทยวัสดุ ถ.บางนา-ตราด จ.สมุทรปราการ คนร้ายชาย 1 ราย ใช้รถยนต์ทะเบียน 1 ฒน 150 กทม. ก่อเหตุ เส้นทางหลบหนีเข้าเขตนครบาล พื้นที่ สภ.บางแก้ว Cr.ผู้สื่อข่าวอาชญากรรม #ร่วมด้วยช่วยกัน pic.twitter.com/gMu1tmlLYb

— ร่วมด้วยช่วยกัน (@Ruamduay) September 19, 2019
A gold shop employee told police that the man placed what looked like a Thailand Post parcel on the shop's front counter shouting that it contained a bomb. He was carrying a gun and threatened staff telling them to put gold necklaces in his bag. Police report that the white Toyota escape van with Thailand Post logos belonged to a nearby Post branch in Bang Phli. The van was stolen from the post office last night.
Police are searching for the man.
SOURCE: Bangkok Post
Keep in contact with The Thaiger by following our
Facebook page
.