The Suvarnabhumi shopping shambles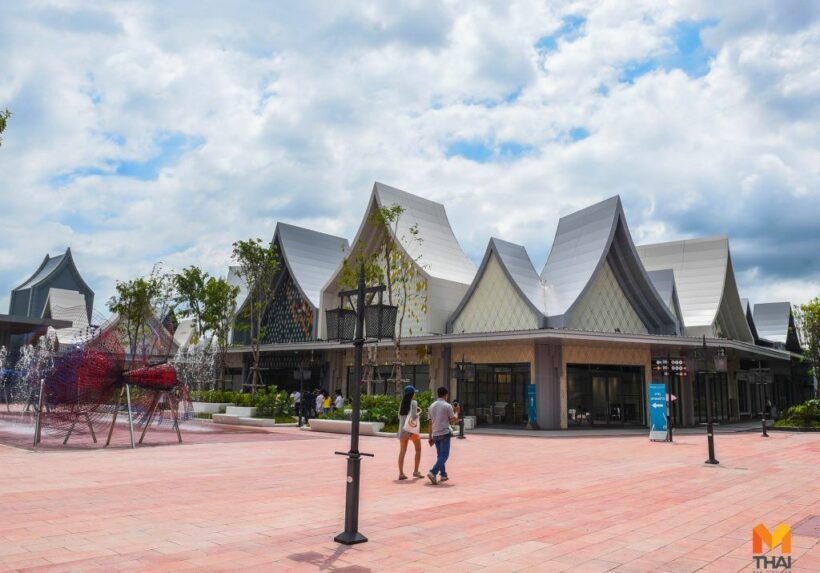 Retailers want 'in' at the world's 21st busiest airport in the world. With through-traffic of 60 million+ each year, and growing, Thailand's biggest retailers want a slice of the passenger spend. But if you can't get a shop inside the airport, build your own shopping centre just outside to capture passengers, and some of their money, just before they arrive at the Suvarnabhumi drop-off area.
That's what Central Pattana did when they set up the Central Village which opened last Saturday. It almost didn't, having to fend off last minute legal challenges from an aggrieved Airports of Thailand (AoT) who, through a number of curved ball legal challenges in the final week before the opening, tried to prevent the new retail outlet from opening. The Administrative Court threw out their objections on Friday paving the way for the retailer to open their doors of the huge factory outlet complex on Saturday morning.
There are some very prominent Thai families involved in this latest retail game – the AoT, King Power Duty Free and Central Pattana involve some big names and an awful lot of potential retail income. And a lot of egos playing the 'my retail empire is bigger than yours' game.
Now, Siam Premium Outlets, a joint venture of Siam Piwat and US-based Simon Property Group, will be another new retail outlet situated about 10 minutes from the airport as well. That will open sometime in the second half of next year.
As Bangkok's first 'factory outlet' style retail complexes, Central and Siam's plan is to lure passengers on the way to the country's largest airport and also attract a lot of local Bangkok shoppers with the alternative retail experience. The promise is huge discounts on luxury items. The reality never quite matches the marketing claims.
But there are plenty of challenges ahead for retailers trying to lure buyers in to buy their luxury items. The retail market in Thailand continues to grow at an annual rate of 3-4%, mostly driven by Chinese tourism. But Thailand's 30% tax on imported luxury products makes it tough to compete against the more shopper-friendly Hong Kong and Singapore.
Line this up with the inexorable trend towards online retail and the shopping malls, wherever they are, are an expensive and elaborate gamble.
Outlet malls, usually known for offloading excess or out-of-season goods, are not very good at attracting the bigger luxury brands who prefer to be associated with high-end shopping experiences, rather than fire sales, left-overs and 'last years' fashion.
But to the current dominant force in the airport arena, King Power, who owns and operates duty-free stores at Suvarnabhumi airport and at a King Power Srivaree Complex 15 kilometres from the airport, the new outlets threaten their dominance and will be seen as a way of gnawing away at their bottom line without having to pay exorbitant airport rents and huge commissions to the AoT.
No wonder they're throwing a few legal bricks at the newcomers – there's much to protect.
On August 21, the AoT claimed that the new Central Village was encroaching on state land (owned by the Treasury Department) under the supervision of AoT, put up a sign to that effect on the disputed land, and put up barricades to the entrance.
It then blocked the entrance to Gate 1 of Central Village the next day by setting up a large tent and placing barriers on a kilometre of the approach road. During a period of furious final touches, shop fit-outs and retailers stocking their shelves, instead there was a war of paperwork and ego that ended up in the Administrative Court.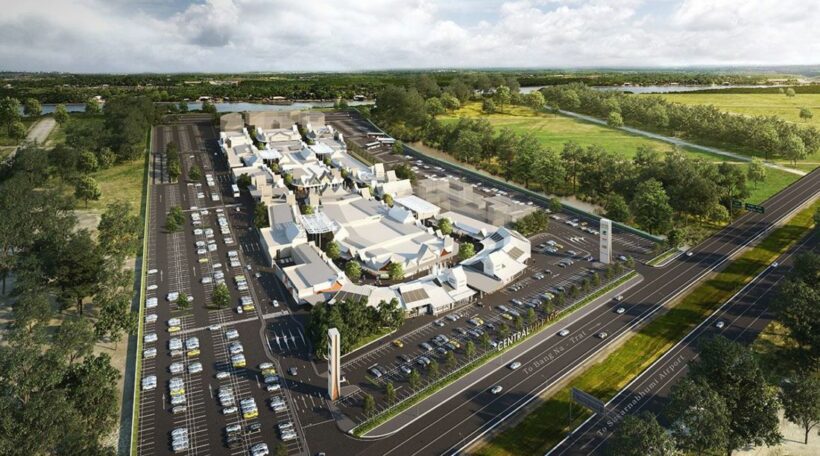 Keep in contact with The Thaiger by following our
Facebook page
.
Never miss out on future posts by
following The Thaiger
.
Thousands gather in Bangkok for "anti-coup" protest picnic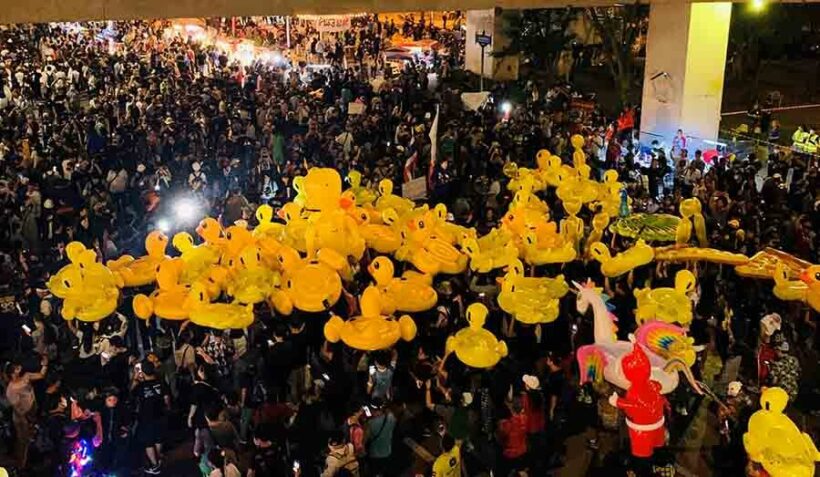 Around 5,000 pro-democracy activists gathered at the Lat Phrao intersection in the Chatuchak district of Bangkok last night, to oppose any potential coup, a situation continually denied by the current PM. Last night's gathering took the form of a picnic, at which mainly north-eastern dishes were served. Protesters described it as a rehearsal against military intervention, with one 18 year old activist, named only as Tan, saying history cannot be allowed to repeat itself.
"I'm only 18 but have seen 2 coups already. That's not right. We don't want history to repeat itself."
The rally was announced on Facebook by the United Front of Thammasat and Demonstration, who say the Thai people have had enough of coups that oust elected governments. They described the event as "a drill against a coup d'etat".
"There have been too many coups in the past, so history has taught us to remain vigilant. Therefore, we would like to invite everyone to participate in a drill to prepare for another coup that could happen."
Army chief Narongphan Jitkaewtae has previously dismissed rumours of an impending coup, but the Ratsadon (People's Movement) group have voiced their distrust of the current military regime, saying history would indicate otherwise. Protest leader Panupong Jadnok, aka, "Mike", says the gathering last night is a powerful illustration of people's opposition to a coup.
According to a Nation Thailand report, there have been at least 12 successful coups in Thailand, an average of 1 every 7 years, since the country moved from an absolute monarchy to a constitutional monarchy following the Siamese Revolution of 1932. The last military coup was in May 2014, which brought former army general Prayut Chan-o-cha to power, where he has remained ever since.
One woman at last night's rally, a 32 year old named Natalie, says the 2014 coup has proved a disaster for the country and it's time for urgent change.
"Now is a crisis time in Bangkok and Thailand. I want new elections and to change the prime minister and for a new government to actually listen to the people."
Last night, the yellow ducks were out again, this time being used to represent the army. Protesters passed the ducks over their heads, to symbolise the military moving over the people to take a front row seat on the political stage. Activists flashed the 3-fingered salute at the rubber ducks, a gesture originally derived from The Hunger Games, that has become a powerful anti-establishment symbol. Activists also burned pictures of former coup leaders, including the current PM.
Last night's gathering follows another one in the capital on Wednesday, when thousands rallied outside the headquarters of the Siam Commercial Bank. The Bangkok Post reports that another protest is planned for today, in front of the Imperial World Samrong shopping mall in Samut Prakan, just outside Bangkok, and a further one tomorrow, at the Imperial Lat Phrao mall.
SOURCE: Bangkok Post | Nation Thailand
Keep in contact with The Thaiger by following our
Facebook page
.
Never miss out on future posts by
following The Thaiger
.
The Thaiger needs an excellent English-speaking vlogger and TV host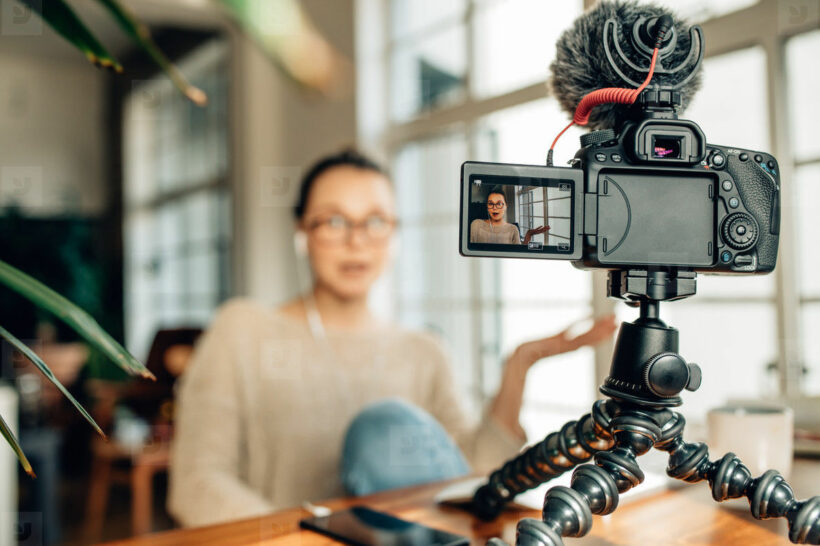 Job Description
The Thaiger needs an amazing Bangkok-based English-language "Video presenter (News Anchor/YouTuber)" for our website and social media platforms. You will have previous presenter, host or journalist experience but be ready to learn the tools of modern digital news and information delivery, in text and video. You can be male or female, preferably one or the other.
You will work directly with the CEO at our Bangkok office in Asoke and have an intuitive understanding of social media, experience with online news and an understanding of the Thai media landscape.
You will understand the urgency of the news cycle and be able to adapt and roll with the changes in media delivery. You'll be motivated and keen to perform at a high level.
You can be Thai or foreigner, but you must be able to communicate as an English native-speaker. If a foreigner, you would have lived in Thailand for long enough to have an intuitive understanding and inside knowledge of the news cycle and culture.
As the Video Presenter you will…
Be the Thaiger's news headline presenter to help produce interesting and exciting original content
Sourcing, writing script and presenting stories for multiple platforms and work as part of The Thaiger video content and publishing team to produce excellent content and high SEO level
Participate in helping to formulate news stories by pitching ideas and providing feedback on content
Quality check each story to ensure grammatical correctness, accuracy and clarity
Assist the Thaiger team continue our pursuit as Thailand and the region's biggest media company
Become a modern day media 'Svengali'
We're also looking for a full time video editor. They will work with our presenters and writers to edit the video material into high-quality finished product. If you are Thai, with good English-language proficiency, and interested in working with the Thaiger team, send a CV to tim@thethaiger.com and mark your application VIDEO EDITOR. We usually edit on the Davinci Resolve platform.
The Thaiger already produces a range of videos, including the daily 'Thailand News Today' and other general information videos.
You can apply through the Jobs DB website HERE.
Keep in contact with The Thaiger by following our
Facebook page
.
Never miss out on future posts by
following The Thaiger
.
Bangkok woman arrested for allegedly stealing 1 million baht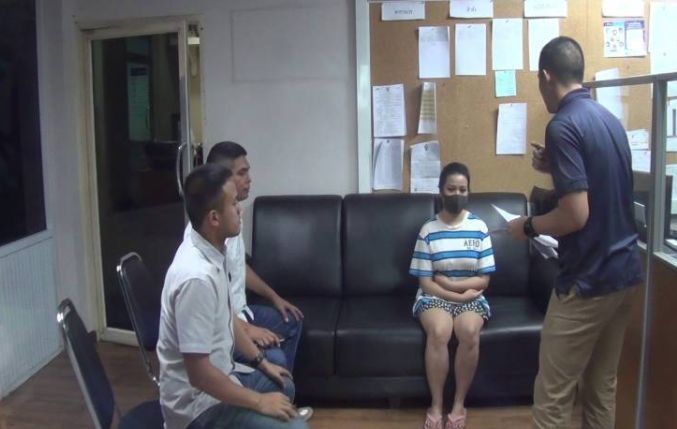 A Bangkok woman was arrested on fraud charges for allegedly stealing a company checkbook and withdrawing 1 million baht. The 29 year old woman, identified as Krissadee, worked in accounting for a clothing design firm in the city's Ekkamai area.
Apparently, shortly after she was hired, Krissadee suddenly stopped showing up for work. The company then noticed the checkbook was missing as well as a million baht from the company account.
In an investigation, Khlong Tan police found Krissadee made cash withdrawals. She allegedly told police that she used the money to pay for trips and gambling expenses.
SOURCE: Thai Visa
Keep in contact with The Thaiger by following our
Facebook page
.
Never miss out on future posts by
following The Thaiger
.