The Suvarnabhumi shopping shambles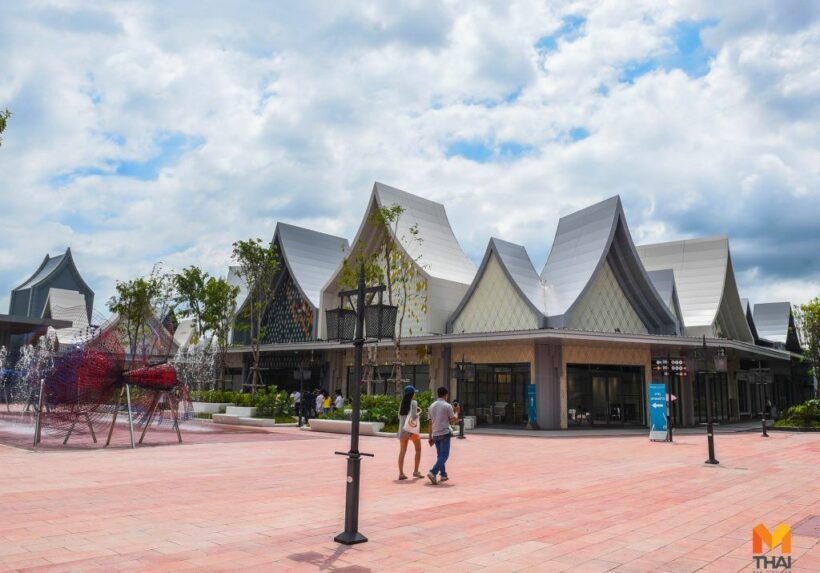 Retailers want 'in' at the world's 21st busiest airport in the world. With through-traffic of 60 million+ each year, and growing, Thailand's biggest retailers want a slice of the passenger spend. But if you can't get a shop inside the airport, build your own shopping centre just outside to capture passengers, and some of their money, just before they arrive at the Suvarnabhumi drop-off area.
That's what Central Pattana did when they set up the Central Village which opened last Saturday. It almost didn't, having to fend off last minute legal challenges from an aggrieved Airports of Thailand (AoT) who, through a number of curved ball legal challenges in the final week before the opening, tried to prevent the new retail outlet from opening. The Administrative Court threw out their objections on Friday paving the way for the retailer to open their doors of the huge factory outlet complex on Saturday morning.
There are some very prominent Thai families involved in this latest retail game – the AoT, King Power Duty Free and Central Pattana involve some big names and an awful lot of potential retail income. And a lot of egos playing the 'my retail empire is bigger than yours' game.
Now, Siam Premium Outlets, a joint venture of Siam Piwat and US-based Simon Property Group, will be another new retail outlet situated about 10 minutes from the airport as well. That will open sometime in the second half of next year.
As Bangkok's first 'factory outlet' style retail complexes, Central and Siam's plan is to lure passengers on the way to the country's largest airport and also attract a lot of local Bangkok shoppers with the alternative retail experience. The promise is huge discounts on luxury items. The reality never quite matches the marketing claims.
But there are plenty of challenges ahead for retailers trying to lure buyers in to buy their luxury items. The retail market in Thailand continues to grow at an annual rate of 3-4%, mostly driven by Chinese tourism. But Thailand's 30% tax on imported luxury products makes it tough to compete against the more shopper-friendly Hong Kong and Singapore.
Line this up with the inexorable trend towards online retail and the shopping malls, wherever they are, are an expensive and elaborate gamble.
Outlet malls, usually known for offloading excess or out-of-season goods, are not very good at attracting the bigger luxury brands who prefer to be associated with high-end shopping experiences, rather than fire sales, left-overs and 'last years' fashion.
But to the current dominant force in the airport arena, King Power, who owns and operates duty-free stores at Suvarnabhumi airport and at a King Power Srivaree Complex 15 kilometres from the airport, the new outlets threaten their dominance and will be seen as a way of gnawing away at their bottom line without having to pay exorbitant airport rents and huge commissions to the AoT.
No wonder they're throwing a few legal bricks at the newcomers – there's much to protect.
On August 21, the AoT claimed that the new Central Village was encroaching on state land (owned by the Treasury Department) under the supervision of AoT, put up a sign to that effect on the disputed land, and put up barricades to the entrance.
It then blocked the entrance to Gate 1 of Central Village the next day by setting up a large tent and placing barriers on a kilometre of the approach road. During a period of furious final touches, shop fit-outs and retailers stocking their shelves, instead there was a war of paperwork and ego that ended up in the Administrative Court.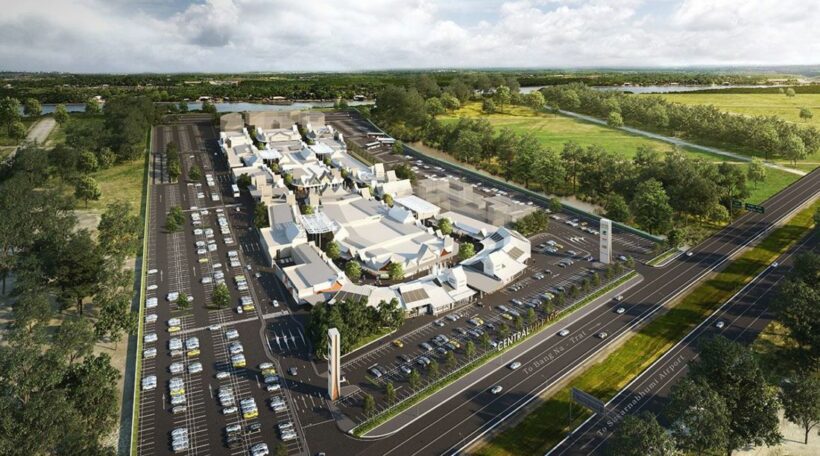 Keep in contact with The Thaiger by following our
Facebook page
.


Do you need help with your business? Are you searching for a new job? Or an employer looking to hire? Try JobCute today.

Read more headlines, reports & breaking news in Bangkok. Or catch up on your Thailand news.

Summer storm warning for 55 of Thailand's 76 provinces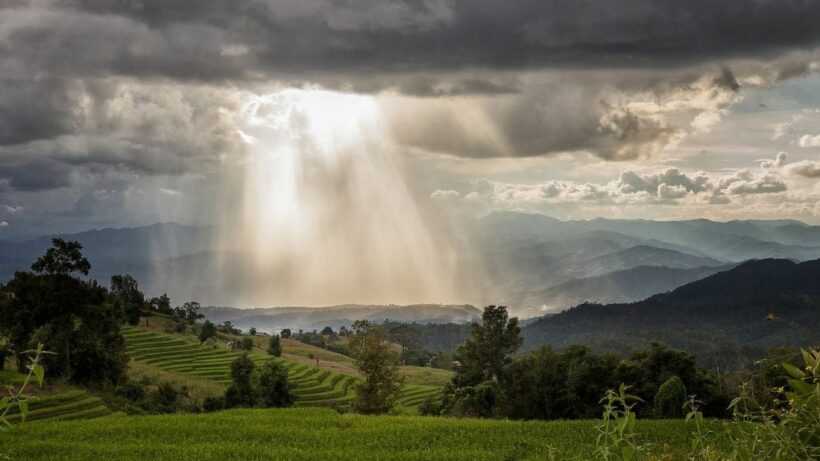 Today Thailand's Meteorological Department warned people in 55 northern, north-eastern, central and eastern provinces to prepare for possible "strong winds and hail from summer storms", that are expected through until Sunday. This time of the year is also know as the bridging season between the annual dry and wet seasons. Weather can be unsettled in parts of thailand during this time.
According to the forecast, the storms are due to the convergence of southerly and south-easterly winds, driven by the cold front over Vietnam, Laos and the South China Sea, and the increasingly warm weather over northern Thailand.
Summer storms, some severe, could affect the following provinces from today…
Nan
Phrae
Uttradit
Tak
Kamphaeng Phet
Sukhothai
Phitsanuloke
Phichit
Phetchabun
Loei
Nong Bua Lamphu
Nong KhaiBung Karn
Udon Thani
Sakhon Nakhon
Nakhon Phanom
Chaiyaphum
Khon Kaen
Kalasin
Muk Dahan
Maha Sarakham Roi-et
Yasothon Amnat Charoen
Nakhon Ratchasima
Buri Ram
Surin
Si Sa Ket
Ubon Ratchathani
Nakhon Sawan
Lop Buri
Saraburi
Ayutthaya
Bangkok
Nakhon Nayok
Prachin Buri
Sa Kaew
Chachoengsao
Chon Buri
Rayong
Chanthaburi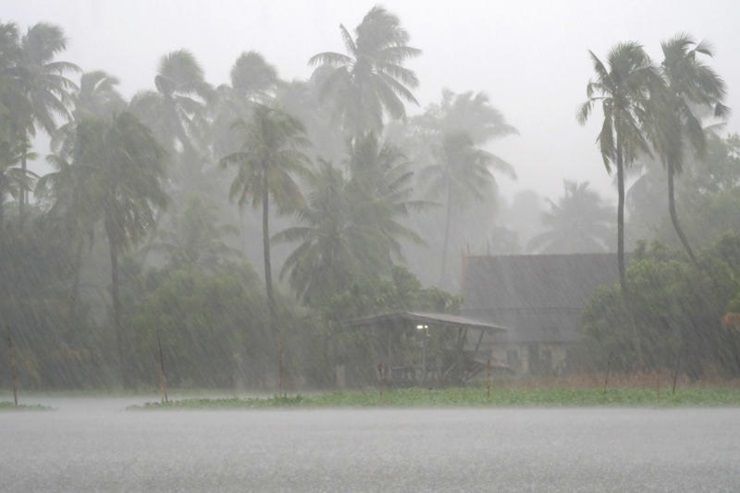 On Saturday and Sunday, the storms are forecast in:
Chiang Mai
Lamphun
Lampang
Phayao
Phrae
Uttradit
Sukhothai
Tak
Kamphaeng Phet
Phitsanuloke
Phichit
Phetchabun
Roi-et
Loei
Nong Bua Lamphu
Nong Khai
Bung Karn
Udon Thani
Sakhon Nakhon
Nakhon Phanom
Muk Dahan
Chaiyaphum
Kalasin
Khon Kaen
Maha Sarakham
Roi-et
Yasothon
Amnat Charoen
Nakhon Ratchasima
Buri Ram
Surin
Si Sa Ket
Ubon Ratchathani
Uthai Thani
Nakhon Sawan
Lop Buri
Chainat
Ang Thong
Sing Buri
Saraburi
Ayutthaya
Bangkok
Nakhon Nayok
Prachin Buri
Sa Kaeo
Chachoengsao
Chon Buri
Rayong
Chanthaburi
Trat
The weather department says people should beware of severe weather and keep off unsecured buildings and wilderness areas. Farmers should beware of crop damage. Ships at sea should proceed with caution and watch the forecast in their area..
SOURCE: Thai PBS World
Keep in contact with The Thaiger by following our
Facebook page
.
Bangkok Airways cancels all domestic flights from April 7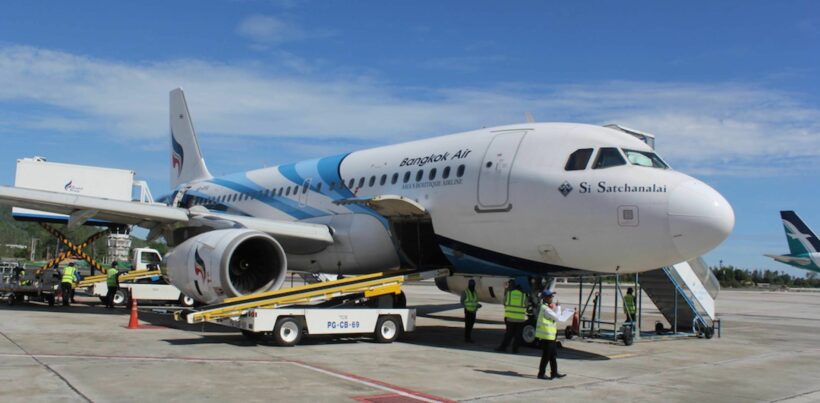 Bangkok Airways has announced today that they will cancel all it domestic flights from April 7 – 30. The company's vice president, Tresarum Sitakalin says the flights that are being cancelled are…
Bangkok – Chiang Mai
Bangkok – Phuket
Bangkok – Trat
Bangkok – Sukhothai
Bangkok – Samui
Samui – Phuket
"The company had previously decreased flight frequencies on these routes and also using some of their smaller ATR aircraft instead of their Airbus 320 aircraft."
"From April 7 onwards until April 30, we will cancel all flights."
Requesting for a refund can be done at www.bangkokair.com/refund or contact their ticketing offices at +662 270 6699 or Bangkok Airways Call Centre on 1771 . For passengers who purchased their tickets through travel agencies, please contact their travel agency directly.
SOURCE: The Nation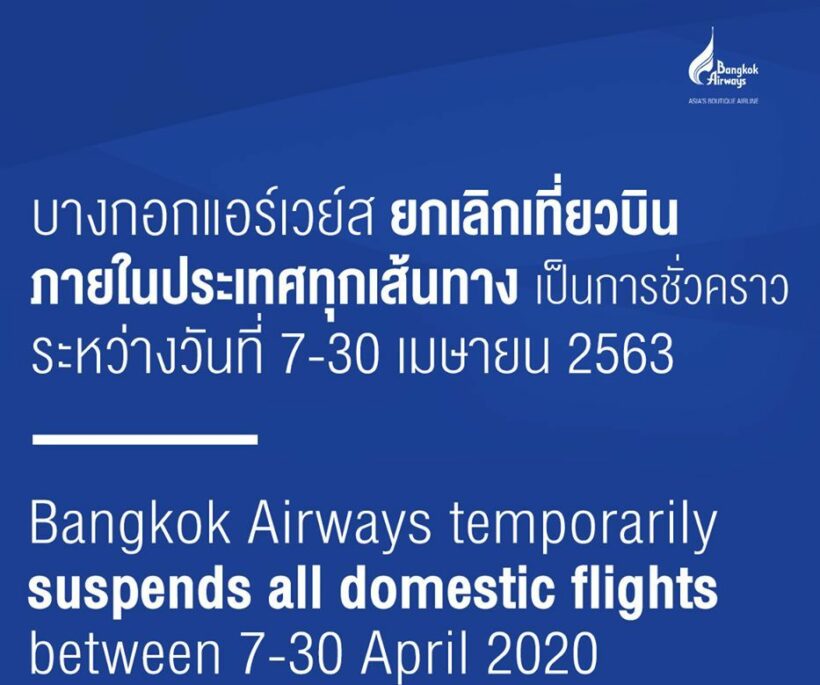 Keep in contact with The Thaiger by following our
Facebook page
.
Urgent repatriation notice for Swiss and German citizens as immigration rules tighten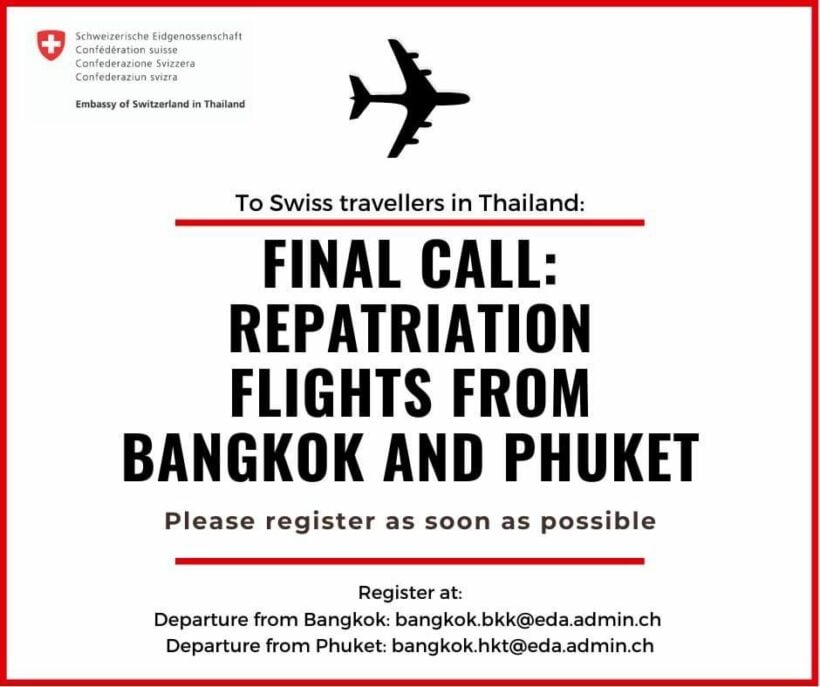 An urgent repatriation notice has been issued for Swiss and citizens in Thailand. According to Richard Barrow's Twitter feed, flights are being urgently chartered to evacuate citizens of both nations: A notice posted on the Embassy of Switzerlad's website reads…
For Swiss travellers in Thailand: Swiss charter flights from Thailand to Switzerland/update…
Bangkok – Zurich
– Good news: seats are still available for a 2nd charter on Sunday April 5 (at 13:05). To register, please send the requested information below for all concerned passengers to: bangkok.bkk@eda.admin.ch -> Deadline: Thursday April 2, 20:00
Phuket – Zurich
– The charter flight is now confirmed for Thursday, April 2, at 23:35. People who have registered will receive a confirmation soon.
– Good news: a few seats are still available. To register, please send the requested information below for all concerned passengers to bangkok.hkt@eda.admin.ch ->
Requested information to be sent…
1. Point of departure: Bangkok or Phuket
2. Family name, first name(s)
3. Date of birth
4. Passport number/Residence permit in Switzerland
5. Validity date of the passport or residence permit in Switzerland
6. Phone number where you can be reached at any time
• Please note that no health certificate is required to board on these flights. However, people with Covid-19 related symptoms are not allowed to travel. More information on these flights is available on our website (www.eda.admin.ch/bangkok)
A similar notise was posted for German nationals…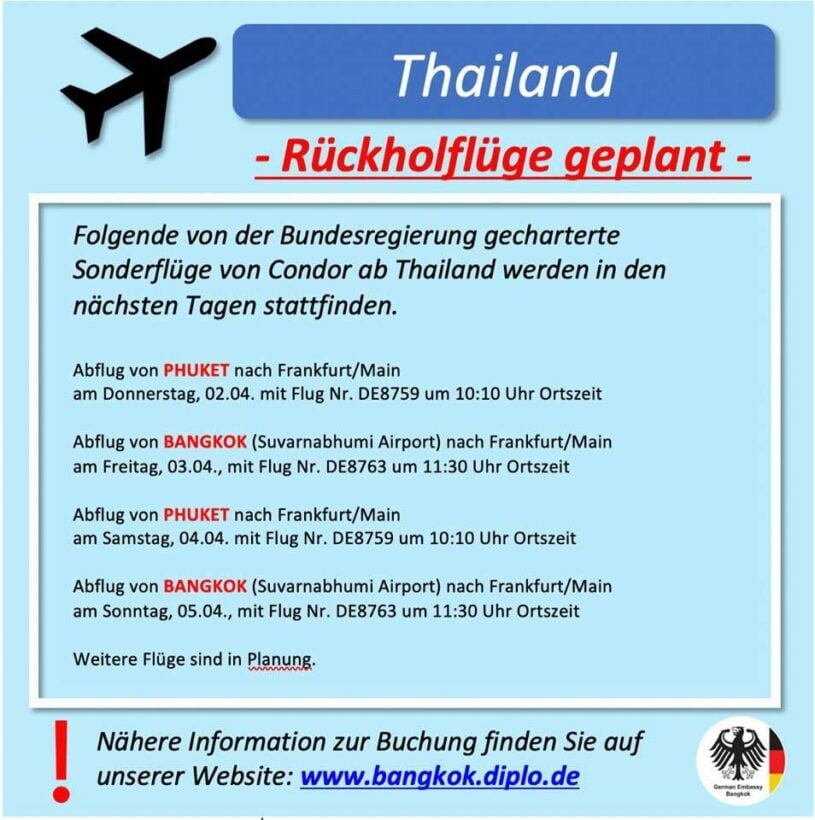 Due to the Covid-19 coronavirus crisis, travel restrictions and requirements in Thailand are sometimes difficult to navigate. One netizen told The Thaiger this morning that Immigration officials in Hua Hin were demanding the following for an extension of stay…
Application form (TM.7)

Fee 1,900 baht

2 photographs (passport photo)

Copy of applicant's passport (Data page, Visa page, Stamp page, TM6 card)

Letter of confirmation and request for a temporary stay from the embassy and consulate in Thailand

Proof of address: In case stay at Hotel – Letter of confirmation of stay from hotel – Hotel booking – Photograph of foreigner at hotel 2-3 pictures. In case rent a house/condominium – Rental agreement – Copy of Lessor's ID card and copy of Lessor's house book – Copy of house book from where you rent – Photograph of foreigner at house/condominium 2-3 pictures

In case of foreigner own the property – Copy of a house book – Copy of Title deed – Photograph of foreigner at the property 2-3 pictures

Map from house to immigration

Note: Foreigner must prepare all documents for 2 copies
SOURCES: Twitter | Embassy of Switzerland
Keep in contact with The Thaiger by following our
Facebook page
.