Shoot out at the Tesco Lotus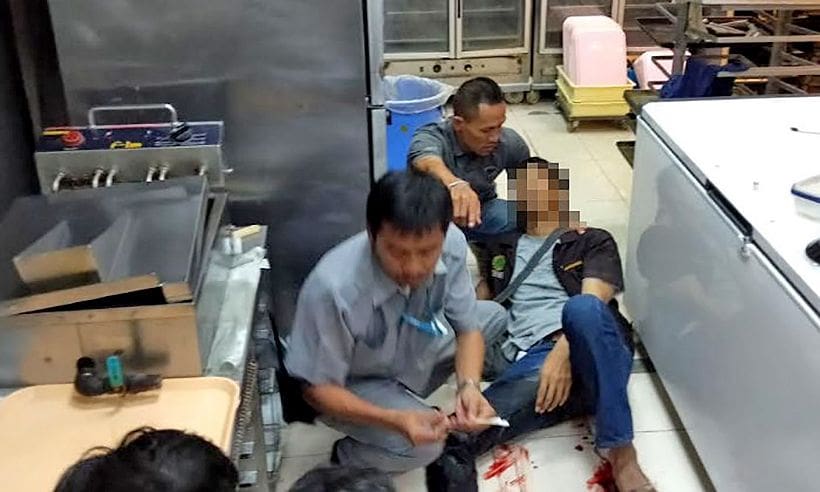 Drama at a local Tesco Lotus in Nakorn Pathom, west of Bangkok, yesterday.
Sanook reports that a Thai father, who had repeatedly warned a man to stay away from his daughter, shot him then fired into the man's pick-up in the parking lot of a Tesco Lotus in Nakorn Pathom.
Police captain Wasan Tangtham found a lot of blood in a bakery at Lotus where U-Then had fled following the shooting.
The victim was hit in the leg and was rushed to hospital after suffering severe blood loss.
Outside in the parking lot, waiting for police, was 71 year old Suchart with a .22 gun. He was with his wife and family in a Toyota.
Nearby police found the victim's Isuzu pick-up with four bullet holes. The two front tyres had been shot too.
Police say that the victim had tried to flirt with the suspect's daughter for two years. She rejected U-Then's advances. U-Then then went on Facebook to insult the father compounding the situation.
Suchart was out with his family shopping at Lotus when U-Then came up to his car and banged on it.
This angered Suchart who then shot at U-Then before firing four shots at his pick-up. Suchart has been detained as police continue their investigation.
SOURCE: Sanook


Read more headlines, reports & breaking news in Bangkok. Or catch up on your Thailand news.
Armed Mercedes owner releases snakes onto road outside Central World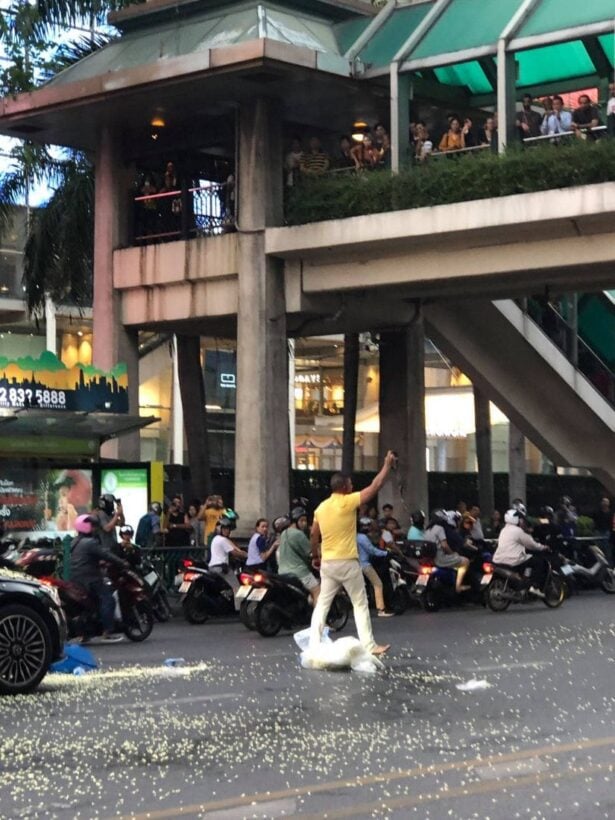 PHOTOS: JS100 Radio
An incident has caused bedlam and stopped traffic outside Central World in Bangkok. A man armed with a knife stopped his new black Mercedes in the middle of the road. He then started releasing snakes out of a blue bag onto the road in front of the bewildered passersby.
Footage from the incident shared on Twitter shows the man, dressed in yellow, holding at least one snake above his head, while holding large knife in his other hand. His car is decorated with portraits of the HM The King
Witnesses also say the man started cutting himself as he set the snakes free onto the road. Sanook reported the man was eventually apprehended and arrested shortly before 7pm tonight.
Police are investigating the incident.
คืออะไรก็ไม่รู้อ่ะหน้า CTW มีมีด มีงู เอามีดสับๆคอ อันตรายอ่ะ น่ากลัว @fm91trafficpro @js100radio pic.twitter.com/DgIJp9R5I9

— ใ บ ต อ ง x x 🍅 (@baitongkks) April 24, 2019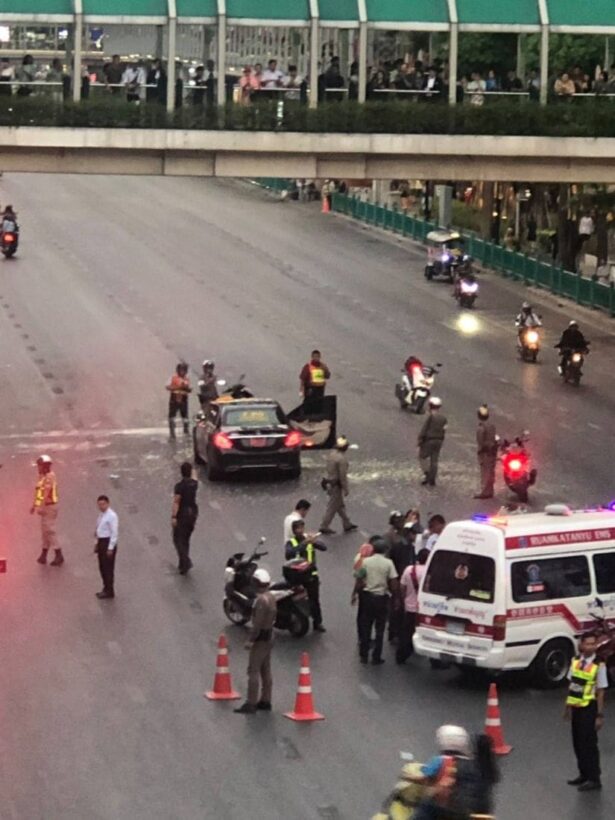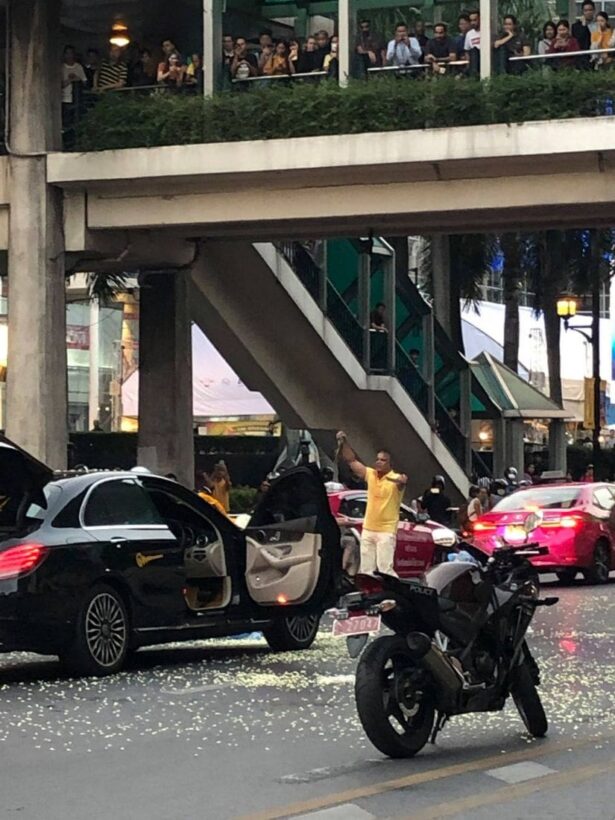 ,
Bangkok-based Filipino visa service provider arrested over alleged fraud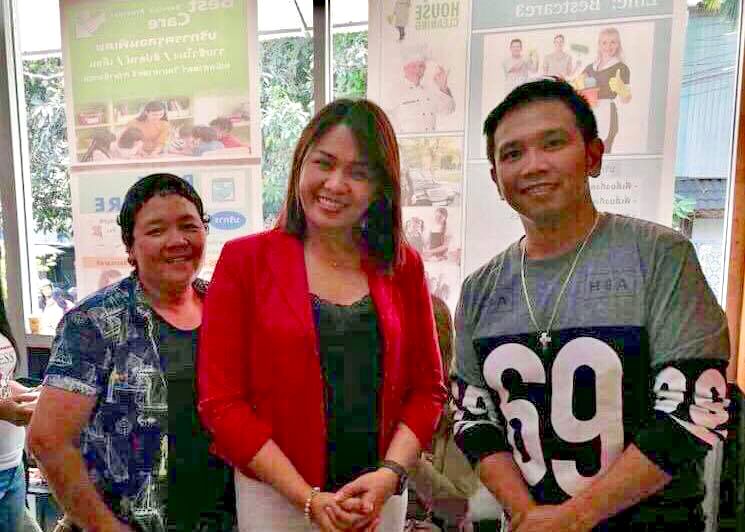 PHOTO: (left to right) Emily Fontanilla Fabe, Ronygene Esmeralda Atregenio & Ernest Rey Basilio Salarza 
The administrator of a Facebook group SWD Kapamilya Thailand (has more than 30,000 Filipino members), Ernest Rey Basilio Salarza (aka. Rhey Keen Ayala), was arrested yesterday (Tuesday) in Bangkok after the court issued an arrest warrant.
Basilio, commonly known as Rhey Keen Ayala, another SWD Kapamilya Facebook admin Emily Fontanilla and Best Care Provider owner Ronygene Esmeralda Atregenio (aka Nokie and Caroline Maxim) have also been charged with fraud under Thailand's Computer Crimes Act.
At least nine Filipino have already been accused and arrested for posting allegedly fraudulent information to obtain funds by deception.
Many more victims are expected to file additional cases this week. The case started when Nokie of Best Care failed to provide visas and work permits to the Filipino victims. Each of them paid 33,000-38,000 baht to Best Care Provider.
16 Filipino victims have so far come out and sought help to get their money back. There were at least 30 victims who paid the same amount but never received the paperwork promised to them by Best Care.
Atregenio, aka. Nokie and Caroline Maxime are the owners of Best Care, while Salarza popularly known in social media as Rhey Keen Ayala is one of the company founders.
Meanwhile, Emily or 'Em Fabe' is the promoter of the company using her Facebook group SWD Kapamilya Thailand. Rhey Keen is also the administrator of Pinoy ADOBO Facebook group which is also being used to promote Best Care Provider.
A string of criminal cases under the Thai Computer Crime Act are also expected to be filed against Em Fabe and Rhey Keen for alleged libellous comments and personal attacks on Facebook against other Filipinos.
SOURCE: Pinoythaiyo.com
Father tramples man after he touched his daughter's bottom in Bangkok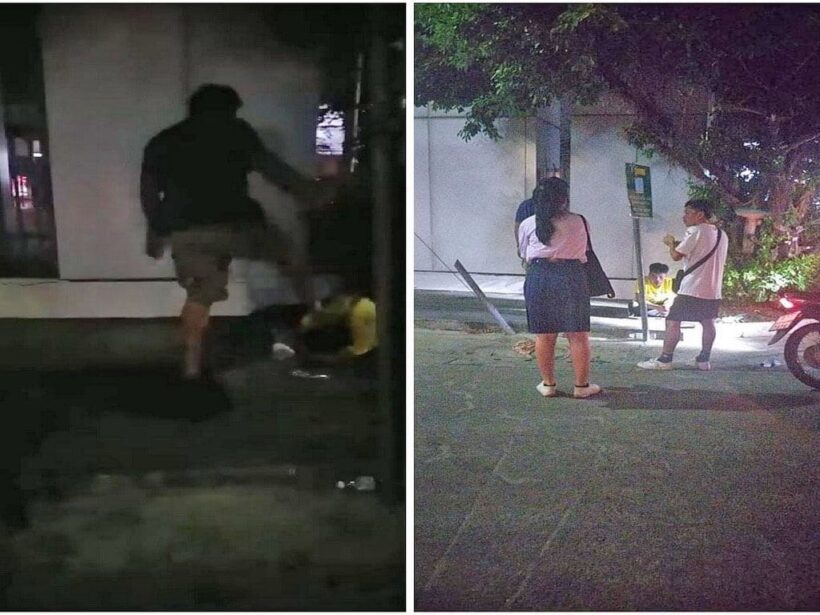 PHOTOS/VIDEO:  Khanitnicha Chatnantakul
The father of a female student has hit and trampled a man after finding out he touched his daughter's bottom while she was waiting for the father to pick her up in Ladprao, Bangkok last night.
A witness said that the girl waits for her father at a Soi not far from her house to pick her up every day after school.
A man who was standing nearby came closer to her and touched her on the bottom. She flipped around and asked him what he was doing. Then the man ran away. The girl called for help and a passing taxi motorbike followed the man.
The girl's father arrived at the same time and approached the man, who was later identified as a migrant worker. The father assaulted the man repeatedly before calling police.
https://www.facebook.com/ladiesaomm/videos/10216493661512358/