PM backs Khao Kwan Foundation in cannabis research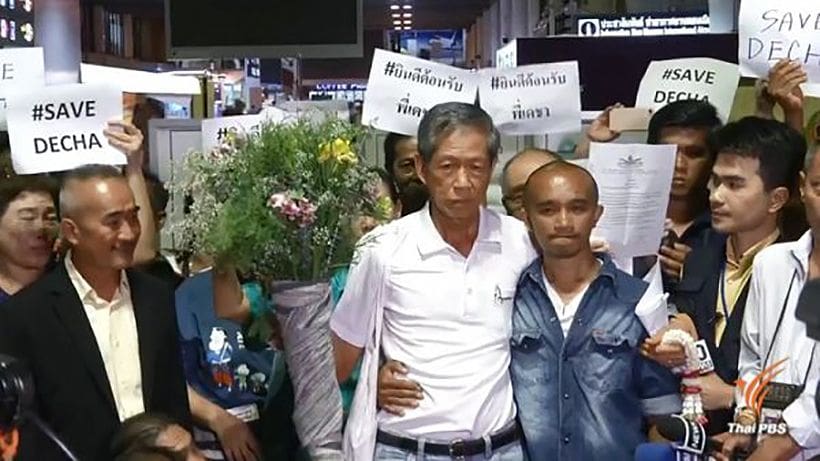 PHOTO: Thai PBS
Thai PM Prayut Chan-o-cha is instructing the Public Health Ministry and leading tertiary educators to support the Khao Kwan Foundation in the research and development of cannabis oil for medical purposes. His support is a rebuke of over zealous Narcotics Control Board officials who raided the Foundation last week, seizing the cannabis and extract oils on the property.
Read The Thaiger story about the raid HERE.
The Deputy Agriculture Minister Vivat Salyakamthorn told Manager Online that both the PM and Deputy PM Prajin Jantong, who oversees the Office of Narcotics Control Board, agreed that the recent raid on the Khao Kwan Foundation and subsequent legal action would adversely affect many cancer patients who had been receiving cannabis oil free of charge.
He disclosed that Prajin recently called a meeting with executives of the ONCB, where it was made clear that marijuana extracts are likely efficacious in medical applications and that officials should refrain from taking action against those engaged in the research and development of medical marijuana.
The ONCB was, instead, told to focus on the abuse of marijuana among younger people.
The PM's intervention in support of the Khao Kwan Foundation and its president Mr. Decha Siripat came about after several civic organisations, including the Foundation for Consumers and Biothai, expressed their support for the foundation and Decha.
Mr. Vivat said that the raid on the Khao Kwan Foundation was by local authorities and ONCB officials without the government's consent.
It is reported that the ONCB has returned the seized marijuana plants and extracts to the foundation and has recommended that the foundation reorganise its distribution of cannabis oil into a proper research project, complete with records which could then be used in the certification of cannabis oil for medical use.
Mr. Decha, meanwhile, said he would submit a registration application to the Public Health Ministry on April 17.
SOURCE: Thai PBS
Keep in contact with The Thaiger by following our
Facebook page
.
Prachin Buri roadside flower seller gives yesterday's earnings to Thai flood victims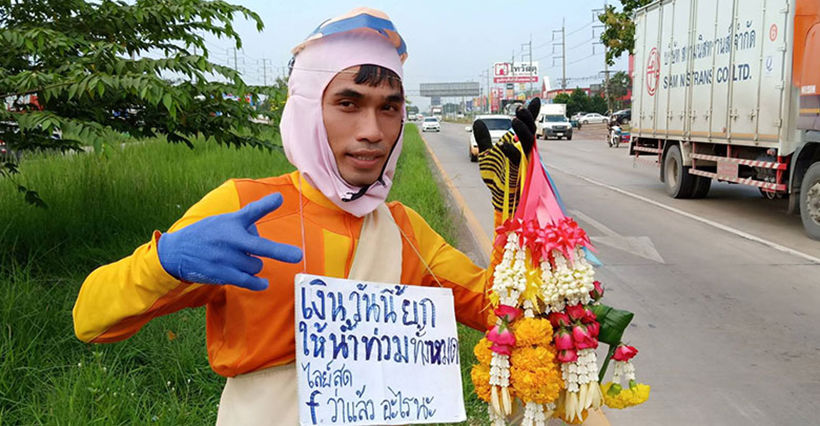 PHOTOS: INN News
A roadside flower seller in Prachin Buri, just to the north east of Bangkok, is giving all his earnings from yesterday to help flood victims in Thailand's north east provinces. INN News reports that he was wearing a sign… "All earnings from today will be given to flood victims".
Flower sellers are often seen at red lights around Thailand serving the 'captive' audience who buy the floral scented decorations 'puang mah lai' as good luck amulets. The price of one of the hand-made decorations is about 20 baht.
Chatri is originally from Chachoengsao province, just to the south. He says he's been following the news about the floods affecting north-eastern provinces and feels extremely sad for the victims.
He has been selling flowers on the road for a while now and makes enough money to live comfortably. But all the earnings made yesterday will be sent to a government account to support the flood victims.
As soon as the flowers had sold out Chatri went to the local SCB Bank and deposited all the money taken for the day, around 1,000 baht, into an account. When the bank's manager saw Chatri depositing the money staff also put in 1,000 baht as well.
Chatri's kind act inspired drivers that saw him so they came to the back later in the day and put some more money into his good cause.
Thanks Chatri. You've done you bit and sacrificed a day's earnings to help fellow Thais in distress.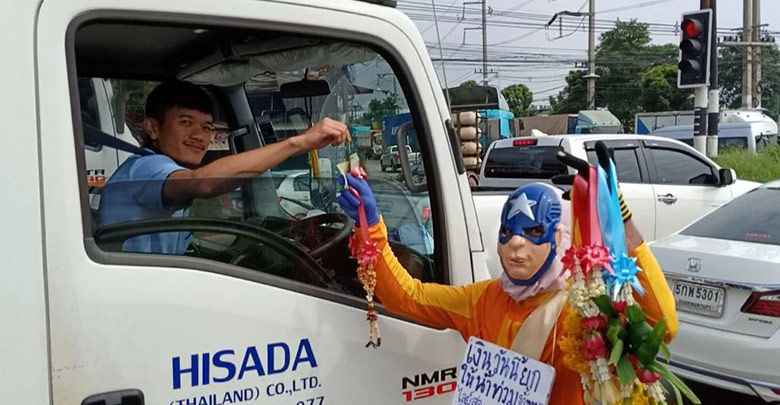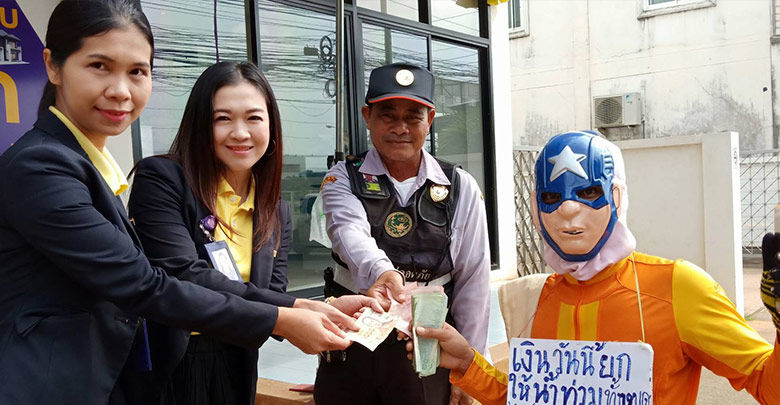 SOURCE: INN News
Keep in contact with The Thaiger by following our
Facebook page
.
Stop Fake News seminar run by LINE and Digital Economy ministry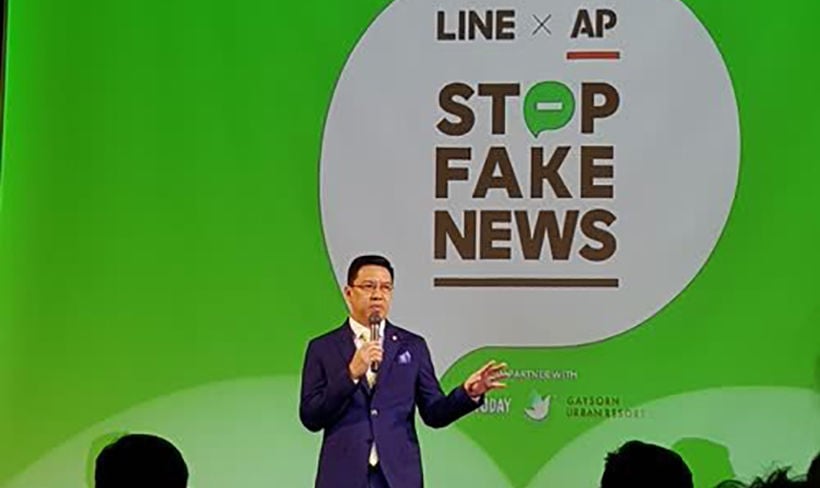 The Minister of a Digital Economy and Society, Puttipong Punnakanta, opened a Stop Fake News seminar to promote online media literacy and discretion before sharing information and news with other Thai youth, to prevent the spread of misinformation.
The seminar was run in conjunction with Thailand's most popular messaging App, 'LINE'. Apart from representatives from LINE, the seminar also involved communication arts and journalism students.
LINE Thailand CEO Phichet Rerkpreecha says the company has been cooperating with the Ministry of a Digital Economy and Society to set up an anti-Fake News Centre to prevent the spread of fake news in Thailand. The platform, popular for its messaging service, will offer a group where users can share and verify online stories in the future.
"The ministry's Fake News Centre is being set up by a team working to verify the correctness and accuracy of information, using specific technologies in keeping with international standards, which are beneficial to the general public. LINE will be visiting the centre to follow up on its establishment and operations."
Mr Phichet said today that LINE currently has 44 million users, while its LINE TODAY news service now has more than 1 trillion participants in readership per month. He said the seminar today marks a good start to creating an understanding among the news audience and their ability to discern fake news and misinformation. The seminar was held in Bangkok yesterday, and will also be held in Khon Kaen at Khon Kaen International Convention and Exhibition Centre, where some 400 communication arts and journalism students and teachers will be participating.
SOURCE: National News Bureau of Thailand
Keep in contact with The Thaiger by following our
Facebook page
.
Lilly wages war on Thailand's plastic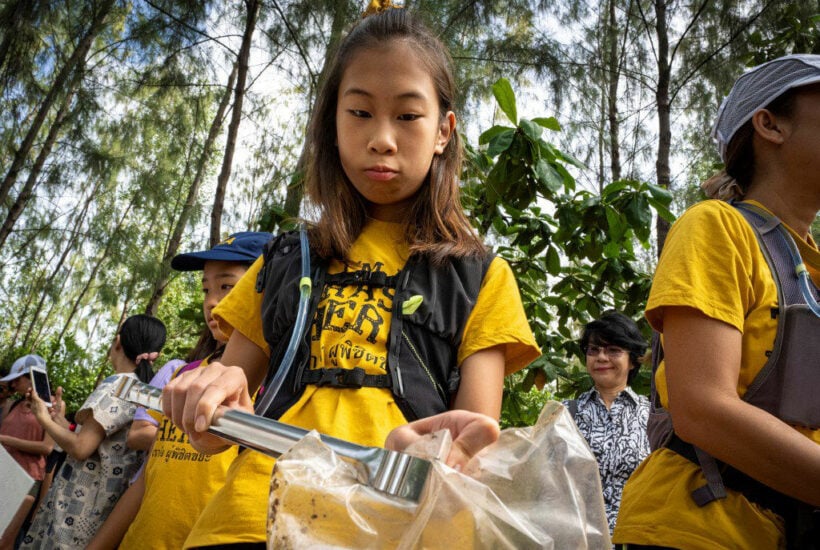 Skipping school to glide through a dirty Bangkok 'klong' on a paddleboard, Lilly fishes out rubbish in her mission to clean up Thailand, where the average person uses eight plastic bags every single day. Single-use plastic is now on the radar in Thailand and has become a hot topic on social media.
"I am a kid at war," the bubbly 12 year old says after a painstaking hour-long routine picking up cans, bags and bottles bobbing in the canal.
"I try to stay optimistic but I am also angry. Our world is disappearing."
Thailand is the sixth largest global contributor to ocean pollution, and plastic is a scourge.
Whether it's for wrapping up street food, takeaway coffees or for groceries, Thais use 3,000 single use bags per year – 12 times more than someone from the EU.
In June, Lilly won her first victory: she persuaded Central, a major supermarket in Bangkok, to stop giving out plastic bags in its stores once a week.
"I told myself that if the government did not listen to me, it would be necessary to speak directly to those who distribute plastic bags and convince them to stop."
This month some of the biggest brands, including the operator of the ubiquitous 7-Eleven convenience stores, pledged to stop handing out single-use plastic bags by January next year.
Mindsets have started to shift this year with the deaths of several marine mammals whose stomachs were lined with plastic, stirring emotions.
The demise last month of a baby dugong was mourned on social media, reviving discussion in the government over a proposed ban on most single-use plastics by 2022.
But critics say along with new rules there need to be enforcement mechanisms such as fines.
For now young activists like Lilly can help capture attention.
"You might be able to tune out all of the evidence and advocacy in the world, but it's very hard to ignore a child when they ask why we're trashing the planet that they have to live on," says Kakuko Nagatani-Yoshida, regional coordinator for chemicals, waste and air quality with UN Environment.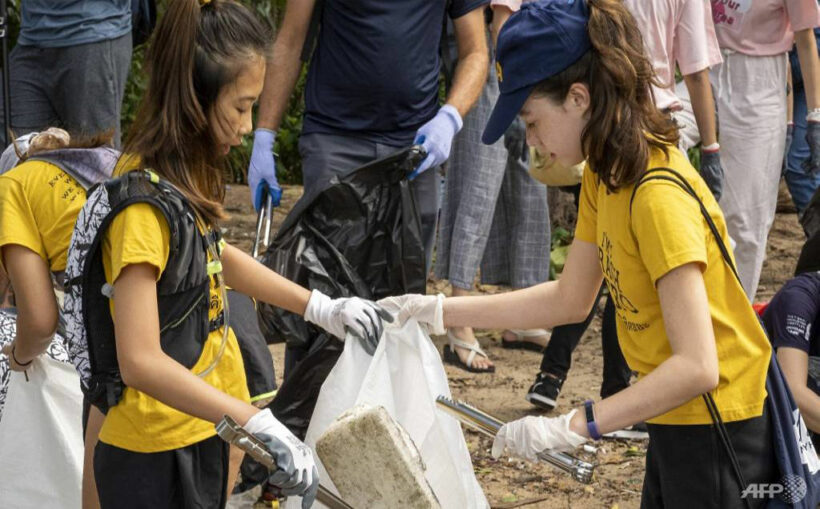 'It's up to us'
'Lilly' is Ralyn Satidtanasarn's nickname.
The US-Thai youngster started campaigning at the age of eight after a seaside vacation in southern Thailand where she was horrified by a beach covered in rubbish.
"We cleaned up with my parents, but that was not helpful because other waste was thrown out by the sea the next day," she recalls.
Then came the global movement initiated by 16 year old Greta Thunberg, who has become a key face in the battle against global warming.
Inspired by the young Swede, Lilly did sit-ins in front of the Thai government buildings.
"Greta Thunberg gave me confidence. When adults do not do anything, it's up to us children to act," she insists.
Though she often skips class to carry out her activism, she will not be in New York alongside Thunberg for a protest on September 20 just days before the UN climate conference.
"My place is here, the fight is also in Southeast Asia," she says.
Even if she sometimes wants to take a break and "go play" like other kids, she also takes part in cleaning sessions organised by local association Trash Hero.
Other activists praise her but say she is up against massive corporate interests.
The main obstacle is the petrochemical industry, one of the main markets for plastics, accounting for 5 percent of Thailand's GDP and tens of thousands of jobs.
"Lilly is a very good voice for the youth of this country but the lobbies are very powerful and that makes any change difficult," concedes Nattapong Nithiuthai, who set up a company turning discarded waste into flip flops.
She can also count on the support of her parents, who help her write speeches to the UN and government officials.
Her mother, Sasie, herself a former environmental activist, adds: "At first, I thought it was a child's fad, but Lilly hung on, so I decided to support her."
SOURCE: Agence France-Presse
Keep in contact with The Thaiger by following our
Facebook page
.