Institute closed for seven days as police break up student gang brawls in BKK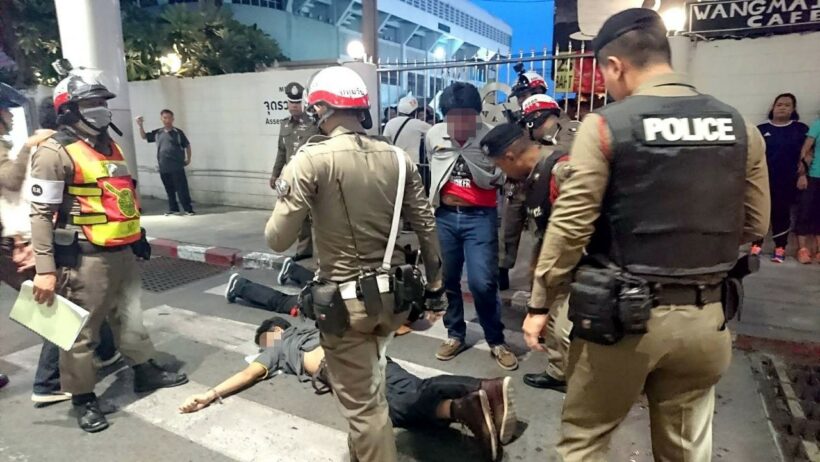 By Khanathit Srihirundaj
Bangkok police have held a meeting between representatives of Pathumwan and Uthenthawai colleges today. Yesterday students from their colleges fought on the skywalk near the National Stadium BTS station. Education Ministry officials attended the meeting to help find solutions to the issue of student brawls.
The meeting at Pathumwan Police Station was brokered by the deputy chief of the Metropolitan Police Bureau, Maj Gen Panurat Lakboon.
Pathumwan Institute of Technology has announced that it will remain closed for seven day and a police truck has been stationed at the entrance to prevent further violence.
Royal Thai Police deputy spokesman Col Krissana Patanacharoen said the latest incident took place at 6.45pm on Thursday when nine students – six Pathumwan students and three students from Uthenthawai – were apprehended along with two knives (one from each side) by 20 police officers. They were each fined 1,000 baht for carrying weapons and 5,000 baht for brawling in public.
Police have stepped up patrols to prevent fights between the adjacent institutions near Siam Square.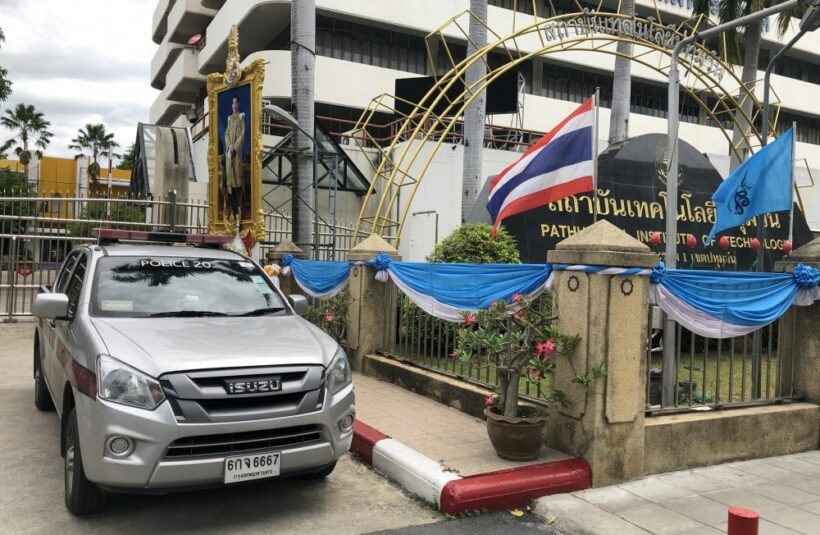 STORY: The Nation


Read more headlines, reports & breaking news in Bangkok. Or catch up on your Thailand news.
Bangkok-based Filipino visa service provider arrested over alleged fraud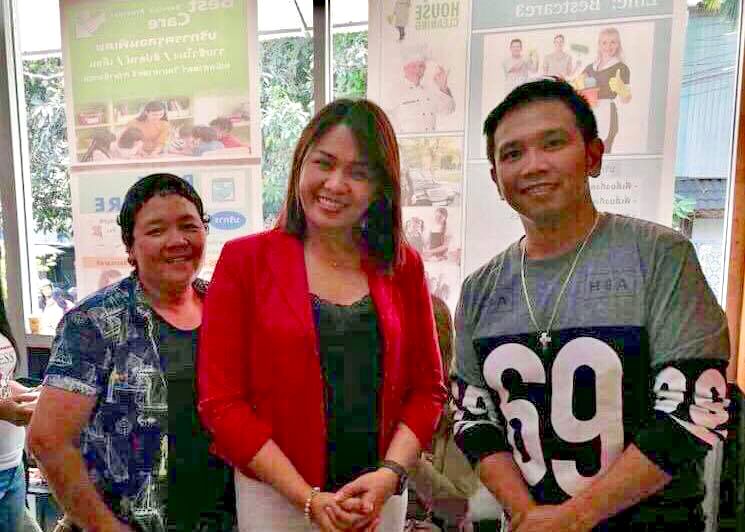 PHOTO: (left to right) Emily Fontanilla Fabe, Ronygene Esmeralda Atregenio & Ernest Rey Basilio Salarza 
The administrator of a Facebook group SWD Kapamilya Thailand (has more than 30,000 Filipino members), Ernest Rey Basilio Salarza (aka. Rhey Keen Ayala), was arrested yesterday (Tuesday) in Bangkok after the court issued an arrest warrant.
Basilio, commonly known as Rhey Keen Ayala, another SWD Kapamilya Facebook admin Emily Fontanilla and Best Care Provider owner Ronygene Esmeralda Atregenio (aka Nokie and Caroline Maxim) have also been charged with fraud under Thailand's Computer Crimes Act.
At least nine Filipino have already been accused and arrested for posting allegedly fraudulent information to obtain funds by deception.
Many more victims are expected to file additional cases this week. The case started when Nokie of Best Care failed to provide visas and work permits to the Filipino victims. Each of them paid 33,000-38,000 baht to Best Care Provider.
16 Filipino victims have so far come out and sought help to get their money back. There were at least 30 victims who paid the same amount but never received the paperwork promised to them by Best Care.
Atregenio, aka. Nokie and Caroline Maxime are the owners of Best Care, while Salarza popularly known in social media as Rhey Keen Ayala is one of the company founders.
Meanwhile, Emily or 'Em Fabe' is the promoter of the company using her Facebook group SWD Kapamilya Thailand. Rhey Keen is also the administrator of Pinoy ADOBO Facebook group which is also being used to promote Best Care Provider.
A string of criminal cases under the Thai Computer Crime Act are also expected to be filed against Em Fabe and Rhey Keen for alleged libellous comments and personal attacks on Facebook against other Filipinos.
SOURCE: Pinoythaiyo.com
Father tramples man after he touched his daughter's bottom in Bangkok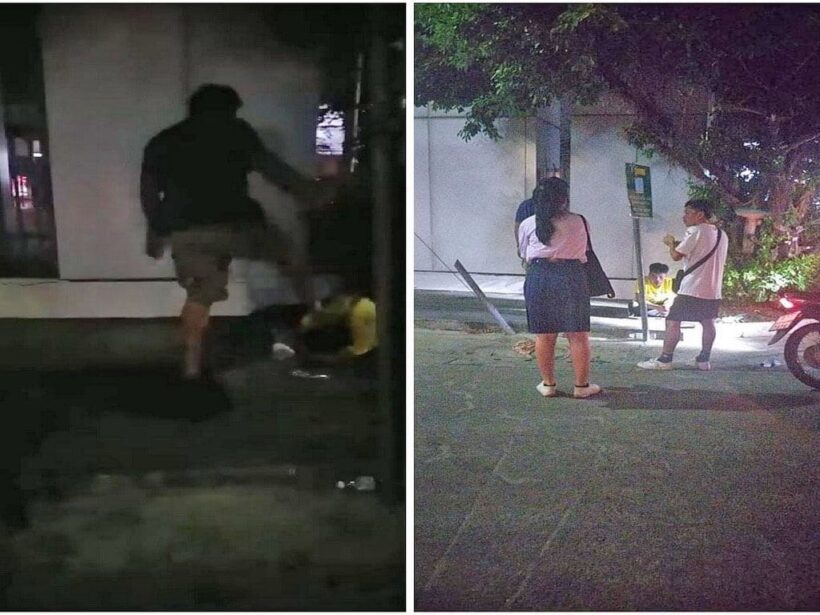 PHOTOS/VIDEO:  Khanitnicha Chatnantakul
The father of a female student has hit and trampled a man after finding out he touched his daughter's bottom while she was waiting for the father to pick her up in Ladprao, Bangkok last night.
A witness said that the girl waits for her father at a Soi not far from her house to pick her up every day after school.
A man who was standing nearby came closer to her and touched her on the bottom. She flipped around and asked him what he was doing. Then the man ran away. The girl called for help and a passing taxi motorbike followed the man.
The girl's father arrived at the same time and approached the man, who was later identified as a migrant worker. The father assaulted the man repeatedly before calling police.
https://www.facebook.com/ladiesaomm/videos/10216493661512358/
Thanathorn faces more charges from EC over media shares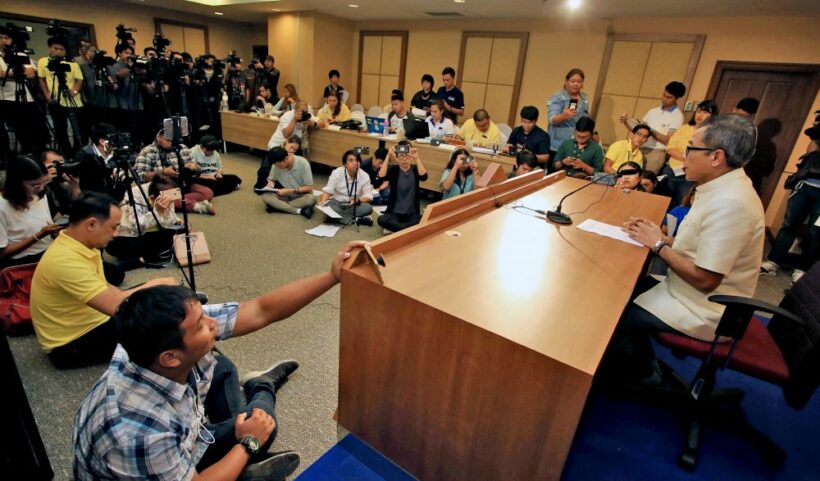 Future Forward's Thanathorn Juangroongruangkit, the 40 year old leader of the new party, has cut short his trip to Europe over an 'unexpected incident'
The Thai Election Commission yesterday unanimously resolved to press charges against Thanathorn over an alleged violation of Thai media shareholding rules.
Citing investigations by two EC panels, Sawang Boonmee, the EC deputy secretary-general, told a press conference that Thanathorn had allegedly violated the law by owning or holding 675,000 shares in V-Luck Media Company while registering as a candidate for the general election.
"Thanathorn's share certificate number is from 1350001 to 2025000," said Sawang, referring to the findings of two panels the EC had set up to investigate the case.
Thanathorn has been accused of contravening the electoral laws that state a shareholder in a media company is barred from contesting an election for member of parliament, according to the EC. The action is punishable by disqualification. The case was filed by Srisuwan Janya, secretary-general of the Association for Protection of the Thai Constitution, on March 25.
An EC source said the agency had yet to suspend Thanathorn's right to contest in elections for one year or give him an "orange" card, as it was just an initial charge. Thanathorn will have seven days to give testimony or submit documents in his defence to the EC, Sawang said, adding his lawyers would also be allowed to witness the trial.
After the testimony, the EC will finalise the case as soon as possible in order to finish it before May 9 when it will announce the election results.
Thanathorn, whose party is tipped to win around 80 MP seats in the new lower house, was on the way back from his tour to Europe. He posted on his Facebook page yesterday that he had been notified to quickly return to Thailand to face an "unexpected incident".
Future Forward secretary-general, Piyabutr Saengkanokkul has questioned the EC's decision, saying the poll agency needs to wait until Thanathorn is endorsed as an MP before it can question his qualification.
Meanwhile, Raksagecha Chaechai, secretary-general of the Office of Ombudsman, said the EC had until today (Wednesday) to submit an explanation to the office regarding a petition seeking an annulment of the March 24 election.
The office last week resolved to accept the petition filed by the now-defunct Thai Raksa Chart Party's former MP candidate, Reungkrai Leekijwatana, who asked the office to submit its opinion to the Administrative Court or the Constitutional Court regarding whether last month's election should be annulled.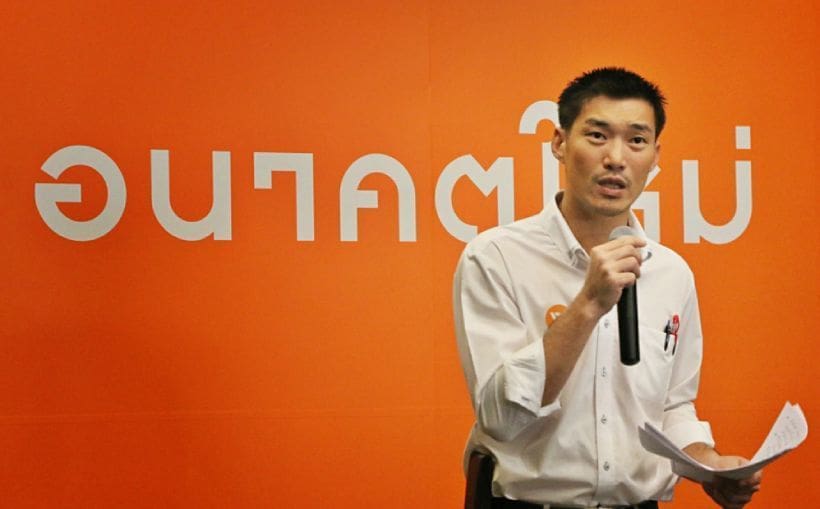 SOURCE: The Nation