Buddha with a beat – Wat Suthi Wararam transformed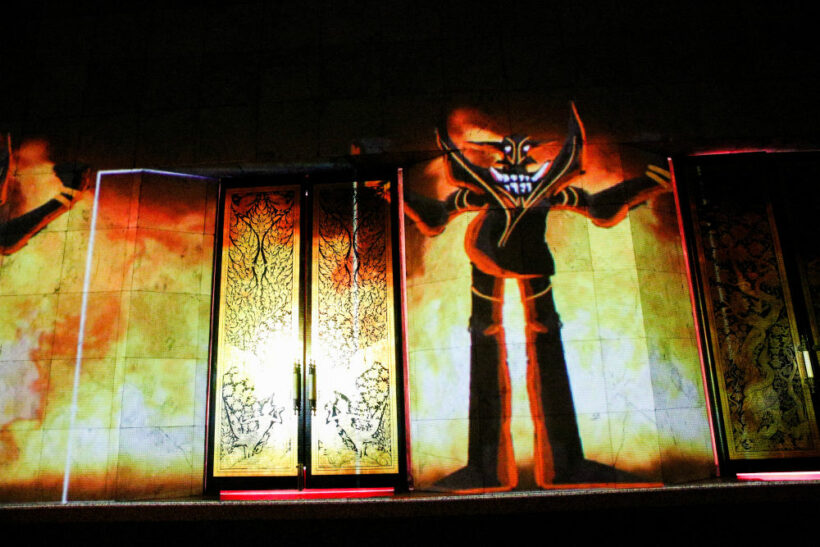 It's Visakha Bucha Day like you've never seen it before.
Bangkok's Wat Suthi Wararam has unveiled a bold and modern makeover to entice young people and a new audience to Buddhism. Wat Suthi Wararam is coming alive with Monks chanting to electronic music, projection mapping and a digital art exhibition.
"Bodhi Theatre: Buddhist Prayer Retold" combines vivid animation and Buddhist chants set to electronic dance rhythms in a contemporary effort to attract more people to the teachings of Buddha.
The temple's main chapel has been transformed with modern theatre tech magic.
Visakha Bucha Day is one of the most important Buddhist holidays in the Thai calendar and this year it takes place on May 19, 2019. It is important as it was the day of three important incidents that occurred during the life of Lord Buddha. They all happened on full moon of the sixth lunar month.
The show will be presented every weekend until June 9 at Wat Suthi on Charoen Krung Road, Bangkok.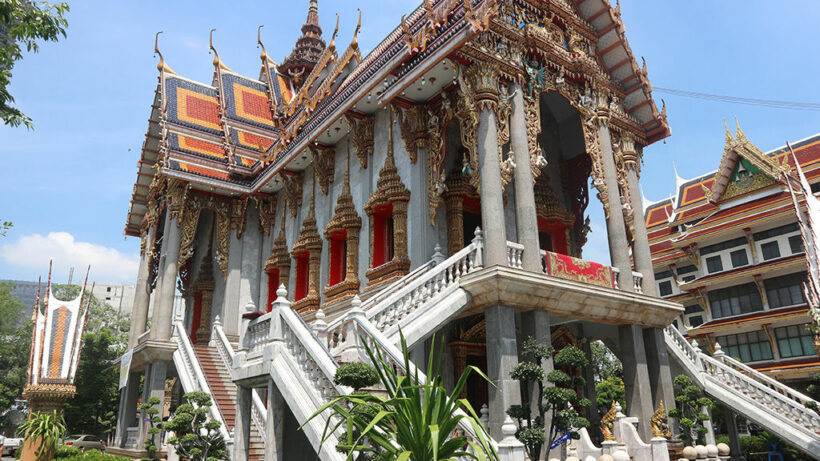 Traditional and ornate on the outside. Funky and modern on the inside.
Abbot, Phra Suthee Rattanapandit says, "The aim is to encourage more young people to study Buddhism at the temple."
"We teamed up with young artists and designers who used modern technology to create this contemporary digital art in the temple. The artwork is intended to help people more easily understand Buddhist teachings."
Supported by the National Innovation Agency, "Bodhi Theatre" was conceived and executed by a network including the Why_Not Social Enterprise, Awakening Creative, Another day Another render, Art of Hongtae, Korky and What_If.
Thawatchai Saengthamchai, managing director at Why_Not and manager of this project, acknowledges that it's not easy changing the "young generation's habits".
"But we decided to find a way to modernise the temple experience to attract a changing society. We selected hi-tech tools to get people back to the temple."
The team has not only re-visualised and simplified a complex message, but it also created fun activities for visitors to the temple. They can paint cloth bags and send themselves best wishes on a postcard stamped with the chant's emblem.
All proceeds from the sale of coffee go to the temple. Admission to the event itself is free, but seats can be booked in advance at BodhiTheater.com.
The show runs every 35 minutes from 2 to 6pm.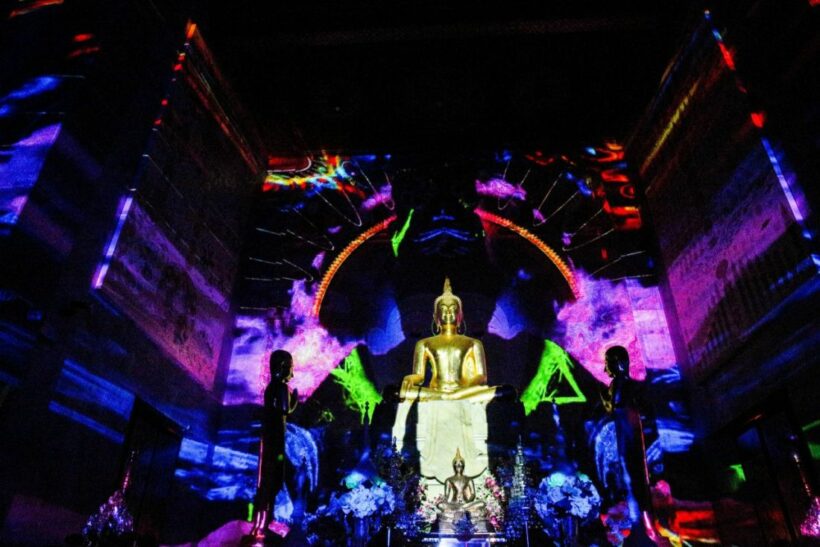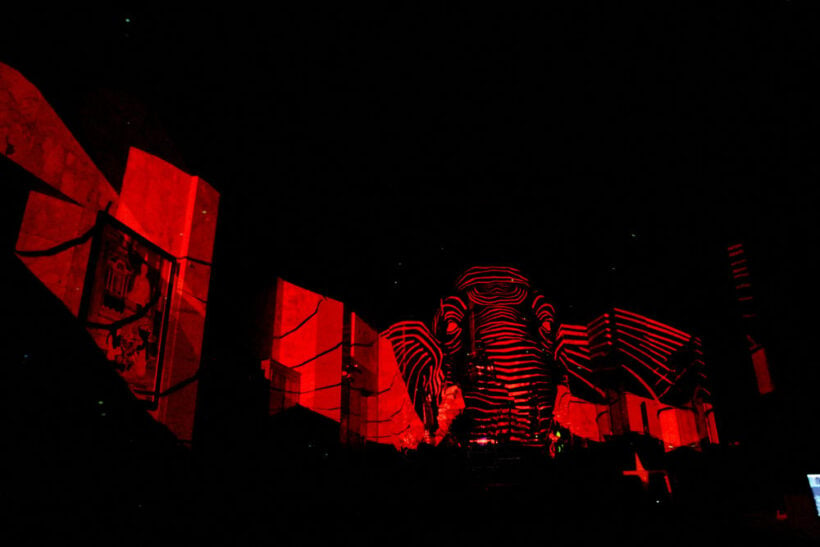 SOURCE: The Nation


Find local events and browse venues in Thailand with Thaiger Events, or post your own today.

Read more headlines, reports & breaking news in Bangkok. Or catch up on your Thailand news.
US Navy veteran locked up in Thai prison, family pleas for help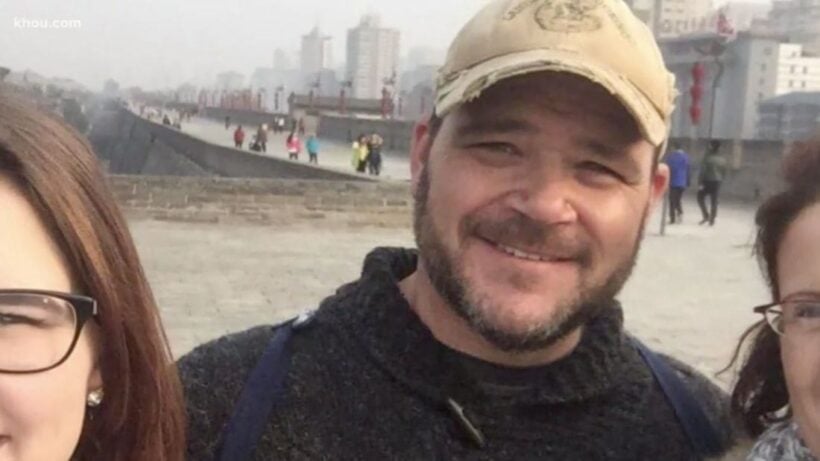 by Lauren Talarico
A US Navy veteran from Texas remains locked up in a Thai prison for something his family says he didn't do. Derrick Keller was arrested on August 20, 2018. But his family says the allegations against him are not true and they desperately want him home.
Derrick Keller's family doesn't know what to do next after their cries for help from politicians and lawyers have gone unanswered. They fear if something doesn't happen fast Keller could spend the rest of his life in a Thai prison. 44 year old Derrick Keller is from Richmond, Texas. He is a son, a husband, a father to two kids and a Navy veteran.
"He was always a jokester," his father said. "Always liked to make people laugh."
"He's the best man I've ever known," said his 19 year old son Mark Keller.
But Derrick is 16,000 kilometres away behind bars at the notorious Klong Prem Prison in Bangkok.
"We are still in shock," said Debra. "We still can't fathom what's taking place"
In 2015 Keller and his wife Tanya moved to China with their children. Tanya was offered a job she couldn't pass up as the lead dance instructor at Shenzhen Dance Academy.
Derrick gave up his trucking company in East Bernard and worked odd jobs in China. He tended bar, coached a baseball team and perused acting, a childhood passion. In 2016 the family says a recruiter reached out to him about a company looking for a "Western face." It was called Eagle Gates Group.
"The company was represented as completely legit," his brother-in-law Ryan Murray explained. "Totally legal. It would just be an acting opportunity."
Over six months, Keller acted in several corporate videos. His family says he was paid $15,000 to do so. After the job was complete, he told family he never heard from the company again, until a vacation to Thailand last August. Keller was arrested after he and his wife landed in Thailand for a vacation.
"They got off the plane and had a lot of Thailand police officers waiting for them," Murray explained.
Thai media reported his arrest and claimed he was part of a Ponzi scheme which defrauded investors of millions of dollars.
"An American actor staying in Phuket as a tourist has been arrested in connection with a multinational scam operation based in Singapore that has allegedly defrauded Thai investors of 235 million baht."
"I think at first they thought it was just a misunderstanding," Murray said. "And it turned out to be something much worse."
Keller was arrested on August 20, 2018. One day later he called his father to tell him he was being detained.
"That's the last I've heard from him," his dad said through tears. "That's the last time I heard his voice. Been bad. Horrible. Absolutely horrible. I mean, like I said, I haven't heard him. God knows I love my son."
Watch a Texas TV report about the story HERE.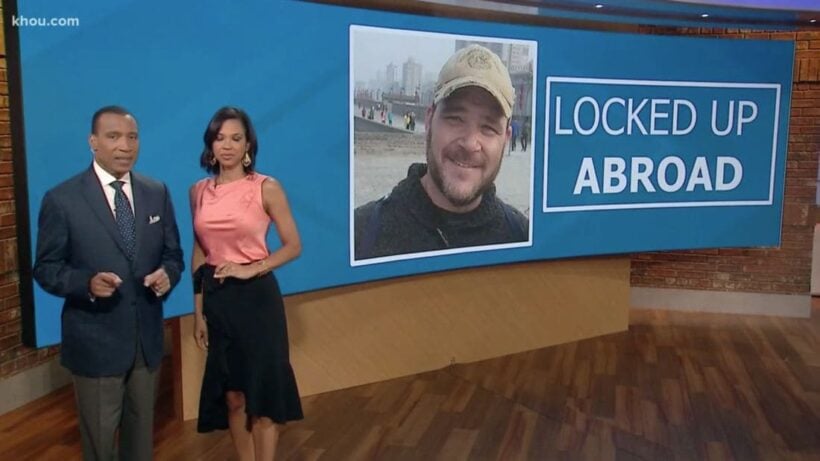 No family member has seen or talked to Keller since he has been in prison.
"I'm always scared that I'm just going to wake up to the worst information I've ever heard," cried his son, Mark.
"That something beyond horrific about this has happened to my dad like maybe he's died in incarceration or something. It's the uncertainty that really kills me."
"The prison that he's in is notorious for human rights violations," Murray explained.
"There's a lot of bribery. It's very corrupt. He's sleeping on concrete, sharing a cell with 50 other people."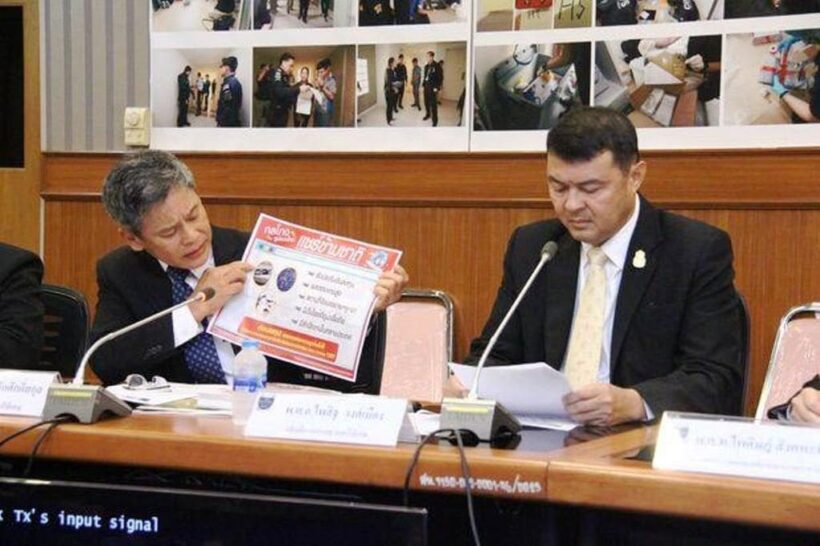 Deputy DSI chief Songsak Raksakskul (left) and DSI chief Paisit Wongmuang brief the media on the arrest of 10 suspects in the alleged Eagle Gates Group investment fraud, at the DSI offices in Bangkok.
Missionaries have related to the family that Derrick's lost 30 kilos in 10 months. The family says they've provided proof that Derrick is innocent and was simply an actor in a corporate video. They claim they've reached out to President Trump, Senator Ted Cruz, Senator John Cornyn and a long list of other local politicians but haven't been offered any help.
"The country called… he answered," said his father, a Vietnam veteran.
"When the country called… I answered. And now we call and we don't get an answer."
Derrick Keller's trial date is set for July. He's facing 35 years in prison.
"During questioning, Keelor told officers that he was an actor working in China, and was hired by a Singaporean to be Executive Director of Eagle Gates Group Co Ltd in order to build credibility and reputation for the company. The DSI noted that they would investigate Kellor's role further.
The DSI also reported that their investigations had discovered more than 1 billion baht in investment had been transferred out of the victim's bank accounts." – Bangkok Post
"The court itself, from what we've been able to find out from lawyers and our own research, has a 95% conviction rate," Murray said.
"We've been told that if he admits guilt they will be easier on him and that it's not worth fighting against. Derrick is a man of integrity… I do not see him admitting to a crime he didn't commit so that has me worried."
A change.org petition has been started. To help, click HERE.
Bystander killed by stray bullet as taxi motorcycle gangs clash – VIDEO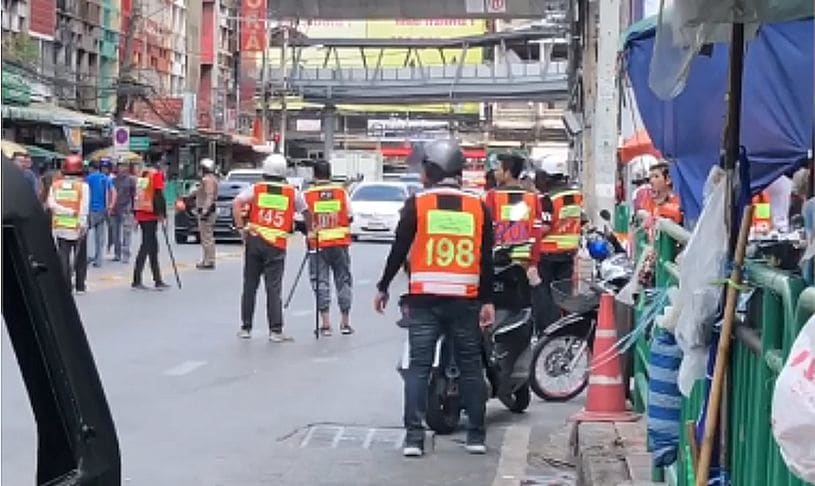 VIDEO: บ้านเราบางนา ลาซาล แบริ่ง
A bystander was killed by a stray bullet yesterday when two taxi motorcyclists gangs clashed in a fight in Bangkok's Bang Na district. Rival motorbike taxi gangs were caught on video viciously attacking each other with knives and other weapons.
Police say 20 year old Weerawat Pheungkrut, a courier with Kerry Express, was killed when a bullet struck him in the left eyebrow around Soi Udomsuk 1 at 11.40am yesterday morning. Another unidentified man was also shot and injured and taken to a nearby hospital. Police said 20 year old Thaweekiart Sutthisanong was also injured with a knife in his head and was rushed to hospital.
Police said Weerawut was killed by a stray bullet when two groups of taxi motorcyclists clashed in a brawl in front of Soi Udomsuk 1 because a group of taxi motorcyclists were annoyed that a new group had opened a stand nearby. Police are checking footage of security cameras in the area before making arrests.
Watch video of the fight HERE.
SOURCE: The Nation
Police seize illegal mosquito repellents and fake nutritional supplements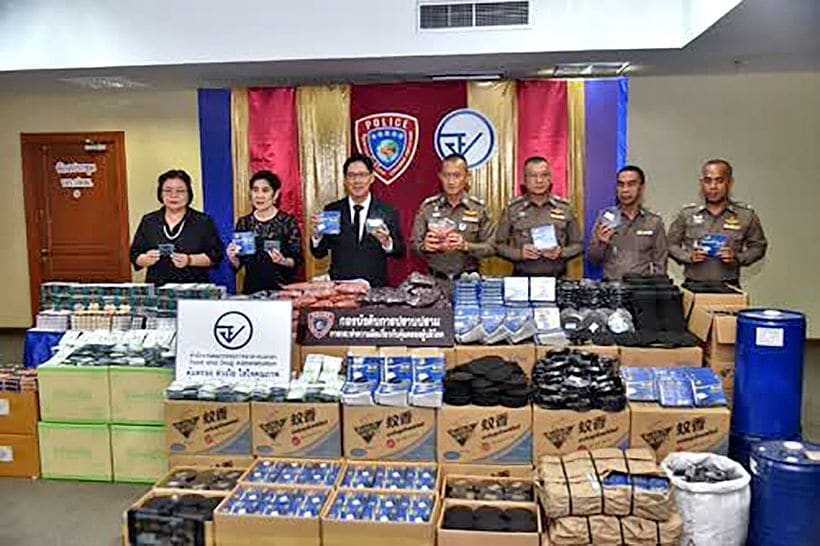 The Consumer Protection Police Division and the Food and Drugs Administration has raided illegal factories producing dangerous mosquito repellent and fake nutritional supplements. Investigations are underway to find the people responsible.
Officials confiscated illegal Kwang Thong (golden dear) brand mosquito repellent coils factory in Nakhon Ratchasima, north-east Thailand, where 1,300 boxes of coils containing more than 10,000 packages were confiscated.
The coils manufactured at this factory had not been registered with the FDA, nor were they legally permitted to be manufactured. Inspection by the FDA shows the products are covered with 'meperfluthrin', a dangerous chemical that can cause confusion, headaches, nausea, vomiting, seizures, and loss of consciousness. Its use is a violation of the Hazardous Substance Act.
Officials also conducted an operation at a factory producing nutritional supplement products containing appetite suppressant 'Sibutramine', a dangerous chemical which has been declared a prohibited substance in the region.
The factory, located in Samut Sakhon, belongs to Nine Cos, the manufacturer of nutritional supplement brands Be Coli, Novy, and Kiwida, all of which display inaccurate information on their packages. These offences are violations of the Food Act. Officials collected products from the factory to identify any other chemicals in laboratory tests.
Meanwhile, officials have also searched another factory in Pathum Thani, north of Bangkok, believed to be producing supplements containing Sibutramine in unpackaged pills. The factory was found to be without a factory permit. The CPPD and FDA will conduct more searches and investigatations to find all persons involved. The general public is advised to check for the FDA number on product packaging before a purchase.
SOURCE: National News Bureau of Thailand