Seven young South Koreans came to Bangkok over the weekend to complete a sell-out world tour and the finish of a year that saw them rise from a K-Pop anomaly to a global pop sensation.
BTS (Bangtan Sonyeondan – Bulletproof Boyscouts) have toured the world with their 'Love Yourself' tour in an eventful year that has seen them break through the 'bamboo barrier' into mainstream pop music – no mean feat when your songs are mostly sung in Korean!
Just getting to the Rajamangala stadium in Bangkok last night was an event. The stadium, built originally for the Asian Games in 1998, is BIG but built in the middle of an average Bangkok suburb with small, busy streets on each side. The stadium isn't served by any of Bangkok's public transport.
I was smart and booked a Grab Bike taxi to and from the venue, otherwise it was mayhem. But if there was chaos outside, it was nothing compared to what was about to unfold inside the stadium.
Coldplay, Lady Gaga, One Direction and Ed Sheeran (coming up later this month) have sold single dates in the huge stadium. BTS is the only act, local or international, to sell-out two concerts in the vast stadium.
The security was intense – no cameras, no water (buy the over-priced water inside please), bag searchers, security, security. But once inside it was an extraordinary atmosphere of joy and anticipation.
The concert started on time and would go for over two and a half hours in a perfectly paced, high-energy performance. They covered all their hits – hip-hop, ballads, pure pop, anthems – mostly along with their crisp, edgy choreography. That the fans, mostly young Thais, were singing along IN KOREAN was astonishing.
When there was a Bangkok downpour in the middle of the show not one person, either in the audience or on stage, stopped to seek shelter. We all got wet and the BTS boys got wet along with the rest of us (in amongst seven costume changes – WHO does their laundry?!)
BTS are now seasoned world class live performers, they've been at it since 2013 when they debuted on one of the many popular K-Pop TV shows. But it would take until 2017 until they started to break out and become global hits winning American Music Awards, performing on Ellen, Jimmy Fallon and James Cordner's night shows, Graham Norton's show and countless others. Having two albums getting to #1 on the Billboard charts in 2018 was a real eye-opener for people in the music industry who before had never heard of BTS and were now asking 'who are these guys'?
The show, by now well known to 'Army' (the name given to BTS fans) is a slick, well-paced show using plenty of video replay on HUGE screens and a stage and runway that reaches right out to the cheaper seats. Everyone gets to feel like they're part of the show.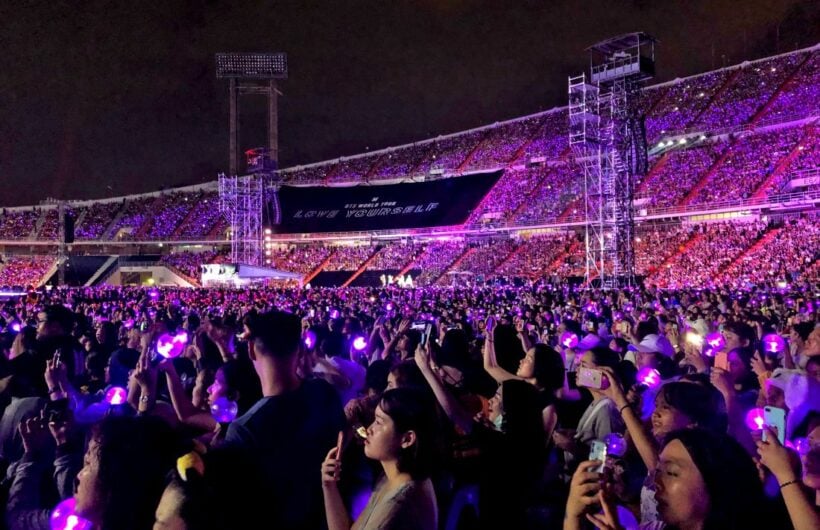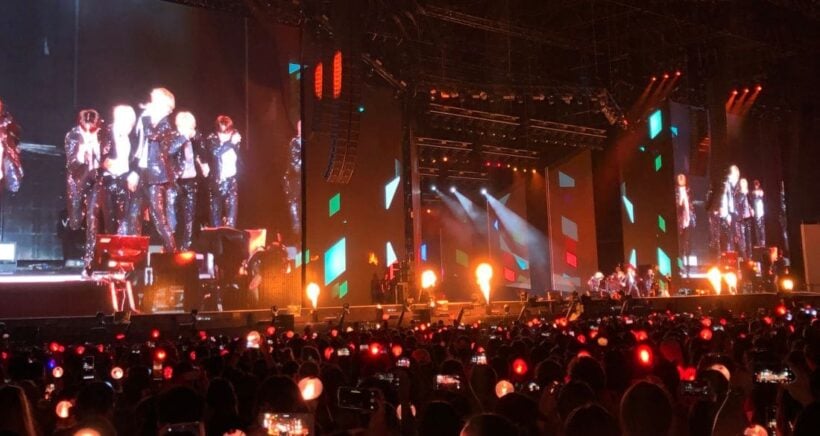 There are no weak links in this seven person ensemble. RM, Jin, Suga, Jimin, J-Hope, V and Jungkook are all accomplished musicians and performers. They dance, they sing, they rap, they perform together and as soloists. There is a palpable synergy and energy between the members, born through early years of struggle when they were thought to be 'hopeless' and just another K-Pop boyband.
Last night's final leg in the Love Yourself tour proved that BTS are much, much more than 'just another K-Pop boyband'. They have a solid body of music, mostly written and produced by themselves, already under their belt and are breaking records on YouTube, Twitter and Spotify with any new music they release. That they've totally weaponised social media is undoubtedly part of their success so far.
BTS's latest album 'Persona-Map of the Soul' is released on April 12 with an appearance on Saturday Night Live the day after.
If you don't know anything BTS just google the word and select from any of the 477,000,000 listings! (Or go to YouTube and check out any of the many music videos HERE)


Find local events and browse venues in Thailand with Thaiger Events, or post your own today.

Read more headlines, reports & breaking news in Bangkok. Or catch up on your Thailand news.
Bangkok home prices among the cheapest in the Key Global Cities report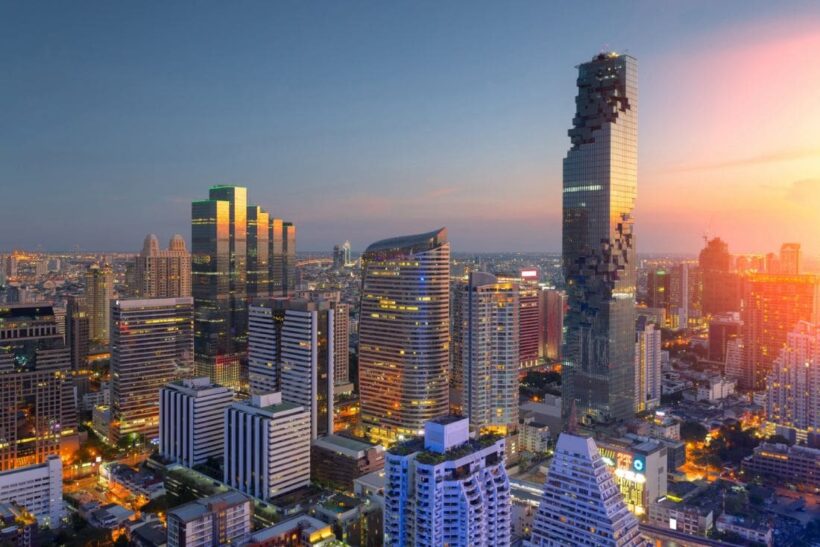 Hong Kong maintains its position as the world's most expensive residential city, while Bangkok ranks at #33 out of 35 global cities surveyed.
In the fifth annual Global Living Report, CBRE profiles the property markets across 35 key global cities. The results highlight that investments in urban areas such as transport infrastructure, connectivity, retail, cultural centres and housing are key drivers of economic growth.
"In the fifth edition of the 'Global Living' report, we have expanded the number of cities we examine from 29 to 35. They include the most exciting cities in the world, from emerging technology-driven powerhouses like Shenzhen and Bangkok through more traditional capital cities such as Rome and Lisbon, to rapidly evolving modern urban centres like Dubai and Johannesburg," according to Jennet Siebrits, Head of Residential Research at CBRE UK.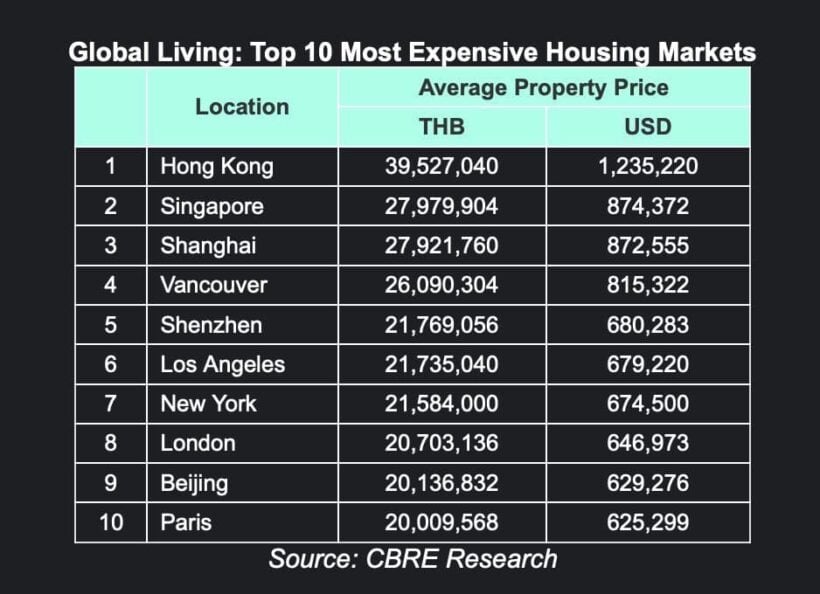 The top three most expensive places to buy a residential property are all in Asia. Hong Kong remains the city with the highest value residential real estate, with an average property costing 39.52 million baht (USD 1.235 million), Singapore in second place, averaging 27.97 million baht (USD 874,372), and Shanghai third at 27.92 million baht (USD 872,555).
Bangkok stands at #33 position with an average residential property price of 3.4 million baht (USD 106,383), followed by Ho Chi Min City at 3.29 million baht (USD 103,057) and Istanbul at the bottom with average prices of 3.11 million baht (USD 97,396) amongst the 35 surveyed world cities.
The biggest year-on-year growth was experienced in double-digits by Barcelona (16.9%), Dublin (11.6%), Shanghai (11.2%) and Madrid (10.2%). London remains one of the top ten performing global cities, with the average property price of 20.7 million baht (USD 646,973) although growth was down by 1.1%.
You can read the full report HERE.
Find the largest list of Bangkok city properties for sale HERE.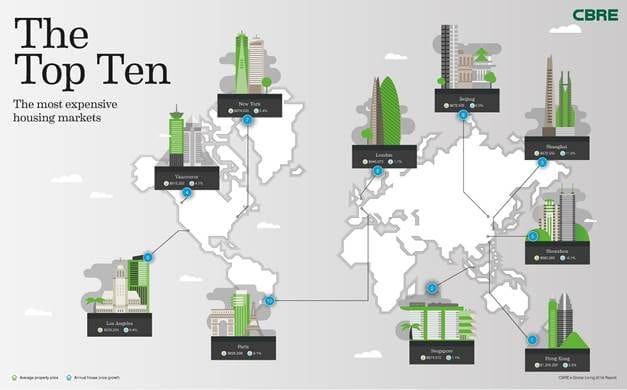 Freak storm batters Don Mueang Airport, Bangkok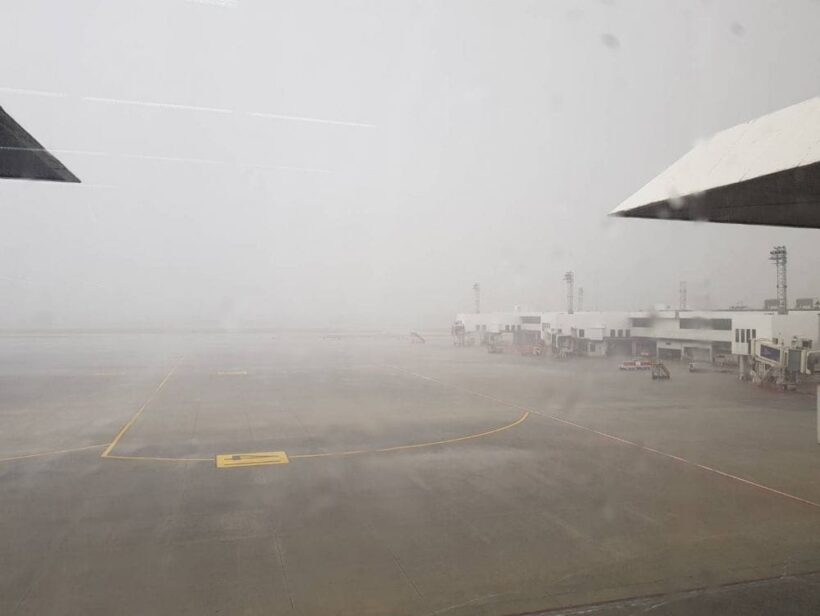 A random summer storm has struck Bangkok's Don Mueang Airport this afternoon. The freak storm affected more than 18 flights and stranded 3,000 passengers whilst the storm battered the area north of the main city.
At least one flight was re-directed to the nearby Suvarnabhumi Airport and another to U-Tapao Airport.
Strong winds caused a Lion Air mobile airstair to hit a Nok Air aircraft parked nearby, after which all 176 passengers on board the Nok Air flight had to disembark and board another aircraft. Their flight was delayed up to 90 minutes.
The storm disrupted flights in and out of Don Mueang Airport between 2pm and 4pm.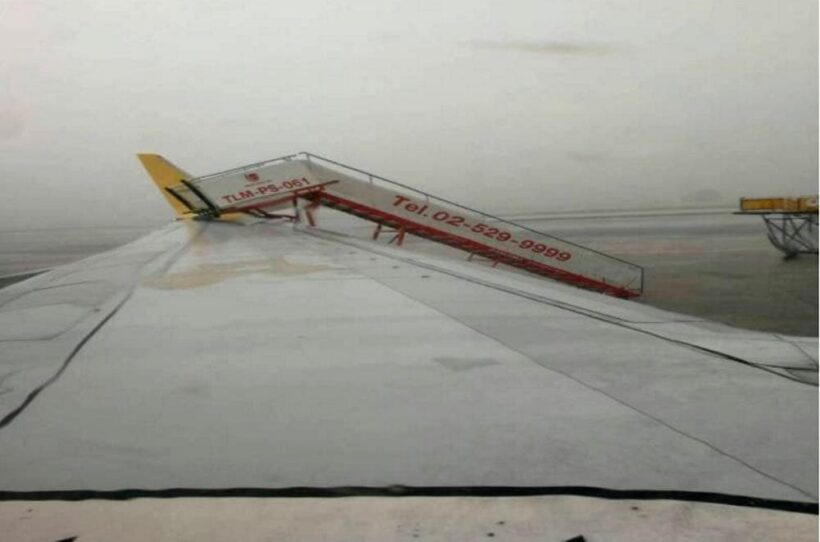 A mobile stairwell was more mobile than it was meant to be during the storm
The Aeronautical Radio of Thailand reported that the storm passed at about 3.15pm and normal services at the airport resumed soon after.
During the storm dozens of planes were parked waiting for a take off slot, while dozens others circled in the city's vicinity waiting for the opportunity to land.
Pathum Thani was also hit by winds, so severe that they blew off a section of the Western University's concrete wall. The falling debris seriously damaged four cars and two motorcycles owned by university staff and lecturers, though nobody was injured.
The Meteorological Department has forecast summer and electrical storms in the North, Northeast, East and Central regions, including Bangkok tomorrow and into the early part of the weekend.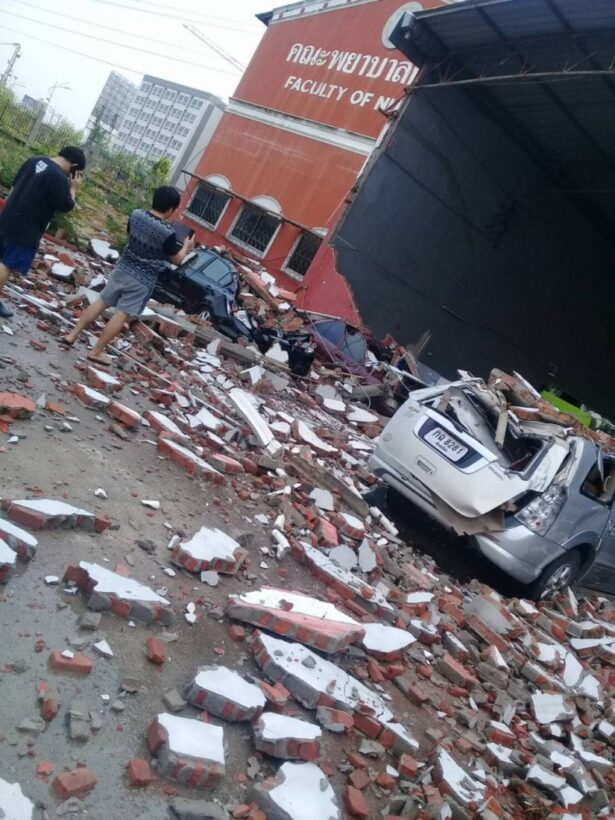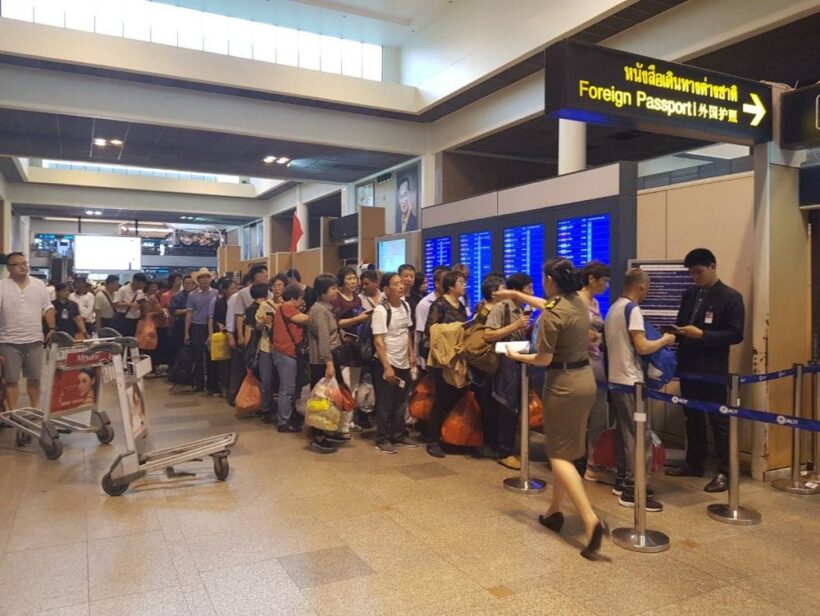 SOURCE: The Nation
UPDATE: Armed Mercedes snake man to be charged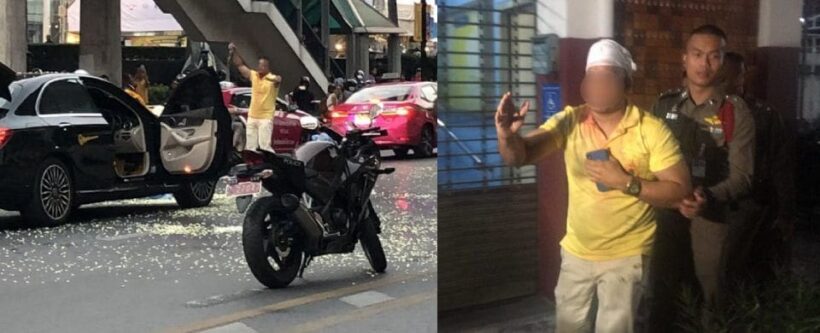 No previous mental medical health problems have been identified for the man who released snakes on the road outside Central World in Bangkok yesterday.
The incident caused bedlam and stopped traffic outside Central World. A man, armed with a large knife, stopped his new black Mercedes right in the middle of the road. He then got out, posted some signs around the car and started releasing snakes out of a blue bag onto the road in front of the bewildered passersby.
Read more about last night's bizarre display HERE.
Metropolitan Police revealed at a press conference that the man was 42 year old 'Kanetpitsanuthep' or Kanthapong Jakkrapopmahadaecha. He told police that he was worshipping as part of his beliefs in the Buddhism and Hindu religions. He says he received power from the sun (solar powered snake release). The man released two cobras during his impromptu demonstration yesterday.
The man had a mental health check this morning. If police determine that he doesn't have any mental health issues, he will face charges of releasing garbage in a public area, carrying a knife in public without reason and blocking traffic. Releasing the two cobras didn't appear to attract any particular conviction.
Kanetpitsanuthep told police that he was nervous as his mother has just passed away last year and that his sister had suffered from cancer.