Seven young South Koreans came to Bangkok over the weekend to complete a sell-out world tour and the finish of a year that saw them rise from a K-Pop anomaly to a global pop sensation.
BTS (Bangtan Sonyeondan – Bulletproof Boyscouts) have toured the world with their 'Love Yourself' tour in an eventful year that has seen them break through the 'bamboo barrier' into mainstream pop music – no mean feat when your songs are mostly sung in Korean!
Just getting to the Rajamangala stadium in Bangkok last night was an event. The stadium, built originally for the Asian Games in 1998, is BIG but built in the middle of an average Bangkok suburb with small, busy streets on each side. The stadium isn't served by any of Bangkok's public transport.
I was smart and booked a Grab Bike taxi to and from the venue, otherwise it was mayhem. But if there was chaos outside, it was nothing compared to what was about to unfold inside the stadium.
Coldplay, Lady Gaga, One Direction and Ed Sheeran (coming up later this month) have sold single dates in the huge stadium. BTS is the only act, local or international, to sell-out two concerts in the vast stadium.
The security was intense – no cameras, no water (buy the over-priced water inside please), bag searchers, security, security. But once inside it was an extraordinary atmosphere of joy and anticipation.
The concert started on time and would go for over two and a half hours in a perfectly paced, high-energy performance. They covered all their hits – hip-hop, ballads, pure pop, anthems – mostly along with their crisp, edgy choreography. That the fans, mostly young Thais, were singing along IN KOREAN was astonishing.
When there was a Bangkok downpour in the middle of the show not one person, either in the audience or on stage, stopped to seek shelter. We all got wet and the BTS boys got wet along with the rest of us (in amongst seven costume changes – WHO does their laundry?!)
BTS are now seasoned world class live performers, they've been at it since 2013 when they debuted on one of the many popular K-Pop TV shows. But it would take until 2017 until they started to break out and become global hits winning American Music Awards, performing on Ellen, Jimmy Fallon and James Cordner's night shows, Graham Norton's show and countless others. Having two albums getting to #1 on the Billboard charts in 2018 was a real eye-opener for people in the music industry who before had never heard of BTS and were now asking 'who are these guys'?
The show, by now well known to 'Army' (the name given to BTS fans) is a slick, well-paced show using plenty of video replay on HUGE screens and a stage and runway that reaches right out to the cheaper seats. Everyone gets to feel like they're part of the show.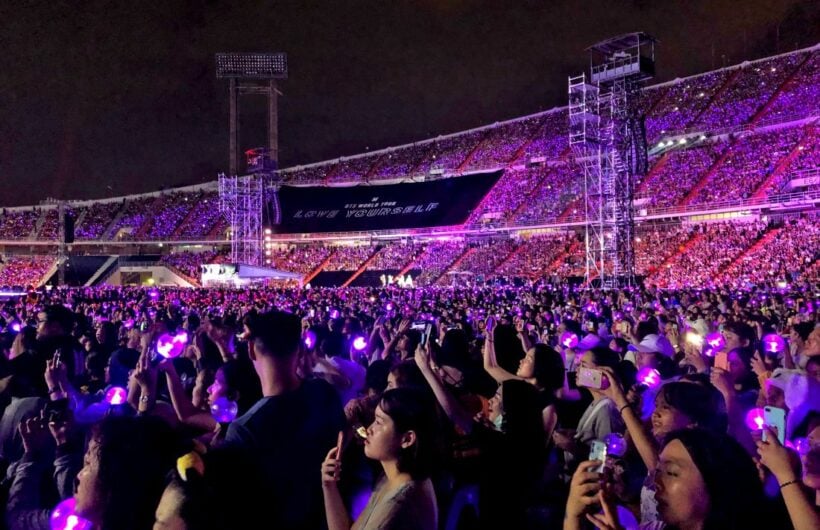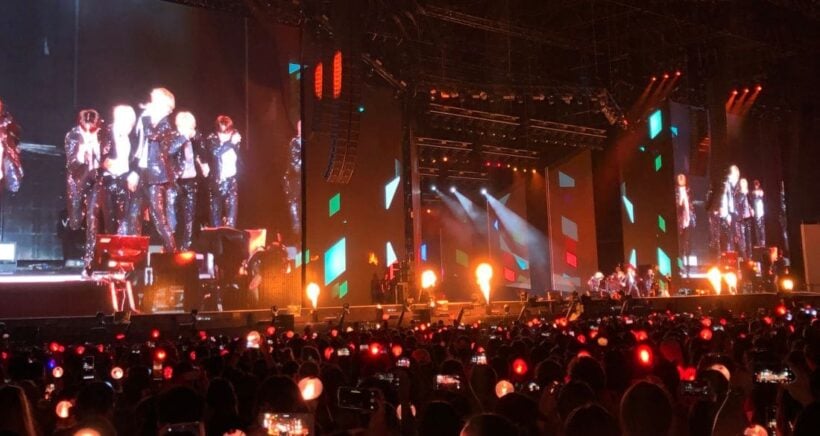 There are no weak links in this seven person ensemble. RM, Jin, Suga, Jimin, J-Hope, V and Jungkook are all accomplished musicians and performers. They dance, they sing, they rap, they perform together and as soloists. There is a palpable synergy and energy between the members, born through early years of struggle when they were thought to be 'hopeless' and just another K-Pop boyband.
Last night's final leg in the Love Yourself tour proved that BTS are much, much more than 'just another K-Pop boyband'. They have a solid body of music, mostly written and produced by themselves, already under their belt and are breaking records on YouTube, Twitter and Spotify with any new music they release. That they've totally weaponised social media is undoubtedly part of their success so far.
BTS's latest album 'Persona-Map of the Soul' is released on April 12 with an appearance on Saturday Night Live the day after.
If you don't know anything BTS just google the word and select from any of the 477,000,000 listings! (Or go to YouTube and check out any of the many music videos HERE)
Keep in contact with The Thaiger by following our
Facebook page
.
Bangkok and Nonthaburi to get 2 extra holidays during ASEAN summit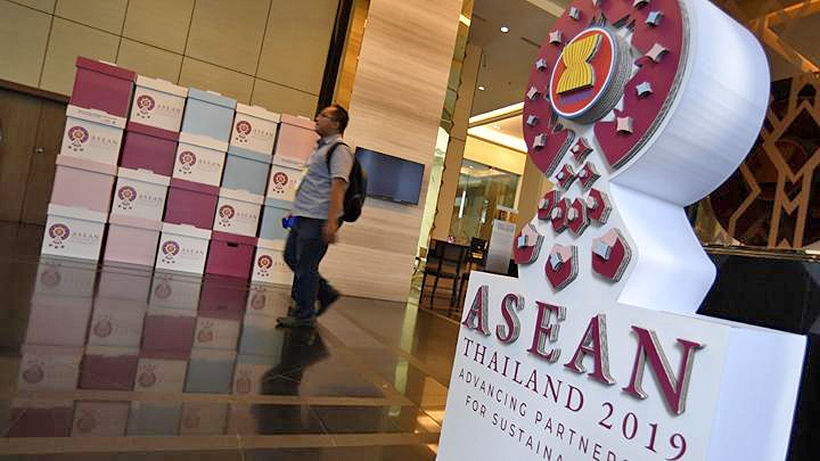 November 4 and 5 have been approved as official holidays for Bangkok and Nonthaburi as a result of the 35th Asean Summit and Related Summits being held at Impact Arena Muang Thong Thani in Bangkok.
Deputy government spokeswoman Traisulee Traisoranakul confirmed yesterday that the measure was being taken in an effort to alleviate traffic problems in both areas during the summit, adding that other state enterprises and the Bank of Thailand could implement the holidays for their subsidiaries at their own discretion and on a case-by-case basis.
"Government agencies in Bangkok and Nonthaburi will stop working on these dates. Meanwhile, state enterprises and the Bank of Thailand will consider announcing November 4 and 5 as holidays for their subsidiaries on case-by-case basis."
"However, government agencies which have a necessity to provide urgent or previously scheduled services to their clients that cannot be postponed may stay open on November 4 and 5, depending on the decision by the heads of these departments."
Some other public or regional holidays coming up…

SOURCE: The Nation
Keep in contact with The Thaiger by following our
Facebook page
.
Colourful European ecstasy tablets targeting Thai youth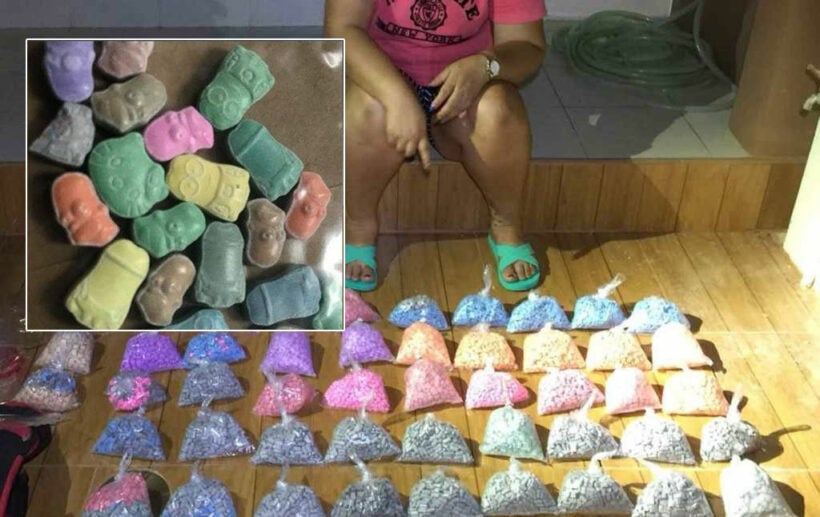 PHOTO:
The Narcotics Control Board are warning about cartoon-character labelled ecstasy pills that are being smuggled from Europe and heading for Thailand and a growing market of younger users. Some of the colourful pills had been cast as characters from Minions movies and The Simpsons.
The Office of the Narcotics Control Board deputy secretary-general Niyom Termsrisook told reporters about the ecstasy pills following the arrest of a woman in Pathum Thani, just north of Bangkok, last week. The woman was arrested with about 28,000 cartoon-character ecstasy pills on October 8. Niyom said they had been tracked back to a European supplier.
"The pills were produced in France and the Netherlands. Drug dealers have also been expanding their markets to south east Asia. The drugs are smuggled through airports in Cambodia and Vietnam."
"The pills are stored in Cambodia before being smuggled through natural border passages to Thailand.
Niyom alleged the smugglers were victims of human traffickers hired by African traffickers.
He said that local sellers of the ecstasy pills are targeting young pub goers as the drugs have a sex-stimulant property.
A source at the ONCB said a quantity of cartoon-character ecstasy pills was earlier seized at Suvarnabhumi airport in the capital. The pills were smuggled from the Netherlands where they were priced at 60 baht per pill.
SOURCE: Chiang Rai Times
Keep in contact with The Thaiger by following our
Facebook page
.
Thai High Speed Railway linking airports now to be signed off on October 25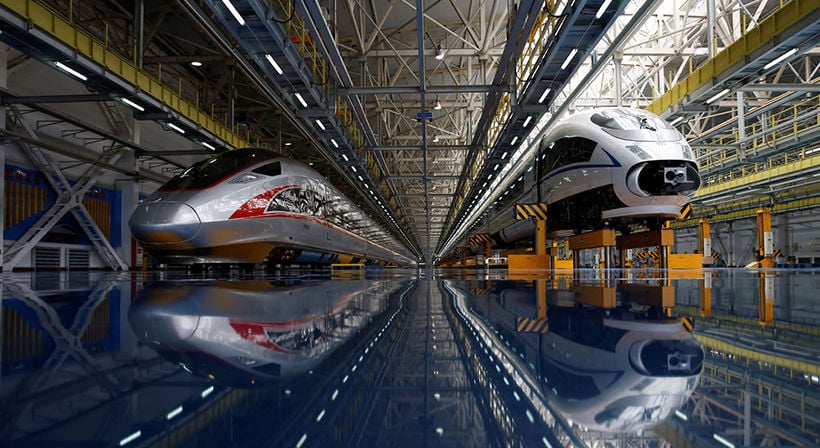 The State Railway of Thailand and the Charoen Pokphand Group-led consortium are putting pen to paper and signing the contract for the high-speed train project on October 25.
The much-discussed high speed railway will link Suvarnabhumi, Don Mueang and U-Tapao international airports. The new SRT board was approved by the Thai cabinet today.
Deputy PM Anutin Charnvirakul says he is confident the contract will now be signed, adding that he has already met with Supachai Chearavanont, CEO of the CP group, and assured him of the government's full cooperation and support.
The Charoen Pokphand-led consortium won the bid to develop the 224-billion baht high-speed train infrastructure as a signature project for the government's flagship Eastern Economic Corridor (EEC) high-tech investment hub. The train service is scheduled to be operational in 2024 (The Thaiger is taking bets now).
Recently, however, the CP-led consortium raised concerns over land expropriation and eviction problems and asked for the government to share the risk on this issue. The Transport Ministry has already rejected the request putting the onus on CP as part of the proposal.
Mr. Anutin explained that, in any large infrastructure project involving expropriation of land, it is usual for the government or state agency not to be able to hand over the land to the contractor all at once. In such cases, the contracted completion date can be moved back.
He said the CP-led consortium should proceed with the high-speed train project without further delay because 70% of the land is ready to be handed over.
Meanwhile, the deputy PM admits that he didn't know why the entire SRT board resigned en masse, delaying the signing of the contract, and denied that he had put pressure on the board to quit. He also denied that Transport Minister Saksayam Chidchob, also of the Bhumjaithai party, objected to the SRT board's mass resignation because the latter wanted the contract to be signed quickly.
SOURCE: Thai PBS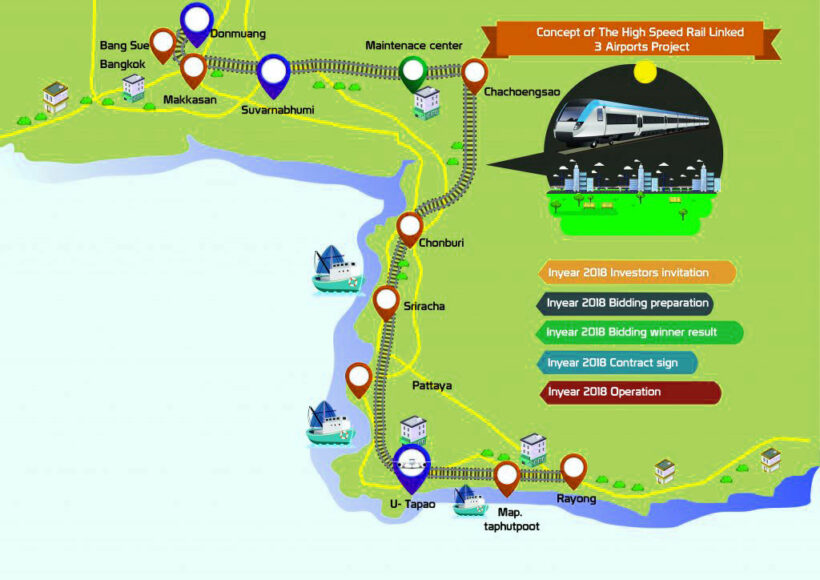 Keep in contact with The Thaiger by following our
Facebook page
.