"Australian 'red notice' led to the arrest of Hakeem al-Araibi"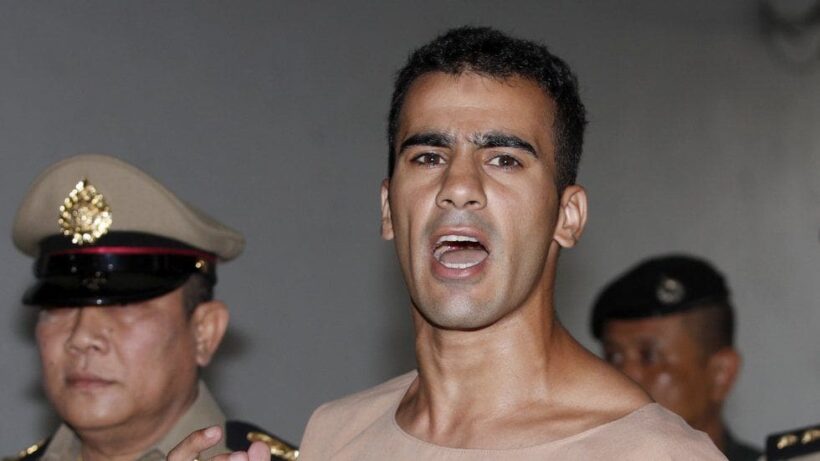 PHOTO: South China Morning Post
"Australia issuance of an Interpol red notice for former Bahraini footballer Hakeem al-Araibi that led to his arrest in Thailand". This revelation from Thai Foreign Minister Don Pramudwinai.
Bahrain, which issued an arrest warrant after finding him guilty of criminal charges in 2014, learnt about his overseas trip and requested Thailand to detain him, Don said.
Al-Araibi was arrested at Suvarnabhumi Airport on November 27 after a honeymoon trip with his wife while reportedly en route to Australia, where he was granted residency about four years ago.
A Thai Criminal Court agreed on Monday to consider Bahrain's request to extradite him to face jail term.
Meanwhile, the Thai PM Prayuth Chan-ocha told reporters not to "jump to conclusions" regarding the verdict of detained refugee footballer Hakeem Al-Araibi.
Breaking his silence for the first time since Mr Al-Araibi's arrest, the PM said Thailand was working with Australia and Bahrain to find a solution.
"Do not jump to conclusions about the verdict and do not politicise this. In the meantime, the Foreign Ministry is coordinating with the two countries, both Australia and Bahrain to find a solution for this issue," he told reporters at a news briefing.
Since the arrest of al-Araibi hit global headlines, Australia has been at the forefront of the demand for his immediate release, arguing that he was a refugee with Australian residency and therefore should not be arrested and face an extradition trial.
"The Interpol's red notice issued by Canberra on al-Araibi reached the Thai side before he arrived here. Interpol was very quick and we arrested him at the request of Bahrain," said FM Don yesterday.
Thailand now finds itself caught in the middle of this conflict. A solution would be for Australia and Bahrain to sit down and talk, he said.
"Thailand is willing to help facilitate the talks if both sides agree to settle the matter through negotiations. One way out would be to send him to a third country," Don said.
SOURCES: The Nation, Australia's SBS
Keep in contact with The Thaiger by following our
Facebook page
.
Royal Barge Procession on Bangkok's Chao Phraya postponed to December 12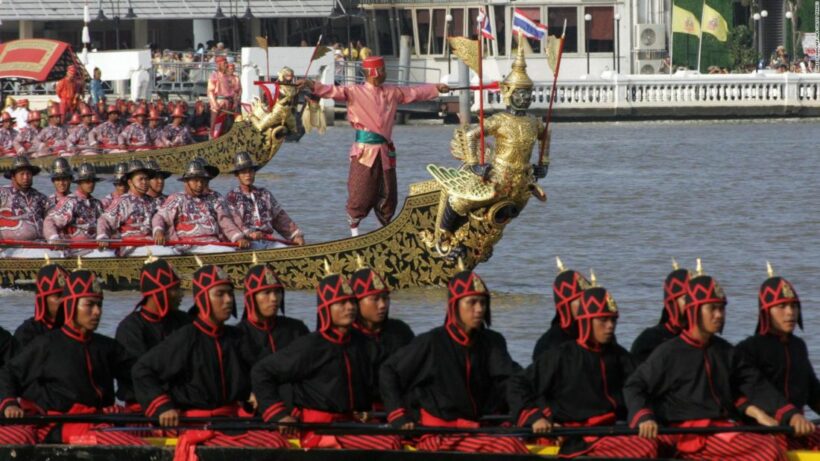 PHOTOS: AFP
His Majesty the King has ordered the Royal Barge Procession to be postponed to December 12, originally scheduled for October 24, as recommended by the organising committee chaired by PM Prayut Chan-o-cha. Deputy PM Wissanu Krea-ngarm told Parliament yesterday about the official postponement.
After ten rehearsals and one dress rehearsal, he said the organising committee agreed that, if the procession were to proceed on October 24, the water conditions in the Chao Phraya River, currents and weather conditions would not be optimal. The committee then reported its concerns to HM the King, who subsequently agreed that the event be postponed until December 12, the beginning of the winter in Bangkok and the most settled weather of the year, according to Thai PBS World.
The committee will meet again on October 21 and a formal announcement will be made about the new schedule, said Wissanu, adding that December would be perfect timing for the event as there will be little chance of rain.
The Royal Barge Procession is the official finale of the King's Coronation ceremony held in May this year. Their Majesties the King and Queen will ride on one of the 52 barges in the procession.
SOURCE: Thai PBS World
Here's an example of what it will look like…
Keep in contact with The Thaiger by following our
Facebook page
.
BTS thief and credit card skimmers arrested in Bangkok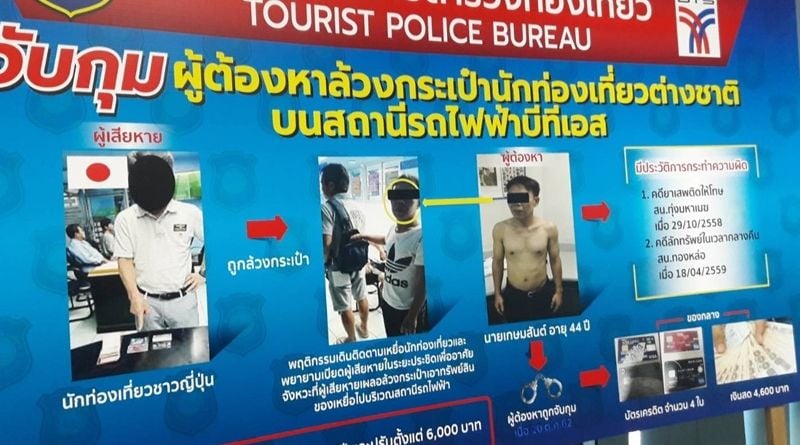 Tourist police in Bangkok have arrested a thief accused of pick-pocketing tourists on the city's BTS Skytrain, along with an Indonesian couple charged with credit card fraud and card skimming.
Kasem Masan Jantaro, a 44 year old food vendor in the Huay Kwang market, says he started pick-pocketing when business became too slow for him to adequately support his family. The Skytrain security team alerted the police after several reports of tourists being pick-pocketed on the trains. Victims described the thief as middle-aged, with pale skin.
Kasem was arrested while trying to flee the scene at the Asok BTS station on Wednesday and was found to have 4,600 baht in cash and four stolen credit cards in his possession. Thai Residents reports that Kasem was previously prosecuted for drugs offences in 2015 and for robbery in 2016.
In a separate arrest, Bangkok police detained 32 year old Alexander Eddilias and 33 year old Estie Rusdiana, an Indonesian couple charged with being in possession of fake credit cards, stolen credit cards, and skimming devices used to steal credit card information.
The arrest comes after several banks notified police of transactions made using fake cards and the couple were tracked to a room in the Pratunam area of Bangkok. Officers also seized a computer, a skimming device, twenty two fake credit cards, two stolen credit cards, and twenty four credit card receipts.
The suspects say they bought the information on the Dark Web. The information was then recorded in the magnetic strip of the fake cards, which were used to make purchases worth approximately 2 million baht.
SOURCE: Thai Residents
Keep in contact with The Thaiger by following our
Facebook page
.
Bangkok and Nonthaburi to get 2 extra holidays during ASEAN summit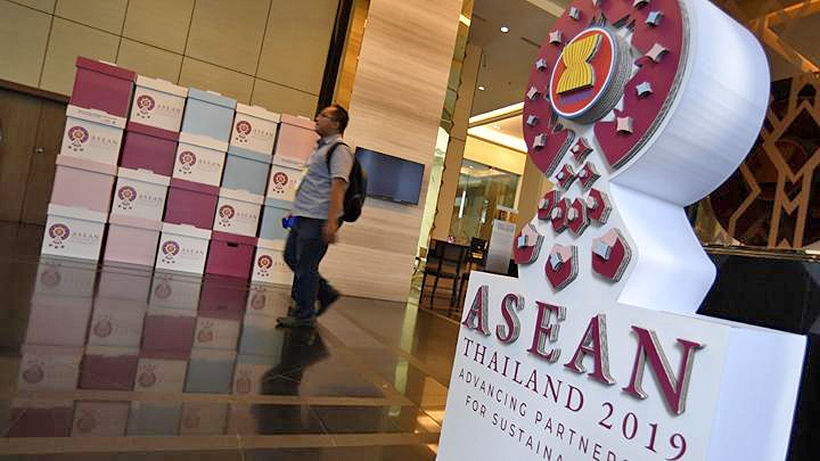 November 4 and 5 have been approved as official holidays for Bangkok and Nonthaburi as a result of the 35th Asean Summit and Related Summits being held at Impact Arena Muang Thong Thani in Bangkok.
Deputy government spokeswoman Traisulee Traisoranakul confirmed yesterday that the measure was being taken in an effort to alleviate traffic problems in both areas during the summit, adding that other state enterprises and the Bank of Thailand could implement the holidays for their subsidiaries at their own discretion and on a case-by-case basis.
"Government agencies in Bangkok and Nonthaburi will stop working on these dates. Meanwhile, state enterprises and the Bank of Thailand will consider announcing November 4 and 5 as holidays for their subsidiaries on case-by-case basis."
"However, government agencies which have a necessity to provide urgent or previously scheduled services to their clients that cannot be postponed may stay open on November 4 and 5, depending on the decision by the heads of these departments."
Some other public or regional holidays coming up…

SOURCE: The Nation
Keep in contact with The Thaiger by following our
Facebook page
.