24 year old dies after e-cigarette explodes in his face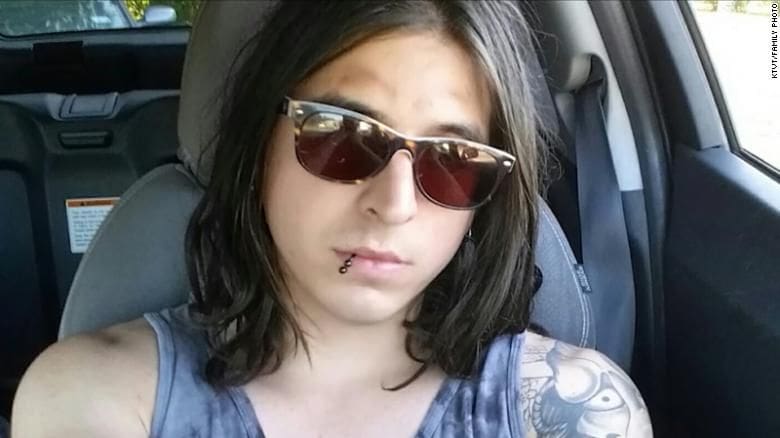 PHOTO: William Brown died in a Fort Worth hospital on January 29 – CNN
CNN reports that a Texas man died of a massive stroke after the e-cigarette he was using exploded and tore his carotid artery.
The Tarrant County Medical Examiner's office says that William Brown died in a Fort Worth hospital on January 29. The death certificate says he died from cerebral infarction and herniation after debris from the exploding vape pen dissected his left carotid artery.
The explosion reportedly happened on January 27, in the parking lot of a store that sells smoking and vaping supplies.
Brown had gone into the shop to ask for help using his vape pen, but did not buy anything, according to sources. The shop said they don't sell that brand of vape pen.
Last May, a man in St. Petersburg, Florida, was killed when his e-cigarette exploded and shot a piece of the device into his head.
Read the rest of the story from CNN HERE.
Keep in contact with The Thaiger by following our
Facebook page
.


Find more SE Asian News courtesy of The Thaiger.

Broke? Find employment in Southeast Asia with JobCute Thailand. Rich? Invest in real estate across Asia with FazWaz Property Group. Even book medical procedures worldwide with MyMediTravel, all powered by DB Ventures.

"No evidence of Covid-19 losing potency" – WHO experts dismiss claims of Italian scientist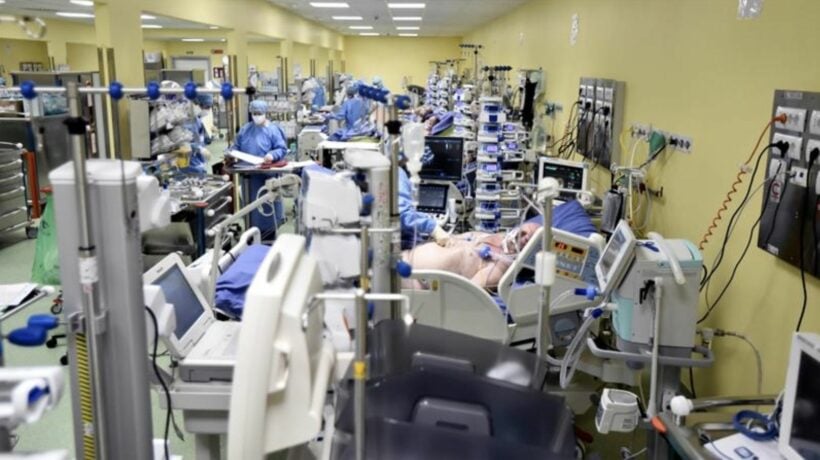 There is no evidence that the Covid-19 virus has been losing potency. A high profile Italian doctor made the assertions on Sunday. But the World Health Organisation and a range of other noted scientists say there was no evidence to support the assertion.
Professor Alberto Zangrillo, the head of intensive care at the San Raffaele Hospital in Lombardy, Italy, told state television that the new coronavirus "clinically no longer exists". Lombardy was the region in northern Italy which bore the brunt of Italy's Covid-19 outbreak. The professor said that new infections appear to be showing "a dramatic change… swab tests show patients have noticeably less of the virus in their bodies".
Zangrillo, the personal doctor of former Italian PM Silvio Berlusconi, claims his comments are backed up by a study conducted by Massimo Clementi, a fellow scientist, which Zangrillo says would be published next week.
"We have never said that the virus has changed, we said that the interaction between the virus and the host has definitely changed," he told Reuters.
"The result was unambiguous: an extremely significant difference between the viral load of patients admitted in March compared to" those admitted last month, Zangrillo said.
But WHO epidemiologist Maria Van Kerkhove, along with several other experts on viruses and infectious diseases, responded by saying Zangrillo's comments "were not supported by scientific evidence."
"There is no data to show the new coronavirus is changing significantly, either in its form of transmission or in the severity of the disease it causes."
The WHO's Van Kerkhove told reporters that… "in terms of transmissibility, that has not changed, in terms of severity, that has not changed."
The Covid-19 pandemic has so far killed more than 377,000 people and infected more than 6,366,000+ (as of Tuesday morning Thai time).
"Major studies looking at genetic changes in the SARS-CoV-2 virus that causes Covid-19 did not support the idea that it was becoming less potent, or weakening in any way."
The comments from Martin Hibberd, professor of emerging infectious diseases at London School of Hygiene & Tropical Medicine.
"With data from more than 35,000 whole virus genomes, there is currently no evidence that there is any significant difference relating to severity."
And a scientist at University of Glasgow's Centre for Virus Research, Oscar MacLean, says suggestions that the virus was weakening were "not supported by anything in the scientific literature and also seem fairly implausible on genetic grounds."
SOURCE: Reuters | Straits Times
Keep in contact with The Thaiger by following our
Facebook page
.
LA's Thai Town hit by protesters and rioters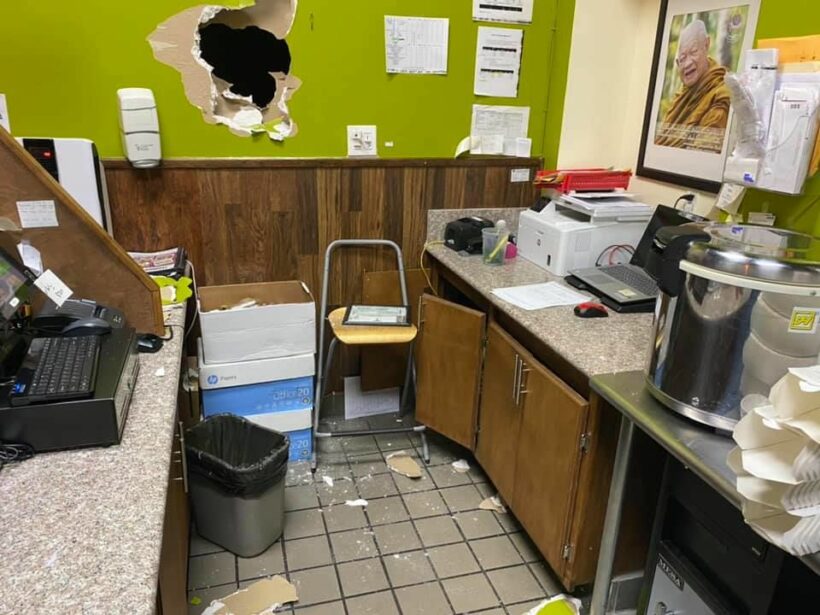 Thai Town businesses in Los Angeles were raided yesterday as rioters and looters across the US hit the streets, enraged over police brutality after a white police officer killed George Floyd, an African American, by pinning him to the ground, with his knee on Mr. Floyd's neck, restricting his breathing. Protesters in Minneapolis, where the officer patrolled, set the police station on fire, sparking riots across America.
SiamTown US, a Thai newspaper in Los Angeles, say looters broke into a Thai restaurant by busting in walls through the pharmacy next door. A jewellery store in Thai Town was broken into around midnight. SiamTown US posted video surveillance footage on their Facebook page.
"Police caught the bad guy, but everything is damaged," Sue Kiattisak Khamphanthong, the restaurant owner, said in a video posted on her Facebook page. Her video shows multiple holes in the walls where people broke in. Shelves, products and pots in her kitchen were knocked to the ground.
The unrest in Los Angeles has led the National Guard to monitor city hall, the Los Angeles Times reports. Nearly a dozen people were arrested for attempting to loot a mall in the area yesterday and a popular L.A. street was hit hard by looters, with glass shattered all over the sidewalks.
SOURCES: Khaosod | Los Angeles Times
ขโมยชัด ๆ แล้วมีหน้ามาบอกว่าต้องการความยุติธรรม. มาหาความ ยุติธรรมในครัวกูนี่น่ะ

Posted by Sue Kiattisak on Sunday, 31 May 2020
เตือนภัยธุรกิจไทยในอเมริกา!! อย่าทิ้งสิ่งของมีค่าไว้ในร้าน https://youtu.be/c6EC7XOwS7Uคลิปจากกล้องวงจรปิดเมื่อเทื่ยงคืนครึ่งเมื่อคืนนี้ โชว์ภาพกลุ่มวัยรุ่นประมาณ 5 คนเดินสำรวจร้านค้าในพลาซ่าถนนซันเซ็ท ไทยทาวน์ แคลิฟอร์เนีย อาศัยช่วงเคอร์ฟิวไม่มีคน ก่อนทุบร้านเครื่องประดับและนาฬิกาเสียหาย

Posted by SiamTownUS on Sunday, 31 May 2020
Keep in contact with The Thaiger by following our
Facebook page
.
UPDATE: George Floyd protests spread across the US – curfews imposed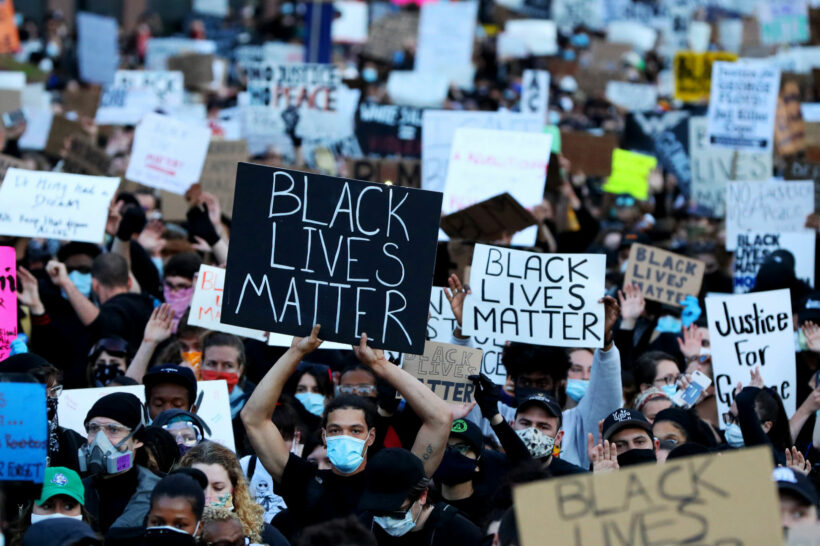 Violence continues to erupt across cities in the US, the 6th night of protests that were sparked by the death in police custody of an African-American, George Floyd. Riot police have clashed with protesters in New York, Chicago, Los Angeles, Philadelphia, Minneapolis, Washington and firing tear gas and pepper bullets trying to disperse the crowds. There have been more peaceful protests staged in other US cities.
At least 40 cities have now imposed curfews and 5,000 members of the National Guard have been activated in 15 states, as well as Washington, DC in streets and outside the White House. But protesters are defying the curfews, leading to tense stand-offs.
There have been multiple instances of police vehicles being attacked and vandalised, some even set alight . Riot officials are responding with tear gas and flash grenades. Looters are taking advantage of the situation and raiding stores.
A large group of protesters crossed over Brooklyn Bridge into Manhattan, New York yesterday, moving north through the Soho district, where several arrests were made. Protesters are facing off with riot police in full gear. Tensions remain high in New York with protesters shouting "Shame" at the police.
In Minneapolis, where George Floyd was killed, a truck driver was arrested after reportedly crashing through a road barrier before heading towards a crowd of protesters marching along a highway. Footage, posted on social media, shows dozens of people surrounding the vehicle and dragging the driver out of the truck after it was stopped.
Bogdan Vechirko, the man who was at the wheel of the truck that drove into the crowd of protesters has been charged with assault and will appear in court at a later date.
In Denver, thousands of people protested peacefully in Colorado State Capitol by lying face down with their hands behind their backs and chanting: "I can't breathe." There have also been largely-peaceful protests in Atlanta, Boston, Miami and Oklahoma City.
In the Atlanta protests, two officers were sacked yesterday for using excessive force, including firing a taser on two college students. In a statement last night the Boston Mayor Marty Walsh thanked peaceful protesters in the city whilst criticising "those who committed destruction and violence". Cleveland's Mayor Frank Jackson has extend the city's curfew until at least tomorrow… "people can only travel for essential activities, and businesses are urged to close".
The George Floyd case has reignited simmering tensions over police killings of black Americans. The outrage is also reflective of years of frustration over socio-economic inequality and segregation. When added to the statistical imbalance of black Americans in Covid-19 cases, and the difficulty many of them are having accessing proper health care during the pandemic, last weeks are seen to be a tipping point.
At a time when the public are seeking reassurance from the country's leadership, US President Trump is taking to Twitter to, in almost real time, accuse his political opponents and far-left organisations for being responsible for the unrest, peppered with name-calling and bellicosity. He has also accused the protests of being "professionally managed".
Just a week ago, on the evening of Monday, May 25, Minneapolis police received a phone call from a grocery store alleging that George Floyd had used a counterfeit $20 note when paying for groceries. Police officers were trying to get him into a police truck when he collapsed onto the ground, explaining to them he was "claustrophobic".
Police maintain that he physically resisted officers and was handcuffed. Video of the incident does not show how the confrontation started.
With police officer Derek Chauvin's knee on his neck, George Floyd can be heard on video saying "please, I can't breathe… don't kill me". Derek Chauvin had his knee on GeorgeFloyd's neck for 8 minutes and 46 seconds, according to a preliminary autopsy by the county medical examiner who also used several videos of the incident in their investigation. Three minutes of the nearly 9 minutes the autopsy report says that "Mr Floyd became non-responsive".
Nearly 2 minutes before Derek Chauvin removed his knee the other attending police officers checked George Floyd's pulse and were unable to find one. He was taken to hospital and pronounced dead.
44 year old Derek Chauvin was arrested Friday on charges of 3rd-degree murder and manslaughter for the death of George Floyd. He was meant to make his first court appearance today, but with Minneapolis still gripped by unrest, the appearance has now been pushed back until June 8. Minnesota's Attorney General Keith Ellison says he expects Chauvin to face additional charges.
Keep in contact with The Thaiger by following our
Facebook page
.