Australian government demands Thailand release Hakeem Al-Araibi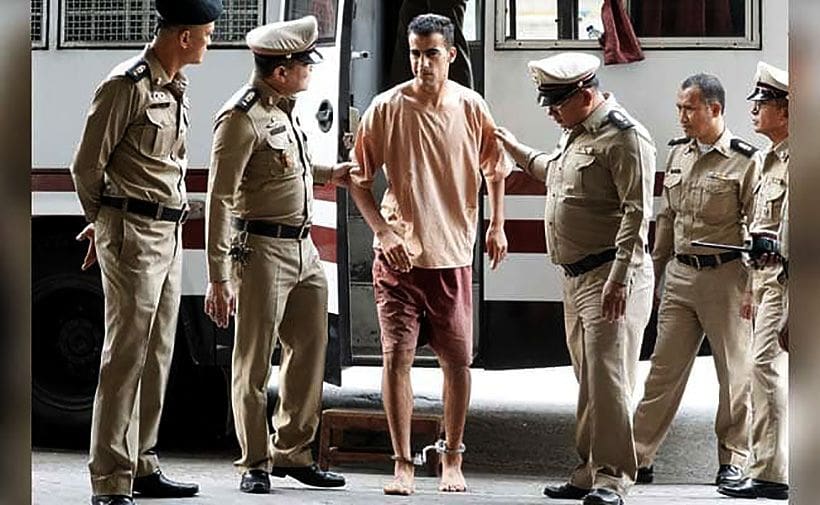 "The actions of the Bahraini Government have put Thailand in a very difficult position."
Australia officials are repeating their call that ex-Bahraini national footballer Hakeem al-Araibi, who is now facing a lengthy extradition process after an appearance in a Bangkok court yesterday, be returned to Australia immediately. They say that he is a legal refugee and a permanent resident of Australia.
"The Bahraini government knew very well that al-Araibi had lived in Australia since 2014," Canberra officials say in a statement issued on behalf of the Australian ambassador to Thailand.
"During these four years, the Bahraini Government did not attempt to ask Australia about Hakeem at all or to request to send him back to Bahrain," the statement said.
"However, as soon as Hakeem and his wife travelled to Thailand for their honeymoon, the Bahraini government expedited its coordination with the Thai government to have Hakeem arrested and commence extradition proceedings immediately."
"The actions of the Bahraini Government have put Thailand in a very difficult position. In particular, during what is an important year for the people and country of Thailand."
The statement was delivered to the media at the Criminal Court in Bangkok, where al-Araibi was facing extradition proceedings.
"Hakeem is a loved football player for Pascoe Vale FC and has football fans across the country. We hope that Hakeem will be able to go back to be with his family and his wife in the coming days."
Al-Araibi has been in custody since November following Bahrain's extradition request. He arrived to court yesterday in chains and prison garb and pleaded with reporters and football officials to help secure his freedom.
He was detained in November at Suvarnabhumi Airport in Bangkok en route to Australia after making a personal trip with his wife.
Thai police arrested him at the request of the Bahraini government, which had accused him of alleged involvement in a criminal offence in his home country in 2014, and had warrants issued for his arrest. Al-Araibi was given asylum in Australia in 2017 after fleeing his home country.
The Criminal Court has agreed to consider the extradition request for him to face trial in Bahrain, but the process will be a lengthy one.
SOURCE: The Nation
Keep in contact with The Thaiger by following our
Facebook page
.
Never miss out on future posts by
following The Thaiger
.
Bangkok air pollution predicted to reach "unhealthy" levels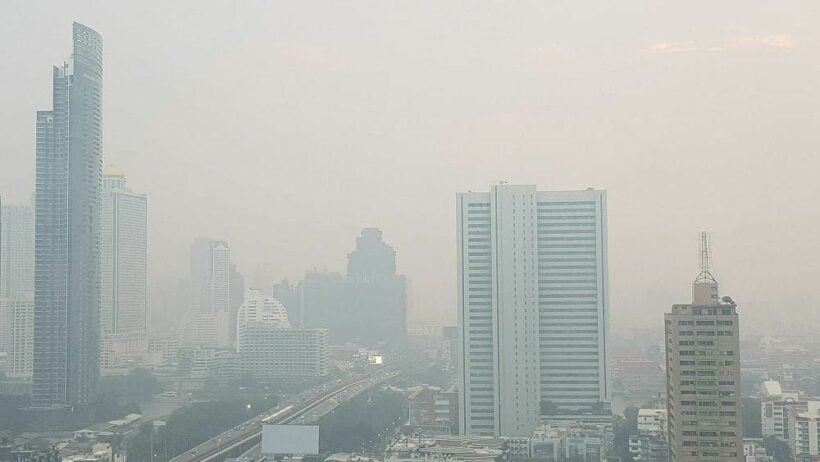 Bangkok's air quality improved during the lockdown period. In January, it was listed as the "third most polluted city in the world." By April, air pollution levels dropped down to a "safe" and "healthy" US Air Quality Index, or AQI. Now, forecasts predict Bangkok's air pollution will reach "unhealthy" levels.
Air with containing low levels of the air pollutant PM2.5 is considered "safe." PM 2.5 is fine particulate matter less than 2.5 micrometres in diameter. At high levels, it can be harmful to people's health. AQI is measured by the concentration of air pollutants. An AQI at 0 to 50 is considered safe, while 300 and up is considered dangerous.
0-50: Good
51-100: Moderate
101-150:Unhealthy for sensitive groups
151-200: Unhealthy
201-300: Very unhealthy
301-500: Hazardous
Just yesterday, Bangkok was listed as the 16th city with the worst air quality in the world on Air Visuals with an AQI of 108 with PM 2.5 at 38 micrograms per cubic meter (µg/m3). This morning, Bangkok's air quality was reported at a "moderate" level with an AQI of 95, according to Air Visuals.
Another website, through the World Air Quality Index project, reported the city's AQI at 129, a level that can be harmful to sensitive groups. Both websites forecast the AQI to increase by tonight to "unhealthy" levels that could be harmful to someone's health. Levels are expected to increase today to an AQI of 158 to 171.
The Pollution Control Department says the air quality in Bangkok fluctuates. While AQI was reported at a fairly high level yesterday, Bangkok has been between a "good" and "moderate" level with PM2.5 at around 20 to 42 µg/m3 detected by 71 air quality stations, according to the department.
The top 5 cities with the worst air quality, as of this morning on Air Visuals, are Delhi, India with 192 AQI; Shenyang, China with 186 AQI; Beijing, China with 174 AQI; Chongqing, China with 172 AQI and Chengdu, China with 167 AQI.
SOURCES: Nation Thailand | Air Visuals| World Air Quality Index project
Keep in contact with The Thaiger by following our
Facebook page
.
Never miss out on future posts by
following The Thaiger
.
Protesters mass at the Ratchaprasong intersection in Bangkok for the first of 2 scheduled rallies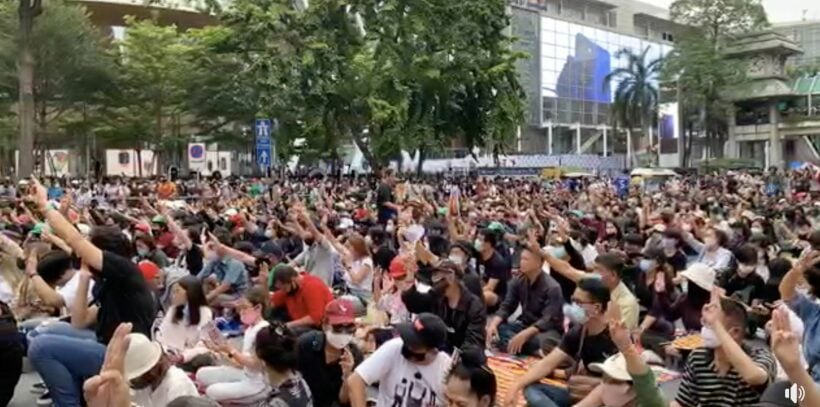 Crowds are gathering at the Ratchprsong intersection in Bangkok, one of the promised locations for a rally in response to last night's refusal of the Thai PM to resign. Thousands have already gathered and, if the weather holds out, the numbers will continue to swell as the evening approaches.
Ratchprasong intersection is one of the busiest intersections in the city, right in the middle of the central Bangkok shopping district.
People have crowded the roads at the intersection, with hundreds of onlookers watching from the skywalk that is strung under the BTS tracks. The crowd is building along Ratchdamri Road, in front of Central World. Banners are being prepared on site with demands for the Thai prime minister's resignation and other calls for action. Some of the banners are being taken from protest to protest, becoming a canvas for thousands of protesters to share their signatures and messages to the Government.
Messages on one of the banners read "We are the people", "Everyone is a leader", "Thailand is for the people", "Police should protect the people".
Musical performances are planned for this evening as the peaceful rally slowly grows in number. People's Party and Free Youth merchandise is also being sold, along with the usual assortment of food stalls along the sides of Ratchadamri Road.
Many of the protesters have also mentioned the prospect of pro-royalist protesters turning up but have expressed their hope that the protests to continue peacefully. At this stage, there has been no sign of yellow shirted demonstrators at the site.
There are very few police patrolling the intersection as of 4.45pm, outnumbered at this stage by opportunist motorcycle taxi riders waiting for the conclusion of the rally. First aid, food, safety gear and merchandise are all on hand, much of the assistance from University volunteers.
There has also been a smattering of foreign protesters joining the Thais, also flashing signs of support, in English.
Tomorrow protesters have promised to march from the Sam Ron intersection to the German Embassy, a symbolic march to draw attention to the chosen overseas domicile of a "very important person".
Many of the key protest leaders remain in jail, refused bail yesterday by the Appeals Court. They are still in residence at the Bangkok Remand Centre
The State of Emergency, forbidding the gathering of any more than 5 people, was dropped last Thursday morning after being in operation for a week.
Some protesters today say they would have been happy to keep defying the State of Emergency and fear that the removal of the emergency provisions could draw out more Royalist rallies with the potential for violent interaction between the two groups.
Keep in contact with The Thaiger by following our
Facebook page
.
Never miss out on future posts by
following The Thaiger
.
Protest locations announced for today and tomorrow, PM says he "won't quit"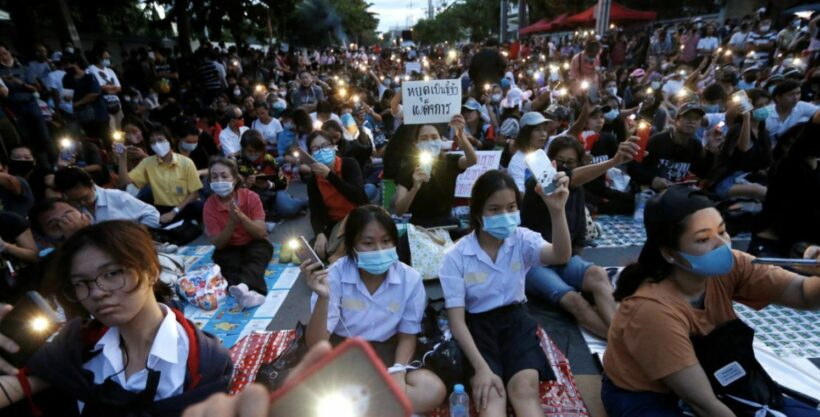 10pm came and went. Last night's deadline had been set for the Thai PM to resign. It was never likely to happen, and it didn't. Protesters yesterday promised that, if the prime minister didn't stand down, the protests would resume again. 2 protests have now been announced in central Bangkok for today and tomorrow.
PM Prayut was attending Buddhist prayers at Wat Chetuphon Wimon Mangkhalaram in Phra Nakhon, Bangkok. When asked about his response, the 66 year old merely responded "won't quit".
"I urge everyone to conciliate and help solve problems together."
Now protesters say that rallies will resume today and tomorrow.
The Dao Din group, one of many smaller factions that are all operating under the broader Khana Ratsadon 2563 student-led protest movement, including the Free Youth movement, has announced that a rally will be held at Ratchaprasong intersection at 4pm today.
There has also been a gathering announced for a rally at the Sam Yan intersection at 5pm on Monday where protesters will then march to the German Embassy, about 1.5 kilometres away on Sathorn Road, a clear reference to HM the King's favoured overseas domicile.
Jatupat "Pai Dao Din" Boonpattararaksa, who was released from the Bangkok Remand Prison on Friday. called on protesters to assemble at Ratchaprasong today.
The telegraphing of the 2 events will likely spur police to secure the busy intersections. But, in the past, the protesters have been able to switch venues at the last minute using social media and encrypted message apps to stay one step ahead of the security and police forces.
Tomorrow the 2 houses of the Thai Parliament will meet for 2 day emergency session called on by the speaker of the lower house Chuan Leekpai. Lower house elected MPs will be in session with the hand-picked NCPO-appointed senate. Opposition MPs have voiced concern that there will be no votes following the 2 days of debate and have accused the government of using the emergency session to stall true reform. Votes from the government's fragile lower house coalition plus the votes from the senate will be able to put down any motions during the session.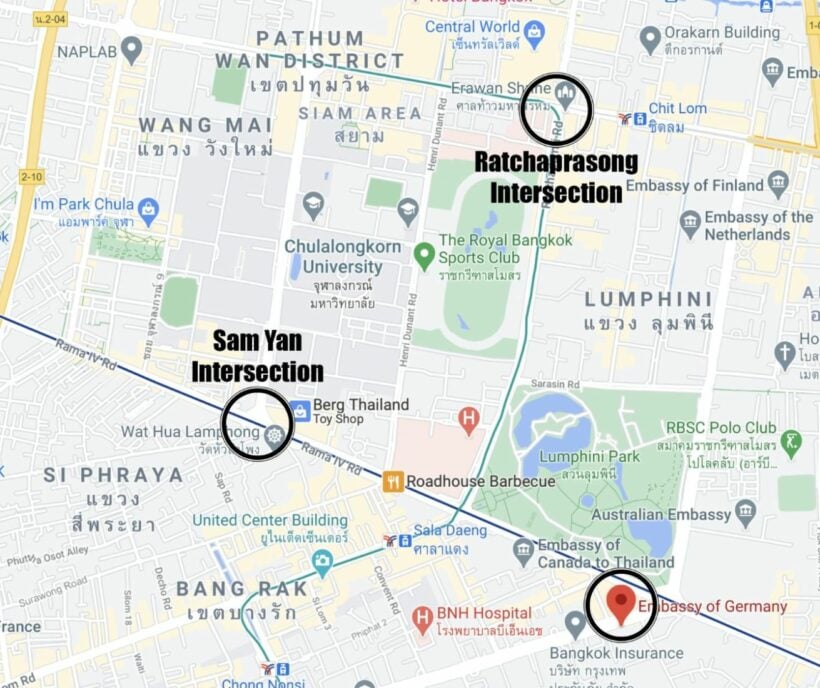 SOURCE: Bangkok Post
Keep in contact with The Thaiger by following our
Facebook page
.
Never miss out on future posts by
following The Thaiger
.