As readers abandon print, The Nation announces closure of daily printed paper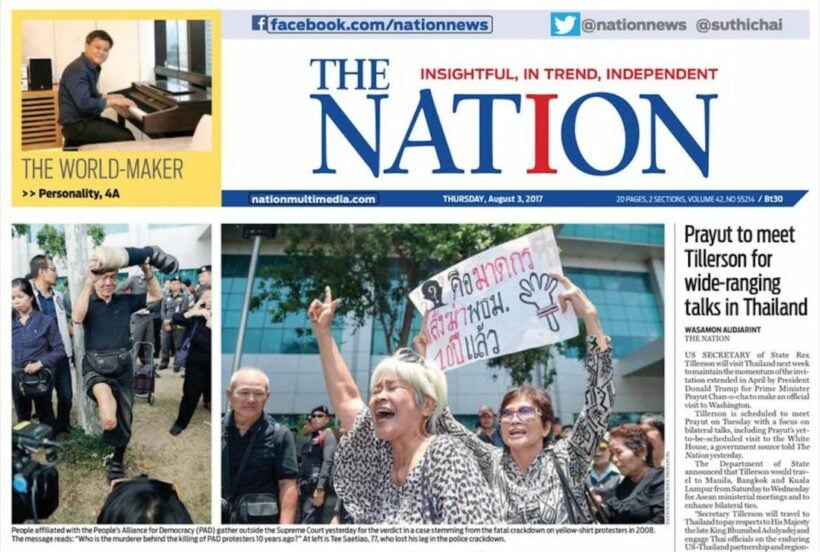 Another big national newspaper bites the dust, following an inevitable worldwide trend. A sad day for The Nation as they announce the closure of the Bangkok-based English daily after 48 years.
It leaves the Bangkok Post as the only English language national daily.
The Nation will end its print edition with its last issue scheduled for June 28.
In making the announcement today, the Nation Multimedia Group CEO Somchai Meesen, promised there would be no layoff of editorial staff, who will continue to work and focus full-time on the company's online platform.
Appearing on TV today, Somchai said that the migration by readers to social media as their main source of news, compounded by dwindling advertising revenues, have made it impossible for printed newspapers to survive.
He also said that most of The Nation's readers are 'new-generation', have lived abroad and mostly read online services, adding that retail sales of the printed newspapers nowadays are limited to corporate clients, hospitals and airlines, and cost a great deal of money to produce.
Somchai said that the company had no choice to discontinue the print edition of The Nation.
As well as the online English edition, he said the company will be adding a Chinese-language online service, tentatively scheduled for October.
The Nation has an editorial partnership with The Thaiger.


Read more headlines, reports & breaking news in Bangkok. Or catch up on your Thailand news.
Two Chinese and two Thais arrested over huge 'ice' haul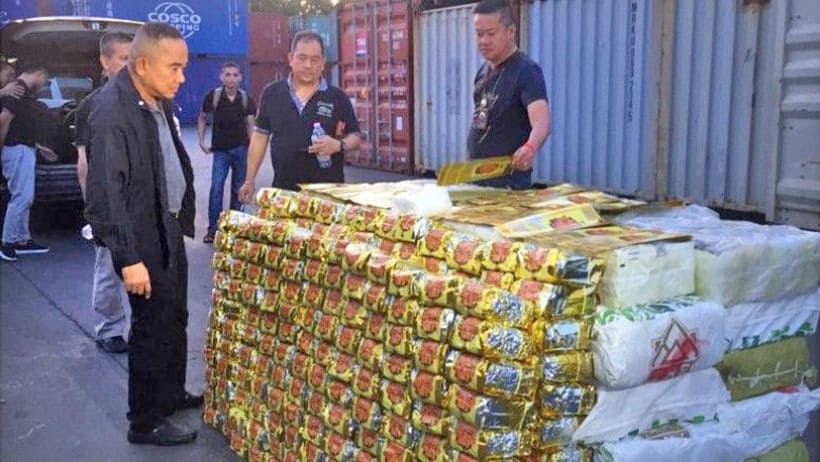 PHOTO: The Nation
Authorities have intercepted a container carrying a tonne 11,000 kilograms) of crystal methamphetamine (ice) with a street value estimated around 2 billion baht, before it could leave the country.
Police also announced the arrest of suspects involved in the drug haul as Chinese nationals 24 year old Huang Guoxion and 44 year old Zhou Qingchu, along with Thais 57 year old Suban Manachanon and 62 year old Joi sae Fong.
The two Thais and Huang were arrested at a container yard in Chon Buri's Sri Racha district on Saturday, while Zhou was tracked down to his condo in Bangkok's Huai Kwang district.
The container was found stuffed with 612 boxes, 34 of which were filled with the drug disguised to look like tea bags, while the remaining boxes carried shoes.
The four suspects have been charged with having traffickable quantities of narcotics in their possession with intent to sell and have been handed over to the Narcotics Suppression Division for legal action.
This crackdown is part of the authorities' efforts to tackle drug problems. At present, most prisons in the country house inmates held on drugrelated charges.
SOURCE: The Nation
Chinese move their purchase power away from Bangkok condo market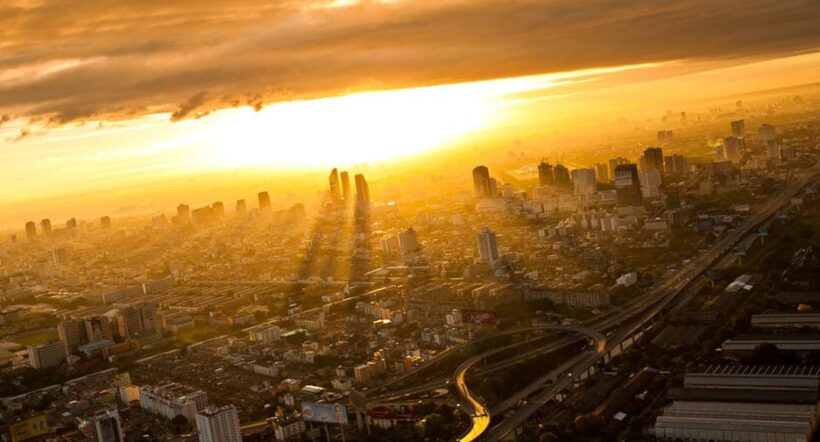 Chinese condo buyers are veering their purchase power away from the Bangkok property market citing the strong Thai currency, overpricing and a supply glut.
2015 – 5.8 Yuan to the Thai Baht
2019 – 4.4 Yuan to the Thai Baht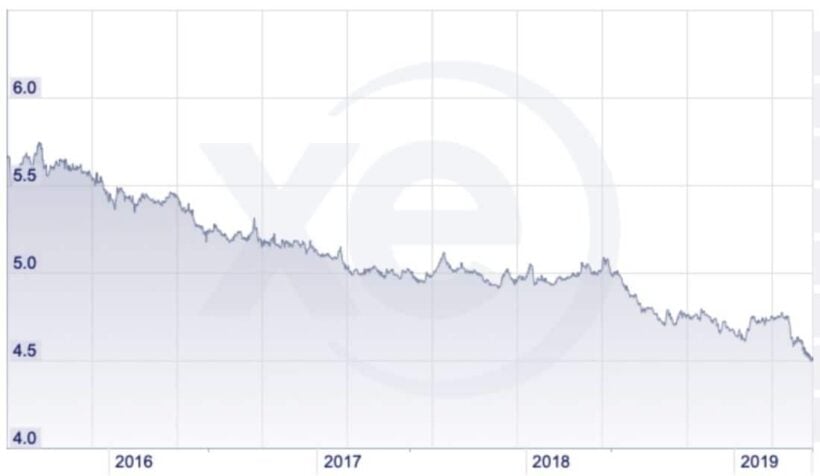 The rise of the baht and the weakening of the Chinese Yuan over the past four years, have culminated in a 25% softening in Chinese investment power in the Thai property market (chart from xe.com)
Property consultants say that Chinese buyers are now containing their investment risk by buying into the lower-end 2-6 million baht condo market instead of the 5-10 million baht condos they were previously purchasing.
At the same time the annual returns for Bangkok condominiums is reported to have dropped from 6-7% five years ago to only 3-4% in some locations in the current market.
Speaking to the Bangkok Post, Simon Lee, President of property brokerage Angel Real Estate Consultancy, says overall sales volume of Bangkok condos bought by Chinese buyers will shrink by half in 2019.
He also notes that the current Thai government crackdown on investors renting out condos on daily or weekly leases, has scared a lot of new investment into the sector away  as the 'law' appears to be applied in a haphazard manner.
The Chinese investors are also expressing disappointment when they buy into a development at one cost, only to find that locals pick up the balance of the stock at a lower price as the developers clears the stock.
Bangkok's soaring land prices, which should see the value of condos rise, is being balanced out with the sheer glut of stock available, pushing down values. Rental returns are also being pushed down by the volume of stock available to the rental market.
SOURCE: Bangkok Post
Here's another report about signs of weakness emerging in the Bangkok condo market from The Thaiger.
US Navy veteran locked up in Thai prison, family pleas for help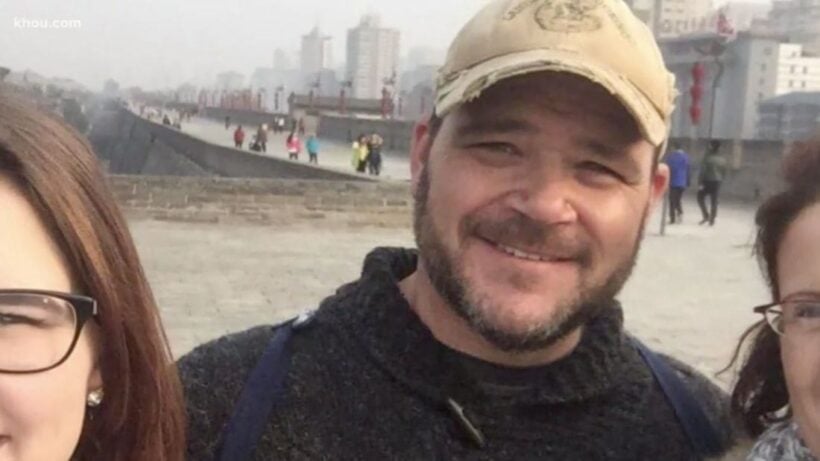 by Lauren Talarico
A US Navy veteran from Texas remains locked up in a Thai prison for something his family says he didn't do. Derrick Keller was arrested on August 20, 2018. But his family says the allegations against him are not true and they desperately want him home.
Derrick Keller's family doesn't know what to do next after their cries for help from politicians and lawyers have gone unanswered. They fear if something doesn't happen fast Keller could spend the rest of his life in a Thai prison. 44 year old Derrick Keller is from Richmond, Texas. He is a son, a husband, a father to two kids and a Navy veteran.
"He was always a jokester," his father said. "Always liked to make people laugh."
"He's the best man I've ever known," said his 19 year old son Mark Keller.
But Derrick is 16,000 kilometres away behind bars at the notorious Klong Prem Prison in Bangkok.
"We are still in shock," said Debra. "We still can't fathom what's taking place"
In 2015 Keller and his wife Tanya moved to China with their children. Tanya was offered a job she couldn't pass up as the lead dance instructor at Shenzhen Dance Academy.
Derrick gave up his trucking company in East Bernard and worked odd jobs in China. He tended bar, coached a baseball team and perused acting, a childhood passion. In 2016 the family says a recruiter reached out to him about a company looking for a "Western face." It was called Eagle Gates Group.
"The company was represented as completely legit," his brother-in-law Ryan Murray explained. "Totally legal. It would just be an acting opportunity."
Over six months, Keller acted in several corporate videos. His family says he was paid $15,000 to do so. After the job was complete, he told family he never heard from the company again, until a vacation to Thailand last August. Keller was arrested after he and his wife landed in Thailand for a vacation.
"They got off the plane and had a lot of Thailand police officers waiting for them," Murray explained.
Thai media reported his arrest and claimed he was part of a Ponzi scheme which defrauded investors of millions of dollars.
"An American actor staying in Phuket as a tourist has been arrested in connection with a multinational scam operation based in Singapore that has allegedly defrauded Thai investors of 235 million baht."
"I think at first they thought it was just a misunderstanding," Murray said. "And it turned out to be something much worse."
Keller was arrested on August 20, 2018. One day later he called his father to tell him he was being detained.
"That's the last I've heard from him," his dad said through tears. "That's the last time I heard his voice. Been bad. Horrible. Absolutely horrible. I mean, like I said, I haven't heard him. God knows I love my son."
Watch a Texas TV report about the story HERE.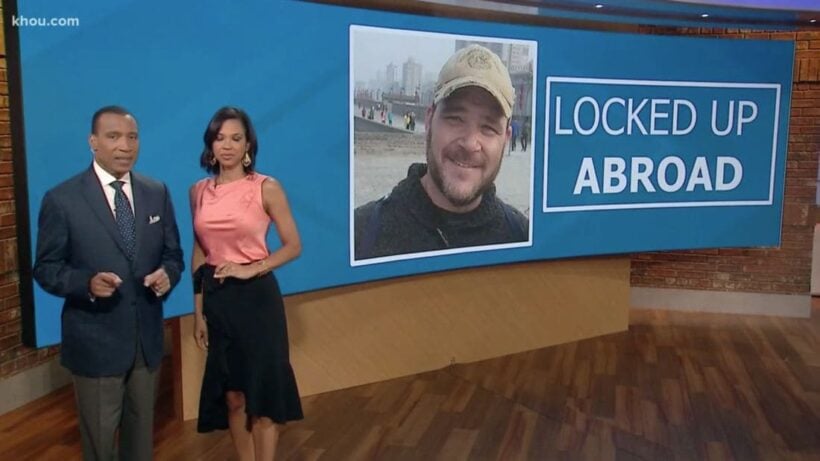 No family member has seen or talked to Keller since he has been in prison.
"I'm always scared that I'm just going to wake up to the worst information I've ever heard," cried his son, Mark.
"That something beyond horrific about this has happened to my dad like maybe he's died in incarceration or something. It's the uncertainty that really kills me."
"The prison that he's in is notorious for human rights violations," Murray explained.
"There's a lot of bribery. It's very corrupt. He's sleeping on concrete, sharing a cell with 50 other people."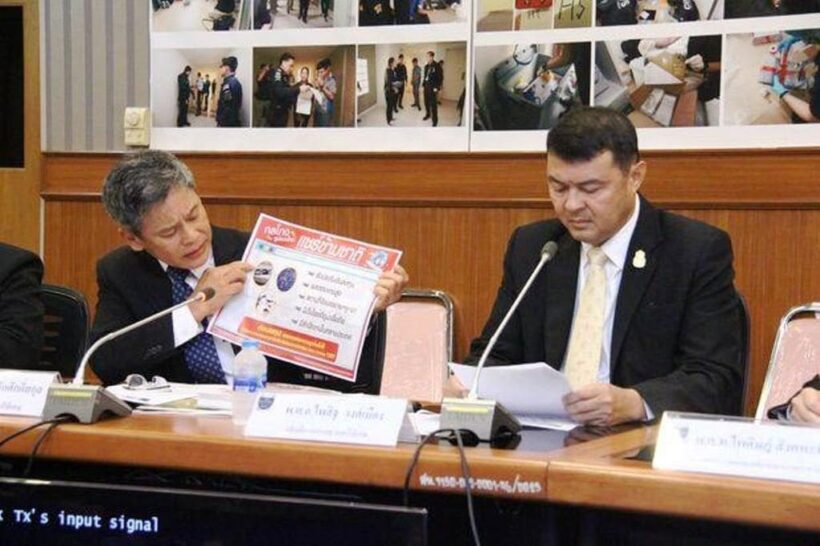 Deputy DSI chief Songsak Raksakskul (left) and DSI chief Paisit Wongmuang brief the media on the arrest of 10 suspects in the alleged Eagle Gates Group investment fraud, at the DSI offices in Bangkok.
Missionaries have related to the family that Derrick's lost 30 kilos in 10 months. The family says they've provided proof that Derrick is innocent and was simply an actor in a corporate video. They claim they've reached out to President Trump, Senator Ted Cruz, Senator John Cornyn and a long list of other local politicians but haven't been offered any help.
"The country called… he answered," said his father, a Vietnam veteran.
"When the country called… I answered. And now we call and we don't get an answer."
Derrick Keller's trial date is set for July. He's facing 35 years in prison.
"During questioning, Keelor told officers that he was an actor working in China, and was hired by a Singaporean to be Executive Director of Eagle Gates Group Co Ltd in order to build credibility and reputation for the company. The DSI noted that they would investigate Kellor's role further.
The DSI also reported that their investigations had discovered more than 1 billion baht in investment had been transferred out of the victim's bank accounts." – Bangkok Post
"The court itself, from what we've been able to find out from lawyers and our own research, has a 95% conviction rate," Murray said.
"We've been told that if he admits guilt they will be easier on him and that it's not worth fighting against. Derrick is a man of integrity… I do not see him admitting to a crime he didn't commit so that has me worried."
A change.org petition has been started. To help, click HERE.