Anti-government protest rally attracts massive crowd, continues today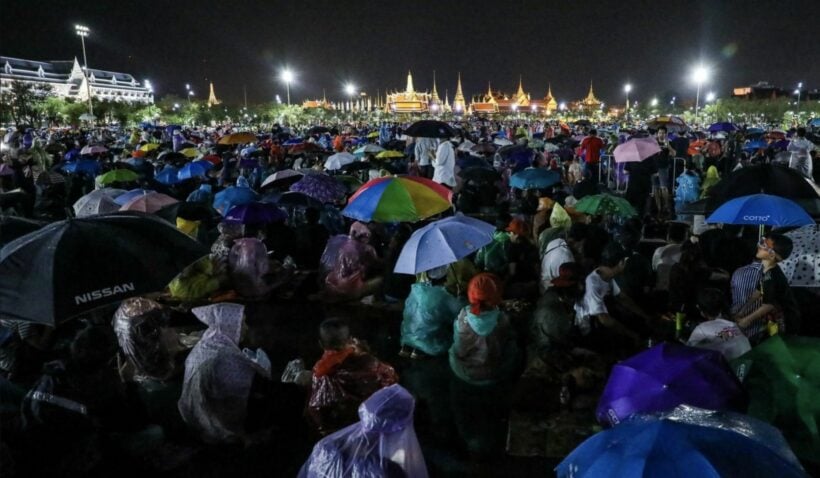 And there it was, in full sight of the Grand Palace and shouted out across the royal parade grounds of Sanam Luang, a call to reform Thailand's monarchy and the powers of the monarch.
The protests, which started yesterday in the grounds of Thammasat University's Tha Prachan Campus, will continue today with a number of symbolic gestures to claim a new era of democracy and reform in Thailand, beset for almost a century with a cycle of military coups, calls for reform, new constitutions and elections – 13 in fact.
Around 25 – 30,000 people – the protesters enthusiastically claimed there were 50,000 – gathered around the university grounds to demand the most recent coup leader, and now Prime Minister, Prayut Chan-ocha to stand down and dissolve the parliament. Given the poor weather around Bangkok yesterday, the government may be thankful the weather wasn't better, which would surely have attracted even more to the rally.
The rally, which started in drizzling wet-season rain, also attracted some familiar veterans from the "red-shirt" United Front for Democracy against Dictatorship, a pro-Thaksin political group. Although many of them are based in Thailand's north east, they came to Bangkok to throw their support behind the student movement and the renewed calls for political reform.
One of the protest leaders, and human rights lawyer, Arnon Nampa, announced last night declared "the country belongs to the people, not the monarchy".
"Today, the 2020 People's Party has officially been formed at this people's field", he said according to Bangkok Post.
This morning the group embedded a symbolic brass plaque, using statements from the 1932 "Siam Revolution" that ended absolute monarchy and introduced a constitutional democracy. The original brass plaque, embedded in the Royal Plaza leading up to Government House, was removed mysteriously in 2017. No one from the government was able to explain what happened to it or where it ended up.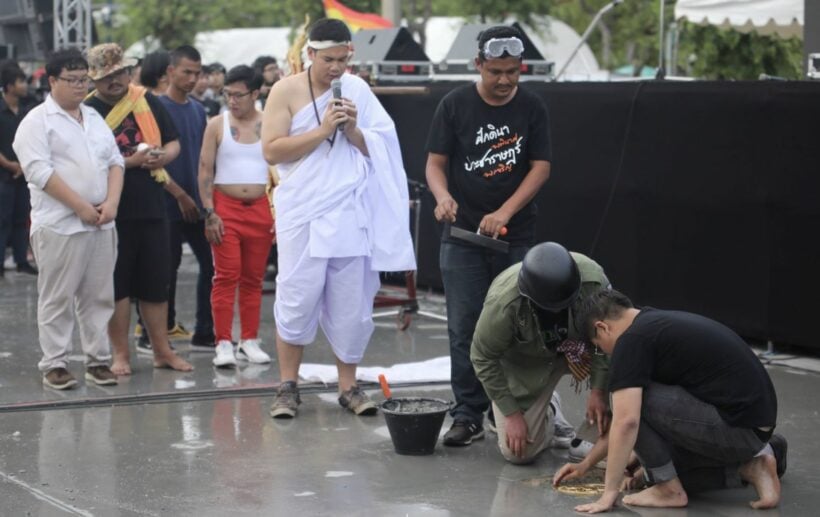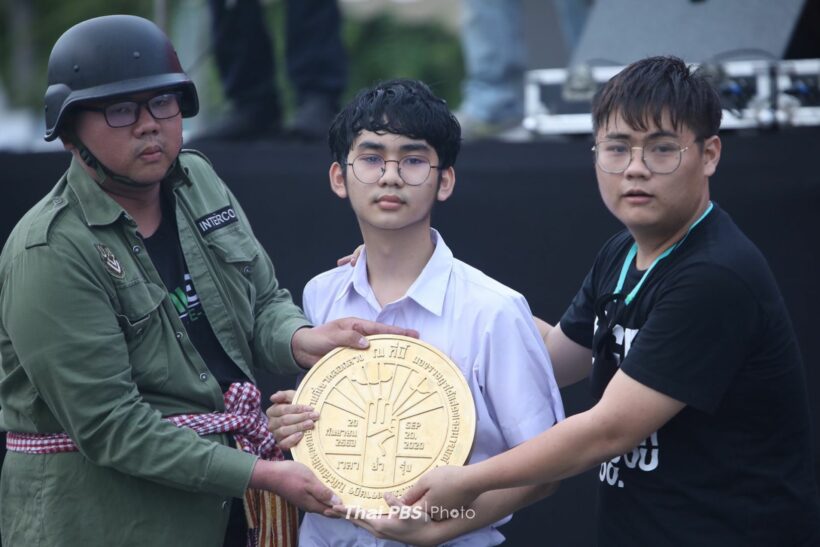 PHOTOS: Thai PBS World
The protests, which started in the middle of July have broken a cultural taboo by commenting openly, even criticising, the Thai monarchy. This round of demonstrations is palpably different as it is grass roots, mostly younger, Thais, instead of aggrieved politicians.
Hi Majesty King Maha Vajiralongkorn is understood to not be in Thailand at this time and the Palace made no official comment about the protests or the content of the protesters' demands.
No matter is there were 50,000 attendees, or just 18,000, as claimed by government security officials, it's still the largest gathering of protesters since the May 2014 you when 'Uncle Tu' (Prayut) seized power and then 'managed' the March 2019 general election to install a pro-military and pro-monarchy coalition government, and himself as the country's prime minister.
Protesters are marching to Government House this morning to continue to protest after many camped out overnight. Another of the prominent protest organisers, Parit "Penguin" Chiwarak, says today's march would feature a "big surprise".
Speakers at the protest criticised the king for his absence and for his personal behaviour, comments that until recently would not have been made in public. Some of the speeches were directly aimed at Thailand's Head of State, comments that would have been unthinkable even a year ago.
Panusaya Sithijirawattanakul, according to Reuters, spoke to crowd late last night.
"The people want a king who protects democracy, not one who betrays the people's democracy."
The setting of the yesterday's date wasn't by chance. It was the anniversary of another military coup against the populist elected prime minister Thaksin Shinawatra back in 2006. Although 2 decades of red-shirt/yellow shirt political protests has been mostly left out of this year's round of protests, there were plenty of red-shirt (pro-Thaksin) protesters who turned up to give the students their support.
Up to now the protests have continued being mostly peaceful, if not occasionally boisterous, affair. But around 15 protest leaders have been identified and detained, then released, over their breaking of laws, mostly to do with the current 'emergency decree' to curb the spread of Covid-19. None have been charged with the country's draconian lese majeste laws which forbid criticism of the monarch or royal family.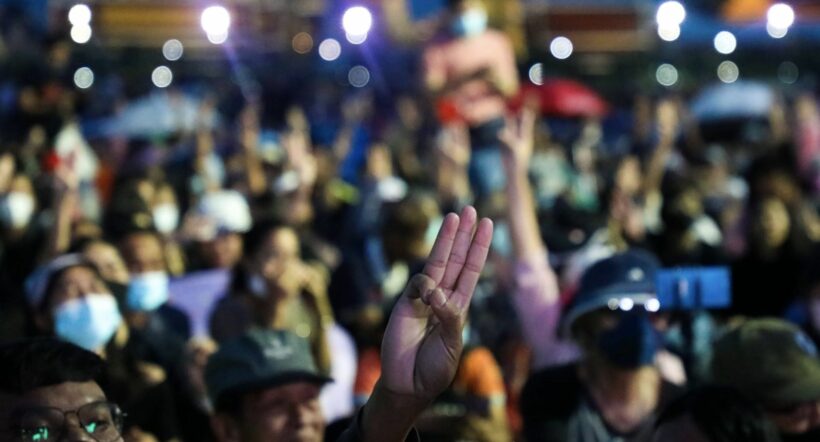 SOURCES: Thai PBS, Bangkok Post, BBC
Keep in contact with The Thaiger by following our
Facebook page
.
Never miss out on future posts by
following The Thaiger
.
Suvarnabhumi's new terminal ready for 2022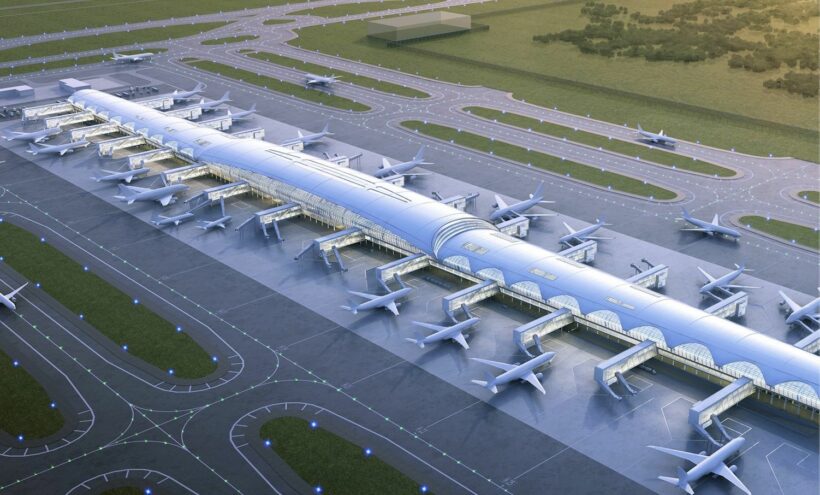 The extension of the Suvarnabhumi terminal will be operational by the start of 2022, according to Thai transport minister Saksayam Chidchop. The new Satellite Terminal 1 at Suvarnabhumi International Airport will increase the total capacity of Thailand's largest airport terminal by 15 million passengers a year, allowing the total airport capacity to cope with traffic up to 90 million per year.
The 4-level concourse building has 28 aircraft contact gates, 8 of which will serve aircraft up to the A380 jumbo size. A new underground automated people mover and baggage handling system connects the new building to Suvarnabhumi's main terminal.
The concourse's contemporary design is infused with subtle cultural references that add to its "Thainess". It includes a diamond-patterned ceiling, with crisscrossing arched ribs infilled with timber-coloured slats. Interior gardens follow the trend of Singapore's Changi adding a tropical landscape.
Construction on the 3rd runway has also commenced and should be receiving aircraft by 2023.
Suvarnabhumi Airport management has also used the downtime, whilst the airport has been quiet during the 'disruption' to fix the potholes and 'sinkage' in parts of the existing runways. Some 700,000 square metres of runway and taxiway service is under repair at this time, soaking up a budget of 4 billion baht.
The new terminal and repairs come at a time when world airline traffic is at its lowest for decades. The world wide Covid-19 pandemic has closed borders, grounded entire airline fleets and decimated the world's travel industry. Since March when air traffic plummeted, there has been a gradual ungrounding of fleets, primarily in non-commercial and non-passenger-carrying fleets. Commercial scheduled traffic is still very low.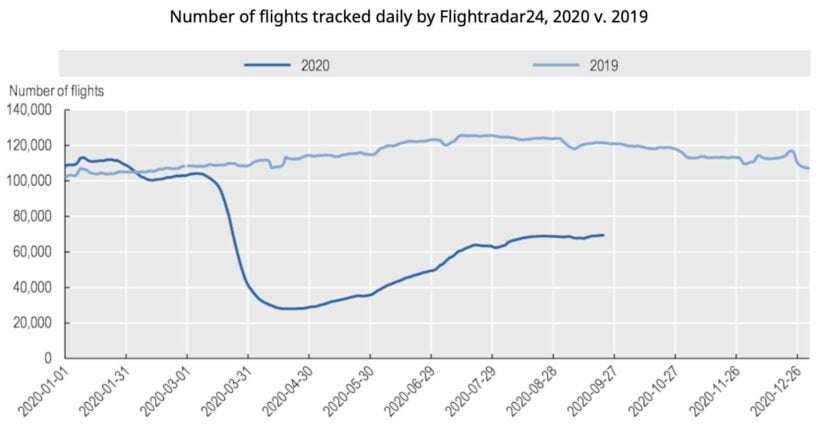 Keep in contact with The Thaiger by following our
Facebook page
.
Never miss out on future posts by
following The Thaiger
.
Bangkok locations for Loy Krathong – float away the woes of 2020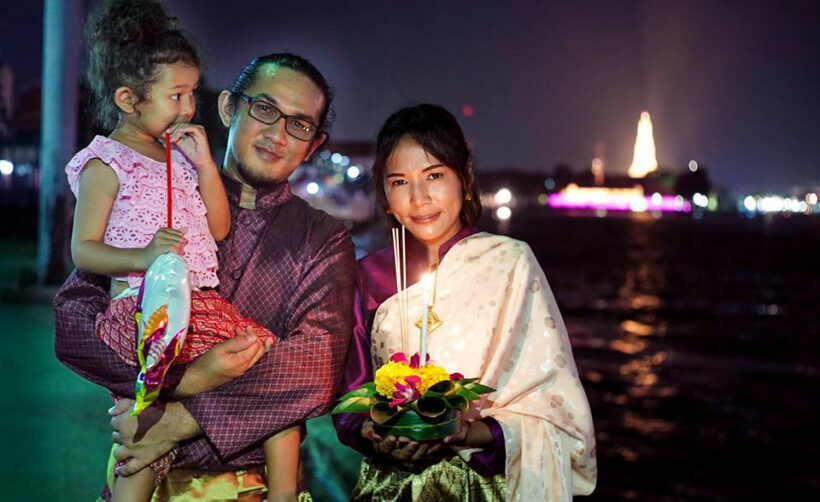 The Loy Krathong festival is tonight, this year coinciding with Halloween. If you're living in Bangkok you're spoiled for choice with launching locations.
There is no equivalent word in English for 'krathong'. You might hear it described as a small boat or vessel. Many shops, market and roadside stalls will display ready-made krathongs, or in parts so you can assemble and decorate to create your very own krathong. Try and steer away from the polystyrene ones with bits of plastic and lots of pins. They will end up washed up on some riverbank or lakeside as pollution – dangerous to fish, animals and you.
Loy Krathong is a festival celebrated annually throughout Thailand The name could be translated as "to float a basket", and comes from the tradition of making krathong or buoyant, decorated baskets, which are then floated on a river or water catchment. Loy Krathong takes place on the evening of the full moon of the 12th month in the traditional Thai lunar calendar so the exact date of the festival changes every year.
Authorities are also urging people to avoid the new craze of "edible" Krathongs this year. Using bread and other edible products can become a problem for the catchments' ecology and may even kill the fish if they try and eat too much of it. Bread also doesn't float very well!
Here's a useful guide with a few options to launch your environmentally-friendly krathong. How to make a krathong? Below…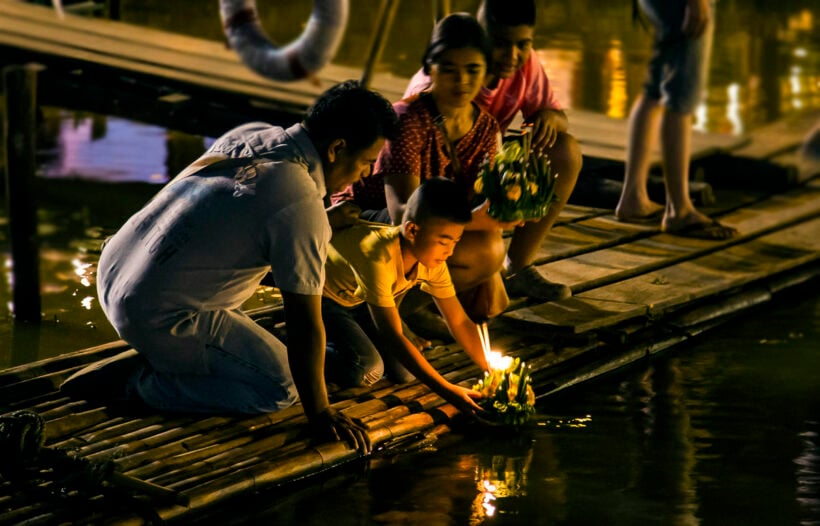 Chao Phraya River – The River Festival 2020
Bangkok's Chao Phraya river is hosting another three-day party, with ten piers participating in krathong workshops, arts and crafts, and Loy Krathong rituals at nearby Buddhist temples. A free shuttle boat will connect the different piers. Check out the Facebook page for more information.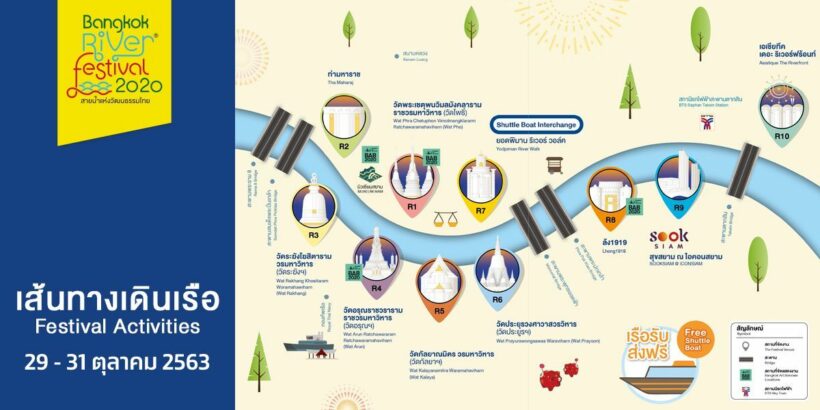 Asiatique
If you're ready to experience Loy Krathong the way the locals do, head to Asiatique, the riverfront night market, which is where you will find the biggest crowds and some impressive shows. Traffic in the area will be very bad and there'll be long queues to take the shuttle boat in front of Saphan Taksin BTS Station.
The Temple Fair
Head to Wat Saket for its long-running temple fair, popular with Bangkok residents for decades. Buddhist merit-making rites take place at the top of the hill, while at the bottom, you can enjoy weird and wonderful street food and a carnival-like atmosphere. Check more details HERE.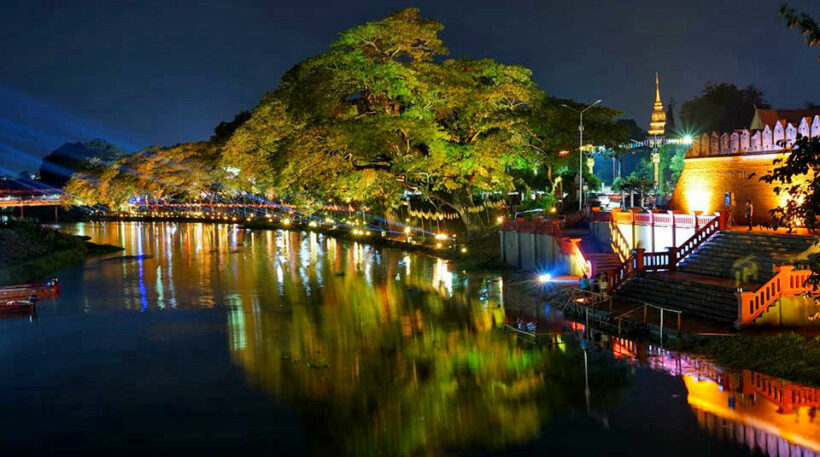 The Park
Around 30 of the city's parks will be open for Loy Krathong but note that alcohol is prohibited. You can float your krathong at Lumpini Park, Chatuchak Park or Benchasiri Park among others. A major park celebration will be held under the east bank of Rama VIII bridge and near the Sam Yot MRT, at Khlong Ong Ang.
The Universities
Chulalongkorn, Thammasat and Kasetsart universities, and others, are holding Loy Krathong celebrations this year. Chulalongkorn will open its pond to the public but note that only small candle krathongs are permitted. The Tha Prachan campus at Thammasat host an afternoon fair, with participants invited to bring environmentally friendly krathongs. Kasetsart will hold a similar event in the evening. All universities will have food stalls and entertainment on offer. Check university websites for details.
The Romantic Date
Couples who want to avoid the crowds and have a quieter celebration may want to head to the riverside arts centre, The Jam Factory. After setting your krathong afloat, grab some popcorn and enjoy a couple of Thai movies being screened outdoors on a vintage projector. Free entry.
Hotels
Just about every hotel in Bangkok will be hosting some sort of Loy Krathong event. If they'got a pool, be assured the staff will be decked out in traditional Thai finery, and you'll be invited to float a Krathong. Many of the events will have a charge and include dinner or buffet.
Or make you own and launch it in the bath
Happy Loy Krathong!
SOURCE: Khaosod English
Keep in contact with The Thaiger by following our
Facebook page
.
Never miss out on future posts by
following The Thaiger
.
Four released, three re-arrested, drama outside the Bangkok Remand Prison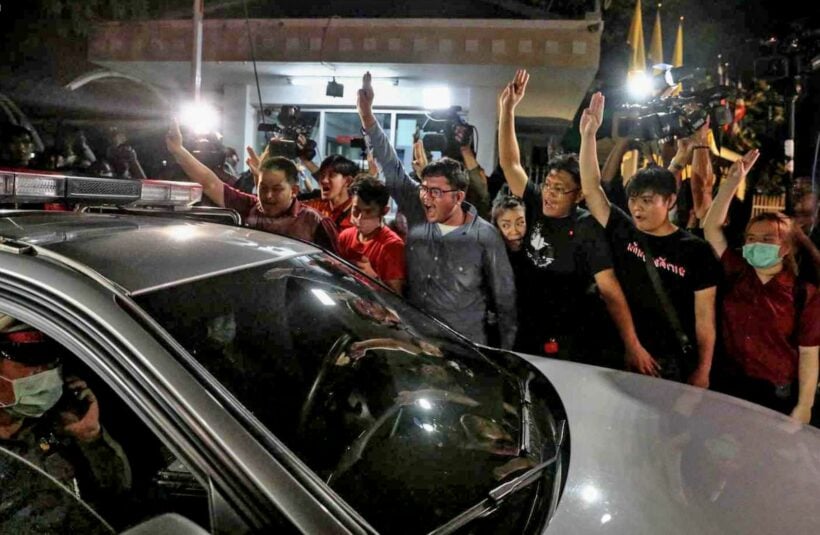 Another evening of drama, but this time not in the streets but during the release and re-arrest of several of the key anti-government protest leaders. 3 of 4 protest leaders who were released on bail by the Criminal Court yesterday, after the court rejected a police request to keep them detained on remand, were re-arrested. The court rejected a police request on grounds that it was "unnecessary for them to be detained further" and that the court "must consider the rights and liberties" of the detainees "who are still students".
Just moments after their release police placed more charges on them before they were able to walk from the jail to awaiting family and crowds of supporters.
The only protester to walk free was Patiwat Saraiyam who was released from the Bangkok Remand Prison early last evening with no other charges awaiting her.
The re-arrest of Parit "Penguin" Chivarak, Panupong "Mike Rayong" Jardnok and Panasaya Sitthijirawattanakul was strongly objected to by the the protesters' lawyer, Noraseth Nanongtoom. He claims that the police action was unlawful, because the arrest warrants, issued by the police in 3 provinces, were invalid after the 3 protesters had acknowledged, but denied, all the charges. He said that they would resort to "civil disobedience" claiming their re-arrest was illegal. He said he would petition the court to free the 3.
None of the 3 protesters were allowed to meet with their lawyer before the charges were laid.
The Guardian reports that all 3 of the released protesters ended up in hospital.
"Three prominent Thai pro-democracy leaders are in hospital after chaotic scenes outside a Bangkok police station overnight as officers tried to slap them with further criminal charges."
The warrants for arrest were filed by police in Ayutthaya, Ubon Ratchathani and Nonthaburi provinces.
The police's re-arrest of the 3 protest leaders also caused drama among their families, friends and supporters, who were waiting outside the Bangkok Remand Prison, in some cases travelling for many hours to get to Bangkok, to welcome their freedom, after hearing about the court's order granting them bail.
In the developing chaos outside the remand prison "Penguin" ripped off his shirt and Panusaya took to the PA system that had been provided by the growing number of supporters . They pledged to keep protesting peacefully and challenged their re-arrest.
More drama followed when "Mike Rayong" was carried, clearly compromised and slumped in the arms of a police officer, from a police van that had brought him from the remand prison to the Pracha Chuen station station before being taken away in an ambulance. He is said to be in a satisfactory condition at the Praram 9 Hospital, recovering from what police described as a "minor scuffle".
Local media reports that he fainted after allegedly being put in a "chokehold" by attending police.
To date, around 80 people have been arrested in connection with protests staged around the country, mostly in Bangkok. Most are now free on bail but a handful remain behind bars.
In other news the Appeals Court has rejected a bail application for protest leaders and human rights lawyer Anon Nampa, citing his release could lead to his participation in more unrest or an attempt to flee. Anon was arrested and charged over various transgressions at the Thammasat University campus and nearby Sanam Luang on September 19 and 20.
Keep in contact with The Thaiger by following our
Facebook page
.
Never miss out on future posts by
following The Thaiger
.