Live Blog
Donald Trump tracker: Live news and updates on Trump's latest moves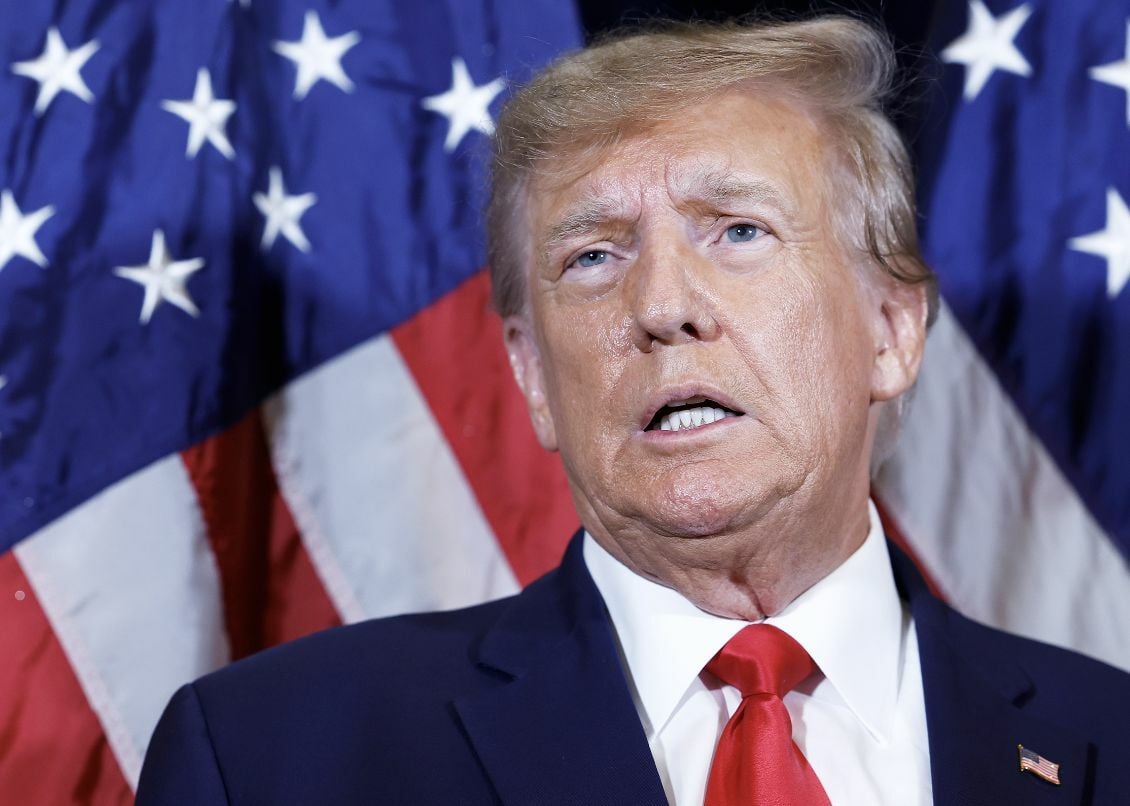 Welcome to your one-stop destination for all the latest news, updates, and insights on the 45th President of the United States, Donald J. Trump. As a prominent figure in the world of politics, business, and entertainment, Trump has been a subject of immense interest and discussion across the globe. Our dedicated page brings you the most comprehensive and up-to-date information on everything related to the former President, ensuring that you stay informed and engaged with the world of Trump.
From his early days as a real estate mogul and reality TV star to his tenure as the President of the United States, Donald Trump has been a polarising figure who has captured the attention of millions. Our news page covers a wide range of topics, including his policies, speeches, controversies, and achievements during his time in office. We also delve into his post-presidency activities, legal battles, and future political aspirations, providing you with a complete picture of the man who has left an indelible mark on American history.
Whether you are a supporter or a critic of Donald Trump, we've got a balanced and comprehensive view of his life, career, and impact on the world. Stay tuned for the latest developments, breaking news, and in-depth analysis of the former President.
So, bookmark this page, and let us be your go-to source for all the latest news and updates on Donald J. Trump. Stay informed, stay engaged, and stay connected with the world of Trump.
Pence lags behind Trump, DeSantis in Republican polls despite name recognition

Mike Pence, the former vice president, might have been expected to run closely with Donald Trump and Ron DeSantis in the race for the Republican presidential nomination. With solid credentials as a former vice president to a chief executive adored by many Republican voters, Pence also brings experience as a staunchly conservative former congressman and governor of a strong Republican state. He has long described himself as "a Christian, a conservative, and a Republican in that order."

Despite these qualifications, data from FiveThirtyEight reveals that Pence places a distant third in the current field of candidates, with an average polling figure of only 5.4%. In comparison, Trump stands at 53.7% and DeSantis at 21.3%. This surprisingly low number for someone with nearly universal name recognition, which is a major factor in gaining support, raises questions about Pence's chances in the nomination race.

Both Trump and current President Joe Biden were successful in securing their respective nominations largely due to their widespread name recognition. It thus remains to be seen whether Pence's current polling figures will improve, and whether he can leverage his experience and popularity among Republicans to gain ground on Trump and DeSantis.

Kinzinger duped by fake Trump post amid Meadows grand jury testimony

Former Republican representative Adam Kinzinger seemed to have fallen for a fabricated social media post that claimed to depict former President Donald Trump expressing anger towards his ex-White House Chief of Staff, Mark Meadows. Kinzinger shared a screenshot of the alleged Trump post on his Twitter account, accompanied by the caption, "OH MEADOWS TURNED," only to delete it shortly after. Upon closer inspection, it was evident that the post was designed to resemble Trump's typical outbursts on the Truth Social platform, but was not actually shared by the former president.

The counterfeit post, written in all-caps, read: "When Mark Meadows came crawling to me with tears in his eyes, saying sir I need a job please help me, I felt very sorry for him. I knew he was strongly hated by most of his fellow Congressional Republicans, but I had just fired my previous chief of staff, like a dog, so I decided to have Mark audition for the job, apprentice-style."

After being informed that the supposed rant was fake, Kinzinger removed his tweet and issued a clarification. He wrote, "Deleted the very believable but possibly false truth social post by Trump," and added, "We will have to see if Meadows turned or not." Joe Scarborough, MSNBC host, is also said to have shared the fake Trump rant on social media but later removed it.

The false post began circulating following a New York Times report indicating that Meadows had testified before a federal grand jury in the special counsel's investigations concerning Trump. According to CNN, Meadows provided information to the jury regarding both the January 6 inquiry - which apparently includes Trump's broader attempts to invalidate the 2020 election results - and whether classified presidential records had been unlawfully retained by Trump's team when they exited the White House.

It remains uncertain exactly when Meadows, who served as Trump's last chief of staff, testified or if the investigators questioned him about one or both cases. Meadows' lawyer, George Terwilliger, provided a statement to the Times, stating, "Without commenting on whether or not Mr. Meadows has testified before the grand jury or in any other proceeding, Mr. Meadows has maintained a commitment to tell the truth where he has a legal obligation to do so."

Trump attempted to prevent Meadows from testifying via legal measures after leaving the White House. He insisted that Meadows was protected by executive privilege. However, a judge refuted this argument and ordered the former Trump aide to speak before the grand jury.

Trump faces indictment threat, slams election interference on Truth Social

Former President Donald Trump expressed his anger on Truth Social regarding the possibility of being indicted soon. The Independent had reported that prosecutors are prepared to request grand jurors to approve an indictment against Trump for violating a section of the US criminal code known as Section 793. This section forbids "gathering, transmitting, or losing" any "information respecting the national defense."

Trump shared his thoughts on Truth Social, saying that nobody informed him of the potential indictment, and he claimed he has done nothing wrong. He mentioned being targeted by the Department of Justice (DOJ) & Federal Bureau of Investigation (FBI), referencing the Russian investigation, the Mueller Report, two impeachment trials, the Ukraine phone call, and other instances he considered to be scams and witch hunts. Trump urged Republicans in Congress to make this issue their main priority.

It is believed that prosecutors plan to ask grand jurors to vote on the indictment soon. However, the vote might be postponed for up to a week, until the next meeting of the grand jury. This delay could allow for a more comprehensive presentation of evidence or provide investigators with additional time to gather more evidence if necessary.

Florida governor slips as Trump gains among millionaire GOP backers

The governor of Florida has emerged as the favorite GOP candidate among millionaires, although support for Donald Trump among the affluent continues to rise, according to a recent poll. The CNBC Millionaire Survey indicates that 32% of Republican millionaires favor the Florida governor, a decline from 54% in late 2022.

Meanwhile, the poll shows that Donald Trump has secured the support of 28% of wealthy Republicans, up significantly from 17% last year. This demonstrates an increasing trend of high net worth individuals showing their allegiance to the former president.

The reasons behind these shifting preferences are not entirely clear. However, some political analysts suggest that the Florida governor's handling of the pandemic, economic policies, and overall management of the state may have resonated with wealthy voters. The governor's stance on individual rights and limited government intervention could be contributing factors as well.

Conversely, Donald Trump's growing support base among millionaires might be attributed to his strong position on immigration, deregulation, and tax cuts during his time in office. Additionally, these voters may view Trump as an outsider willing to challenge the status quo in Washington and fight for their interests.

It is worth noting that, while support among millionaires does not necessarily represent the general public's standpoint, it can often be an indicator of the overall campaign funding potential of the candidates. More financial resources can help a campaign enhance its outreach, advertising efforts, and overall visibility, eventually influencing voter opinions and the outcome of the elections.

However, one should also consider that public sentiment and campaign funding capacity do not always guarantee electoral success. Historically, there have been instances where candidates boasting high approval ratings and significant resources failed to secure victory. In such cases, other factors, including political climate, debate performance, and unforeseen developments, have shaped the final results.

As the race for the next GOP nominee heats up, it remains to be seen how these political heavyweights will fare in winning over not just wealthy Republicans but also the broader voting population. Strategies, communication, and policy proposals will inevitably play a critical role in determining the ultimate victor.

In the meantime, these survey results should be viewed with caution, as preferences could undoubtedly shift in the coming months due to unforeseen events, developments in the political landscape, or shifting priorities among voters. The fluctuating nature of political support underscores the importance of continually evaluating and adapting strategies for candidates vying to hold public office.

Pence presidential bid overshadowed by break from Trump on January 6

Pence's chances of becoming a presidential candidate were possibly sealed not when he filed the paperwork to enter the race this month but on January 6 when he made the correct decision to distance himself from Trump and his advisors' outrageous plan to overturn the election. During his announcement speech, Pence criticized the former president for encouraging the mob that wanted to harm him, thereby endangering American democracy.

"On that fateful day, President Trump's words were reckless, they endangered my family and everyone at the Capitol," Pence said. "But the American people deserve to know that on that day, President Trump also demanded that I choose between him and the Constitution. Now voters will be faced with the same choice."

Pence can be credited for not undermining democracy, but it also means that he is highly unlikely to become the president of the United States. Nearly every indicator shows that Republican voters have firmly rejected him, and this trend is likely to continue as the 2024 campaign kicks off in full swing.

Although Pence's decision to act responsibly and uphold the Constitution on January 6 might have seemed like the right thing to do at the time, it has placed him in a difficult position concerning his presidential aspirations. With Trump's strong influence over the Republican party, Pence's break from Trump and rejection of the election overturn attempt has alienated him from a large faction of the party's voter base.

Furthermore, recent polls demonstrate that Trump remains extremely popular among Republican voters, often leading in high percentages in hypothetical match-ups. This puts Pence at a significant disadvantage since his stance on January 6 has essentially ostracized him from this loyal segment of GOP supporters.

In addition to the negative impact caused by Pence's separation from Trump, the Republican party itself faces an identity crisis as it grapples with the fallout from the January 6 incident. Many Republicans have denounced the attack on the Capitol, but others continue to promote false narratives and conspiracy theories.

As the United States moves closer to the 2024 election campaign, Pence's chances of becoming the next president seem increasingly unlikely. Despite taking a stand for democracy and the Constitution, his break from Trump and subsequent isolation from a large portion of the Republican party could prove insurmountable for his political ambitions. Only time will tell if Pence can overcome these obstacles and find a viable path to the presidency.

Pence opposes Trump prosecution, dodges pardon question in town hall

Mike Pence has urged the Justice Department not to prosecute Donald Trump for his handling of classified documents, yet declined to say whether he would pardon the former president if he were to win the White House. The former vice president, speaking at a CNN town hall in Des Moines, Iowa, considered the handling of classified material as "a very serious matter." However, host Dana Bash was told that federal prosecutors should spare Trump.

Pence expressed his hope that the Justice Department's special counsel, Jack Smith, would not indict Trump over the documents found at his Mar-a-Lago estate. He stated that taking such action would be terribly divisive to the country during a time when the American people are struggling. Pence noted that an indictment would only fuel further division and send a negative message to the world. Instead, he hopes that the Justice Department can resolve the issue in a better way.

Pence admitted that no one is above the law and acknowledged he had no business possessing some classified documents at his home in Indiana. He took full responsibility for this and hopes there is a way to move forward without the drastic steps of indicting a former US president. When directly asked by Bash if he would pardon Trump if convicted, Pence refused to address hypothetical situations.

The former vice president was also asked to comment on Trump's claim that he would pardon anyone convicted of participating in the violent January 6 insurrection at the US Capitol. Some of these individuals had called for Pence to be hanged. Pence revealed that he stands by "due process" and has no interest or intention of pardoning those who assaulted police officers or vandalized the Capitol.

Pence, who called January 6 a "tragic day" for the country, discussed his refusal to comply with Trump's demands not to certify Joe Biden's 2020 victory. He firmly believes he did his duty that day by supporting and defending the US Constitution and stated that the Republican party should be the party of the Constitution. When faced with choosing between Trump and the Constitution, Pence chose the latter and expressed his disappointment that the former president has not yet come around to seeing their actions as their duty.

Pence announces presidential run amid grim poll numbers

On Wednesday, former vice president Mike Pence declared his candidacy for the presidency, attracting significant media attention but likely less enthusiasm from Republican voters. Later, he'll appear at a CNN town hall and then head to North Carolina to speak at the state party's convention alongside other GOP candidates, including Florida Gov Ron DeSantis and former president Donald Trump.

Pence has also been preparing himself for this moment with a memoir release last year and supporting various Republican candidates in the 2022 midterms. Notably, he attended this year's Gridiron Dinner, where he commended the press and criticized Trump, attempting to distance himself from his former political ally.

However, Pence's presidential aspirations may have faltered on January 6 when he stood up against Trump's efforts to overturn the election. During his announcement speech, he condemned Trump for inciting the mob that threatened him and jeopardizing democracy. Despite his commendable defense of democracy, Pence's chances of becoming the president of the United States appear slim, with most indications suggesting that Republican voters have rejected him and will continue to do so as the 2024 campaign begins.

Pence should be placing close to Trump and DeSantis in the polls. After all, he is a former vice president to a widely beloved chief executive, as well as a staunchly conservative former congressman and governor of a solidly Republican state. However, FiveThirtyEight reports that Pence is polling at only 5.4%, while Trump sits at 53.7% and DeSantis at 21.3%. This is a disappointing figure for someone with near-universal name recognition, as familiarity is often half the battle.

Although Republicans know who Pence is and what he stands for, many Trump devotees will likely never forgive him for not supporting the election overturn. Moreover, some Republicans who may dislike Trump or doubt his chances in another run as the GOP nominee will view Pence as closely associated with the former president. Despite the evidence suggesting his slim chances, the Washington press seems determined to give him exposure.

The media's eagerness to report on Pence and other candidates like him could be because the political ecosystem needs to show viewers that some reasonable Republicans haven't surrendered to extremism. The Washington press dreads being accused of bias against the right and thus needs to promote candidates who appear to defy the extremist label. Similar treatment has been observed in the coverage of New Hampshire Gov Chris Sununu and Chris Christie.

People who have encountered Pence generally describe him as a good, deeply religious man. While this might appeal to some media figures, supporting his campaign, despite his low odds of winning, may paint a misleading picture of the Republican electorate.
Live News

Join the conversation and have your say on Thailand news published on The Thaiger.
Thaiger Talk is our new Thaiger Community where you can join the discussion on everything happening in Thailand right now.
Please note that articles are not posted to the forum instantly and can take up to 20 min before being visible. Click for more information and the Thaiger Talk Guidelines.