TMD announces storm warnings for 53 central and northern provinces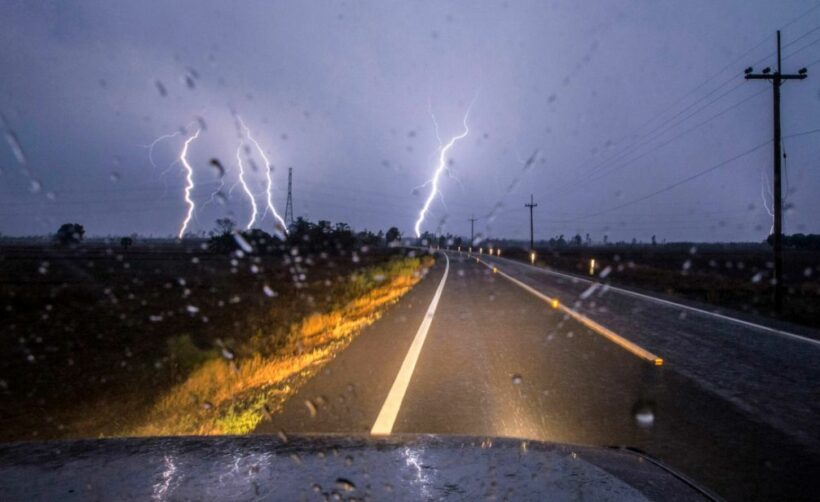 Today the Thai Meteorological Department has officially announced a warning for 53 upper Thailand provinces. The announcement says that from May 11-13, there will be high pressures winds from China covering upper Thailand and the South China Sea.
In addition, southerly and southeasterly winds have brought humidity to cover upper Thailand, causing that area to have summer storms, thunderstorms, gusts and hail in some areas.
"Lightning that may occur so authorities ask the public to be aware of the dangers of the upcoming summer storms."
Here's list of the areas current under warning of storm conditions…
Northern
15 provinces including Mae Hong Son, Chiang Mai, Chiang Rai, Phayao.
Northeast
20 provinces including Loei, Nong Khai, Nakhon Phanom, Khon Kaen.
Central
10 provinces including Nakhon Sawan, Lop Buri, Phra Nakhon Si Ayutthaya, Kanchanaburi, including Bangkok and its surrounding provinces.
Eastern
8 provinces including Nakhon Nayok, Prachinburi, Chon Buri, Rayong
"The department kindly asks the public to avoid being in the open air, under big trees, billboards and unhealthy buildings. As well as being aware of the dangers of lightning and be prepared for damages to agricultural products."
SOURCE: CH 7 News
Keep in contact with The Thaiger by following our
Facebook page
.
Thousands of people have been travelling between provinces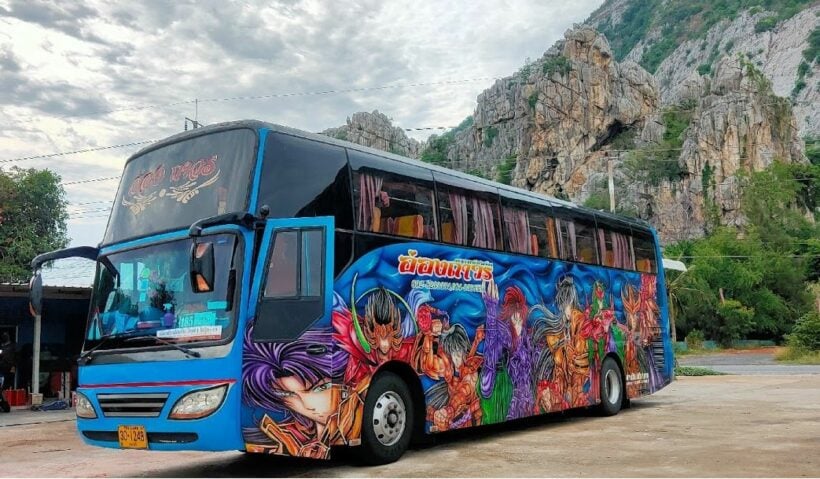 … but not quite as many as before, so far. The Director General of the Department of Land Transport says that more people have been using the inter-provincial buses services after the government recently easing Thailands' lock down situation.
He says…
"Although some long distance services are still not in operation to comply with the night time curfew, many inter-provincial routes of around 300 kilometres are open and have seen many commuters."
"The department will gradually add buses to facilitate increased use and maintain social distancing."
The department has announced that there were just under a million passengers per day using public buses running between Bangkok and nearby provinces from March 1-25, (the period before the State of Emergency).
141,240 passengers per day taking buses between the capital and other provinces,
9,128 using buses between provinces,
2,379 using buses within a province.
Reports have revealed that after the emergency was effective across the nation from March 26 to May 1, there was a decrease in the number of passengers with 472,210 passengers per day travelling from Bangkok to surrounding provinces, 4,090 from the capital to other provinces, 5,612 on inter-provincial routes and 2,156 passengers between provinces.
After the lockdown was eased on May 2 up to today, the number of passengers has increased to 508,490 per day travelling from Bangkok to surrounding provinces, 6,000 from Bangkok to other provinces, 9,020 on inter-provincial routes and 4,020 passengers between provinces.
SOURCE: Nation Thailand
Keep in contact with The Thaiger by following our
Facebook page
.
Ayutthaya welcomes visitors after restrictions lift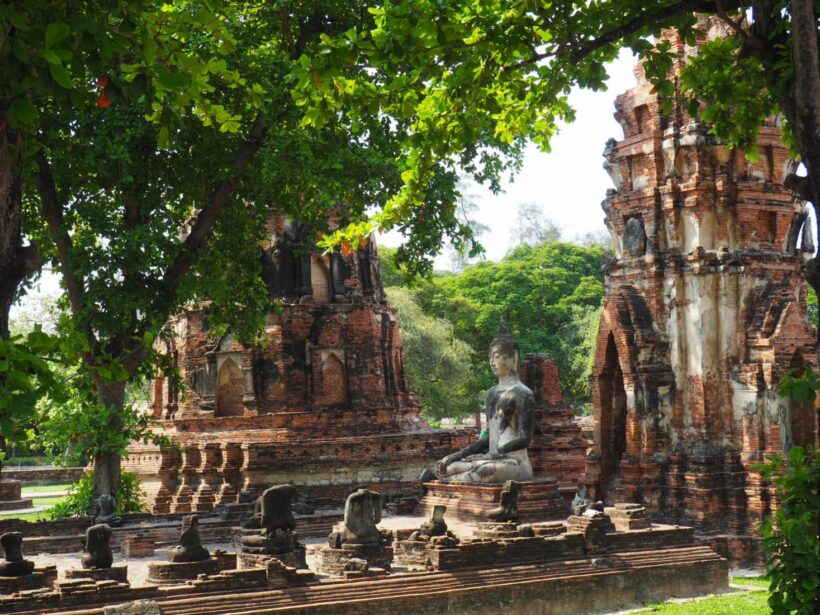 Ayutthaya is welcoming visitors again after months of empty temple grounds as another set of restrictions were lifted over the weekend, allowing temples and historical sites to open back up. Thailand's economy is dependant on tourism and officials hope to get at least some domestic trips up and running by June.
The Ayutthaya governor says the province is now safe from the coronavirus with no new infections in the past month, the Bangkok Post reports. Altogether, there were 8 coronavirus infections in the province. 1 person died. To prevent a second wave, visitors must abide by prevention practices such as wearing a face mask, using hand sanitiser, taking temperatures and social distancing. The Buddhist temples Wat Phanan Choeng and Wat Yai Chai Mongkhon had the most tourists over the weekend.
Thailand's economy basically runs off tourism, but the closed borders and freeze on incoming international flights (excepting chartered repatriation flights) has caused a collapse of the tourism industry. The Tourism Authority of Thailand, TAT, expects the number of foreign tourists to fall by at least 65% this year. Most industry pundits are expecting it to be a lot higher.
President of the Tourism Council of Thailand told the Post that more than 3,000 tourism-related businesses submitted loan requests adding up to 12.7 billion baht, but only 36 cases worth 87.2 million baht have so far been approved. For now, the country is focusing on revamping domestic travel after the pandemic, starting a campaign called "We Love Thailand." The TCT president says reopening sites and business for domestic tourists will give tourism operators a "lifeline".
SOURCES: Bangkok Post | Bangkok Post| Nation Thailand
Keep in contact with The Thaiger by following our
Facebook page
.
Street vendor on-selling community pantry donations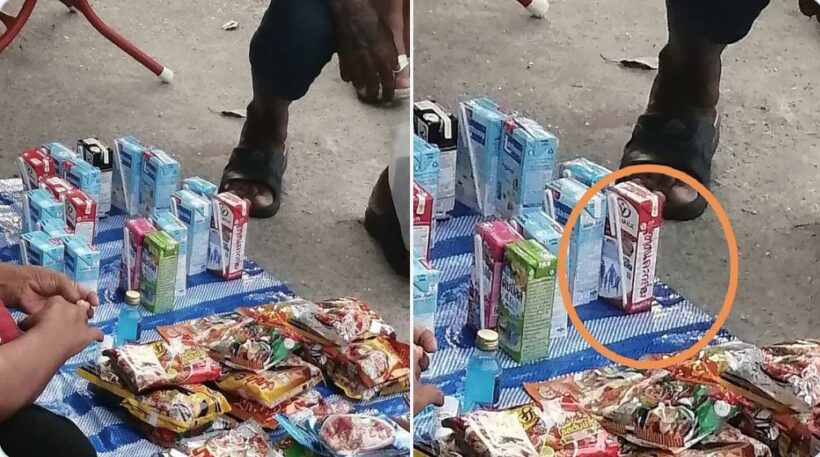 One vendor seems to be using the pop-up "pantries of sharing" to their advantage, taking the donated grocery products and then on-selling them at a market in Rangsit, outside Bangkok. In a photo shared on Twitter, the products, like soy milk and instant noodles, have a label showing that they are from the community pantry.
The community pantries have been popping up all over Thailand to help those in need during the pandemic. The motto is give some, take some. While many people have been generous and humble, giving what they can and taking only what they need, there are reports of pantries being raided and cleaned out by more selfish people.
Some are emptied out within minutes, Chiang Rai Times says. Photos and videos of people cleaning out the pantries have floated through social media. Some of the pantries have ended up doing more harm than good but other communities are finding better ways to regulate the pantries by housing them at temples or with a roster of volunteers to encourage the correct use.
One Bangkok resident put a pantry in front of his home with a sign inviting people to take what they need. He brought the pantry inside to keep it dry while it rained, but left the sign outside, the Times reports. Eight people ended up outside his house demanding food, some repeatedly ringing the doorbell.
SOURCES: Nation Thailand| Chiang Rai Times
มีความคิดเห็นเช่นไร จงอภิปรายอย่างกว้างขวาง

———————————————
เฮียครับฝากหน่อยครับ พิกัด ตลาดเดอะมิล รังสิต เอาของจากตู้ปันสุขมาขายครับ หยิบทีละกล่องนี่ตั้งร้านได้เลยครับ #คนไทยไม่ทิ้งกัน#ตู้ปันสุขpic.twitter.com/lwp8VLHq8i

— Red Skull (@RedSkullxxx) May 23, 2020
Keep in contact with The Thaiger by following our
Facebook page
.