This year's wet season expected to be later, drier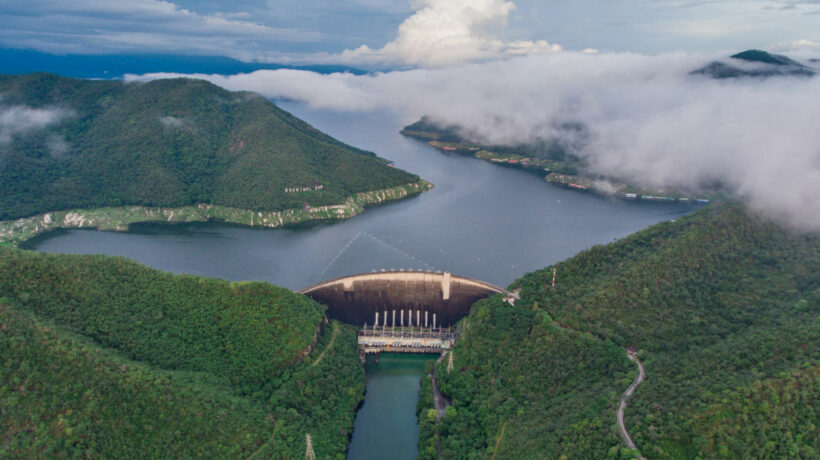 Thailand's annual rainy season usually arrives sometime around Songkran, the Thai New Year festival, on April 13 each year. But the Thai Meteorological Department is warning that the start of heavy rains are unlikely to start around the country until around the third week in May.
They also forecast rainfall this year to be approximately 5% lower than average, adding that "rains should last from the end of May to end June before drying up in July and August due to the La Niña effect".
La Niña is a coupled ocean-atmosphere phenomenon that is the colder counterpart of El Niño, as part of the broader El Niño–Southern Oscillation climate pattern.
La Niña is known to disrupt typical regional and global weather patterns in a manner opposite to that of El Niño. Despite the dry weather expected to be brought by La Niña, the Royal Irrigation Department's deputy director general Taweesak Thanadechopol, says the volume of water in the country's dams should be more than last year.
According to Taweesak, some dams have approximately 121 million cubic metres of water due to recent rainfall in some areas.
"However the RID is worried that 59 provinces may still face water shortages in the near future. So far, the country's 447 large and mid-sized reservoirs are 47% full, but only 11.891 billion cubic metres or 23% of the water can be used."
27 provinces across Thailand are suffering drought according to the Department of Disaster Prevention and Mitigation. Of the drought-hit provinces, seven are in the North, 10 in the Northeast and 10 in the Central and Western regions.
8 year old Nong Benten was filmed praying to a divine 'spirit house' shrine while dancing to a 'rain song' in Buriram, northeastern Thailand back in 2018. The youngster had taken it upon himself to ask the gods for rain after the region was crippled by severe droughts pushing up the cost of rice and devastating crops.
Keep in contact with The Thaiger by following our
Facebook page
.
Prawit tipped to become leader of ruling Palang Pracharat party executive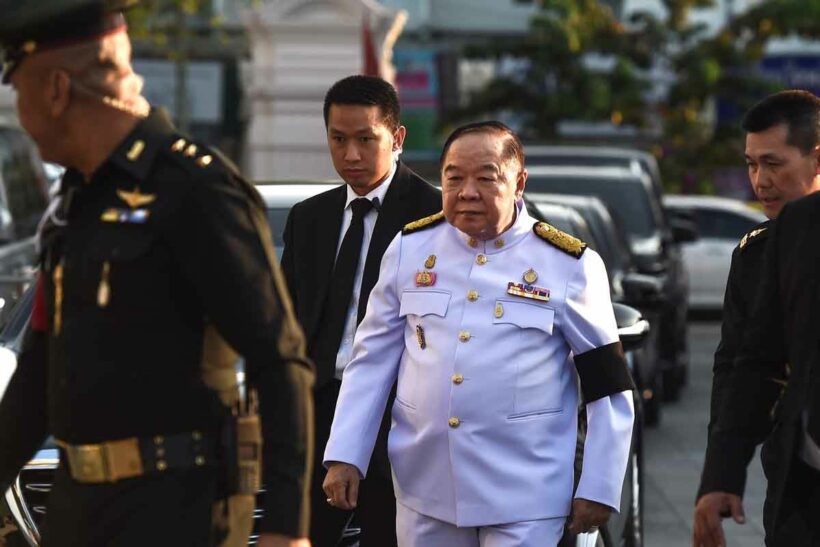 Whilst the attention of the country has been on the CCSA, with the PM at the helm, and their handling of the Covid-19 outbreak, there has been ongoing dissent inside the ruling Palang Pracharat party which boiled over yesterday with the resignation of 18 members of the party's executive committee. There's been building conflict within the party whilst the PM has been 'distracted'.
Under the party's rules the party will have to elect a new leader and executive committee within 45 days. Paiboon Nititawan, a Palang Pracharat deputy leader, informed embattled party leader Uttama Savanayana about the resignations yesterday and submitted 18 letters of their intentions, one from each MP. Meanwhile, the outgoing committee will remain in place before the election of the new executive committee.
Now all eyes are on the diminutive 74 year old loyal sidekick to the prime minister, Prawit Wongsuwan, who is tipped to become the new leader of the executive committee. Prawit has served throughout the period of the NCPO (National Council of Peace and Order) following the May 2014 army coup, in various capacities. He often serves as Prayut's 'fix it' man and currently serves as one of the deputy prime ministers in the coalition government. He served as defence minister during the period of the NCPO.
The resignations and potential cabinet reshuffle appear to be a response to disagreements within the leading party (a political extension of the NCPO who ran candidates in the March 25 election last year) about the rebooting of Thailand's economy in the wake of the Covid-19 crisis and the damage its caused just about every sector of the country's finances.
Palang Pracharat MP for Bangkok, Sira Jenjaka, says that the spill was the result of a deal when the party was formed that the current executive committee members would have one year to prove their value and their performance would "then be assessed". He said "they now must admit that it is time for a change".
Current party leader Uttama has found himself embroiled in the crossfire of party infighting with factions pushing stalwart General Prawit, who has been the party's chief strategist, to take the top job. Asked about the prospects of him becoming the new leader of Palang Pracaharat, General Prawit responded in his usual non-committal manner.
"Let me think about it first because I had no intention to enter politics from the beginning."
PM Prayut Chan-o-cha says he doesn't want any involvement with the resignation of the party executives or any change in the party's leadership because he is not a member of the party machine even though he was nominated by them to be their prime ministerial candidate.
Prawit Wongsuwan hit the headlines again over the weekend after a letter of explanation, sent by the country's anti-corruption commission, listed the reasons Prawit was exonerated over the luxury watch scandal in 2018. The letter says the NACC commissioners "acknowledged that Pattawat Suksriwong was the owner of the watches and had lent them to General Prawit. The letter, sent to a Pheu Thai Party member, also confirmed that Prawit had returned the watches, worth tens of millions of baht, to Pattawat's family after he used them.
Here's the list of the watches he 'borrowed' from his friend, businessman Pattawat Suksriwong who died in 2017.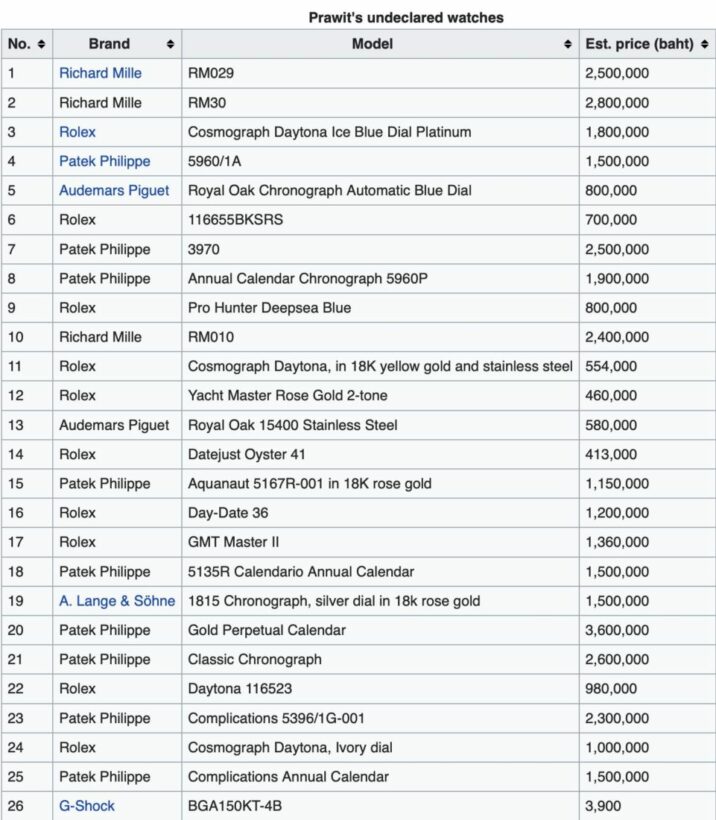 SOURCE: Bangkok Post| Wikipedia
Keep in contact with The Thaiger by following our
Facebook page
.
Thailand may hold a July Songkran event if Covid-19 situation remains stable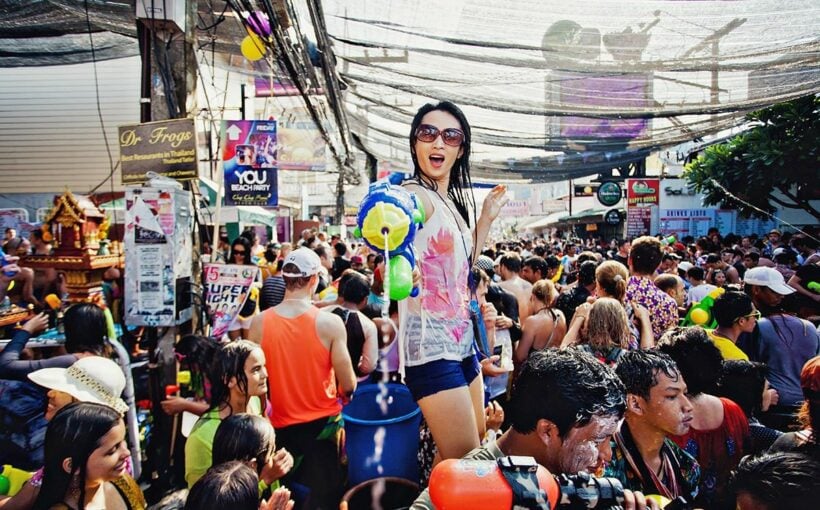 Thai citizens are being dangled a carrot – the chance to celebrate Songkran in July. Usually the annual water festival, traditionally the end of the dry season and the start of the wet season, is held on April 13. The event has become a big tourist magnet over the past decade as it's morphed from traditional Buddhist festival into organised water fights in the streets of Bangkok and tourist towns.
This year it was cancelled as the country was busy being not busy; locked down in their homes instead of outside splashing water everywhere. But the government says they may still hold a Songkran festival in July instead IF the third phase of the easing of lockdown restrictions goes smoothly this month.
'Phase 3' started rolling out yesterday and opens up just about everything excepting bars and pubs, and some other entertainment venues. 16 business types and leisure activities resumed yesterday. The curfew has also been reduced to 11pm to 3am daily.
Phuket seems to be trailing behind the rest of the country with a ban on its beaches and airport still in place.
CCSA spokesman Dr. Taweesin Visanuyothin says the Government might declare special public holidays in July to celebrate Songkran. The festival, apart from all the water splashing, is the biggest family get-together of the year when people head back 'up country' for large family celebrations. The festival is also the most dangerous time on Thailand's roads each year.
Dr. Taweesin says the CCSA will assess the results of phase three relaxations this month, adding that…"if the Covid-19 situation improves satisfactorily and people strictly observe the basic guidelines of social distancing, regular hand washing and face mask wearing, it might ask the Government to declare special public holidays in July".
We're not sure what "improves satisfactorily" means given that there have no recorded local transmutations of Covid-19 for over a week. All the latest cases are from Thais repatriating on specially organised charter flights from overseas whereby all arrivals must spend 14 days in supervised quarantine.
There is still a state of emergency in effect until at least the end of the June which provides Thai PM Prayut and his appointed committee in the CCSA sweeping powers to address the Covid-19 situation in Thailand without consulting parliament.
Keep in contact with The Thaiger by following our
Facebook page
.
Another family kept apart by Thai red tape and quarantine confusion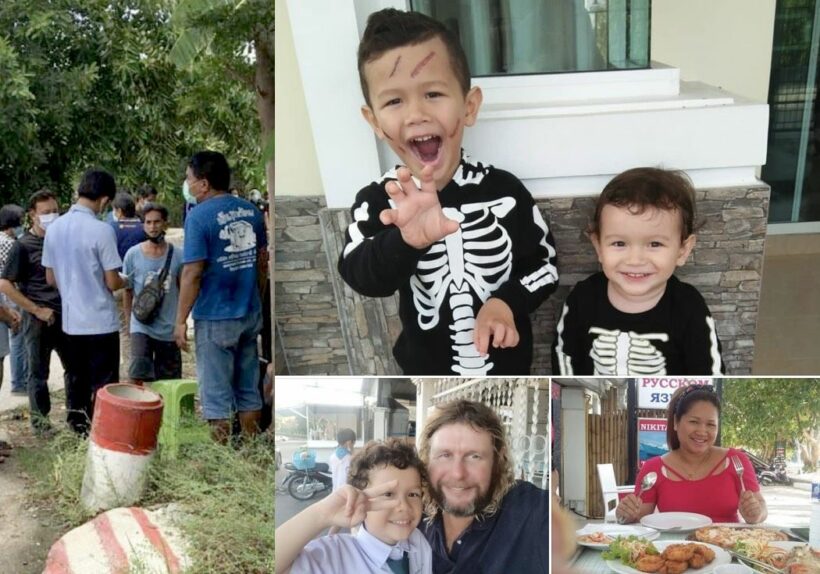 Sometimes you cross all the T's and dot all the I's and it's still not enough to satisfy the paper-pushers, especially at this disruptive time in Thailand, and everywhere else. One Australian father has ended up separated from his family – he's in Australia and his wife and 2 children are in Thailand being shuffled around Phuket and Bangkok in a Thai paperwork nightmare. Sam Kelly wants his family onto a repatriation flight being organised by the Australian Embassy out of Bangkok on June 6. For now, for reasons not immediately apparent, that's not going to happen.
"I just want to get my family out of quarantine and onto this flight. I understand that this is not normal circumstances. But the facts are: The Thai and Australian governments have put on this flight to repatriate citizens to Australia. The Thais and the Australians have already shown they can be flexible, but now it looks as though my family might miss this flight. They have been tested and are Covid-19 free."
The full story of Sam and his family's plight is below. But Sam is grateful for the help from Australian consular officials up to now.
"I want to thank all the Australian consular staff in Bangkok and Canberra that have been helping me. You have been a great help in a very difficult situation."
Sam's story is one among thousands of families separated by the lockdowns and border closures in Thailand, and around the world. The Thaiger believes Sam's wife and kids, and similar families, should be put on the top of the list of repatriation efforts when bans are lifted and flights resume.
The Thaiger hopes cooler-heads prevail in this case and that Sam, Kanny, Ronny and Adam are back together again soon.
Here is the full unedited text from Sam…
---
Help me get my family to Australia.
I'm one of the many offshore workers around the world that have been prevented from re uniting with their families
My base is in Phuket Thailand and has been for the last 15 years, I have a wife and 2 children. My wife's name is Kannika "Kanny" Polngam who is a Thai national and my 2 kids Ronald "Ronny" Kelly (2) and Adam Kelly (5), who are dual Thai and Australian citizens with passports.
On the 12th of February I left Phuket to go on a 4 week on 4 week off rotation. I saw the situation regarding Covid-19 was deteriorating, so I started the process of getting my family out to Australia. I chose to stay here in Australia, so I was available for work, and still be able to provide for my family.
On the 5th of March my kids were taken out of school in Phuket and very strict curfews were imposed to deal with the Covid-19 pandemic.
Flights in and out of Thailand all but stopped with the occasional charter/repatriation flight going out of Bangkok to a few different airports in Australia. I managed to secure a flight on only one of 2 flights from Thailand to Australia for the whole month of June. I spoke with Australian consular officials in Bangkok on the phone and was told that it was a good idea to get the family up to Bangkok in case they needed to do more paperwork, etc.
On around the 19th of May, I told Kanny to just lock the house up, throw away anything we don't need, just pack a few bags and drive off the island, stay with her parents in Bangkok and wait for the flight. She obtained permission from the Wichit Police Department in Phuket Town to leave the island and drive to make the long 12 hour drive to Bangkok. After being granted permission to get off the island my family was stopped at a Surathani checkpoint which is a few hours north of Phuket and directed to drive directly to:
Queen Sirikit Stadium
Klong 6, Tanyaburi, Pathumthani, Bangkok
When they arrived on the 21st of May they were all locked into a very small apartment that was once student housing at a university.
Kanny contacted the authorities and started to make noise. Everyone in my family has been self isolated for months. The kids actually had more people from the schools and government checking on their welfare in our Phuket house than in this little state sanctioned Bangkok student accommodation. No Thais authorities are checking on their welfare now, they just get a few bags of food thrown on their doorstop every day.
After Kanny made some noise the Thai authorities came and did a Covid-19 check on everyone. The results came back negative the next day and it was agreed that they would all be released and go to my mother and father in laws house nearby in Bangkok.
Now today it is Friday, my wife just got a phone call and one of the head honchos there by the name of Mr Boonlert, he has decided to revoke what he promised which was them being released into self isolation. The date that they will be released now is the 6th of June. This is one day after this flight leaves from Bangkok to Brisbane.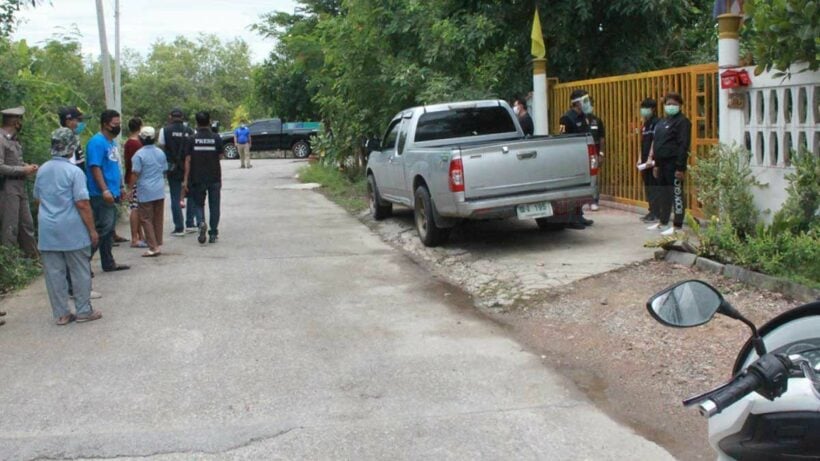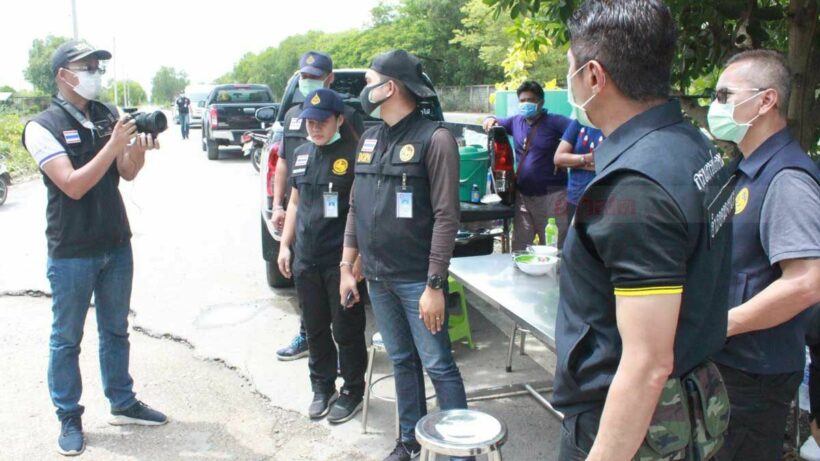 PHOTO: Kannika and the two boys are removed from the self-isolation they had been granted and returned to state quarantine – khaosod.co.th
During this time the Australian Consulate and the Australian Department of Foreign Affairs and Trade have been in touch with me stating, they cannot issue a ticket for my family to fly to Australia on this special flight until the family are out of quarantine. The Thai authorities have quite happily let people transit through Bangkok who have tickets out of Thailand, but as the Thai authorities have my family in detention, the Australians authorities will not issue a ticket to fly out.
So I am stuck between a rock and a hard place, my family has:
• Been in self isolation for months
• Been checked regularly by the Thai government and their school teachers doing home visits during the time schools closed on the 5th of March
• Have attended regular doctors appointments, including a health screen for my wife to apply for an Australian visa
• Have been in enforced state quarantine for over a week now and passed a Covid-19 test which was a horrible experience for them
• Look like they might miss one of the last flights back to Australia due to this Thai state quarantine period and if by some miracle they make the flight, they have the absolute joy of doing another 2 week quarantine in a hotel in Australia
Thousands of people have travelled to Bangkok from Phuket and none of them have been quarantined, the quarantine is actually a DISCRETION. There has been Australians being repatriated from Phuket, and they have been able to travel hassle free to Bangkok and wait for their flights out. Why are my kids the only Australians that have been locked up? I'm having serious concerns about their mental health at the moment.
All I want is the best for my kids, and neither the Australian or Thai public servants are providing that now.
These boys have not played with another kid or seen a blade of grass since the 5th of March, that means that if they went to Australia, it would be over 3 and a half months by the time they finished their last isolation period.
I have paid taxes in both countries for many years. I want some sort of communication between the Thai authorities and the Australian authorities.
Why are these Australian children being detained? They don't have Covid-19 and they need to get out of quarantine to get back to Australia on the 5th of June.
Keep in contact with The Thaiger by following our
Facebook page
.